Hubpages vs Blogging in WordPress: Which is better, which gives more money? I waited for my 6 million views in Hubpages before I made this article. And now I hit my 10 million views. I've been with Hubpages for 4 years now and I can say it is really rewarding. I learned so much about blogging and publishing that led me to try WordPress and start my own website.
In this page, I'm gonna share my experiences in Hubpages and blogging using WordPress.org platform on a Shared Hosting. I'm gonna share about Managed Hosting in a separate article soon. Which gives more money? Which is more profitable?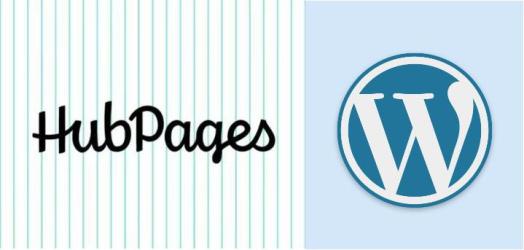 Before I start with the comparison Hubpages vs Blogging in WordPress, I would like to spill a bit about my account in Hubpages. I've been there even before the major Panda update. Unlike other hubbers though I kept my account and didn't transfer anywhere else.
Panda, Penguin, whatever update, to me they are just part of the web cycle. I honestly cannot find any online community better than Hubpages. I'm humbly happy that my account is among the most visited subdomains there. Sometimes, among the top 20 or top 30. I used to be on the top 15 but I stopped hubbing for a while since I started my WordPress site.
So this is my Hubpages current status:
Total Hubs: 171 (3 currently unfeatured)
Pageviews Ever: 10 million and counting…
Age of Account: 6 years
I'm using WordPress.org on a Hostgator hosting (at first) for my own website. Honestly, it's not that easy to run a great website with WordPress. It's so technical and it's pricey. But if you are serious about it, it can be worthy. Having your own website will give you the control in publishing and you will earn all the revenue from it. However, it needs some SEO power to stay in the competition.
My WordPress website current status:
Total posts: 245
Pageviews ever: 18 million and counting
Age of Site: 4 years
Hubpages vs Blogging in WordPress

Domain Name
| | |
| --- | --- |
| Hubpages | WordPress |
| Not needed | $ 9+ per year |
If you are making your own website you have to buy your own domain name using WordPress. Hosting companies also offer them if you want to choose their hosting service. It's cheap and you can renew the domain registration every year or you can choose to pay 3 years straight.
In Hubpages, you don't have to buy your own domain because you don't own the website. However, you own your hubs and control your account (subdomain).
Hosting
| | |
| --- | --- |
| Hubpages  | WordPress |
| Free | starts at $6/month for Baby Plan Shared Hosting (higher price for VPS and Dedicated Server) |
You don't have to pay hosting service in Hubpages while you have to use a hosting service like Hostgator, Bluehost, Media Temple etc. to serve your website to the World Wide Web using WordPress.org. It costs around $6 per month for a shared hosting. Not bad especially for a starter. If you are on WordPress.com, you can use their VIP service but it's so expensive (starts at $3750 per month for the cloud hosting)
Layout/Theme
| | |
| --- | --- |
| Hubpages | WordPress |
| Already Set up | You need to install one in WordPress (paid themes are around $75 and above |
Layout for web pages is already set up in Hubpages. There is a Hub Tool for everything you want to include in publishing a hub/post.
In WordPress, you need to set up everything including sidebars, social network sharing buttons, header, footer,etc or you can just purchase a nice neat theme if you can't find one in WP. Nice and professional looking themes cost from $75 and above.
SEO Framework
| | |
| --- | --- |
| Hubpages | WordPress |
| Already Set up | You can download a free SEO plugin or buy SEO framework. Paid SEO Frame work starts at $87 |
In Hubpages, the staff continue to develop, experiment and apply SEO tools across the site. Hubbers can just post and hub without thinking of a plugin or framework for search engine optimization.
You need to download a free plugin like WordPress SEO by Yoast or simply buy SEO framework like Thesis ($87 for the basic plan) or Genesis ($99+ with a theme) if you want optimization control across your site, posts and pages.
CDN (Content Delivery Network)
| | |
| --- | --- |
| Hubpages | WordPress |
| Already Set up | You need to find one and use the service to your Paid CDN starts at $20 like Cloudflare Pro |
We know that Team Hubpages already works for everything about the site including server, hosting, and many technical aspects including using CDN to quickly and effectively deliver content.
If you run your own website, you are responsible to find the best CDN for your site that suits your time, technical know-how and money.
Caching Settings
| | |
| --- | --- |
| Hubpages | WordPress |
| Already managed by the engineers | You need to set this up and do the techy stuff |
Google already said pagespeed is vital to SEO and ranking. If you own your own site and using WordPress, you must set up the correct caching settings or download a caching plugin like W3 Total Cache, Super Cache etc…which are very technical. Caching plugins must be set up correctly to your WordPress core or else you would end up crashing your site. You can hire an expert for this if you really don't know what to do.
Backup
No need to back up You need to know how to back up your database and files
| | |
| --- | --- |
| Hubpages | WordPress |
| No need to back up | You need to know how to back up your database and files. Paid Backup Plan costs $15 like Valutpress Real time Backup |
In Hubpages, everything is being handled by the engineers. All you have to do is publish content in compliance with their Terms and earn money.
In WordPress, you need to back up your database and files so that if anything went wrong or crashed, you can restore it. If you don't know how to backup manually, I recommend you use Vaultpress. They charge $15 per month for a real-time backup of everything in your WordPress. I was using their service until I switched to VPS Managed Hosting.
WordPress Blogger vs Hubpages Hubber
As a Hubber, your focus in Hubpages is publishing quality hubs without worrying the technical side of the website because the staff are working on it.
As a WordPress website owner, you are responsible in everything including the techy stuff starting from your cPanel, your php, SQL database, files, plugins, themes, comments and spam, caching, CDN, backups and every little file inside your WP content. You are also required to know how to FTP (File Transfer Protocol), edit .htaccess and some more technical things.
It may sound so simple and easy to run a WordPress website but if you are a serious blogger, you must be ready and be brave for the many challenges your website might meet. You must be willing to learn new technical words and things.
Things get pricey especially if your website gets huge traffic or experiences traffic spikes. You may need to migrate from a shared hosting to dedicated server or VPS or bite the expensive offers of some Managed Hosting companies if you are close to a million views a month.
You may need to pay some experts once in a while especially if you are a serious website owner. The web is evolving and there are many SEO aspects to tackle, to meet and to embrace.
WordPress Earnings vs Hubpages Earnings
While earnings in Hubpages are given 60:40 (60 to the Hubber and 40 to HP), for me it's reasonable enough and I didn't find any other online publishing community that offers the same cut. Just think of the technical stuff needed to run a successful website; you would surely be happy and contented with this.
If you have invested a couple of hundred hubs, I suggest you invest and try starting your own domain, too. Ask yourself if you're ready. Like many people here say "don't put all your eggs in one basket." How do you know if you're ready? You're ready if you have these things: basic knowledge in creating a WordPress website inside a hosting provider, minimum of 5 quality posts, your website structure/layout, time and money. Read my upcoming article about how to create a fast WordPress website.
I'm happy with my earnings in Hubpages. I get paid every month and I've been there for more than 6 years already. I admit though that earnings went down by 20% since 2012. I think I need to put more hubs and update old hubs. I'm not under the HP Earnings Program and not using Amazon and ebay. All my income there is from Adsense.
As to WordPress, I admit I get more more money even though I have to pay some expenses. In WordPress, I paid for hosting and Vaultpress every month and domain renewal every year. I also bought a nice Theme from Studiopress and got Thesis framework for $87 at first then switched to Genesis.
I know I have to spend more money soon to maintain a bigger WordPress. It's not really cheap to have a great WordPress website. If you are near a million pageview per month, it might be better to level-up and upgrade hosting.
Conclusion:
There is no fast money in blogging and publishing in an online community like Hubpages, Squidoo, Triond, Blogger and Experts Column. It takes dedication, hard work, patience, and willingness to learn to receive passive income. Often it takes money to make money. Making a hundred quality evergreen articles can spark initial success. You need to challenge yourself more if you want to earn more. Hope you like my Hubpages vs Blogging in WordPress article.