Many Filipinos often meet emergencies and unexpected circumstances. One of those urgent times is when we are required to submit Philhealth MDR form.
No worries because we are sharing with you the latest procedures on how to get Philhealth MDR form online. Yes, no need for a walk-in appointment. Here's a brief information to know what is that form you're getting in the first place.
What is Philhealth MDR?
MDR stands for Member Data Record issued by the Philippine Health Insurance Corporation. It is usually requested by hospitals, clinics, and physicians for patients or beneficiaries of Philhealth members. MDR provides updated records of the member's prolific information, including membership category, basic bio, dependents, Philhealth Identification Number (PIN), and Philhealth Employer Number (PEN).
Who Needs Philhealth MDR Forms?
Philhealth MDR forms are required for different purposes, including pre-employment requirements, updating membership records, verification, and availing benefits due to hospitalization and confinement. The following usually request this form:
Philhealth members
Beneficiaries or dependents of members
Employers
Hospitals, clinics, and doctors
How to Get Philhealth MDR Form Online in 2 Minutes (with Pictures)
Step 1: Visit Philhealth Online Services
Head over to the official website of Philhealth then select the "Online Services" from the given menu tabs. Below is the latest screenshot to do just that.
Step 2: Select Member Inquiry
Now you will see some important icons under the Membership online services. Tap the orange icon, which says "Member Inquiry." This function enables Philhealth members to check the accuracy of their membership details.
Step 3: Register or Log in to your Account
Press "Register" if you don't currently have an existing Member Inquiry account. Otherwise, input your PIN and password and proceed to log in if you already have an account.
Step 4: Choose MDR Printing
You will now see your membership records main dashboard. You must check each detail to make sure they are correct and updated according to your latest civil status, employment background, and list of dependents.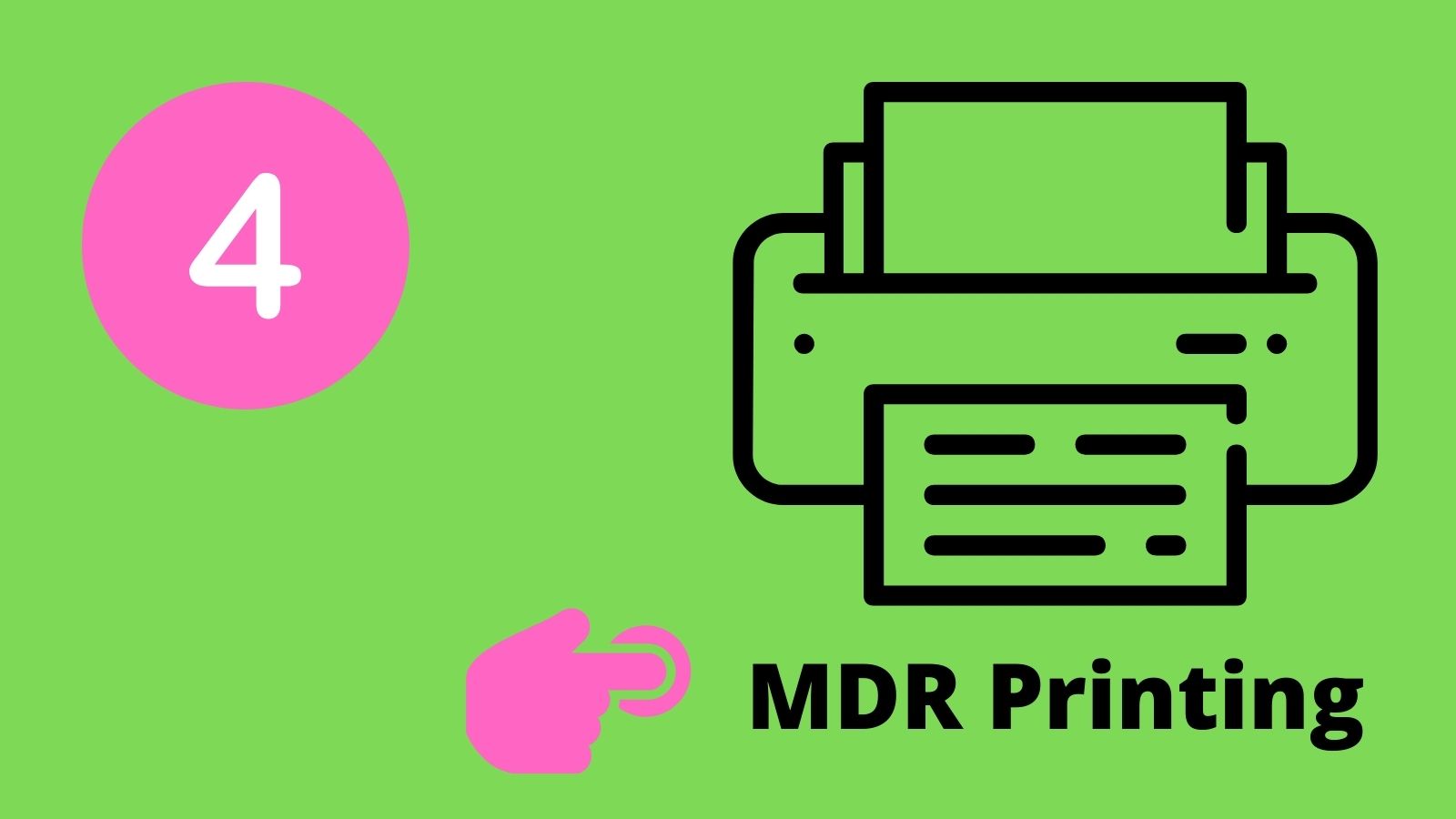 Step 5: Print out your MDR Form
You may save or download a copy of your Philhealth MDR form, but it is always recommended to print out a copy which is necessary when availing and claiming Philhealth benefits. Check your Philhealth MDR online to see if your information are updated.
If you want to change, alter, add, amend, or correct anything, follow the steps for updating below.
How to Update Philhealth Membership Records
Currently, updating MDR requires submitting the PMRF (Philhealth Member Registration Form) to any Philhealth office, service center, or branch. If you want to change and update your membership type, your list of dependents, present employer, marital status, monthly premiums, correction of name, date of birth, contact numbers, and address, follow the steps below:
1. Accomplish your Philhealth Member Registration Form (PMRF)
PMRF is the official form used when applying for Philhealth membership and updating membership information. You can get this at the Philhealth office, or you can simply download the form online and edit your updated records.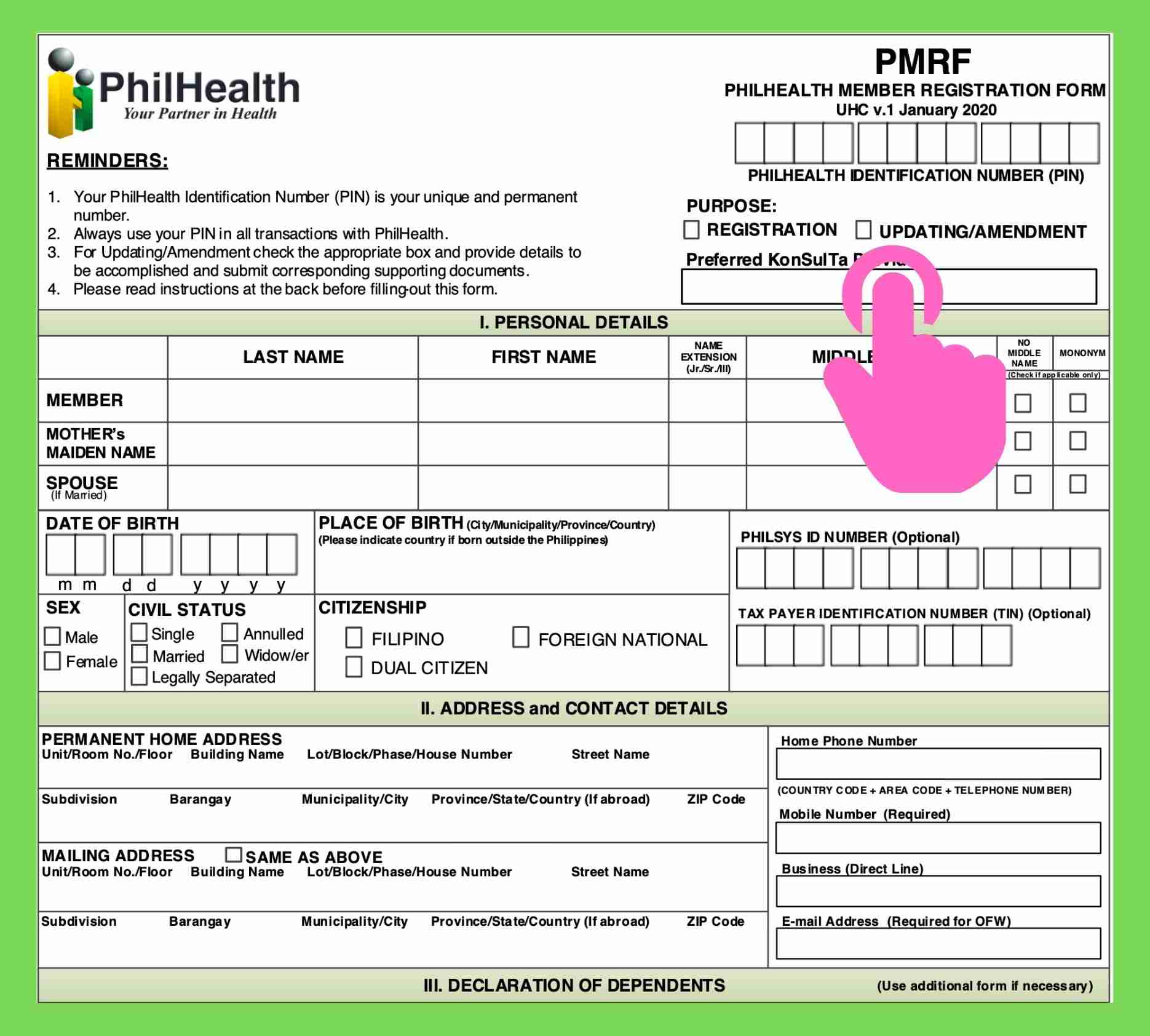 2. Tick Off the "Updating/Amendment" box
You must fill out your PIN (Philhealth Identification Number) and tick off the "Updating/Amendment" box if you want to update your Philhealth MDR. Your PIN is very important whenever you transact with Philhealth. However, the issuance of PIN won't automatically qualify you or your dependents to be entitled to the National Health Insurance Program (NHIP) benefits.
3. Update your profile records according to your latest status
Provide your updated information and the details you want to change. Enter only the correct and accurate information. Make sure anything you input on the form is consistent with your supporting documents.
4. Attach your supporting documents
You are required to furnish paper evidence to support your updating request. If you are adding and declaring new dependents, kindly attach their authenticated PSA birth certificate. If you are updating your marital status, attach your authenticated PSA marriage certificate.
5. Submit your PMRF to Philhealth
The last step is submitting your PMRF to any Philhealth office branch or satellite office near your residence. They are also present at the Government Services Center at some malls like SM.
How to Get Philhealth MDR via email?
The Philippine Health Insurance Corporation also facilitates email assistance, and one of them is delivering MDR via email. Just send an email to ofp@philhealth.gov.ph together with your complete name (last name, first name, middle name), your date of birth, and present address. You will then receive a notification with a copy of your official MDR.
How to Get Philhealth MDR for Senior Citizens?
Senior Citizens are automatically members of Philhealth. If the hospital or clinic has HCI (Health Care Institution) Portal, senior citizens only need to present their senior citizen ID card or any proof of identity and age. The hospital can already print their Philhealth Benefit Eligibility Form, which serves as a basis for benefits entitlement.
If the hospital or clinic has no HCI Portal, the senior citizen may need to submit PMRF and a copy of his or her valid ID (proving age and status as a senior citizen).
Frequently Asked Questions about Philhealth MDR:
How can I update my Philhealth MDR online?
At present, we can update our MDR by submitting PMRF (Philhealth Member Registration Form) in person at any Philhealth satellite office. In addition, you are required to submit supporting documents for the processing of your updates.
How much is Philhealth MDR Form?
It's totally free. You don't have to pay anything getting an MDR form, always remember that it is a privilege and a free service from Philhealth.
Can I get Philhealth number online?
Yes, follow the step-by-step procedures at this page: "Getting Philhealth Number Online."
Are senior citizens covered by Philhealth?
Yes, according to section 5 of the Republic act 7432, all senior citizens shall be covered by the national health insurance program of Philhealth. Funds necessary to ensure enrollment of all senior citizens not currently covered by any existing category shall be sourced from the National Health Insurance Fund of the Philippines from the proceeds of the Republic Act 10351, per the pertinent laws.
Do you need Philhealth MDR to avail hospital benefits?
No, if the hospital has installed HCI (Health Care Institution) Portal. The HCI facility can already retrieve Philhealth records from its database. Thus, the patient will only need to furnish a copy of the Philhealth Benefit Eligibility Form (PBEF), which can also be generated from the HCI platform.
Yes, if the hospital has no HCI portal installed. The patient then needs to provide his latest MDR to avail medical or confinement benefits. Besides, valid IDs, claim forms, and a copy of the member's Philhealth premium contributions are usually required. (See the latest Philhealth Contributions Table).