The easiest way to set up preferred domain www or non-www in Google Webmaster Tools. No confusion, no HTML code and meta complications. All you need is to verify that you own both domains. Follow these few steps and you'll have the correct controller and redirection for effective SEO.
One of the major settings of a website to rank better to search engines especially Google is to set up one preferred domain – either www.yoursite.com or yoursite.com because the two are different in the eyes of search engines and a website owner must verify his preferred domain to avoid duplicate content issues and to have fast crawling and indexing of the website.
In this page, I'm gonna discuss the method for WordPress website. If you own a website using Blogger or Blogspot platform, the method will be discussed in another page.
Part of the process of setting a preferred domain is to verify that you own http://www.yoursite.com/. Please verify http://www.yoursite.com/"

That's the common message when website owners and bloggers receive when they set up their preferred domain. It sounds complicated and scary but it has really a solution.
Verify that you own www and non-www in Google Webmaster Tools
Before proceeding to the main steps of verification, make sure you already set up your preferred website URL in your WordPress settings. Decide how your URL will be – www.yoursite.com or just yoursite.com. People have different reasons and preference but as for me I chose the shorter URL yoursite.com so it's the one I'm gonna use here. To do this, go to WordPress General Settings and set your website address URL. (see sample settings below for my website)
After setting up your URL preference, make sure you have your Google Analytics linked successfully to your website because it's the easiest way to verify your domain on Webmaster Tools. Don't have Analytics active yet? Follow their instructions.
Now that you're ready to verify your preferred domain on GWT, follow these steps.
Add yoursite.com to Google Webmaster Tool. Select Add a Site. Type only yoursite.com (without www and http)
You'll then be asked to verify your site. Choose the Alternative Method tab and select verify through Google Analytics. You'll then see the verification successful message.
Add your Sitemap so that you'll see which pages and post are indexed and not crawled. This is so important in having GWT.
On your GWT yoursite.com account, go to Configuration then to Settings. Select your Preferred Domain display URL. You'll see a message this time saying "Part of the process of setting a preferred domain…" No worries, just proceed to the next step so cancel what you're doing this time.
You need to prove that you own www.yoursite.com too so you need to create another Webmaster Tool account for that. On GWT dashboard, select Add a Site then type www.yoursite.com (without http)
Verify it the same way how you verified yoursite.com by choosing through Google Analytics.
Go back to GWT Dashboard. See now that you have 2 accounts for both domains. Since you prefer yoursite.com, go back to it and go to Configuration then to Settings. Choose "Display URLs as yoursite.com.
Congrats! You now have successfully verified your preferred domain.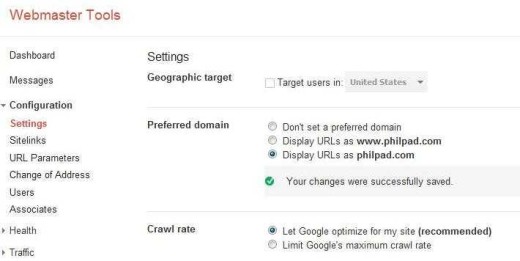 Having your preferred domain can cause positive and effective SEO. A lot of websites know this by now especially after the Panda and Penguin updates. It lets Google and other search engines to really know which is which… They will display and redirect only to your URL preference even if people type, search, or link it as www or without the www. This can also cause neat and effective canonicalization. Now, that's a term!