I made this hub as a virtual field trip to Intramuros and Fort Santiago in Manila. See the two most historical places and what they look like now. The photos were from our latest tour in Manila, Philippines.
Intramuros is the Latin word that means "within the walls" thus Intramuros is known as the "Walled City." It is also known as the original Manila for it was the country's capital during the late 16th century Spanish colonial era. The Philippines at that time was the most distant point of the empire of Madrid in the Far East. Intramuros was built and erected as defensive walls to protect the city from foreign invasions which were very vigorous at that time.
Also at that time, Manila became so famous during the lucrative Manila-Acapulco Galleon Trade (established in 1565) which lasted for three centuries. They traded goods and spices from China, India, Mexico, Peru and other Asian countries in exchange for European wares.
Intramuros and Fort Santiago Tour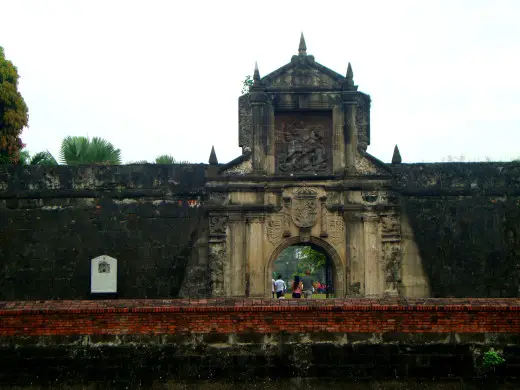 Fort Santiago was the premiere defense fortress of Intramuros. It was named after Saint James the Great, thus Santiago. It also became the main fort of the Manila-Acapulco Galleon Trade. The Philippines' national her, Dr. Jose P. Rizal, was imprisoned at Fort Santiago before he was executed in 1896. Inside the fort, there is Rizal Shrine museum containing some memorabilia and important artifacts from the Spanish period and Rizal's time.
Intramuros and Fort Santiago became a big part of the Philippine history. They have seen over four hundred years of heritage so we must continue to protect them.
How much is the Entrance Fee in Fort Santiago?
So cheap and affordable, it's only P75 when we visited there. If you are on a group like school field trip and excursion, I'm sure they will give big discount for the tickets. I think for students, ticket is only P50.
How to go to Intramuros and Fort Santiago?
Simply go to Roxas Boulevard or Luneta (Rizal Shrine), you'll see Intramuros Walls right away. If you are commuting, I suggest you take LRT and stop by UN Station and take a jeep passing by Roxas Blvd. There are also shuttle services available for the tour all over the Rizal Park.
Outside Fort Santiago, you'll see some buildings and structures designed and built in the 15th and 16 century when Manila was under the Spanish supremacy. Some buildings are still named in Spanish up to now.
As you see in the photo, here is the famous "Kalesa." There are many of these all over Intramuros, Manila. It's so relaxing to ride in one while exploring around Intramuros. Inside Fort Santiago, there are also carriages available for hire – for 30 minutes or even 1 hour of travel.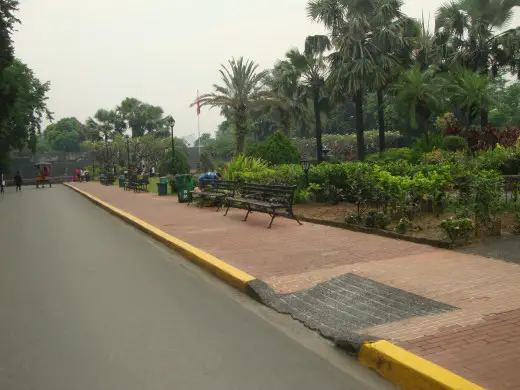 The park is well maintained and cleaned now.The view outside is amazing too plus golf courses are nearby the walls of the park. It's cool to go and visit here when the place is not so crowded from school same fieldtrips schedules.
For some reasons, ex-president Elpidio Quirino was in-captive in this building for 16 days when he was still a senator in 1943. I took a shot of this interesting artwork though because I loved it. I was unable to find out who the artist behind this amazing creation. How amazing!
These are the famous GOMBURZA – martyr priests Gomez, Burgos and Zamora.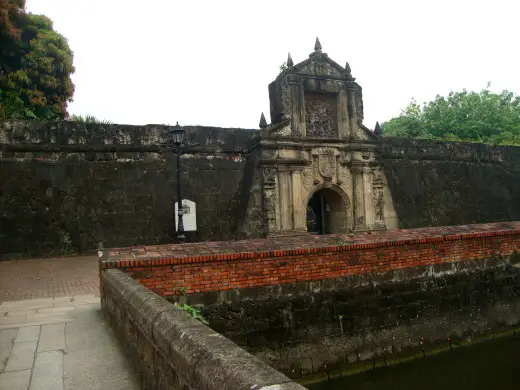 at the entrance of the citadel
Arch of Fort Santiago is marked by St. James the Great. I was amazed that a great artist of Pampanga, Wilfredo Layug of Betis, did the wood carving. Wow!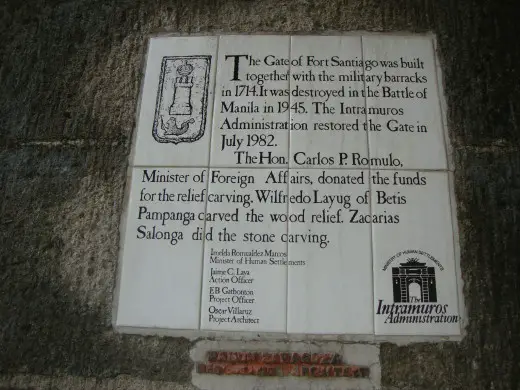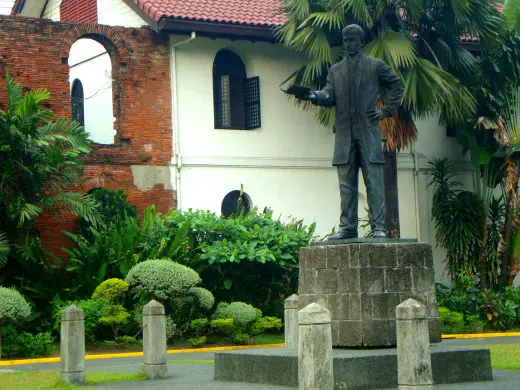 Rizal Shrine inside Fort Santiago has a museum
inside the 16th century fort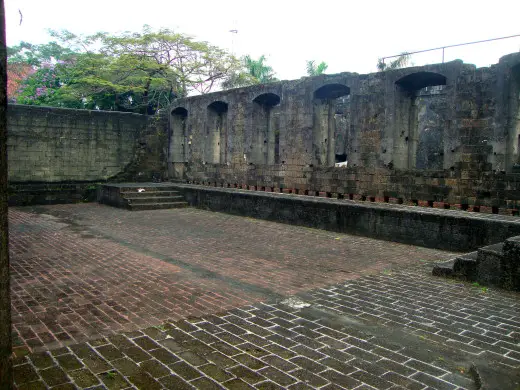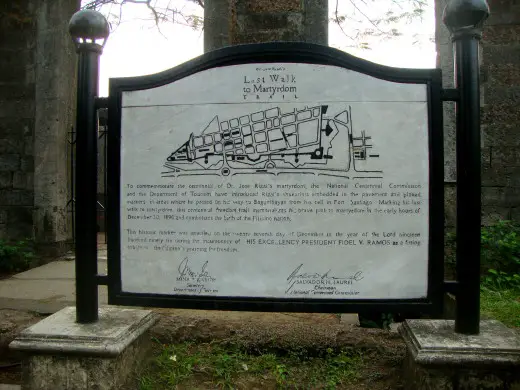 Jose Rizal's Last Walk to Martyrdom Trail in Fort Santiago
"To commemorate the centennial of Dr. Jose Rizal's martyrdom, the National Centennial Commission and the Department of Tourism have included Rizal's shoeprints embedded in the pavement and placed markers in areas where he passed on his way to Bagumbayan from his cell in Fort Santiago. Marking his last walk to martyrdom, this centennial freedom trail memorializes his brave path to martyrdom in the early hours of December 30,1896 and symbolizes the birth of Filipino nation." – Fort Santiago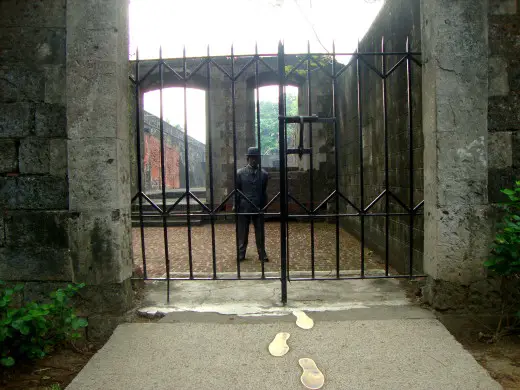 As shown, Jose Rizal before his final hours. Jose Rizal's last foot prints in Fort Santiago started here (in this cell)
This cross marks the final resting place of approximately 600 Filipinos and Americans who were victims during February 1945…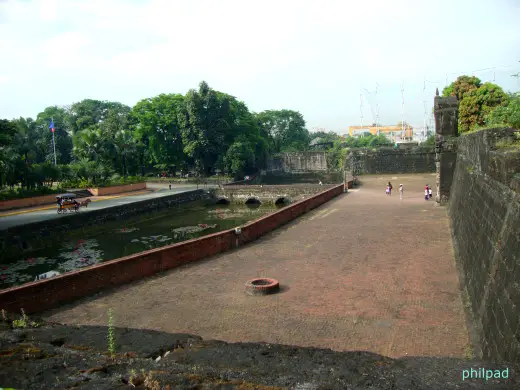 View up on the walls
Hope you have enjoyed the tour here. See ya next time! Subscribe to us to receive our new posts here at Philpad. Thanks!