Want to invest and grow your income this 2021? The following are the best mutual funds to invest in the Philippines in 2021. We have completed the list and wrote them down per fund classification – equity fund, balanced fund, bond fund, and money market fund.
Mutual funds are among our favorite types of investments because they are professionally managed. Besides their different asset classes and compositions, mutual funds are also great options to diversify our portfolio.
On this page, we share with you the top-performing mutual funds in the Philippines in 2021. If you are a beginner or an experienced investor, knowing the excellent mutual funds to invest right now will help and guide your investing journey.
What are Mutual Funds?
Mutual funds are pooled investments managed by professionals and financial experts. These pooled funds are invested in different assets such as money market funds, fixed income securities, and equities. There are different types of mutual funds that match every investor's financial goal and risk profile.
Benefits of Investing in Mutual Funds:
Affordability
Diversification
Liquidity
Expert Fund Manager
Profit Potential
Why should you invest in mutual funds?
Earning Potential
Many investors rely on mutual funds to earn and gain income, especially the risk-takers who prefer stock funds or equity funds. Mutual funds generate higher returns than regular savings accounts or time deposits.
Professionally Managed
You don't need financial expertise to manage mutual funds because these investments already have professional and excellent fund managers who will do the technical tasks and investment strategies to grow the fund.
To Beat Inflation
Prices increase now and then, but people's regular income barely rises. We have to invest our extra funds and venture on income-generating assets as well to beat inflation. One way to do that is by investing in mutual funds.
Additional Retirement Fund
Mutual funds can also aid us in our retirement by investing for long term. The funds that we invested some years ago can grow over time. We can redeem our mutual funds when we retire and use the capital and profit as additional savings.
These types of funds and investments have risks and it is very important to get to know them better, get to know your status as an investor, and diversify your investment wheels.
Different
Kinds of Mutual Funds Available

Right Now

The following are the different kinds of Mutual Funds available in the Philippines right now. Always remember, the higher the risk, the higher the earning potential.

We classified the available mutual funds according to the type of investor, risk, and goal.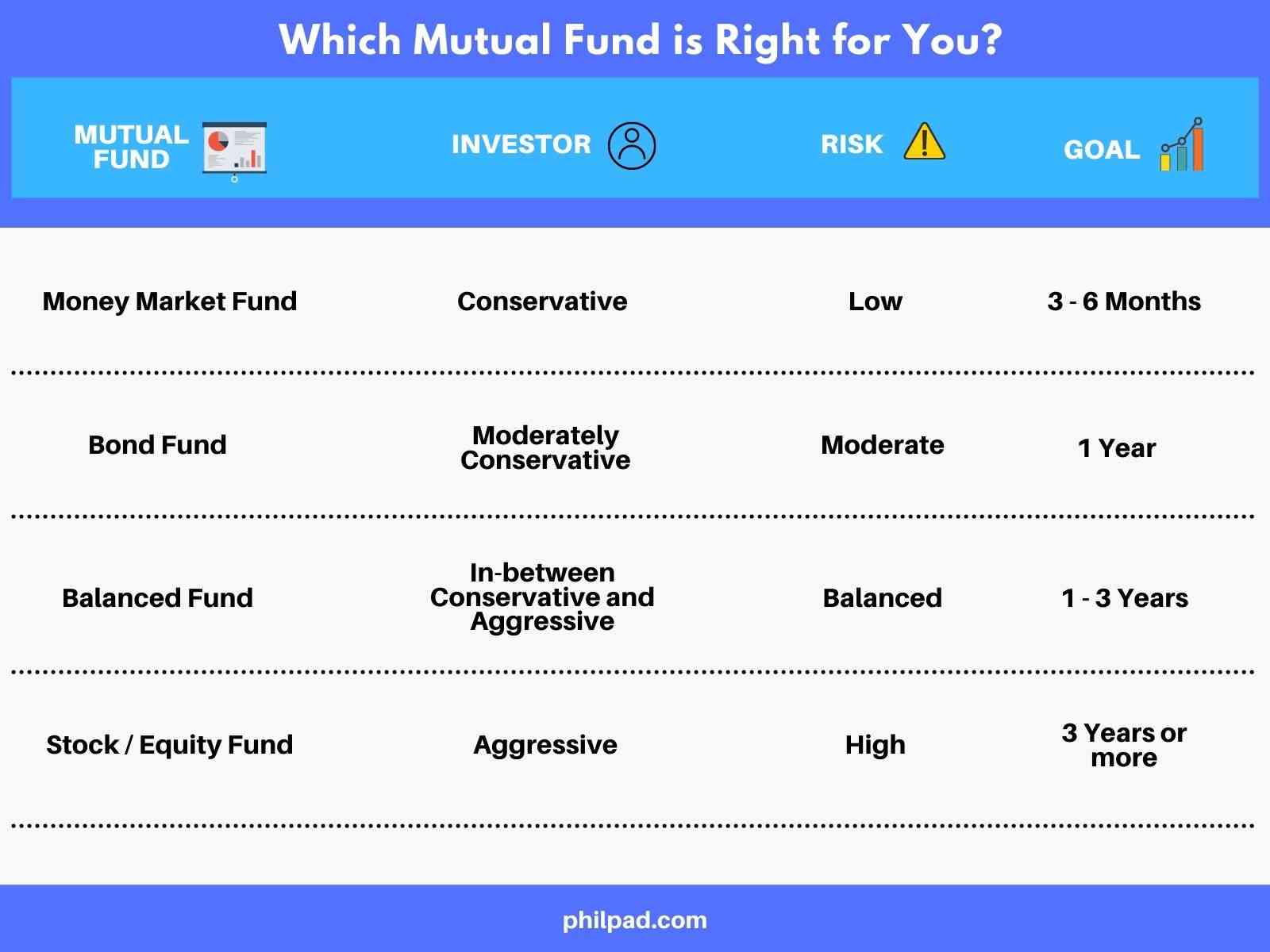 Best Mutual Funds in the Philippines

in 2021

If you are already eyeing the best investments for mutual funds, here is the latest data of their performance in a year. The stats are taken from the Philippine Investment Funds Association.

The early bird usually catches the yummy worm. These are the top mutual funds that performed well with higher returns. And as usual, we will update the data again in the coming months and the next quarter.
Top 15 Best Performing
Equity Funds in the Philippines in 2
021:
NAVPS Performance are as of August 3, 2021. Data shows 1-Year Return (%).
ATRAM Alpha Opportunity Fund 43.34%
MBG Equity Investment Fund 24.82%
Philequity Alpha One Fund 19.17%
Soldivo Strategic Growth Fund 13.05%
Philequity Dividend Yield Fund 12.56%
ATRAM Philippine Equity Opportunity Fund 11.86%
Philequity fund 11.66%
First Metro Save and Learn Equity Fund 11.47%
Philequity PSE Index Fund 10.46%
United Fund 10.44%
Sun Life Prosperity Philippine Equity Fund 10.39%
Philippine Stock Index Fund 10.33%
Sun Life Prosperity Philippine Stock Index Fund 9.95%
PAMI Equity Index Fund 9.65%
Philequity MSCI Philippine Index Fund 8.31%
Top 10
Best Performing Balanced Funds

in the Philippines in 2021:

NAVPS Performance are as of August 3, 2021. Data shows 1-Year Return (%).
Sun Life Prosperity Dynamic Fund 7.62%
Sun Life of Canada Prosperity Balanced Fund 6.12%
First Metro Save and Learn Balanced Fund 5.54%
Solidaritas Fund 5.51%
Sun Life Prosperity Achiever Fund 2048 5.22%
ATRAM Philippine Balanced Fund 4.86%
ATRAM Dynamic Allocation Fund 4.70%
NCM Mutual Fund of the Philippines 4.61%
Philam Fund 3.86%
Sun Life Prosperity Achiever Fund 2038 3.69%
Top 5 Best Performing
Bond

Funds

in the Philippines in 2021:

NAVPS Performance are as of August 3, 2021. Data shows 1-Year Return (%).
ALFM Peso Bond Fund 1.28%
Cocolife Corporate Bond Fund 1.23%
Philam Managed Income Fund 0.56%
Sun Life of Canada Prosperity Bond Fund 0.55%
Philequity Peso Bond Fund 0.51%
Top 4 Best Performing
Money Market Funds

in the Philippines in 2021:

NAVPS Performance are as of August 3, 2021. Data shows 1-Year Return (%) including dollar securities.
Sun Life Prosperity Money Market Fund 1.56%
ALFM Money Market Fund 1.37%
Sun Life Prosperity Dollar Starter Fund 1.05%
First Metro Save and Learn Money Market Fund 0.98%
If you are into investments, we are sure you are diversifying your capital by having more paper assets while also investing in other assets like real estate properties, businesses, and passive-income investment wheels.
Mutual Funds are just one of the many investments you can start to have financial abundance. There are also other rewarding paper investments like UITF, ETFs, and stocks. Remember to invest according to your risk appetite, financial stability, and goals.
FAQs About Mutual Funds:
Are mutual funds exempted from tax?
Yes, as amended in the National Internal Revenue Code of the Philippines, gains realized upon redemption of shares in a mutual fund company are exempt from income tax. This law is amended to encourage more Filipinos to save and invest money.
Can I lose money investing in mutual funds?
Mutual fund investments carry risks. An investor must study the mutual fund's prospectus, evaluate his risk tolerance, financial status, and objectives before investing in a mutual fund. An investor could lose money in mutual funds if he failed to execute the right time and strategy for his investments.
What is NAVPS in mutual funds?
NAVPS is an acronym for Net Asset Value Per Share. It is used to measure the value of one share of a mutual fund. Investors can buy or sell shares of a mutual fund according to the NAVPS, which changes every trading day.
Other Investment Guides:
Disclaimer: This article is for information purposes only and should not be considered as professional advice. Investments in mutual funds have risks. Historical performances don't guarantee future results. Always do your research before investing your money.