Want to buy load for Smart, Globe, Sun, Talk 'N Text, and Touch Mobile number using your BDO online account or BDO mobile app? You can do it quickly by following the steps we share on this page.
There are many ways to buy a prepaid load from numerous mobile networks in the Philippines, but there are some circumstances when we run out of funds from our usual loading methods or loading stations.
We can load our Philippine mobile networks like Smart, Globe, TM, TNT, Sun Cellular, Dito, or ABSCBN numbers using some payment platforms like GCash, PayPal, and PayMaya. Yet, the most convenient way people prefer to load their prepaid accounts is through online banking because they never run out of cash.
Why Use BDO Account as a Load Wallet?
Our BDO bank account can also be used as a load wallet because we can load our mobile number or our family's mobile number anywhere, using our savings account or funds available from our BDO account. Reload feature is among the banking technology provided by BDO for its clients.
How to Buy Prepaid Load Using BDO Online Banking
Step 1: Log in to your BDO Account
Open your browser (we recommend the updated version of Chrome for secured browsing). Then, visit the official website of Banco de Oro. Log in to your BDO online account by typing your username and password.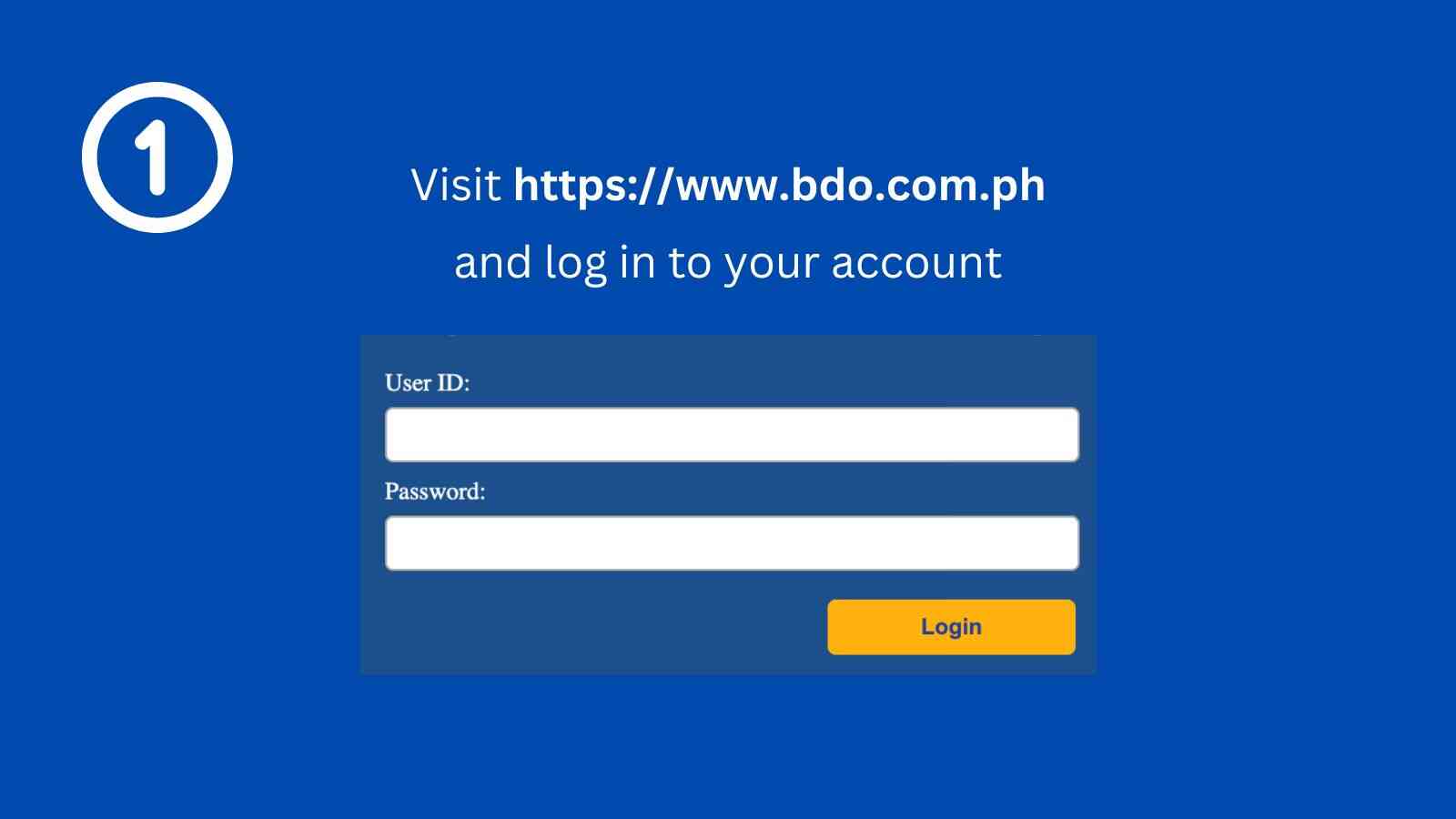 You can do this by clicking the yellow "Online Banking Log in" tab on the upper right corner of BDO's homepage. Then select the "Personal" option since you're using your personal account instead of a business account.
Step 2: Enroll your Mobile Number
If it's your first time loading your mobile number, you must first enroll your prepaid cellphone number in your BDO online banking account. Otherwise, proceed to step 3.
To enroll your prepaid mobile number in BDO, proceed to the "Navigate" tab on the left side of the screen. Then select "Enrollment" and click the "Prepaid Mobile Number" button.
A new screen will appear. You must then choose your mobile network. Today, clients can load their prepaid consumption from telecommunication networks like Dito, Globe, Touch Mobile, Smart, or Talk N Text.
Type your complete mobile number on the box (example: 09191289040). Type your preferred nickname for that mobile number (example: Gabby Globe)
Tick the appropriate box for your enrollment (we recommend ticking both Online Banking and Phone Banking). Then click the "Submit" button.
BDO will send a notification on your email or SMS message confirming your prepaid mobile number enrollment if your enrollment is successful. You can start to buy load to your enrolled account.
Step 3: Buy a Prepaid Load through BDO Pay Bills
Navigate to the "Pay Bills and Reload" menu on the left side of your account dashboard. Then pick the "Prepaid Mobile Reload" tab and click the "Buy a Load" option. The next screen will display your reload details.
Provide which among your BDO accounts you will use to purchase your prepaid service. Choose which among your enrolled mobile numbers you want to send the prepaid load. Indicate the amount of load from the given options.
BDO only allows regular prepaid loads in the amounts of 10, 50, 100, 350, 450, 550, 600, 700, and 900 pesos. Set your reload schedule. Choose "Immediately" as needed. You may also select a later date or a regular schedule date.
Step 4: Verify if your Transaction Details are Correct
A new screen will display your transaction details, such as your preferred BDO account number, your mobile number where you're sending the prepaid load, the amount, remarks, if any, transaction type, and the date of your request. You must check all the details are accurate. Click the "Continue" button to confirm your transaction.
For security purposes, BDO will send you an OTP (One-Time Password) on your registered mobile number to confirm your transaction. Type the code to proceed to your request.
Step 5: Receive your Prepaid Load from BDO
After a few seconds, BDO will send your prepaid load. Likewise, you will receive an SMS and email notification that a certain amount has been loaded to your mobile number. The SMS and email message also contain the transaction date and reference number.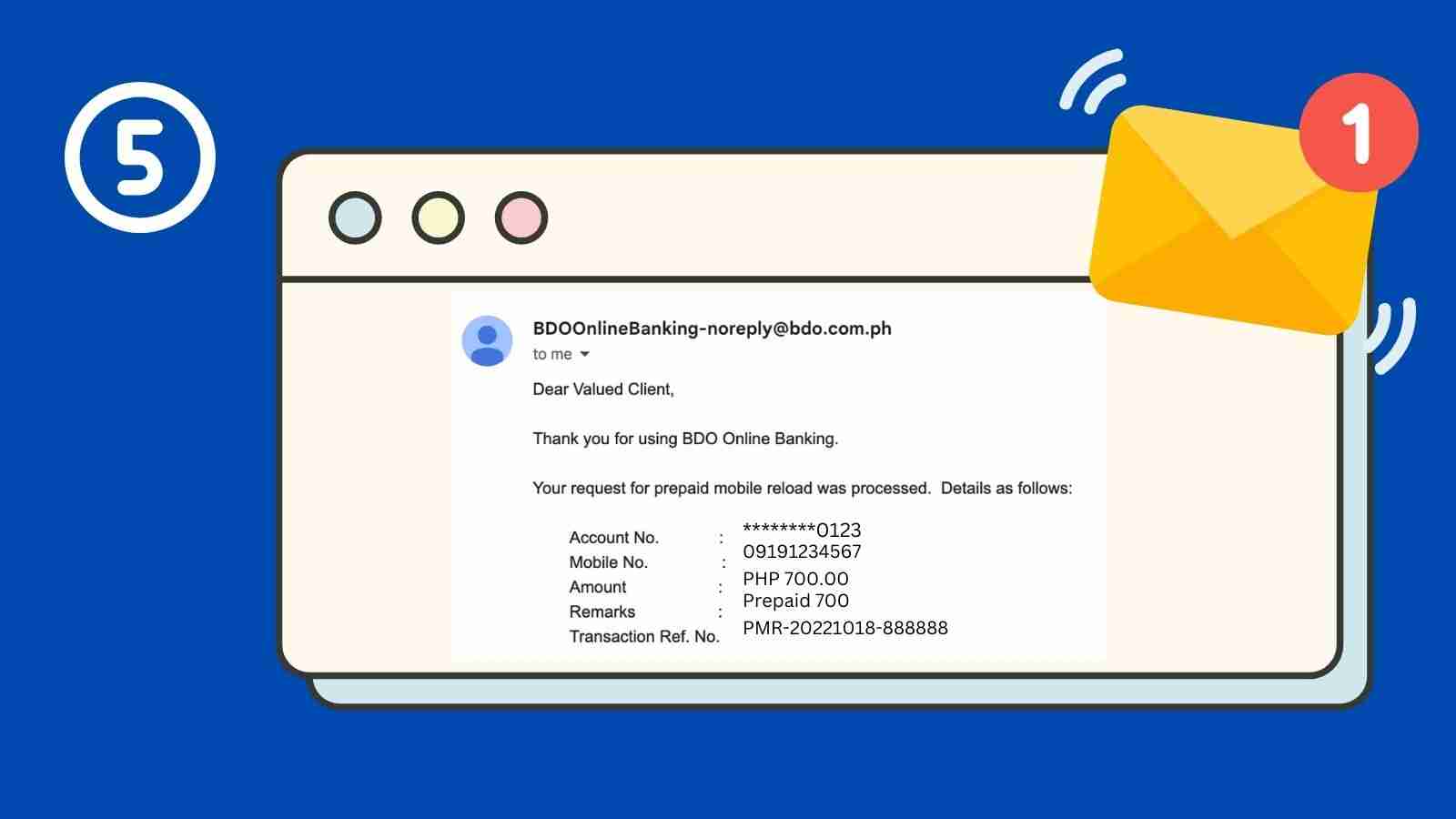 How to Load Smart, Globe, TnT, TM, Dito, Using BDO App
Download the BDO Mobile Banking App
Log in to your BDO account
Click the Three Dots Icon below the screen
Select "Enrollment Services"
Select "Enroll Prepaid Mobile Number"
Confirm your Mobile Details
Go Back to the Three Dots Icon
Choose "Prepaid Mobile Reload"
Buy a Load and Select Which BDO Account
Indicate the Amount of Load
Confirm your Transaction
Receive your Regular Load
Buying a regular load for prepaid is very straightforward using the BDO mobile app than the classic desktop online banking mode. Once your number is stored and enrolled on your BDO account, you can buy your load in a few seconds.
Final Thoughts:
Banco de Oro's reloading feature is very nifty and convenient. Unlike other payment channels, BDO online and mobile banking don't charge any transaction fee when buying or sending a load to any number in the Philippines. Clients will receive their one hundred percent prepaid load for Smart, Globe, Touch Mobile, Dito, and Talk N Text mobile subscribers.
Other Helpful Tips: