In this page, I am sharing the list of best and famous tourist spots to go and visit in Bohol, Philippines. Bohol is one of the most favorite places foreigners and Filipinos love to travel. I've been there recently and I loved the nature tour adventure including having a buffet lunch at the popular Loboc River floating restaurant, seeing the cute Tarsiers, Hanging Bridge, Hinagdanan cave, Chocolate Hills, exploring historical landmarks such as Baclayon Church and Museum and relaxing along the white-sand beaches of Panglao Island.
How to go to Bohol from Manila?
Simply book a flight from Manila to Tagbilaran Airport. It takes about 1 hour and 15 minutes to reach Tagbilaran City from Manila. How much is the airfare? It's around P1,500 for a roundtrip flight on regular days and cheaper on some offpeak season.
How to go to Bohol from Cebu?
There are Roros and Jetty Boats available and it takes only 30 minutes to cross the sea from Cebu Island to Bohol.
If you're coming from another province like Panpanga, there are also flights available every day to reach Tagbilaran airport.
When is the best time to go to Bohol, Philippines?
It is best to go on sunny days and summer season in the Philippines because the beach will be bluer and more beautiful. Avoid going on rainy seasons from June to September. Weather is fine and sunny during the rest months.
Famous Tourist Spots to go and visit Bohol
What to see in Bohol? Your trip would be so amazing if you visit and see the following places, explore nature and snorkel on the crystal clear water of Panglao beaches.
Chocolate Hills of Bohol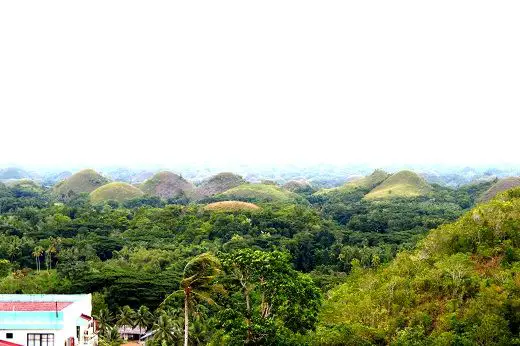 The little mountains "burol" a.k.a. the Chocolate Hills are one of the best wonders in the Philippines. Don't miss seeing them. They are located in Carmen, Bohol. They are greenish hills but turn chocolate brown during dry season or when heat season is at its peak – usually April and May. Definitely one of the best tourist spots in Bohol.
Panglao Island
Panglao Island is surrounded by beautiful beaches and islands in Bohol. Don't miss visiting the white shores of Alona Beach. It has many restaurants, bars, clubs and popular hotels and resorts in Bohol. It is where nightlife is most alive in the island.
Virgin Island or Pungtud Island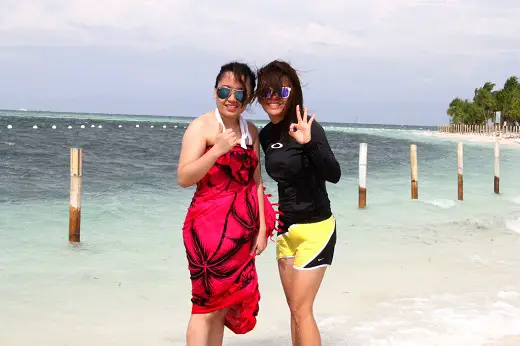 Virgin island is one of the most amazing island in the Philippines not only in Bohol. It's a little island in the middle of the blue sea only appearing at low tide. It is also called Pungtud island. Padre Pio statue stands in the heart of the island.
Balicasag Island and Dolphin Watching
After dolphin watching, visit Balicasag island and snorkel. It is also one of the popular attractions in Bohol.
Loboc River and Floating Restaurants
Spend your first lunch in Bohol at the Loboc River floating restaurants. They serve buffet lunch with lots of seafood to choose from. There will also be a live band serenading all guests while the vessel sails gently along the green river of Loboc. Experience a taste of Bohol's delicious foods while enchanted by the beautiful nature of Loboc. Worth visiting and definitely one of the best tourist spots in Bohol!
Tarsiers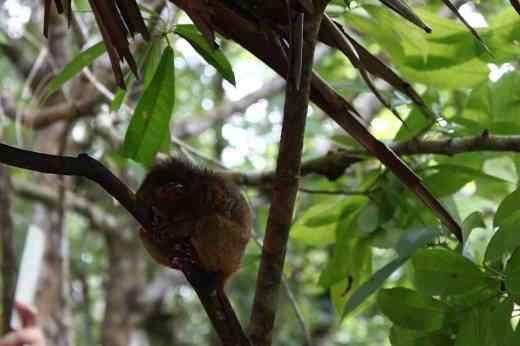 Isn't it cute? Visit these endangered species and nocturnal animals in Bohol.
Hanging Bridge
Manmade Forest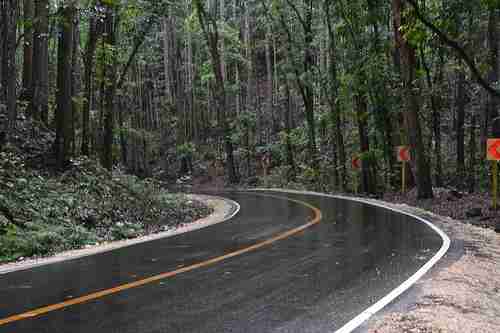 Blood Compact
"Datu Sikatuna, who was the Datu (lord) in the island of Bohol in the Philippines, made a blood compact ("Sanduguan") and alliance with the Spanish explorer Miguel López de Legazpi on March 16, 1565 near the modern town of Loay."  -Shankar S.
Baclayon Church and Museum
One of the oldest Jesuit-built churches in Asia and the Philippines. Don't forget to visit the museum too.
Zipline Adventure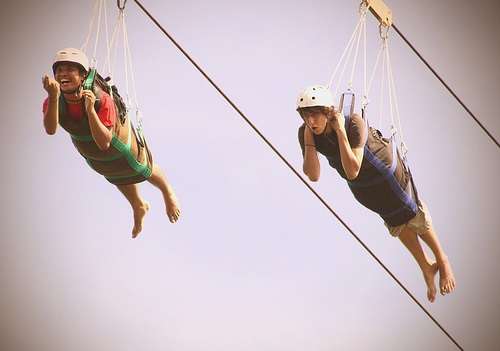 Hotels and Beach Resorts in Panglao, Bohol
Other places to visit and things to do:
Butterfly Garden
Hinagdanan Cave
Pamilacan Island
Buy Bohol souvenirs and foods
Tips to make the most of your time and stay in Bohol
Some people usually have 3D2N or 4D3N stay in Bohol so time is really limited to visit all the wonderful places. If you'll be arriving in the morning, you can use your whole day to visit Blood Compact, Baclayon Church, and lunch at the Loboc River. Then some other places like Chocolate Hills, Man Made Forest, Tarsiers, Hanging Bridge and the like. Then you can rest and swim and enjoy your lovely hotel at night. Have a sumptuous dinner and sleep early so you'll have enough energy the second day.
On your second day, you can start the early morning around 5am or 6am to island hop and do Dolphin Watching. Then go to the amazing Virgin Island and Balicasag. You can snorkel, swim and do anything you want. You can also visit other islands in Bohol like Pamilacan island. Perhaps you can return at 9am or 10am in your hotel or resort to prepare for your next leisure time.
On your remaining time or days, you can just relax and chill. Visit Alona Beach, swim, have massage, or do anything you want. At least you are not tired anymore because you're done seeing all the tourist spots.
Bohol Itinerary for Tour and Activities:
These are my suggestions only so you can enjoy, relax and make use of your time without feeling exhausted because some of the famous tourist spots are far away from each other.
1st Day
Blood Compact
Baclayon Church and Museum
Tarsier
Lunch at Loboc River Floating Restaurants
Hanging Bridge
Chocolate Hills
Man Made Forest
Hinagdanan Cave
Butterfly Garden
2nd Day
Dolphin Watching
Island Hopping – Virgin Island, Balicasag, Pamilacan
Relaxation, swimming, etc at your hotel or resort
Strolling Alona beach
Buying Souvenirs
3rd Day
Do want you wanna do – like relaxing and enjoying your resort's amenities,  before your airport pickup.
Related article:
Best Hotels and Resorts in Bohol Philippines
Have you been to Bohol or are you going soon? Share your travel getaways by commenting!