These are the best places and tourist spots to go and visit in Catanduanes in 2023. Be sure not to miss traveling to these best attractions and destinations if you are in the Philippines.
If you want to experience an extraordinary adventure in the Philippines close to panoramic mountains and beaches, Catanduanes must be on your bucket list. On this page, I am sharing the best tourist spots to go and visit in Catanduanes.
Why Should You Visit Catanduanes?
Catanduanes is blessed for its amazing beaches, pristine waters, rock formations, and beautiful landscapes. Travelers can enjoy swimming, surfing, hiking, trekking, and island hopping.
Where is Catanduanes Located?
Catanduanes is part of the Bicol region and is close to some incredibly famous holiday spots, like Caramoan Islands, Misibis Bay, and the Mayon Volcano. So if you are visiting Catanduanes, you can also hop to some of those places.
How to Go to Catanduanes?
Virac is the capital of Catanduanes, so if you are going to see all the tourist attractions in Catanduanes, you must start in Virac. From Manila or any point in the Philippines, some flights are going to Virac. There are also some buses en route to this beautiful place.
Via Air Travel from Manila:
Take a flight going to Virac. In less than an hour, you will arrive in the capital of Catanduanes.
Via Land Travel from Manila:
Go to the bus terminal in Araneta Center, Cubao, near Gateway. Then, take a bus going to Tabaco, Albay. The land trip from Manila to Tabaco takes about 12 hours, so make sure you have enough water and some money for your food.
Then take a cruise ship going to Virac. A regular cruise ship travel takes around 4 hours to reach Virac. You can also ride a fast craft, this is faster, and you will reach San Andres in an hour and a half, then 40 minutes of jeep ride to reach Virac.
18
Best Places and Tourist Spots to Visit in Catanduanes

Philippines:
1.
Binurong Point
Binurong Point is among the most famous tourist spots in Catanduanes because of its amazing green landscapes and breathtaking cliffs. Overlooking the Pacific Ocean, you will surely love the view from the top. Make sure you bring water, and remember to wear your hiking shoes because you need to do a little trekking to reach this nature wonder.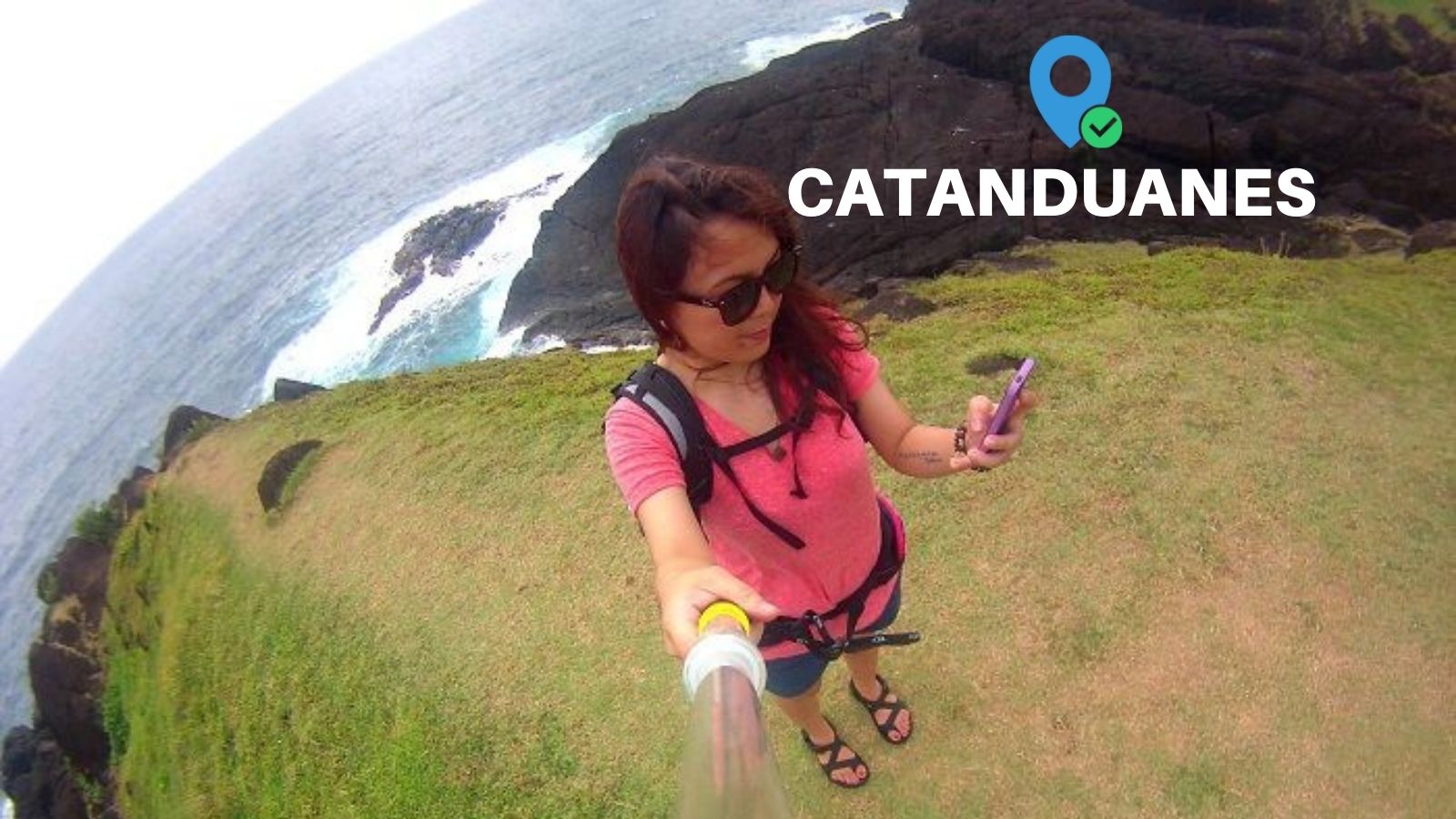 This magical paradise is used to be forbidden for visitation as they believed it to be enchanted, but due to the effort of locals and tourists, Binurong Point was opened it to the public. It is located in Baras, Catanduanes.
2.
Puraran Beach
Puraran Beach is the surfing hub of Catanduanes. The best part of getting here is there is no entrance fee. It is perfect for professional surfers chasing those giant waves. Have you watched the movie "The Shallow?" The waves and rocks here remind me of that famous movie starred by Blake Lively.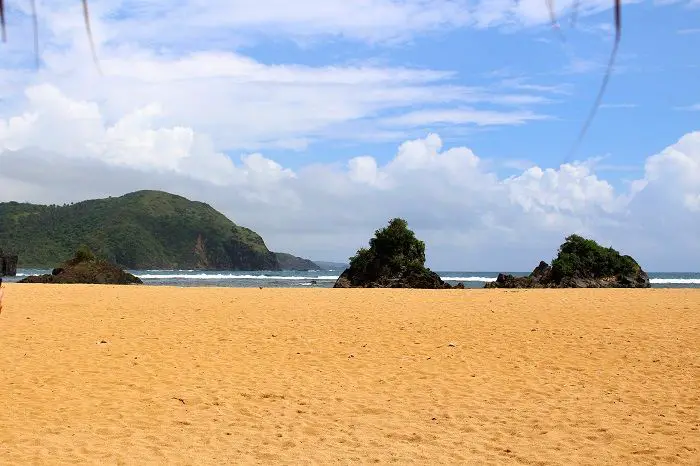 3.
St. John Parish in Bato, Catanduanes
St. John Parish in Bato, Catanduanes, is one of the oldest churches in the Philippines. Seeing the interior designs of this church reflects a lot of its history. Locals told me that construction workers used egg whites to build this ancient church with blocks of cement and rocks. How amazing!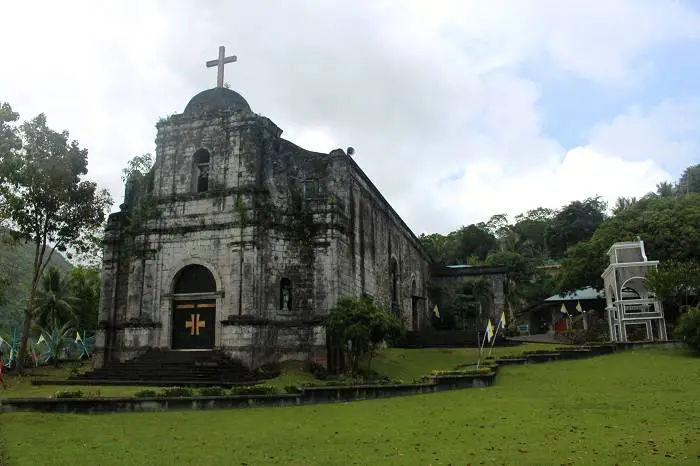 4. Mamangal Beach
Do not miss visiting the most beautiful beach in Catanduanes, Mamangal Beach. It stretches a stunning shoreline of powdery white sands and pristine clear water. It is also the perfect place to watch a picturesque sunset while you gaze the fascinating Mt. Mayon at the horizon. Truly among the best places to visit in Catanduanes!
5. Balacay Point
Balacay Point is a sight to behold because you will see a magnificent landscape of the Pacific Ocean, virgin islands, and scenic hills. Many tourists compare Balacay Point to the green hilltops of Batanes. It is indeed among the must-visit tourist attractions in Catanduanes.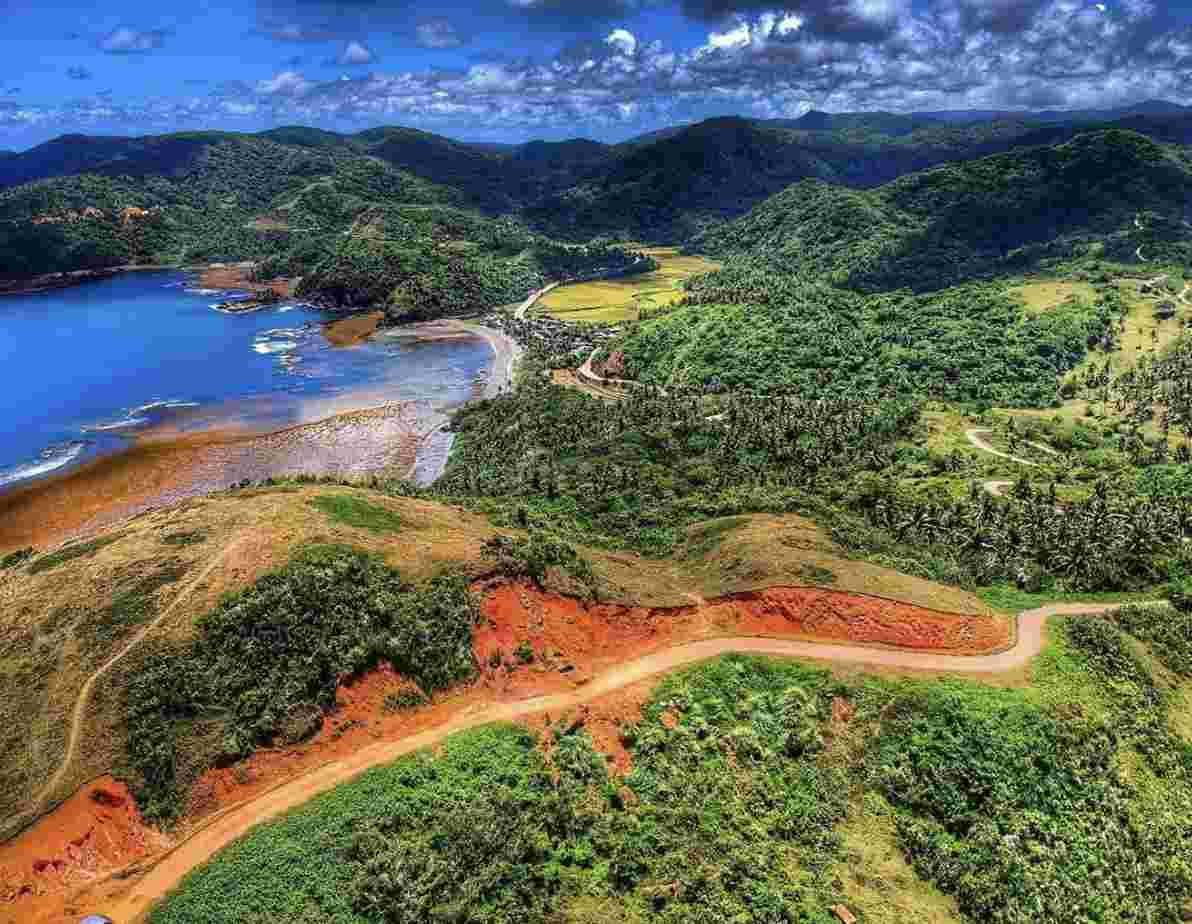 6. Marilima Beach
If you prefer peace and quiet, you can relax by visiting Marilima beach in Catanduanes. It has fine gold powdery sands and crystal water perfect for swimming and sunset lovers.
7. Batag Beach
After visiting Marilima beach, head over to another paradise and visit Batag beach. It's a famous tourist attraction in Catanduanes because of its arch rock formation. It's also among the most Instagram-worthy spots in Catanduanes.
8. Luyang Cave Park
The legendary Luyang Cave is located in Lictin, San Andreas, Catanduanes. Giant stalactite and stalagmite rock formations reside inside this tourist destination in Catanduanes. The cave is known to be a silent witness of the tragic fate of inhabitants trapped and died inside it.
9. Poseidon Rock in Carorian, Catanduanes
Poseidon Rock is a stunning rock formation on the slope mountains of Carorian. The fascinating rocks also formed a twin lagoon where tourists can't resist taking a dip.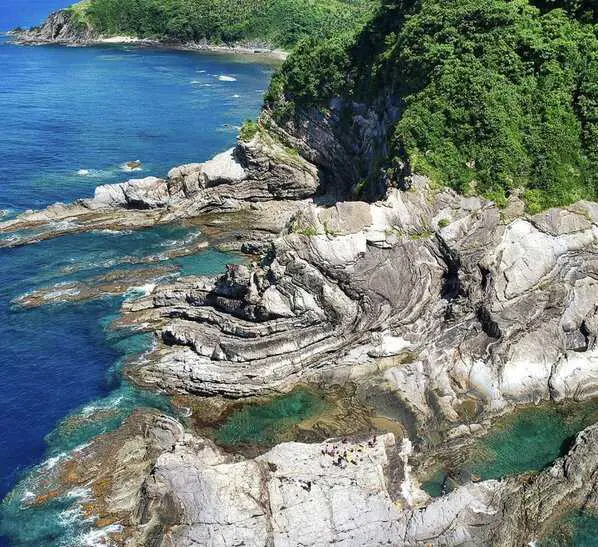 10. Fiat House Cave-Inspired Chapel
A very unique and meaningful experience is to visit a small cave-inspired chapel situated in Cavinitan. Visit this place to give thanks and prayers for your incredible journey in Catanduanes. Besides, everything inside the chapel is truly divine.
11.
Maribina Falls
Maribina Falls is a majestic waterfall loved by locals and tourists who like camping and picnic. It is about five to six meters high, pouring clear and fresh waters into some smaller pools beneath it.
12. Tuwad-Tuwadan Blue Lagoon
Another Instagram-worthy place to visit in Catanduanes is Tuwad-Tuwadan Blue Lagoon, a jaw-dropping tidal pool in Pandan. Getting to this secret place is challenging because you have to go through a steep cliff and slippery grassy paths, so be careful.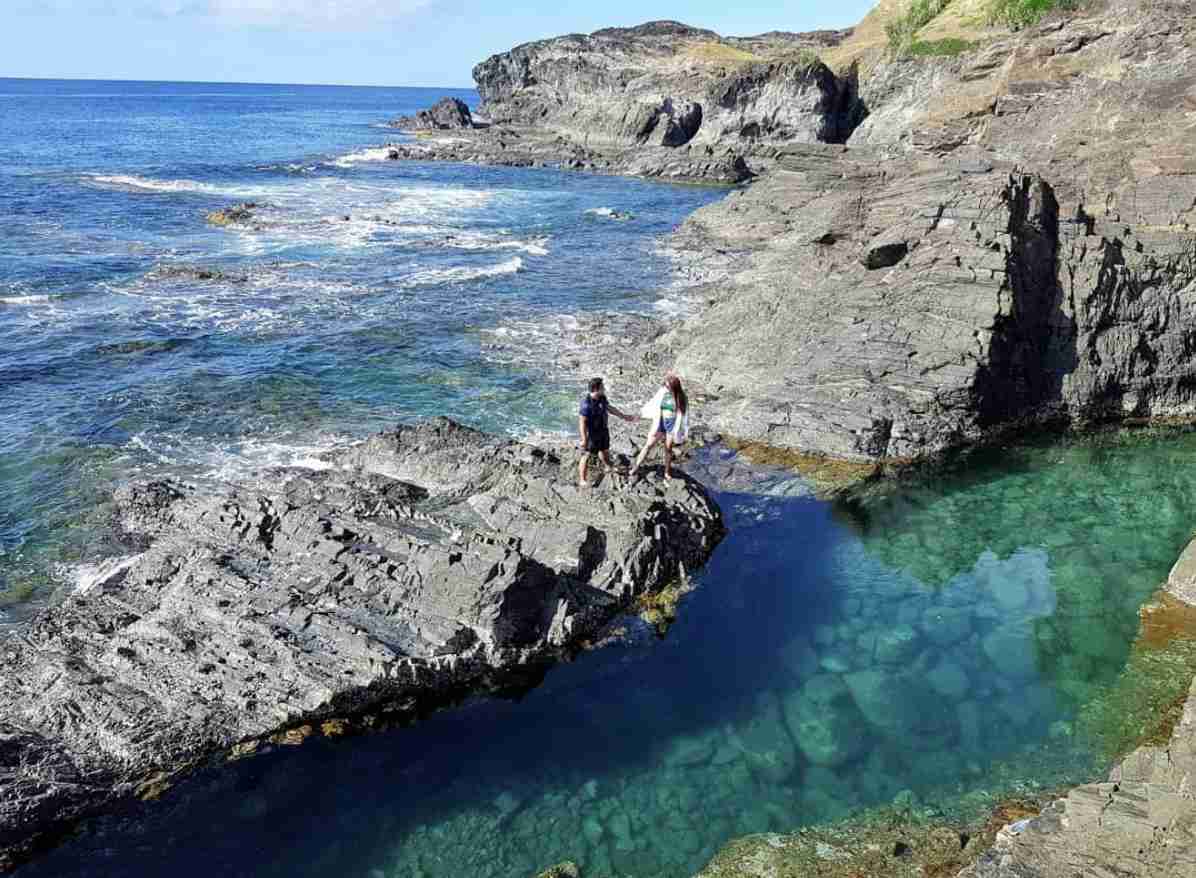 13. Museo de Catanduanes
Experience Catanduanes by getting to know its deep heritage and culture. Visiting its museum will let you glance at its historical past. Museo de Catanduanes is located on the second and third floor of the old capitol building of Virac.
14. Hiyop Highlands
Hiyop Highlands deserves to be on our list of the best tourist spots in Catanduanes in 2023. It is a grassy highland among the best rolling hills located in Barangay Hiyop, Pandan. The view here is simply spectacular!
15. Palestina Rolling Hills
You will be in awe seeing other rolling hills in Panay island, Bagamanoc, East Catanduanes. Palestina Rolling Hills is truly a sight to behold because of its panoramic rolling hills and landscape.
16. Cagnipa Rolling Hills
Cagnipa Rolling Hills is one of the most beautiful destinations in Catanduanes. It's a guarantee that you will be speechless when you reached the peak of Cagnipa hills because the scenery will take your breath away.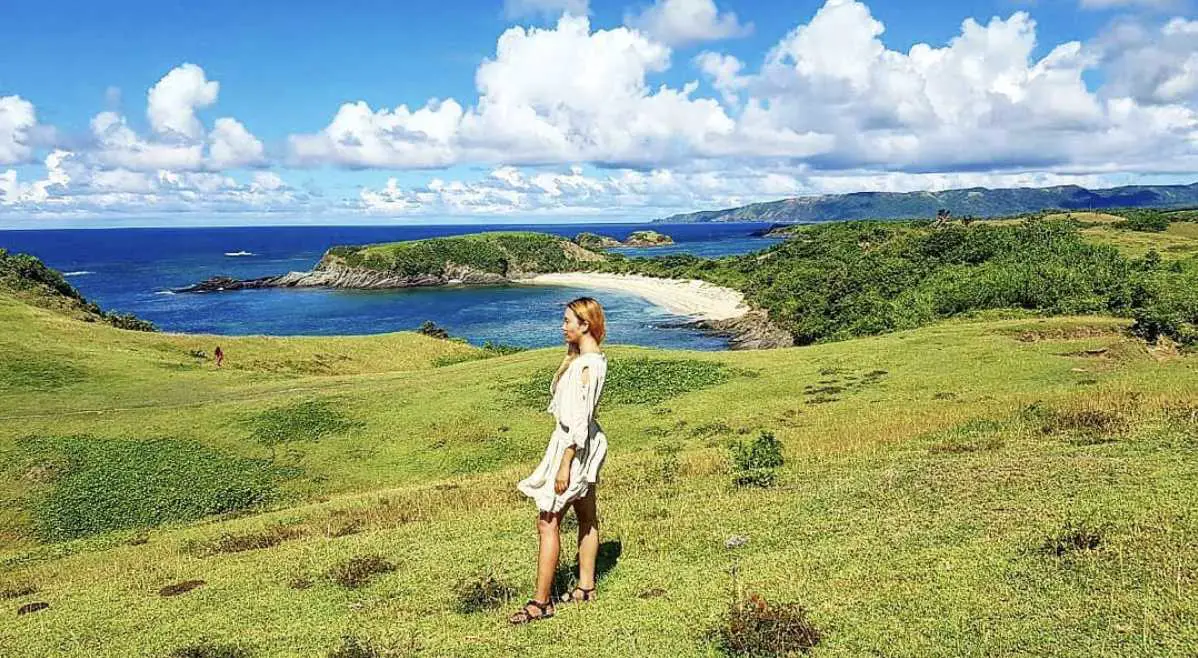 17. Lolong Point Lighthouse
Lolong Point Lighthouse is another tourist destination in Panganiban, Catanduanes. The famous lighthouse is standing on the edge of a cliff surrounded by the beautiful shoreline of Kumagat beach.
18. Fertility Rock in Bagamanoc
The Fertility Rock in Bagamanoc, Catanduanes, is an iconic landmark for its bizarre form. It resembles the masculine organ. It is indeed an interesting island to see in Catanduanes.
Visit more Travel posts by going to our TRAVEL page.