We laid out the easy and simple procedures here on how to buy stocks online using COL Financial. COL is one of the best online trading platforms in the Philippines and if you are investing in the Philippine Stock Exchange you really should be familiar with its online features.
A lot of readers and beginners are afraid and worried how to start buying stocks online mainly because when they open their trading platform, they see a lot of buttons, tables, tickers, data, and lots of numbers. The truth is, this should not be the case because when you buy stocks, you should only focus on few things, the rest are not so important.
3 things you need to buy stocks:
Budget
Stock
Price of the stock
Remember BSP.
1. Budget:
This is your monthly budget. Set aside 20% of your monthly income/salary to invest in the stock market. Be proud even if it's only P5000 a month or P8000, or P2000. What is important is that you are investing every month. Be proud because you are a stockholder 🙂
2. Stock:
This is your monthly stock picks or what stocks you need to buy right now. You either buy from one or 2 or 3 or more companies. It depends upon your strategy and monthly budget. What is important is that you are investing for long term. Don't have stock picks? Join DailyPik, they give the best stocks to buy and sell if you're investing for a long term like me.
3. Price of the Stock:
You have to consider your available funds in your COL Financial account coz this is your wallet. You need to have enough money before you buy any stocks. Remember, in the end everything is going to your EQUITY.
Now I think you're ready to buy stocks online using COL Financial. Let us proceed so we can make your first stock investment.
Procedures
How to Buy Stocks Online Using COL Financial

:
Step 1: Log in to your COL Financial account
You need a verified COL Financial account before you log in and buy your first stocks. If you don't have an account yet, sign up at their official website and register an account. Opening an account is easy and the same requirements are needed similar to opening a bank account.
Step 2: Execute a BUY order
Go over the right side of the page and type in the code of the stock you wish to buy and tap QUOTE and BUY button. In this example, I want to buy stocks of MBT (Metrobank).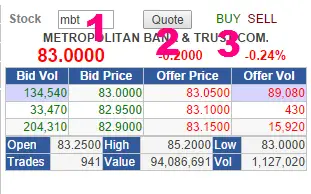 Step 3: Enter your Stock Order details
Details of specific stock will then appear. Don't be crazy about the data you see. I know there are lots of them. Instead, just focus on the following:
When you buy stocks, go for the ASK column because this is where you see the sellers' offer corresponding the stock price available.
It is important you check the Board Lot required. If the Board Lot is 10, you can only buy in 10s (10, 20, 50 100, 130 etc. as long as the sum is divisible by 10)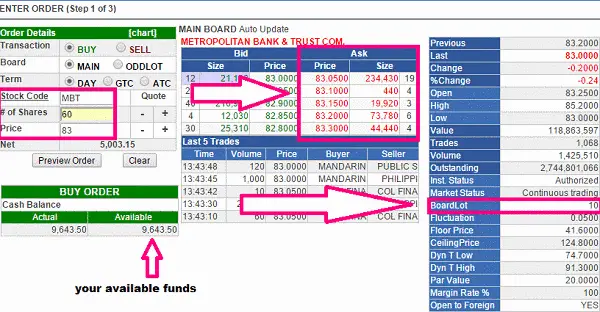 Right now, I want to buy stocks from MBT and my budget is P5000. Lowest price of MBT stock per share is P83.05. Board Lot requires 10 for this stock. I used my pc calculator and came up with 60 shares for my budget (following the required board lot). So I'm buying 60 shares.
Step 4: Confirm your Order
Type in the number of shares you want to buy and click PREVIEW ORDER button. Note that COL Financial, just like any other broker, charges small fees on every transaction.
Type in your COL account password and proceed to order.
Congrats because you now bought shares from a company. Wait for the stock price to reach your target so you can sell them out and collect profit.
By the way, you can also place order through GTC and ATC especially if you want to ask for lower price of the stock. See the validity period of GTC and ATC below: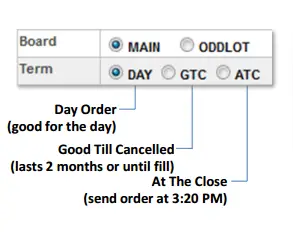 Note that regular trading hours are every Monday – Friday, from 9:30 a.m. – 12 noon and 1:30 p.m. to 3:30 p.m.
Stock Marker Guides for Beginners: