How to Pay and Post SSS Employees Contributions  – this page is about paying, remitting and posting SSS contributions of employees monthly and quarterly. As an employer, we are required and mandated to remit payments to SSS of our employees' premiums either every month or every quarter to ensure complete SSS posting and to ensure our staff entitled for SSS benefits whenever the needs arise.
Requirements in Paying SSS Employees' Contributions
Employer Contributions Payment Form – also known as SSS Form R-5
Contributions Collection List – also known as SSS Form R-3or R-3 Diskette/USB File
Cash or Check payable to SSS
How to Pay and Post SSS Employees Contributions



When and where to pay and remit employees contributions? Although there is now a special deadline for SSS payments based on the tenth digit of a member's SSS number, I advise employers to pay like the usual deadline which is on or before the 10th day of the following month because your employees have different SSS number and this is much convenient for you and your payroll staff.
I also advise to pay to the SSS branch that handles your company's records to maintain fast and easy access of records and employees' applications concerns. Paying to the SSS branch will save your time when you will submit your R3 files too although you can also pay SSS contributions online and to some accredited payment centers like banks.
Steps in Paying SSS Employees' Contributions
Fill out 3 copies of SSS Form R5 and make sure all your company's info such as SSS employer's number, company name, type of payor, date of payment, contact number and amount of remittance for social security contributions and employees' compensation contributions are all correctly written.
Count your cash or money or double-check your check or postal money orders before paying.
Go to the SSS branch near you and pay.
Keep the receipt and have it photocopied for the next step (below)
Steps in Posting Employees SSS Contributions
Once you paid your employees SSS premiums, you are not done yet. You still need to submit the receipt together with the SSS R3 diskette or USB file and copies of each month's Transmittal Certification and Employee File. If you don't know how to print these documents, please read "How to Use SSS R3 Program and Generate File."
Prepare photocopies of the SSS R5 (receipt). Prepare 2 copies per month because SSS will keep one copy per month of payment.
Prepare 2 copies of Transmittal Certification, too and sign them. SSS will receive one copy each month covered.
Prepare 2 copies of Employee File per month of payment.
Submit your SSS R3 diskette or USB flash drive for posting and uploading of the collections and contributions. SSS then will save the R3 Collection Monthly List before they will return your diskette or USB flash drive. They will be in PDF format and you have to print these out and keep them for your file reference.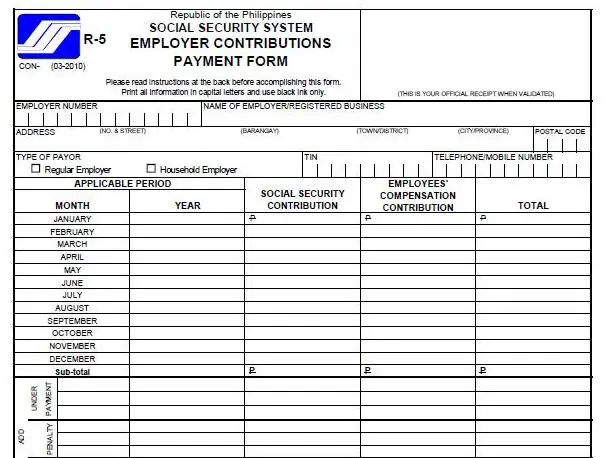 By the way, paying quarterly means paying 3 consecutive months and doing the same submission to the SSS as discussed above. You can pay quarterly so that you won't be going to the SSS every month but you will have to inform your employees about this option so they will be aware of the deductions from their salary.
That's it. You're done. Very easy right?
Disclaimer: I'm not affiliated with SSS. Just like you, I'm doing this for employer's SSS report every month. Thought to share this with you to help first time users. If you have personal questions and inquiry, contact the SSS branch near you. If you wanna share your experience using the R3, feel free to share them here. Mabuhay!