Not everyone knows how to use the SSS R3 program a.k.a  R3 Diskette Project properly to generate and input files. In this page, I've discussed the step-by-step ways on how to enter and post details of employer and employees updated SSS contributions and premiums.
Recently, SSS announced that they now require all employers to have an online employer account before submitting SSS R3. I think they implemented it to make everything else online and paperless.
It is so important to enter SSS contributions and update details to the SSS R3 file generator program because it is one of the requirements after paying SSS contributions. It is an assurance that each employee's SSS premiums are posted properly at the SSS system whenever they pay or remit. SSS R3 displays the Contributions Collection List and gives a print-out of SSS Transmittal Certification and employee file. If you are a first time employer, you can read "how to pay and post employees SSS contributions."
How to Download SSS R3 Program File Generator
Where to get the SSS R3 file download? After an employer or a company was registered at the SSS, they are usually given the SSS number plate and certificate plus the file containing the SSS R3 program. This file must be downloaded and installed by the employer to a computer –laptop or desktop.
Check the system requirements to be sure the program will run properly and faster. The file also contains the user's manual which includes instruction on downloading the file. You can also download the file online at SSS website. Once you successfully installed it, you can start uploading your data and employer's info for SSS contributions collections.
Follow the procedure below in entering your employees SSS payments and EC shares.
How to Use SSS R3 Program and Generate File
Steps in using SSS R3 Diskette Project

Tap the R3 icon in your desktop.
Start by selecting File Maintenance in the Main Menu.
From the File Maintenance Menu window, choose Employer Record Maintenance and enter your employer's name, employer's SSS ID number, and the applicable month of contributions. See the screenshot below as your guide.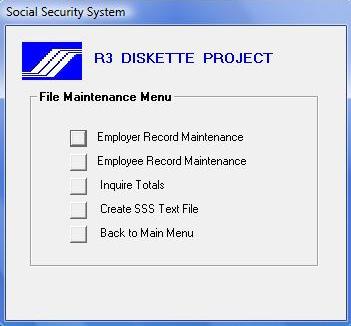 Then click UPDATE the Back to Main Menu.
From the File Maintenance Menu again, choose Employee Record Maintenance this time.
Then enter your employee's SSS number and other details such as last name, first name, middle initial, SSS amount, ECC amount and the applicable remarks for that employee (ie: N for normal employee) By the way, you can press enter whenever you are filling up the next info (ie: SSS number hit enter to proceed to last name…and so on)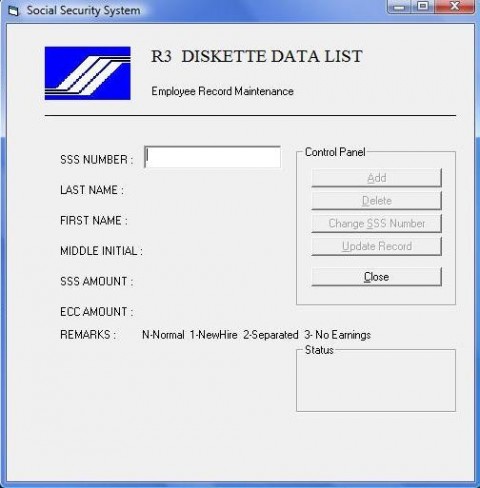 Hit Update when you're sure all data are correct. Double check all data before hitting update to avoid errors or wrong inputs.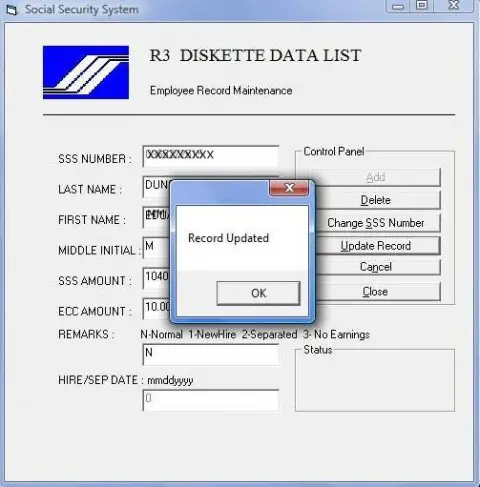 Once you have entered all your employee's contributions, go back to the File Maintenance Menu and choose Inquire Tools at this time. A window about your total SSS amount and ECC will be displayed then for the applicable month. Go back to the File Maintenance Menu if it's correct.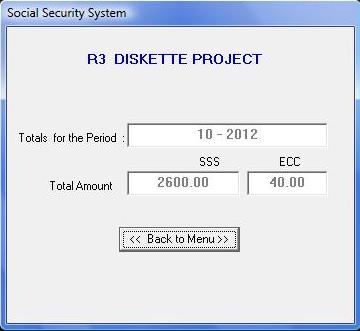 Choose Create SSS Text File at this time. Your computer will tell you that a copy was saved for your file. This file must be saved (copied) to your USB or diskette (whatever you are using) and must be brought to the SSS branch together with the applicable receipt for this payment and the print-out of transmittal reports discussed on the next step. Once this file was received by the SSS, all employees' contributions and collections will be posted accordingly.
Go back to the Main Menu and choose Report Generation.
Print your Transmittal Certification and Employee File. Print 2 copies because the other copies will be left at SSS, the other ones will be your own file copies.
You are done. Tap Exit.
When to submit the transmittal and R3 USB file?
You must submit them within 10 days after the applicable month of the payment. You can pay either monthly or quarterly. To avoid late payments, know the latest Deadline for SSS Contribution Payments.
Share your experiences about this software by commenting below. Thanks you!
Next article: How to Install the New and Latest SSS R3 Program