UPDATE: NETFLIX is NOW AVAILABLE in the Philippines! Whoohooo!
These are the facts, details and tips on how to watch Netflix in the Philippines. Wanna use and access your Netflix account in your TV or any device like ipad, iphone, or any mobile and tablet gadget with fast wifi and internet while you're in the Philippines? You can surely do this by following the easy tips below.
While Netflix is expanding its services worldwide, it's now available in the Philippines. That is why when you visit their official website, you'll see the following PLANS:  You can choose a Netflix plan and enjoy unlimited movies and TV shows in the Philippines.
Netflix Plans and Pricing Philippines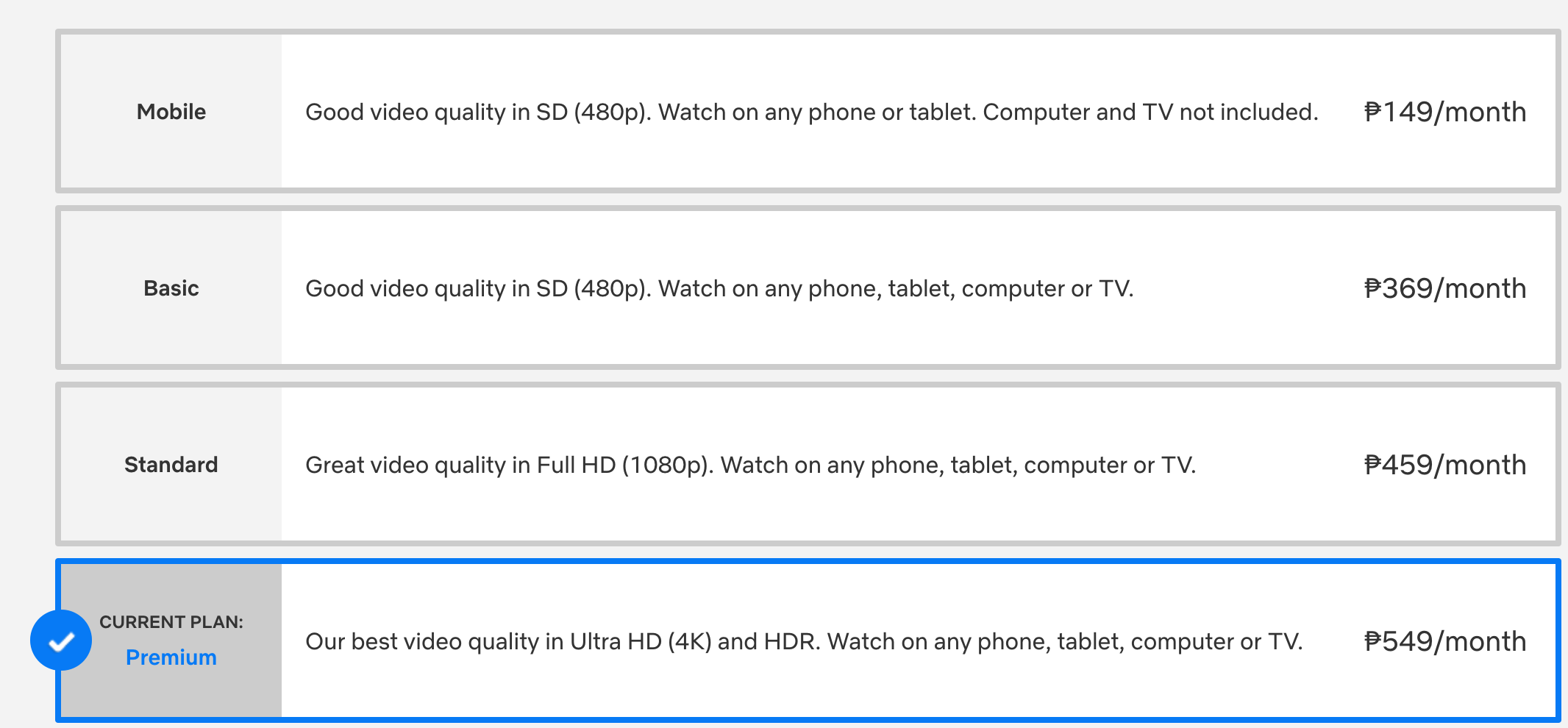 When you sign up to Netflix, you'll get one month free trial.
How to Watch Netflix in the Philippines?
You will need:
Fast internet connection (3mbps and above)
Netflix Plan (open an account at netflix.com)
Smart TV, Android device, iphone, ipad or any device that can connects to internet
Fast Internet Connection
Common internet connection in the Philippines are DSL and broadband but those usually range from 3mbps to 5 mbps, fair enough for decent streaming and playing movies and tv shows through Netflix. (See Netflix Internet Speed Requirements below).
Netflix Internet Speed Requirements:
3mbps recommended for SD quality
5mbps recommended for HD quality
25mbps recommended for Ultra HD 4K quality
Fortunately, there are now a faster internet plans in the country like PLDT Fibr internet connection and Globe home Broadband Ultra-High Speed Plan. They run from 8mbps and above.
DSL Plans also became cheaper and offer 5mpbs with affordable price. That will work well for watching Netflix movies and tv shows especially HD quality and Ultra HD 4K quality. Wifi is blazing fast for Fiber connection.
How to access US Netflix in the Philippines?
Netflix Philippines don't currently show all movies and TV shows like that of Netflix USA. When you try to search some movies and TV series, some US content are not shown. Maybe it's about the license thing for countries.
Fortunately, there is a trick to access all the movies and shows you want to watch by using a VPN. It is very easy to use a VPN, just follow the steps below.
Netflix traces IP address to grant permission to access their site and services. When you want to watch some films from other countries like the USA, UK, Canada, etc. an IP address in the Philippines will be blocked because Netflix uses geographical web based service. We can have full access by using a VPN (Virtual Private Network).
An excellent VPN like VyprVPN that has the highest level of speed and security for broadband internet connections. This provides the fastest VPN speed worldwide. Plus I never find a global VPN network which has a server location in the Philippines, only VyprVPN. I love their easy-to-use apps no matter what device or gadget you use – Windows, Mac, Android, iphone, ipad, and internet TV.
2. Set up your VPN connection on your computer
Simple go to Control Panel and then to Network and Sharing Center and select Set up a virtual private network (VPN) connection and type the internet address (IP Address) you wish to connect.
3. Set up VPN on your iphone or Android device
Install the VPN app and provide the required info. You're good to go.
Another ways to change and mask your IP address is using proxy servers and browser add-ons but we don't recommend them here because they crash stuff and they don't work continuously.
Using free proxy services and add-ons are not very safe and does not guarantee fast connection. You will likely have worse problems in using them. VPN is the answer to use Netflix in the Philippines to have all the access.