Are you a fan of manga? Do you love delving into different worlds, immersing yourself in the artistry and storytelling that only manga can offer? I'm a huge fan of anything Japanese, and manga is no exception. I enjoy reading manga translated into English on my phone or tablet.
If you like comics and want a new source of inspiration, you should check out manga. There are a lot of good free manga websites and apps out there, but here are the ones I enjoy the most.
As an anime and manga fan, I'm sure you will agree that your experience is incomplete without the latter. Of course, with over 8,000 manga titles being printed in Japan every year, you can imagine how mind-boggling it can get for a fan to keep track of the good ones.
Similar to manga is "manhwa" and "manhua," which is Korean and Chinese media for comic books. So we listed the top manga sites on the internet where you can read manga for free. We also include the ones that offer manhwa and manhua.
What is Manga?
Manga is a Japanese comic book format. The history of manga dates to 1798 when Japanese copperplate prints (ukiyo-e) became a major form of artistic expression and laid the foundation of manga industry. Today, manga is Japan's most popular art form and comes in all shapes and sizes.
What's the difference between Manga, Manhwa, and Manhua?
When it comes to comics, three distinct styles have captured the hearts and minds of readers around the world: Manga, Manhwa, and Manhua.
Manga is the Japanese style of comics known for its signature large eyes, dramatic action, and complex storytelling. It's a beloved art form that readers have embraced all over the globe, and its popularity continues to soar.
Manhwa is the Korean version of comics, which is also gaining a following around the world. It has a unique style, which features vibrant colors, intricate character designs, and a strong focus on storytelling.
Manhua, on the other hand, is the Chinese style of comics. It features bright colors and simple character designs, often focusing on historical or mythological themes.
While each style has its unique flavor and appeal, they all share a common thread: the ability to tell engaging stories that capture our imaginations and transport us to new worlds. So, no matter what style of comics you prefer, one thing is sure: they are all worth exploring!
Advantages of Reading Manga Online
Reading manga online offers several benefits. You will have access to a wide range of titles and can read them easily from any device and location. Moreover, you will save money since you don't have to buy physical copies.
Huge Collection of Titles
Readers can browse hundreds of titles in just a few minutes with their favorite manga reader app. You can choose from the different types of manga genres like romance, action, fantasy, horror, sports, adventure, and many more.
Convenience
There's no need to go out and buy physical book copies. Just download your favorite app, pick your favorite series, and enjoy. You can read manga anytime, anywhere — even when you're on the go.
Fast and Regular Updates
You also get updates really fast after new chapters are published, without waiting for weeks or months like you would with printed books.
Save More Money
Reading manga online is a smart choice for anyone looking to save cash. Buying physical copies can be expensive, and it can really add up over time. But with free manga websites and apps, you can save big bucks. You won't have to spend a lot of money on every volume or issue that comes out. That means you'll have more money in your pocket for other things.
Plus, you won't have to worry about shipping fees or storage costs when you read manga digitally. You can enjoy all your favorite titles without filling up your home with stacks of books. Switching to digital versions can help you save money in the long run, and you'll have access to tons of titles with just a few clicks.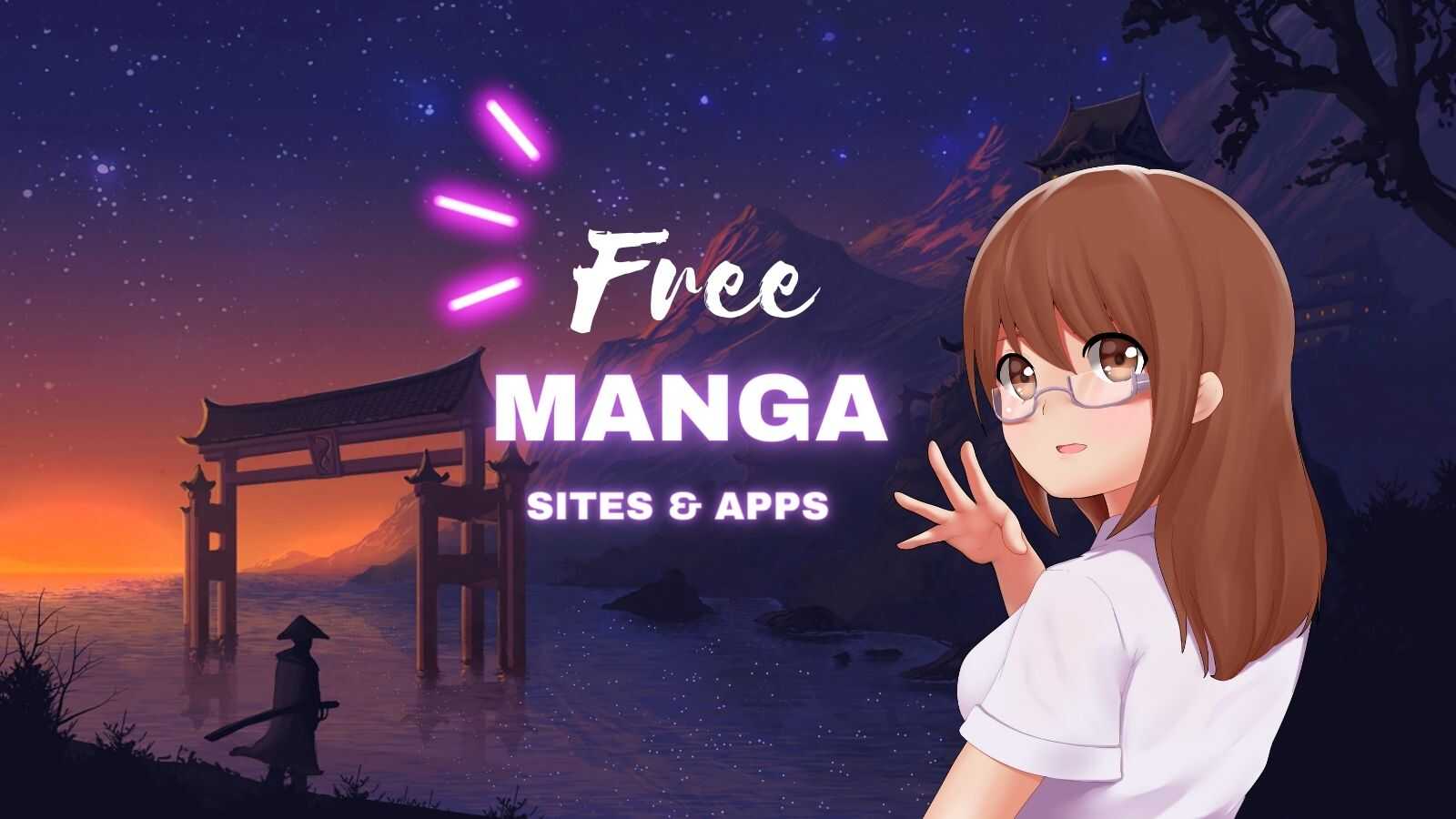 Best Free Manga Sites and Apps (with Manhwa & Manhua)
1. Manga Plus by Shueisha
Manga Plus by Shueisha is one of the best sites and apps to read free manga online in 2023. It's also among the most popular legal sites, with an incredible selection of titles from the Shonen Jump series, like Naruto, One Piece, Bleach, Dragon Ball, and more.
The website lets you access to up to three initial chapters of each manga title for free. Manga Plus app enables you to read the latest chapters of numerous legendary manga for free, daily, and simultaneously with Japan.
Manga Plus also offers multiple translations of many popular manga titles, making it an inclusive and accessible site for readers worldwide. And if you're looking for a high-quality viewing experience, the mobile app version supports stunning images for your reading pleasure.
Overall, Manga Plus by Shueisha is a top-notch site that provides a safe and enjoyable reading experience. And with no illegal or pirated content in sight, you can rest assured that you're reading quality manga from well-known publishers worldwide.
Comics: Manga
App: iOS, Android
Translations: English, Spanish, French, Thai, Russian, Brazilian Portuguese, Bahasa Indonesia
2. VIZ
VIZ is one of the most trusted websites for reading free manga series and watching the best anime. It offers both free and paid services. Users can unlock up to 100 chapters daily from their famous Shonen Jump digital vault, which offers over 15,000 manga chapters.
VIZ is also home to a broad collection of popular titles, including the legendary Naruto, One Piece, Pokémon, My Hero Academia, and Dragon Ball Super. And with their easy-to-use interface and user-friendly navigation, finding the latest chapters of your favorite manga series is a breeze.
But what sets VIZ apart from other websites is their unwavering commitment to quality translations and adaptations. They ensure that the English versions stay true to the original Japanese releases so you can enjoy an authentic manga reading experience online.
And if you're also an anime lover, VIZ has got you covered. They host various anime shows for fans worldwide to enjoy whenever and wherever they want.
Comics: Manga
App: iOS, Android, Kindle, Nook
Translations: English
3. WEBTOON
If you've watched the global rom-com phenomenon "True Beauty" on Netflix, you'd know it first became viral on WEBTOON. WEBTOON is a South Korean platform launched in 2004 and is now the world's largest webcomics community.
WEBTOON app has reported more than 85 million users. You can read WEBTOON original manga and manhwa series for free on its app, while ongoing series are updated weekly. Creators can also publish their creative stories using the WEBTOON CANVAS.
Comics: Manga, Manhwa
App: iOS, Android
Translations: English, Korean, Filipino, French, German, Japanese, Italian, Arabic, Bengali, Bulgarian, Chinese, Danish, Dutch, Czech, Greek, Hindi, Indonesian, Lithuanian, Malay, Mongolian, Persian, Polish, Portuguese, Russian, Romanian, Spanish, Swedish, Thai
4. Crunchyroll
If you're looking for anime and manga, check out Crunchyroll. It's a popular manga and anime streaming website that offers a wide collection of manga titles from various genres, such as action, romance, comedy, horror, and more.
Crunchyroll lets you read and stay up-to-date on all your favorite series at the same time they are released in Japan. It offers a two-week free trial for premium members.
Boasting over 5 million app downloads, Crunchyroll has become a popular site for anime and manga fans all over the world. Whether you're a free or premium member, you can enjoy ad-free reading with unlimited access to your favorite manga titles.
One of the best things about using Crunchyroll is its user-friendly interface, which allows readers to navigate through different sections without any hassle easily. They also update their library regularly.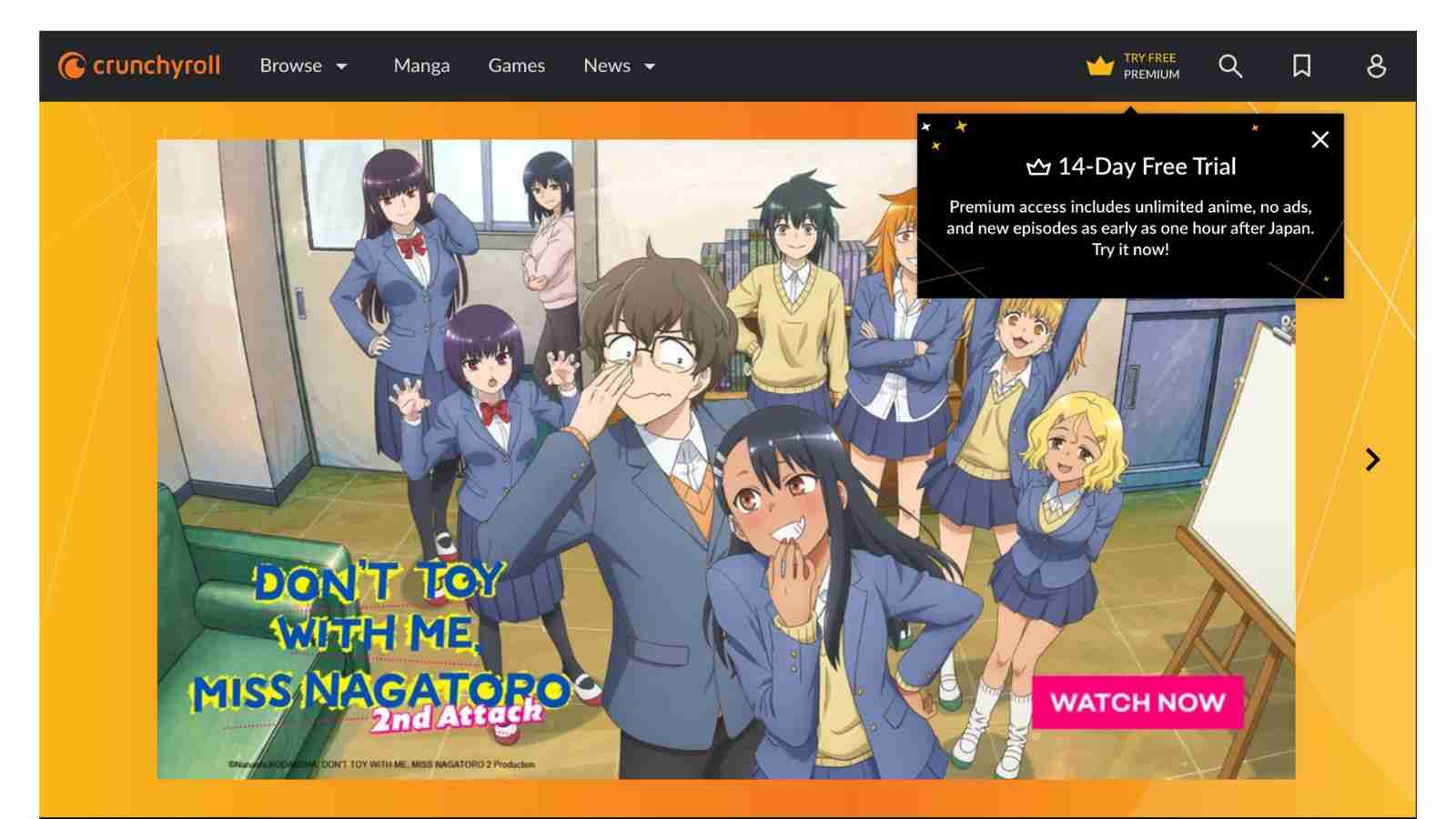 Comics: Manga
App: iOS, Android
Translations: English
5. ComicWalker
As someone who loves reading manga, I'm always looking for new and exciting titles to dive into. And when it comes to legal and free options for online manga reading, ComicWalker is a platform that definitely stands out from the rest. It's definitely one of the best manga platforms that allow you to read chapters for free.
Comic Walker has a huge library of high-ranking titles such as Elden Ring, Mobile Suit Gundam the Origin, Neon Genesis, and Magical Girl. The company is managed by Kadokawa Corporation based in Tokyo, so you know you're getting a legit experience.
ComicWalker has a user-friendly interface that allows smooth and easy navigation, making it a breeze to find and read your favorite series. It also offers titles in multiple languages, including Japanese, English, and Chinese, catering to manga fans all over the world. And the cherry on top? It's completely free, so you can enjoy high-quality manga without breaking the bank.
Comics: Manga
App: Android
Translations: English, Japanese, Chinese
6. NETCOMICS
NETCOMICS was founded in 2005 and is now among the top-rated platforms for manga, manhwa, and comics. It's an exciting place where you can discover and read new manga for free. NETCOMICS offers free and premium webtoons where you can rent or buy any manga your heart desires.
It's one of my favorite apps for reading romantic South Korean novels. NETCOMICS ensures that everything it publishes is licensed and holds legal rights.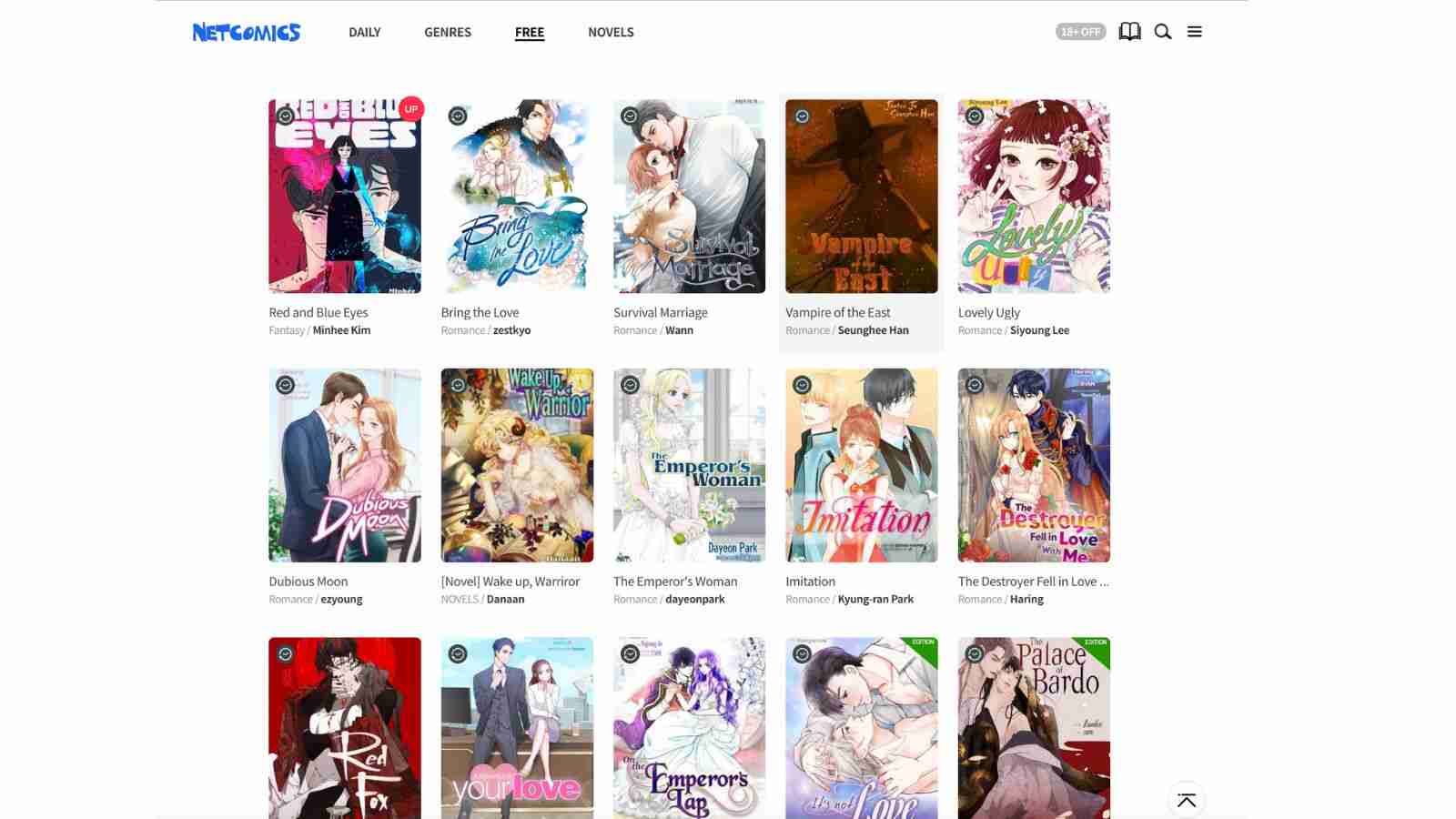 Comics: Manga, Manhwa
App: iOS, Android
Translations: English, Japanese, Chinese, Spanish, German, French, Indonesian, Thai, Vietnamese, and Taiwanese
7. ComiXology
ComiXology is Amazon's premier digital comics service. With an impressive collection of over 230,000 digital comics, manga, and graphic novels, it offers titles from well-known publishers like Marvel, DC, and Viz. Not only that, but Comixology also features its own ComiXology Originals and publications from Kodansha and Dark Horse.
If you're new to the platform or curious to try it out, ComiXology offers a generous 30-day free trial to whet your appetite. Remember, though, that this service is currently only available to readers based in the US.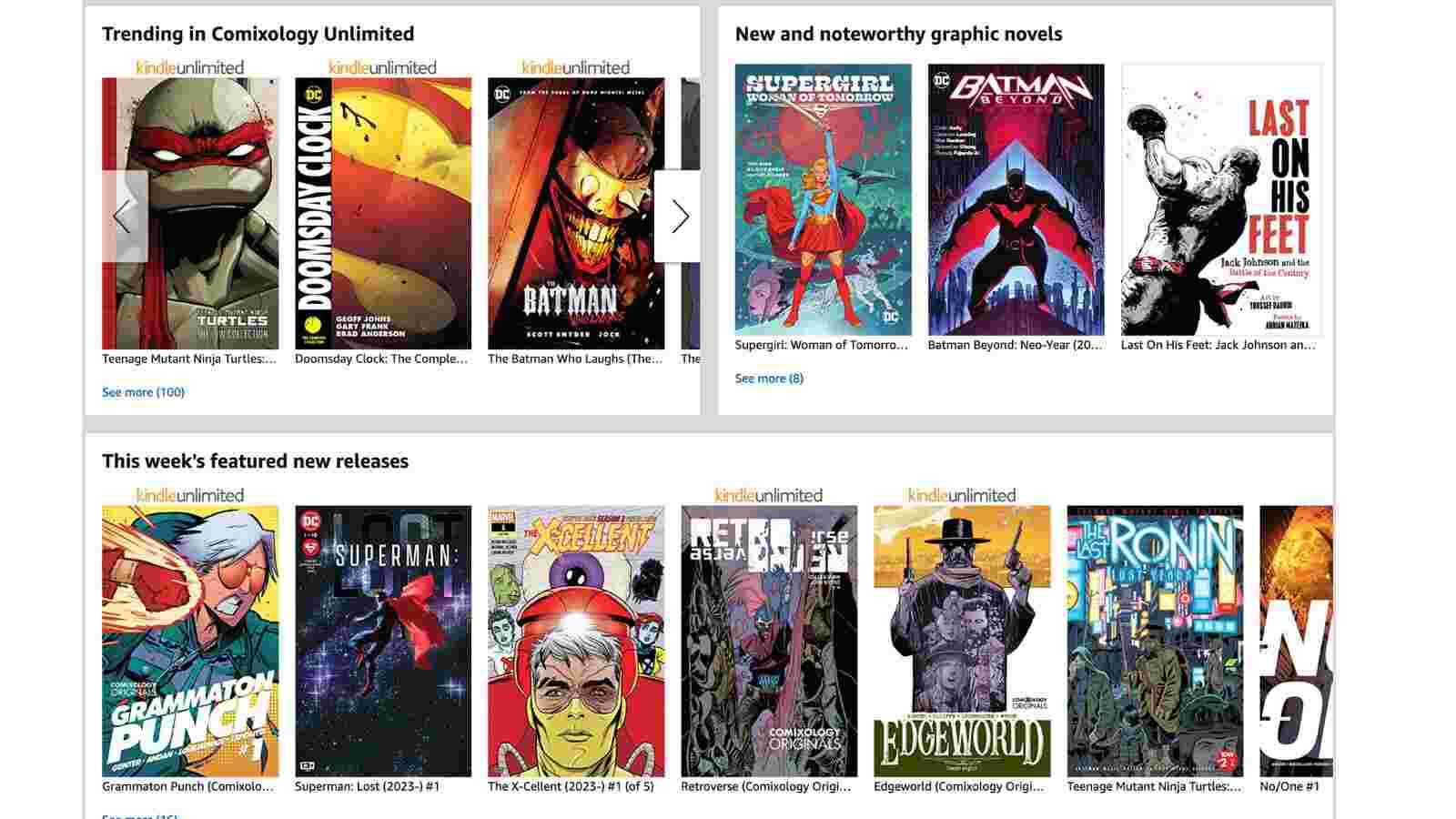 Comics: Manga, Graphic Novels
App: iOS, Android, Kindle
Translations: English
8. Manga Dex
MangaDex is among the best free manga apps for Android users. It caters to all languages and offers high-quality scans of manga chapters that are uploaded quickly, with new content added regularly.
One unique feature of MangaDex is its community-driven approach, which allows users to contribute and translate manga themselves. It may feature more obscure or untranslated titles before they are available elsewhere. Its user-friendly interface makes it easy for readers to search for specific genres or authors they enjoy.
Comics: Manga, Manhwa, Manhua
App: Android
Translations: All languages
9. Bilibili Comics
Bilibili Comics is another credible site to read thousands of manga online. It has cutting-edge technology that delivers a seamless High Definition reading experience. You'll find the latest chapters of action-packed titles like Heaven Official's Blessing, Tales of Demons and Gods, My Wife is Daji, Emperor-in-law, and Please Spare Me! Apprentice.
Say goodbye to the same old and discover original titles you can't read elsewhere. Bilibili Comics offers new stories to enjoy. Plus, you can even download manga and high-quality comics from the app and read them offline, making Bilibili Comics the perfect companion for your daily commute or quiet moments of relaxation.
Comics: Manga, Manhwa, Manhua
App: iOS, Android
Translations: English, Spanish, French, Indonesia, Chinese
10. Manga Kakalot
As the saying goes, "the bigger, the better." This holds true for Manga Kakalot, which boasts one of the most extensive databases to read manga online for free. It was created by a group of passionate manga fans who wanted to share their love for the art form with others. With its user-friendly interface and an extensive collection of titles, it's a one-stop-shop for manga enthusiasts looking to explore new series and keep up with their favorites.
However, the only downside to this site is the intrusive ads that persistently pop up at the top of the screen. Despite this, Manga Kakalot remains a valuable resource for those seeking free chapters of both new and classic manga series. It offers free manhwa and manhua series, too.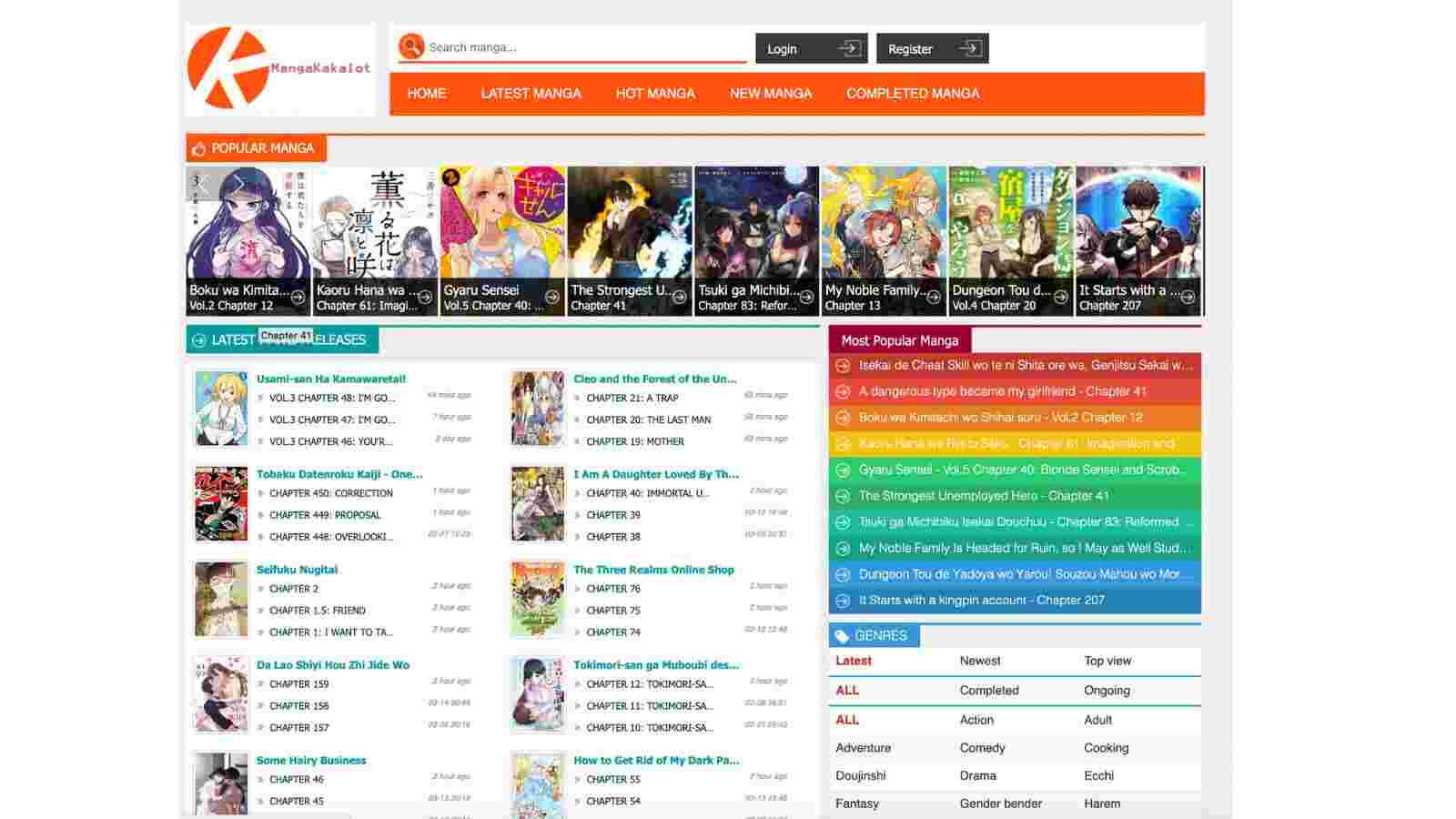 Comics: Manga, Manhwa, Manhua
App: iOS
Translations: English
11. Tapas
Tapas is the ultimate destination for those seeking to satisfy their craving for compelling stories. Immerse yourself in the diverse and unique world of webcomics, webnovels, manga, manhwa, and more, with new releases flooding in every day and free episodes every three hours.
Embark on a thrilling adventure with international sensations like "The Beginning After The End, Solo Leveling, and Positively Yours." Delve into the original comics that inspired popular Netflix series like Heartstopper, A Business Proposal, and Navillera.
Comics: Manga, Manhwa
App: iOS, Android
Translations: English, and other languages are tagged when available
12. Manga Toon
Manga Toon is a global app and website for reading comics, manga, and novel toons online. It offers a treasure trove of latest manga and comics in any genre you can imagine. You'll never run out of material to explore because Manga Toon releases new comics weekly.
Manga creators can contribute their own stories and share their creations with millions of readers around the world, adding their voices to the vibrant and diverse community of manga and comic lovers everywhere.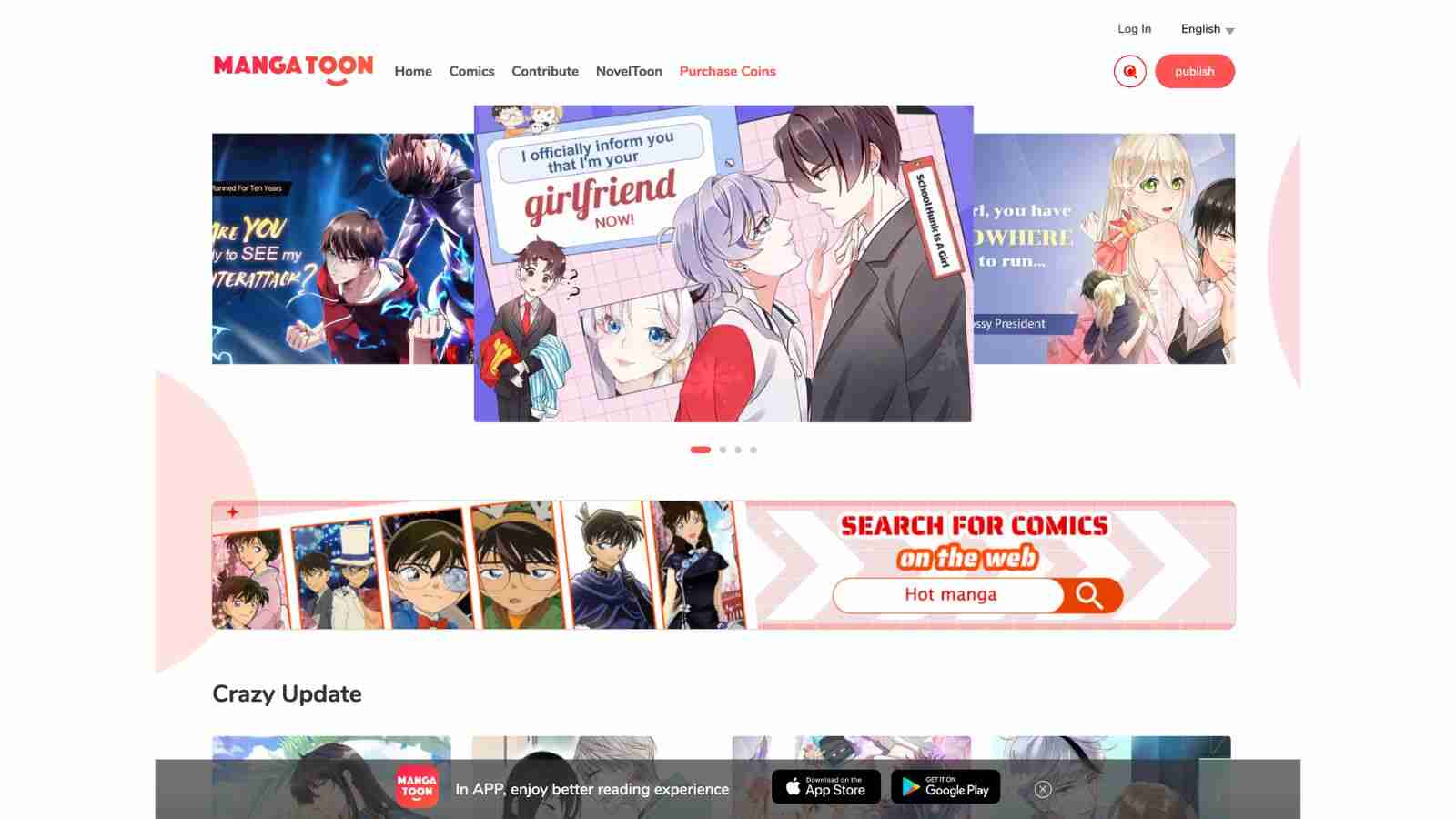 Comics: Manga, Manhwa, Manhua
App: iOS, Android
Translations: English, Chinese, Bahasa Indonesia, Spanish, Portuguese, French, Vietnamese, Thai, Arabic
13. Tappytoon
Tappytoon is a premier destination for manga readers and comics enthusiasts worldwide. It has more than 7 million members, spanning across 241 countries. Readers must log in every day to unlock a free chapter. Subscribe to your favorite stories so you'll get updated when a new chapter is released.
Tappytoon is the place to be for anyone who loves to explore the world of Korean webtoons and web novels. With a comprehensive collection of titles that span genres from action to romance, martial arts to fantasy, K-drama adaptations, and beyond, Tappytoon has something for everyone.
Dive into the world of Tappytoon today and join the millions of readers who have made it their go-to destination for all things comics and web novels.
Comics: Manga, Manhwa
App: iOS, Android
Translations: English, French, German
14. Toomics
Toomics is also one of the legal sites to read free manga and manhwa. You can read the first episode in Toomics for free. Sign up for an account to read the rest chapters. All manga and stories on Toomics hold their copyrights.
You can binge-read new Japanese and South Korean comics using Toomics. Their illustrations are also stunning and mind-blowing. To get unlimited access, you can subscribe for a VIP membership.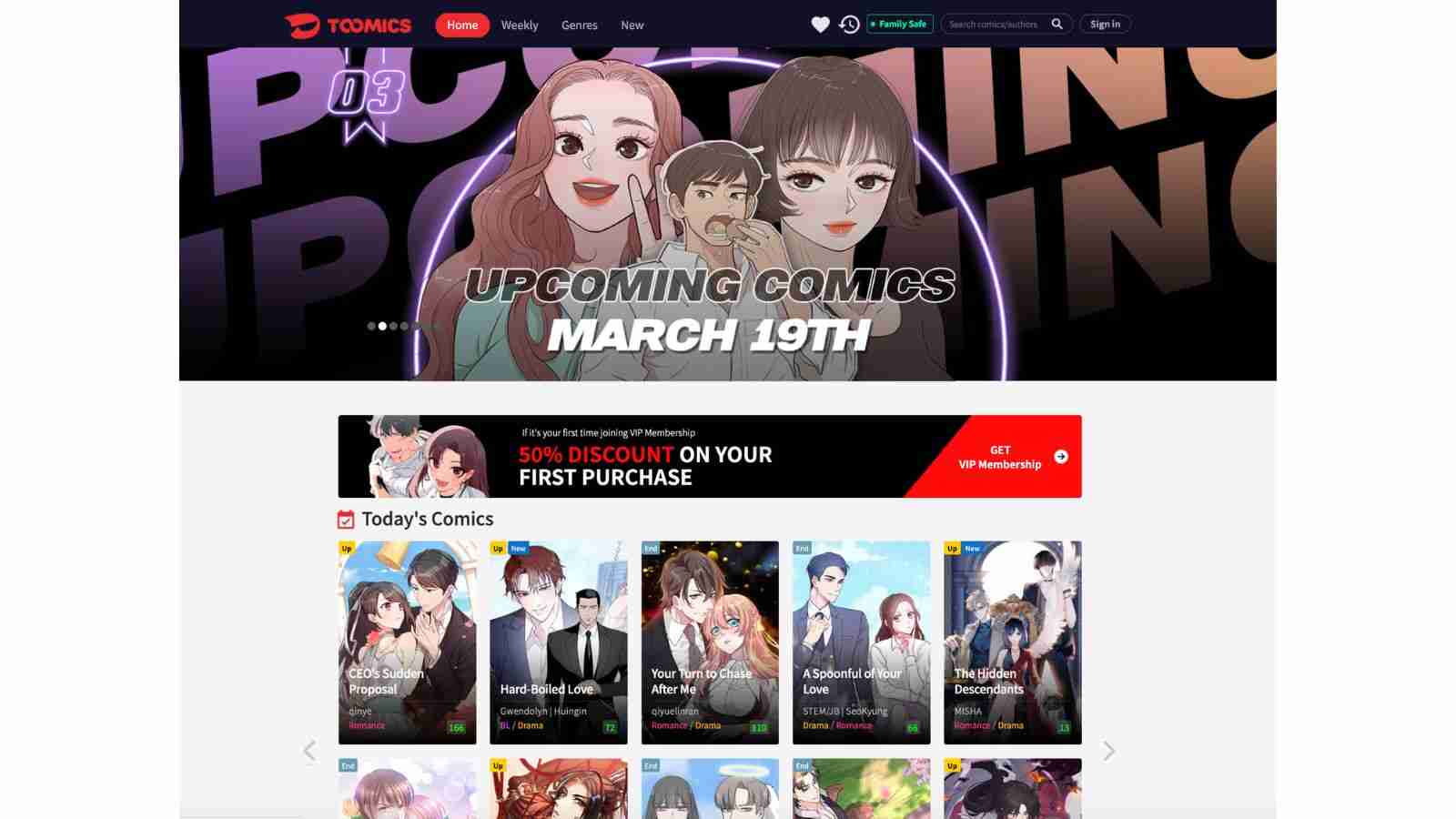 Comics: Manga, Manhwa
App: iOS, Android
Translations: English, Spanish, Italian, Portuguese, German, French, Chinese, Japanese, Korean
15. Lezhin Comics
Lezhin Comics is a fast-growing webtoons platform founded by renowned South Korean blogger Han Hee-sung in 2013. The site offers free manga comics that are addicting to read. With a wide range of genres to choose from and stories that will keep you on the edge of your seat, Lezhin Comics is the ultimate portal to a world of wonder and excitement.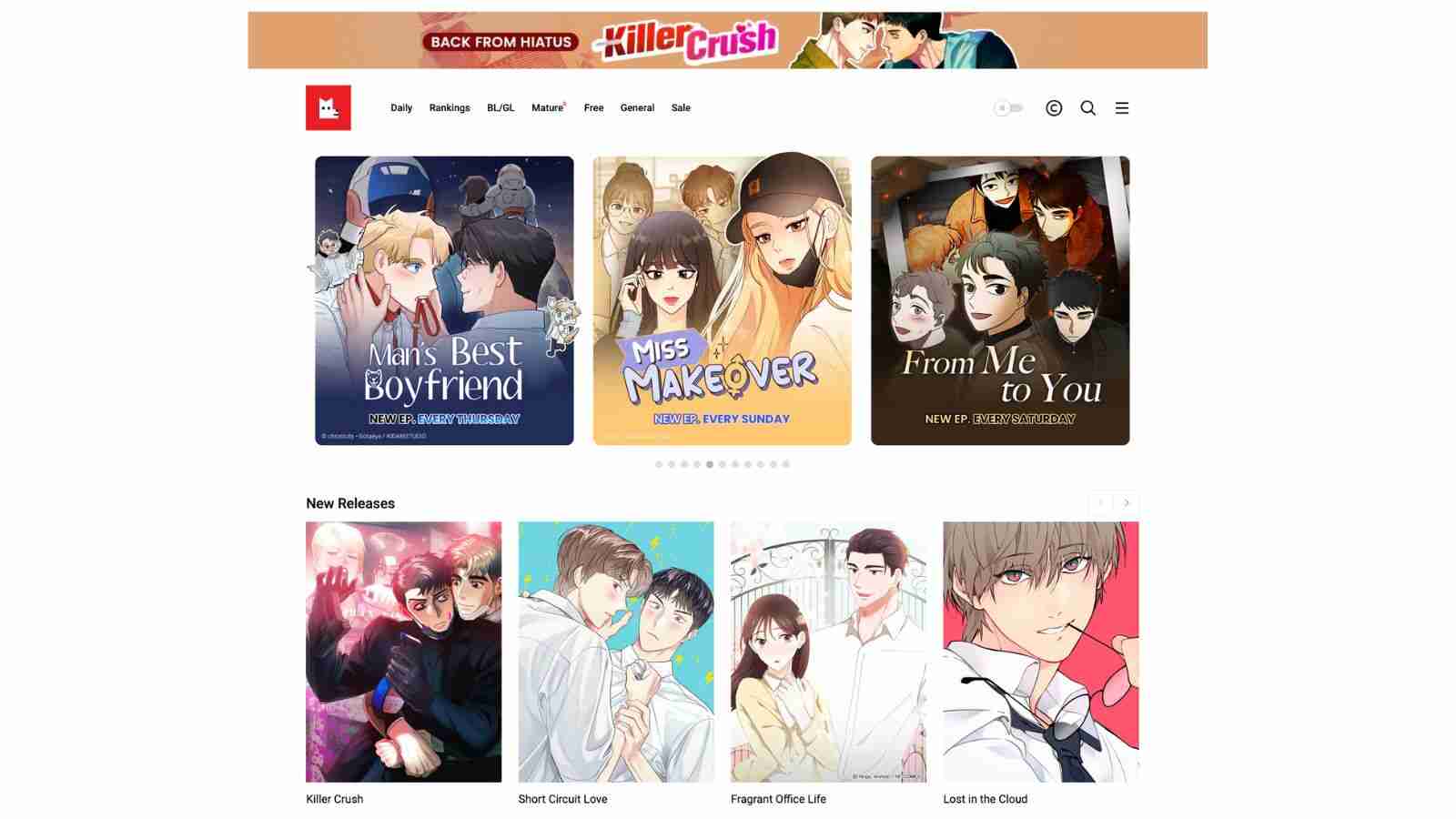 Comics: Manga, Manhwa
App: iOS, Android
Translations: English, Japanese, Korean
16. Anime Planet
Anime Planet is an online platform that streams a massive selection of over 45,000 legal, industry-supported anime. It also offers free manga to read online. You can browse from its thousands of available Japanese manga then it will link you to the original legit source to read the remaining chapters.
Comics: Manga, Manhwa
App: None
Translations: English
17. Top Manhua
Top manhua is a one-stop shop for free manga, manhua, and manhwa. It's the ultimate destination for anyone who wants to explore Chinese comics as well. You'll find many of the latest hits and unique stories at Top Manhua.
Comics: Manga, Manhwa, Manhua
App: None
Translations: English
18. Manhwatop
Manhwatop is a community of everything anime-related. If you're a fan of anime, video games, manga, and cosplay, this is the place for you. Join fellow fans from all over the world, ranging from beginners to the most passionate otaku. You're sure to find someone who shares your love for all things anime.
You'll find unlimited selections of many manga series you can read anytime, anywhere. Track your reading progress, resume where you left off, and view your completed series.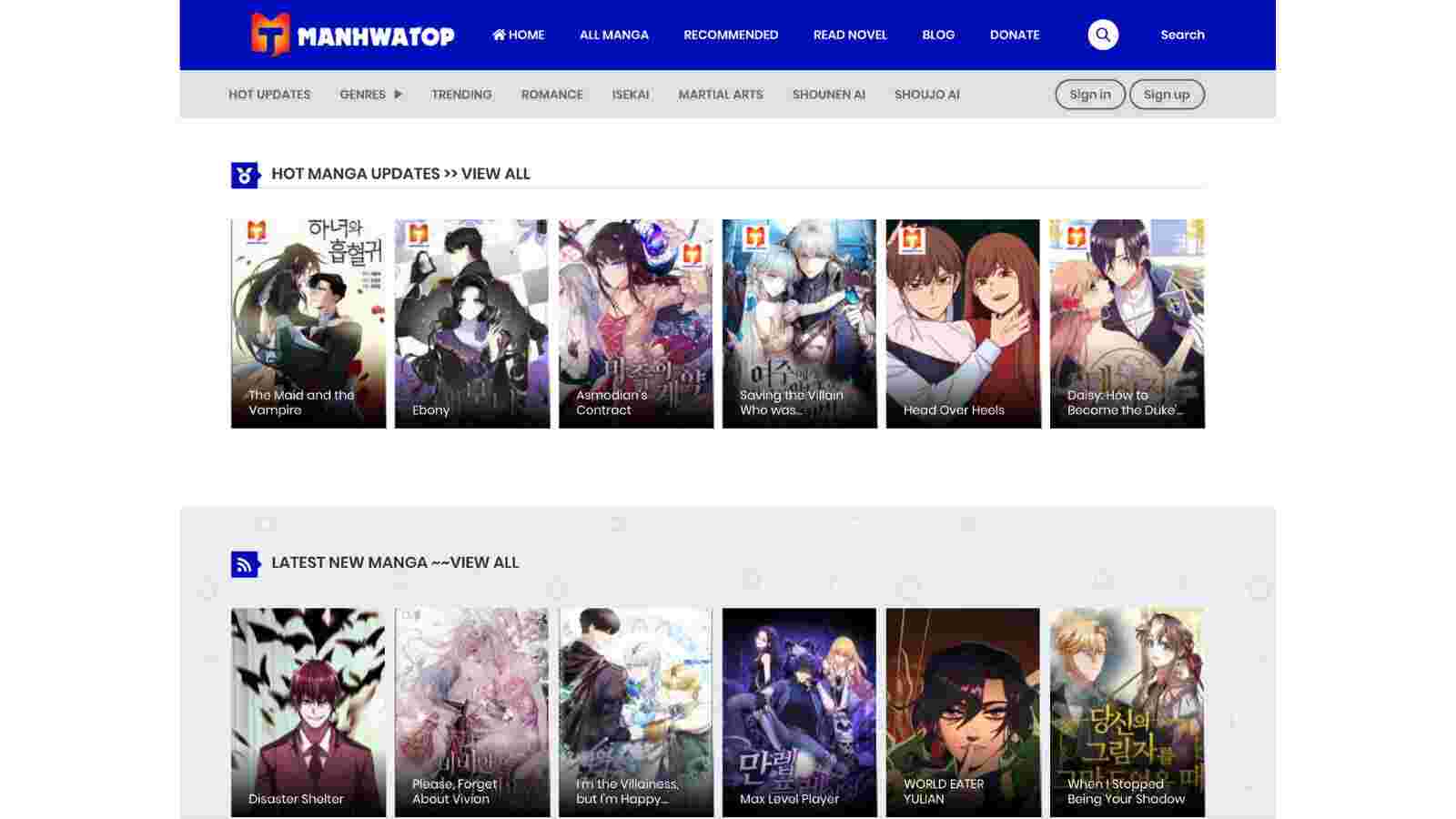 Comics: Manga, Manhwa, Manhua
App: None
Translations: English
FAQ About Best Manga Reading Sites and Apps:
What is the best manga site and app to read manga for free?
The top three sites to read free manga are Manga Plus by Shueisha, VIZ Manga, and Comic Walker because of their enormous collections of comics, diverse genres, and state-of-the-art interface. They offer numerous free manga titles and promptly update with the latest chapters from Japan.
Where can I read free manga legally?
For legal and secure manga reader sites and apps, you can trust Manga Plus, VIZ Manga, WEBTOON, Comic Walker, and Bilibili Comics. These sites and apps offers a variety of manga to read for free. They hold proper copyrights and licenses to publish content on their sites and mobile apps.
Is reading free manga online illegal?
Reading free manga online or offline is not illegal as long as you are using a website or app that has a legal partnership with authors and publishers to release copies of their manga, stories, and comics. Always check the background of the company if it's legitimate.
Don't miss reading: