I love sharing the J. CO way so I'm sharing this page about my new favorite donuts – J. CO Donuts and Coffee. J. Co is becoming more popular in the South East Asia especially to countries like Singapore, Indonesia, Malaysia and also China. Their donuts have that unforgettable taste and seduction. Their coffee will take your stress away too.
J. CO Donuts and Coffee is expanding in the Philippines. The company opened its branches to elite and classy malls like Greenbelt and SM Mall of Asia, it is now opening another shops in Fairview and Eastwood. Their first branch was in Megamall. Below is the complete list of branches of J. Co Donuts in the country.
J. CO Donuts and Coffee Branches in the Philippines
Green Belt 3 – Third floor, Greenbelt 3
SM Mall of Asia – Grondfloor, North Wing
SM Megamall – Ground Floor, Megastrip B
Trinoma
Other SM Malls
Eastwood Mall
Alabang Town Center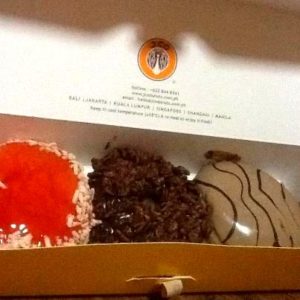 J. CO Donuts price in the Philippines is very affordable like regular donut costs P42 per piece and P35o per dozen. They also have J. Pops baby donuts which is only P250 for 2 dozens. Surprisingly, I would buy this than Krispy Crème now (winks) especially my favorite flavors – Tiramisu, Choconuttzy, Why Nut and Alcapone.
Really looking forward to try more. I've seen their J. Club from their menu which are really a teaser for mouths and tummies… That menu consists of savory and nutritious sandwiches like J. Club Tuna, J. Club Omellete and many more. This J Co way is really making my cravings go nuts…
And because Frappes are my weakness, I've tried their best seller – Cappucino Frappe with Mocha Cream. I really wish J. Co must open a franchise in my town Pampanga now or else I'd be in Manila every week (slurps)
Anywayz, if you want to franchise J. Co Donuts in the Philippines, read the information on that link.