Are you an entrepreneur interested how to franchise Jollibee in the Philippines this year 2023? Before you make the big investment, prepare yourself for the complete requirements to start opening a branch of the most successful fast food chain in the country.
What is Jollibee?
Jollibee is the most popular and biggest fast food chain in the Philippines. It has over 1,150 branches across the country. It opened its first branch in 1978. From then on, the company grew rapidly because of the delicious foods with unforgettable Filipino flavors.
Every Filipino child from 1978 to present knows Jollibee. Every Filipino has a special craving for Chicken Joy, Yumburger and Jolly Spaghetti. We believe Jollibee will always be in the hearts of Filipinos.
Jollibee is more dominant in the Philippines than McDonalds. Because of popularity, it expands its business to open international branches. It has over 80 branches outside the Philippines: in the USA, Vietnam, Brunei, Jeddah, Qatar, Hong Kong, Singapore, and Kuwait.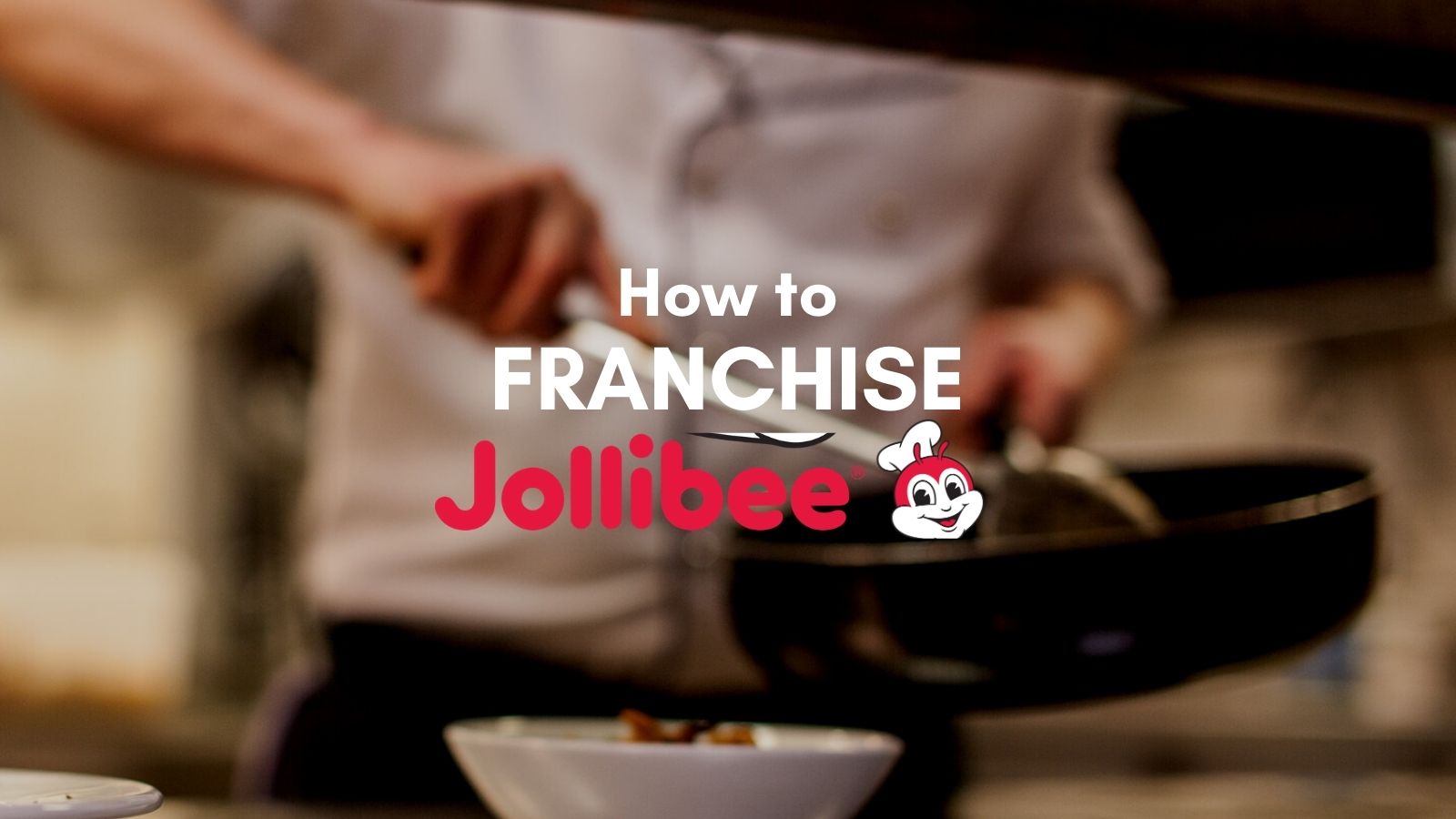 Top 5 Reasons Why You Should Franchise Jollibee:
1. Prominent Brand
Jollibee is one of the most trusted and recognized brands in the fast food business in the country, claiming a market share that totals to more than half of the entire industry. If you are franchising Jollibee, your business is a well-established brand already. Because it's already a well-known and popular brand, you don't need to build up a new business name from the start anymore.
2. Food is King
Food is one of the most lucrative businesses in the world. Jollibee has a mouthwatering menu line-up. From its crispy Chickenjoy, langhap-sarap Yumburger, the yummiest and meatiest Jolly Spaghetti, and more upcoming delicious food on the menu, you'll definitely feel confident your business will last for long term.
3. Huge Profit Potential
This fast food business has huge earnings potential because of the brand, excellent menu and big target market. With the right choice of store location and proper management, you will surely achieve your target profit every month.
4. Loyal Customers
One of the keys to success of Jollibee is its customer satisfaction. Majority of people dining in Jollibee always come back for many visits. The company is also known for its family-oriented approach. The brand itself has developed a loyal fanbase.
5. Excellent Marketing
Jollibee always has those unforgettable video commercials. All their media materials focus on the importance of love and family values. If you franchise Jollibee, those lovely commercials already represent your brand.
How to Franchise Jollibee in the Philippines:
Fill out the online application form completely
Print out the application form
Prepare a proposal with the following documents:

Letter of Intent – must include the exact address of your proposed site location, your exact mailing address and contact numbers
Vicinity Map of the Proposed Site – for on-site evaluation
Legal document certifying your ownership of the site (optional)
Resume or CV

Mail all the documents above to Jollibee
Wait for your interview
Sign the franchise deal
According to Jollibee, the complete details of investment cost, return on investments and other franchising details will be discussed with the franchisee applicant when the application has been approved.
Who Can Franchise Jollibee?
A Self-driven entrepreneur
Knows how to motivate people
Willing to devote time to oversee the daily operation of his restaurant
Willing to undergo a full time Basic Operations Training Program
With financial capacity to fund the required investment
What are the Requirements to Franchise Jollibee in the Philippines?
Application Form
Investment of P35 Million to P55 Million
Letter of Intent
Vicinity Map of the location
Resume or CV
Attend Basic Operations Training Program
How Much Do You Need to Franchise Jollibee?
The investment fund required to franchise Jollibee ranges from 35 million pesos to 55 million pesos depending on the store size. The investment includes the construction of the store, kitchen equipment and facilities, furniture and fixtures, air conditioning system, signage and pre-operating expenses.
That's all you basically need in order to franchise a Jollibee branch. We believe that a very good choice of store location will help in achieving a successful franchise. Choose your target market and target location carefully because they are the main keys for profitable business.
If you don't have the enough capital to franchise Jollibee just yet, don't worry because there is another way to make money by investing Jollibee stocks. JFC (Jollibee Food Corporation) is one of the best blue-chip companies in the Philippine stock exchange. Check out the free guides to invest Jollibee stocks here: Stock Market Guides and Tutorials for Beginners
Other Articles About the Philippines: