Why should you invest in PNB AIP a.k.a. PNB Auto Investment Plan UITF? The answers and reasons are revealed here. If you are one of those people who are interested to invest in UITF regularly every month instead of one-time placement, I'm sure you already heard of PNB Auto Investment Plan.
I know a very well-known UITF from BDO called EIP (Easy Investment Plan) has gotten the attention of many investors especially beginners but since BDO had no online UITF account opening service, a lot of people went berserk.
Eventually they learned about PNB AIP and I started seeing happy faces. With PNB Online UITF service, any interested investor can open UITF account online anytime, anywhere.
It's a pleasure to make a review about PNB AIP UITF here since many readers have requested for it.
What is PNB Auto Investment Plan?
PNB Auto Investment Plan is an investment plan wherein you can set aside a portion of your money or savings for automatic investment to any PNB UITF of your choice.
It's literally saving money in the bank but unlike deposit account, your funds will roll over as regular UITF, meaning you will earn more than how much you can earn through regular deposits or time deposits.
Investing in
PNB Auto Investment Plan UITF
PNB Auto Investment Plan is available for the following UITF:
PNB Auto Investment Plan UITF Requirements
You can either open AIP account online or at any PNB branch. You need a PNB account (savings, atm etc.) because this is where they will automatically get your UITF funds on the date of your choice, recurring, every month, your choice.
If you already have PNB online banking account, you can proceed to open your AIP online. Start by going to UITF Investments and select Subscribe to an Auto Invest Plan.
Select which type of UITF you want for your AIP. You also have the option to make future or recurring placements. PNB will issue you COP (Confirmation of Participation) once you reached the required threshold for the UITF.
PNB Auto Investment Plan UITF Benefits
PNB Auto Investment Plan compared to other UITF investments, is not very risky because your funds are invested on fixed income instruments. As you invest periodically, every month for example, you are minimizing the risk from possible market downfall or bad economic point, instead you are maximizing profit because your funds continue to grow over time.
With Automatic Investment Plan, you are applying a time-tested and proven investment strategy used by many investors around the world, Cost Averaging. Hence, no matter how much the NAVPU is, you will gain eventually. To learn more about the advantages of investing using Cost Averaging, read about "Lump Sum vs Peso Averaging Investment."
You can invest in peso or dollar, your choice, and you can also open an account online or at the branch. Account opening online is so quick. From experience, it took me just a day for the UITF account approval.
Online banking feature will help you, the investor, to monitor and check the performance of your UITF. Everything is safe online since PNB website uses https platform. You should know that by now, if you are banking or transacting money online, you must only use a site that starts with https instead of the typical http. If you're not banking, using http is OK.
Why should you invest with PNB Auto Investment Plan?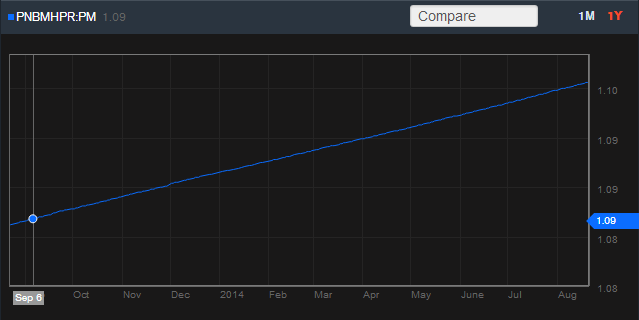 PNB AIP is a great UITF investment plan simply because you have more earnings than risks. Regular savings account and time deposits have lower interest rates. In fact, your withholding taxes could be much higher.
ATM charges could be much higher. Don't rely on low interest rates while you have UITF products that could give you more profit. Let your money participate on investments. Let your money appreciate in value. Let your money work for you.