A lot of our readers were asking which is better: lump sum investing or periodic investing. That is why we are sharing this topic here to discuss the comparison further about lump sum investing vs PCA method.
Two common investment strategies are Lump Sum investing and Peso Cost Averaging method. Let us first compare and talk about the two before we give the pros and cons, advantages and disadvantages of Lump Sum and Peso Averaging investing.
What is Lump Sum Investing and Peso Cost Averaging Investing?
Lump Sum Investing – is putting all your funds at once. It is a one-time or single placement of investment. Gain/Loss is computed at present value of the units or shares at time of redemption of the amount.
Peso Averaging Investing – is investing on regular intervals over a period of time. It is also called periodic investment plan wherein you invest your funds monthly or whenever you wish. Gain/Loss is computed at the average amount of the units or shares.
These two methods and strategies of investments can be applied in buying shares of stocks or stocks investments, investing in mutual funds, investing in UITFs (Unit Investment Trust Funds) and other funds.
If you are directly investing in stocks, ask your broker for any PCA plan. If you are investing in Mutual Funds, ask your Fund Manager for this product. If you are into UITF, ask your bank or Trust representative.
Who Usually Invest Lump Sum?
Lump Sum or single placement investment is usually applied by investors who are very much not afraid of risks or already aware enough of what might happen in spite of risks. They usually have big amount of money set aside sleeping in their vault already and are very much financially stable.
When we say financially stable, that means you have money or income coming regularly and that you have excess funds over basic expenses and necessities. You don't have to wait for few months to save and buy a thing you fancy.
Who Usually Invest Peso Cost Averaging?
Investors apply Peso Cost Averaging method depending on the frequency they save or set aside money. They add funds to their investment whenever they wish or on regular intervals (example: every 10th, 15th, 25th and 30th of the month).
This method is usually chosen by investors who are scared of uncertainties knowing that the market would drop extremely any time so they don't want to regret investing the wrong way. In short, it's for conservative investors who believe that investing regularly will minimize losses and produce sure profit in the long run.
Whether the market is low or high, you will win and earn money in the process. They choose PCA because on average, they still have other ways to spend the money with.
Which Usually Gives More Profit between Lump Sum and Cost Averaging Method?
Time and money are the biggest factors in earning profit. Either Lump Sum or PCA can give you big money, it just depends on the amount you invest, the types of funds you joined and the time you plan to maintain the investment until you withdraw all of it.
To dig deeper, I put the data below for historical comparison of Lump Sum vs Peso Cost Averaging investment using one of the my favorite Equity Funds, BDO, as an illustration. This illustration below by the way, is based from real reports.
Lump Sum Investment Sample:
Assuming I invested 36,000 on July 2013 and redeem on August 7, 2014, I will get this gain: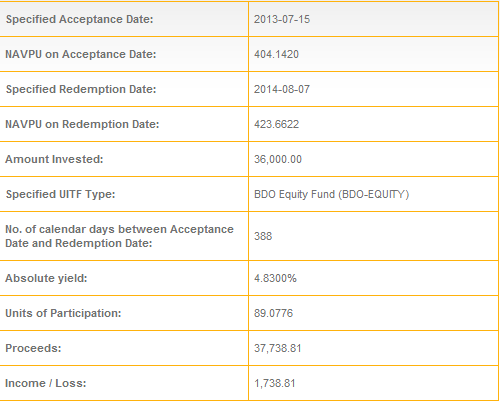 Peso Cost Averaging Investment Sample:
Assuming I opted for the EIP Plan using Averaging Method and chose 2,000 every 15th of the month and redeemed until I reached 36,000, this is what I got.
The result from the comparison above favors PCA over One-time investing. Of course, money and investments are too volatile and NAV changes every day. The truth is, either PCA or Lump Sum can win or out-perform each other. It just depends on these things: the market, the money you invested, the time you placed the investment and the time you redeem.
Lump Sum Investing versus Peso Cost Averaging

Sum up:

One-time investment and Peso Cost Averaging method of investment both give money in the long run especially if your fund is participating with blue-chip companies or well-proven corporations.

Lump Sum or One-time investment could have extreme earning potential in spite of risks. PCA investment will help you minimize risk while maximizing your profits because in real life, it's already a time-tested strategy.

The most important thing you have chosen is that you have invested anyway. It's far better than never. Nobody knows how the market will be. Nobody could predict the value of shares or units otherwise, you will be an instant millionaire after reading this.
Other Investment Tips: