Have you tried riding the Mall of Asia Eye already? How much is the entrance fee in the MOA Eye? Before you schedule your tour and date with the most exciting and beautiful attractions in the Philippines, the Mall of Asia, have an appetizer riding the MOA Eye.
I'd like to say with full ecstasy that Mall of Asia has always been one of those places that people love going to, whether hanging out with friends, relatives or just you. When you get there, you get the feeling of being highly enthusiastic and energized because the place never seem to get old.
As the second largest mall in Asia, located in Pasay City, Philippines near Central SM Business Park, one day is not enough to take a view of the entire place as it is extremely large. The moment you step in, the crowd and the music will eventually turn your mood up, without you knowing it.
Riding the MOA Eye
If you ever been there, once or as many times as you can't count, I'm sure you notice that there are lots of foreigners touring around this mall. There are Chinese, Japanese, American, German, British, and any other different kinds of nationalities you could ever see. That's because Mall of Asia has a lot to offer in terms of entertainment. I mean, any people wouldn't want to be in a place where entertainment is limited, they crave for bunch of choices.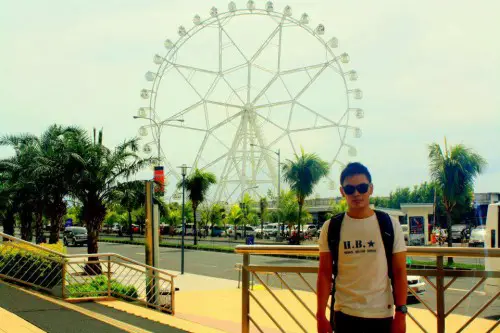 MOA Eye – the Tallest Ferris Wheel in the Philippines
It is 55-metre for chocolate's sake. For those who are not well accustomed, it is unbelievably the tallest Ferris wheel in the Philippines. It has 36 air-conditioned gondolas, each able to carry up to six persons, giving a maximum capacity of 216 passengers. So exciting for all ages, so cozy and romantic for lovers. Entrance fee and rate for riding the MOA Eye today costs P200 per person but it may go up anytime.
According to the manager of Mall of Asia who had an interview on Umagang Kay Ganda, a morning TV show here in Philippines offering updates on the latest news and current events, advice, important and practical tips, as well as the hottest issues and sizzling glimpses of celebrity and showbiz icons, that the opening of MOA's newest attraction was held last December 16, 2011.
Maybe you're wondering regarding the terminology they used after it was constructed. If you try to conceptualize it, the giant Ferris wheel is similar to the shape of a human pupil. And when you get up there, you can have the great view of the surrounding landscape. Unfortunately, it's not advisable for those who are afraid of heights because you're going to see the ocean view and people would look like ants, that's how high it is. When you ride it, make sure you know in yourself that you can manage the feeling of being there on the top. It's fun, but it can be scary too.
For safety tips, children below 3 feet 6 inches should be accompanied by an adult or guardian. Take note, it is a must that children have any adults beside them in case of emergency, whatever place they're into. I'm probably sure you already heard about the past horrible accidents that happened in some of the carnival rides. I'm assuming you've seen some of them on You Tube.
I have no intention of scaring you, but we have to be open minded regarding the possible occurrences that can take place. Whether the machinery goes crazy or not, we have to be careful, alert and ready. In carnival or any amusement parks with rides on it, it's not always the fun it could create that we should put our attention to. Though it's not people's fault if ever the machinery breaks down, we have to be careful by simply guiding kids whenever they ride, since they are not aware or they don't care about these issues.
Overall, to be with kids during these exciting moments for safety purposes is one of the best thing we can do. Reviewing the safety procedures would definitely include good health. Only people with good health conditions are allowed to ride the Ferris wheel. Pregnant or expectant mothers are advised not to take the ride, except if they're with someone who's skilled in maintaining a good condition. I think pets, foods and drinks are also not allowed inside the ride.
Now let's keep going. Why are talking about Ferris wheel here? I mean, we could talk about any other things. Purpose is to convey interesting description about this new attraction, especially to those foreign people, probably not living originally in Philippines, for their own enjoyment in case they decide to try it. You might think this is an encouragement for you to see it personally, it could be that way.
It's just so amazing to be up there and look at all the things your eyes can see. Everything seems to be so peaceful up there, everything is silent, you can even look at the clouds above the sky, and grab the opportunity to perceive with your eyes, every wonderful things beneath as you take the view from the top. Let me tell you this fact, words are not enough to sustain the excitement you'd feel when you get there.
When you're already standing there in front of the biggest Ferris wheel your eyes can ever see in Philippines, you can never explain that kind of thrill. There are lots of things in this world, relevant to adventures, that are too terrific and we just can't turn them into words, you know what I mean?
And remember, it's not always about fun, safety is essential. It's just like riding an airplane, passenger needs to buckle up their seatbelts in order for them to be safe on their flight, same thing that happens on your Ferris wheel ride. It's a good idea to share, especially to those tourist, to try it now. You don't ever want to miss this adventure.