Students and educators can download the latest AutoCAD for free! Autodesk, the maker of AutoCAD, grants free licenses and subscriptions to eligible students and professors.
If you want to learn and use the newest version of AutoCAD in real time without splurging too much money, you can get a 12-month free license. Yes, for zero cost, students and teachers can install legit AutoCAD software.
You will also receive an official serial number or product key issued by Autodesk to activate your license to use AutoCAD 2024.
AutoCAD software for students and educators is also renewable yearly, provided the registered user meets the terms and requirements set by Autodesk. This is very helpful, especially to those seeking AutoCAD for beginners.
What is AutoCAD?
AutoCAD is a computer-aided design (CAD) software application developed by Autodesk, a giant US tech company that creates software for architecture, engineering, construction, manufacturing, media, and entertainment. AutoCAD is among the most popular and most-used software for creating realistic 2D and 3D designs. Autodesk releases a new package for AutoCAD every year.
Who can have free access to AutoCAD 2024?
Students
Educators
School IT administrators
Design competition mentors
Advantages of Using AutoCAD 2024:
Collaborate smoothly
The new Markup Import and Markup Assist features are helpful for team projects where multiple people collaborate ideas or suggestions into your designs. You can import ideas from printed paper or PDFs and apply changes to your project in real time without additional drawing steps.
Activity Insights
Maintain seamless connectivity to data at every stage of your project's development by monitoring the multi-user activities occurring within a DWG file. The integration of Activity Insights can help bridge any communication gaps that may arise within your collaborative AutoCAD workflows, ensuring that all team members are kept in the loop.
AutoCAD Web APIs
LISP API is an exclusive feature for active AutoCAD subscribers, available in the AutoCAD web app. The user can set customizations to automate sequences anytime and anywhere using the web app.
Smart Blocks: Replacement
Efficiently search for the blocks you require and replace them with ease, utilizing a range of machine learning-powered recommendations, recently utilized blocks, and manual block selection.
Smart Blocks: Placement
This feature ensures that the blocks are placed in the appropriate location and scale, eliminating the need for manual adjustments. By taking advantage of this feature, you can streamline your workflow and save valuable time and effort.
Enhanced Sheet Set Manager
Users can seamlessly open and share their sheet sets with their teammates through the cloud. AutoCAD cloud platform also lets everything works quicker and more securely. With cloud storage, you can access any DWG file in AutoCAD with Autodesk's cloud and other cloud providers.
Improved performance
Of course, using the latest AutoCAD version guarantees the best performance. AutoCAD 2024 includes many performance improvements that make it faster and more responsive than previous versions. These performance improvements include a new rendering cloud engine that speeds up the drawing process and several significant features that add up to a noticeable difference in overall performance.
How to Download AutoCAD 2024 for Free for Students and Educators?
Step 1: Register an Autodesk Account
The first step is to sign up for an Autodesk account for educational access (found at this link). All subscribers and users of Autodesk software, including AutoCAD, must have an active account to use and access their products and services. To register, proceed to the "Get started" button and select your type of access.
Step 2: Get an Educational Access
Autodesk grants a privilege for educational access to use AutoCAD software and other Autodesk products for free. Select your type of access, whether you are a student, educator, school IT administrator, or design competition mentor.
Fill out the necessary information required. Ensure that you provide true and accurate details such as your country, name, educational role, institution type, and valid email address.
Most importantly, type your first and last name similar to what is written on your school credentials (school ID, enrollment form, school registration, Transcript of Records, and school confirmation letter). Those documents will be used when you need to prove your identity or status in an educational institution.
Tick to agree to the Autodesk Terms of Use and click the "Create Account" button to proceed.
Step 3: Activate your Autodesk Account
Log in to your email and visit your inbox as soon as possible. Autodesk will send an email containing a verification link. Open that message and click the verification link to verify and confirm your account.
Step 4: Upload your Educational Documents
Log in to your Autodesk account and complete your education profile. This step is very crucial. Thus, you need to finish setting up your profile and complete the required documents before Autodesk rewards your full free AutoCAD access.
On the dropdown menu, indicate your school or university and the field of your study. Provide your enrolment date and the date of your graduation. If you can't find your school or university, click the "can't find your school?" option.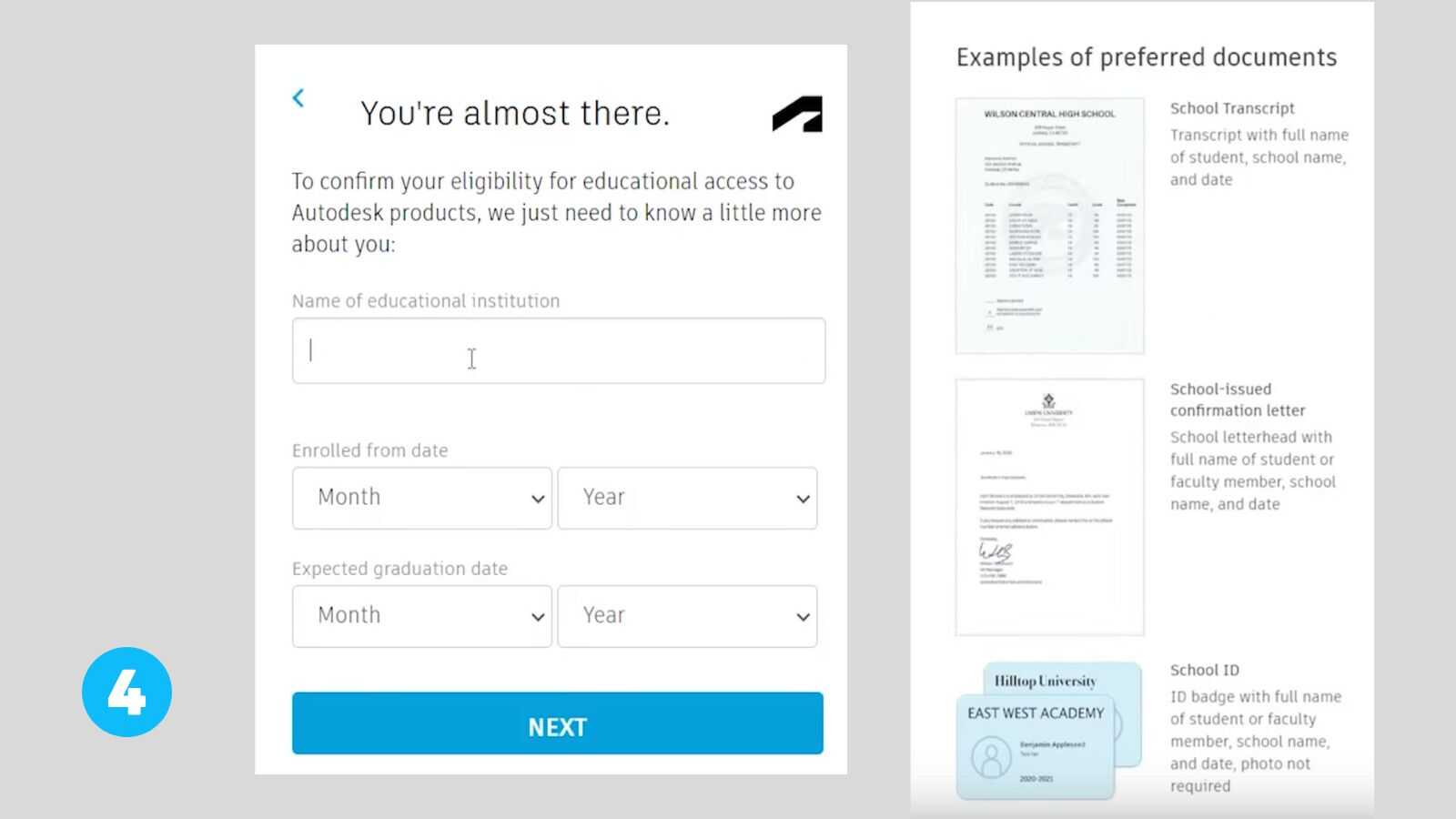 Then upload a copy of any document your school, university, or educational institution issued to you. You may upload any of the following documents:
Transcript of Records (TOR)
School-issued confirmation letter
A copy of your student ID
Supported file formats are JPEG, PDF, PNG, and GIF. Remember that you have 14 days to upload and complete your documentation.
Step 5: Download and Install Your Free AutoCAD Software
After you upload and submit your documents, wait for a day or two for your account status. Autodesk usually verifies the account and sends educational access eligibility in 48 hours.
You will receive an email containing your eligibility access and the link to download your AutoCAD software. Congrats! You can then start installing the software on your computer.
AutoCAD 2024 System Requirements for Windows PC:
The system requirements to install AutoCAD 2024, including Specialized Toolsets for Windows users, are:
Operating System: 64-bit Microsoft Windows 11 and Windows 10 version 1809 or above
Processor: Basic: 2.5–2.9 GHz processor (base) / Recommended: 3+ GHz processor (base), 4+ GHz (turbo)
Memory: Basic: 8 GB / Recommended: 32 GB
Display Resolution: Conventional Displays (1920 x 1080 with True Color), High Resolution & 4K Displays; Resolutions up to 3840 x 2160 (with "Recommended" display card)
Display Card: Basic: 2 GB GPU with 29 GB/s Bandwidth and DirectX 11 compliant / Recommended: 8 GB GPU with 106 GB/s Bandwidth and DirectX 12 compliant
Disk Space: 10 GB (suggested SSD)
.NET Framework: version 4.8 or later
AutoCAD 2024 System Requirements for Mac Users:
Operating System: Apple Mac OS Ventura v13 / Monterey v12 / Big Sur v11 /
Model: Basic: Apple Mac with MacOS Big Sur or above / Recommended: Apple Mac models supporting Metal Graphics Engine
CPU Type: 64-bit Intel CPU, Apple M series CPU
Memory: Basic: 4GB / Recommended: 8GB or higher
Display Resolution: Basic: 1280 x 800 display, High Resolution: 2880 x 1800 with Retina Display
Disk Space: 6 GB free disk space for download and installation
How to Renew a Free License of AutoCAD?
If you are eligible to claim a free AutoCAD subscription, ensure that you accept Autodesk's Terms and Conditions for using their software and cloud services. You can renew your account and access by complying with the policies of Autodesk, that is, to use their software and cloud services for educational purposes only and NOT for commercial, professional, or for-profit purposes.
Other Free-Trial Software from Autodesk:
AutoCAD LT – cost-effective 2D CAD for drafting, drawing, and documentation
Fusion 360 – Cloud-based 3D CAD/CAM/CAE for product design
Maya – 3D animation and visual effects for film, games, and TV
Revit – BIM software for designers, builders, and doers
Civil 3D – civil engineering design and construction
Inventor – for 3D mechanical design, simulation, visualization, and documentation
FAQ About AutoCAD Free Download Software:
Is AutoCAD 2024 free for students?
Yes, students, educators, school IT administrators, and design competition mentors can get a free 1-year renewable AutoCAD license provided they accept and comply with Autodesk policies, terms, and conditions to use AutoCAD solely for educational purposes.
How long can you use AutoCAD for free?
The free version of AutoCAD educational access can be used for 12 months. It can be renewed again as long as the user is eligible and meet the terms and conditions set by Autodesk to use the software for educational purposes only.
How much is the latest version of AutoCAD?
AutoCAD 2024 costs $1,955 when paid annually and $245 when paid monthly. Users can also avail of the discounted price of $5,865 when paid every three years.
How many users can use an AutoCAD license?
A subscription is for a single-user license. Each user can download and install the software on up to three devices. However, an AutoCAD license can't be shared with multiple users. A person must register his own Autodesk account and buy his own license.
Don't miss reading these articles: