The following are the lists of best banks in the Philippines in 2023. Taken from the published ranking by the Bangko Sentral ng Pilipinas, the lists include the best commercial banks in terms of assets, deposits, capital, and loans.
It would be great to have savings and investments with these banks. If you are still a student and you are looking for the best bank to work for in the future, they are also recommended.
Update: Let us know which is the best bank for you in terms of customer service by leaving your experience in the comments section.
Best Banks in the Philippines in 2023
We consider the following as the best banks in the Philippines to be banking with this 2023 because of their impressive growth and great performance. The top 5 are always BDO (Banco de Oro), Metrobank, Landbank, BPI (Bank of the Philippine Islands) and PNB (Philippine National Bank).
It's obvious why BDO came up to the rank number 1 because it started the bank operations for the weekends. Every SM mall also has BDO. Apparently, SM employees and other employees get their salaries through their BDO bank account.
We can say that BDO, Metrobank and BPI are also the best banks in terms of investment. They have their own trading platforms. Metrobank launched the most advanced trading platform in the Philippines through its First Metro Sec Pro.
Euromoney cited Metrobank as the best bank in the country for the past few years. Metrobank is also one of the Strongest Banks in Asia. China Bank has also done a massive growth in the past years.
PNB climbed up since it was acquired by Allied Bank and maintained its top position. Landbank did an excellent job this time ranking number 2 in terms of total assets. Likewise with DBP which surged its assets and climbed from the 9th place to 6th.
Security Bank also did a great performance climbing up ahead after revamping their company. East West Bank is also doing a great performance just like Unionbank (the top digital bank in the Philippines).
Taken from their published balance sheets and statistics, we have summed up the useful values and amounts associated with their assets, capital (Stockholder's Equity), loans and deposits.
How we ranked the top banks in the Philippines?
Notice that we listed the official data as of September 30, 2022. Data is shared by the BSP (Bangko Sentral ng Pililipinas), available to the public. The figures will be updated every quarter.
Top 10 Best Banks in the Philippines in Terms of Assets
Amounts in Million Pesos
BDO – 3,726,915.48
Landbank– 2,761,498.91
BPI – 2,519,564.47
Metrobank – 2,460,838.79
China Bank – 1,220,464.80
PNB – 1,176,868.17
RCBC – 1,089,790.77
DBP – 1,035,208.89
UnionBank – 949,639.29
Security Bank – 838,799.05
Top 10 Best Banks in the Philippines in Terms of Deposit

Liabilities

Amounts in Million Pesos
BDO – 2,947,808.26
Landbank – 2,416,787.42
BPI – 2,024,589.7
Metrobank– 1,783,004.77
China Bank – 900,764.35
PNB – 862,477.01
RCBC – 801,450.10
DBP – 778,359.64
UnionBank – 618,656.13
Security Bank – 585,026.43
Top 10 Best Banks in the Philippines in Terms of Loans and Receivables, net
Amounts in Million Pesos
BDO – 2,452,499.93
BPI – 1,575,668.18
Metrobank – 1,178,576.33
Landbank – 1,053,349.48
China Bank – 639,212.28
PNB – 631,864.35
RCBC – 574,208.64
DBP – 550,752.79
Security Bank – 510,806.35
UnionBank – 374,373.86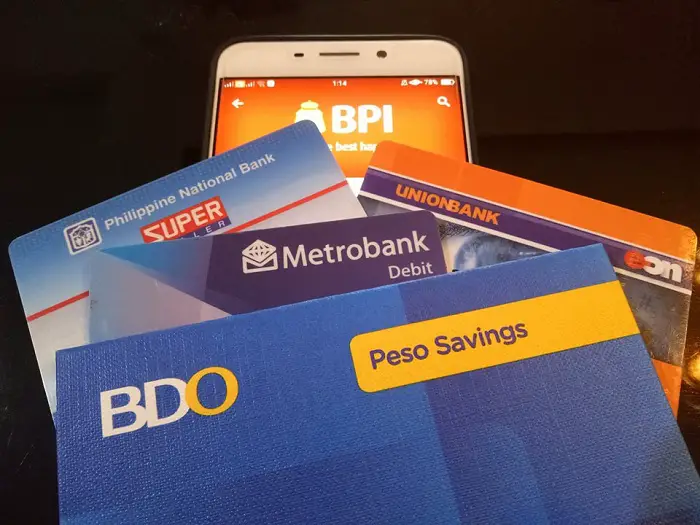 Top 10 Best Banks in the Philippines in Terms of Capital
Amounts in Million Pesos
BDO – 442,950.43
BPI – 312,168.51
Metrobank – 297,480.23
Landbank – 204,412.46
PNB – 158,619.61
UnionBank – 142,222.32
China Bank – 126,718.77
Security Bank – 123,158.88
RCBC – 115,726.40
DBP – 77,145.73
Best Banks in the Philippines in Terms of Customer Service
It's your vote that counts here. Tell us your favorite bank in terms of service by commenting in the comment box. Share your experiences and why do you consider it as your favorite bank.
What about you, where do you put your savings, deposits and investments? Who do you count on when you need loans? Share about your banking experience by commenting.
Other Banking Guides: