The following are the best UITF in the Philippines in 2022. The data includes a complete list of best performing UITF for equity funds, balanced funds, bond funds, and money market funds.
If you have Unit Investment Trust Funds (UITFs), you must be updated with the periodic ranking of UITF to know how your investments performed in the last months, quarter, or period compared to other UITF.
What is UITF?
UITF stands for Unit Investment Trust Fund. UITFs are pooled investments of different funds, companies, corporations, invested and diversified to other investments, stocks, bonds, securities, money market, and other funds managed by fund experts and fund
UITFs are regulated by the BSP (Bangko Sentral ng Pilipinas). That means you can open or start your UITF investments in your local bank in the Philippines.
Are UITFs the same as Mutual Funds? To answer that, please read "Mutual Funds vs. UITFs – Similarities and Differences: Advantages and Disadvantages."
Benefits of Investing UITF in the Philippines
Diversification
Affordability
Expert Fund Management
Liquidity
Transparency
Regulated by the Central Bank
Why should You Invest in UITF?
This question is always asked so many times on the threads and forums, so it will be great to share the answers in this post.
Suppose you have extra bulges of money and want to invest them to earn some cash (higher than Time Deposits), and you are aware of the risks involved. You phone your banker and ask about any investment product that could give you that. In that case, they will surely give UITF as one of the options.
Unlike Mutual Funds, UITFs are now easy to open. The Philippine National Bank (PNB) started the UITF Online account opening in the Trust banking empire.
Eventually, other commercial banks like BDO, BPI, Metrobank, and other leading banks offer UITF through online banking. We can now open these investments online and enjoy paperless transactions.
As long as you have an existing bank account and available funds on your online banking, you can open or enroll your UITF and redeem or withdraw your funds from it.
How to Choose the Best UITF that is Right for You?
To choose the best UITF suitable for an investor like you, you must know your investment goal and risk appetite. Decide by knowing your main objective. Why do you invest? Do you want to grow your capital for a long term, or do you want to invest for a year or two?
Likewise, you must know how much risk you can tolerate for your investment. How comfortable are you about market uncertainties, economic slowdown, and possible losses with your investment?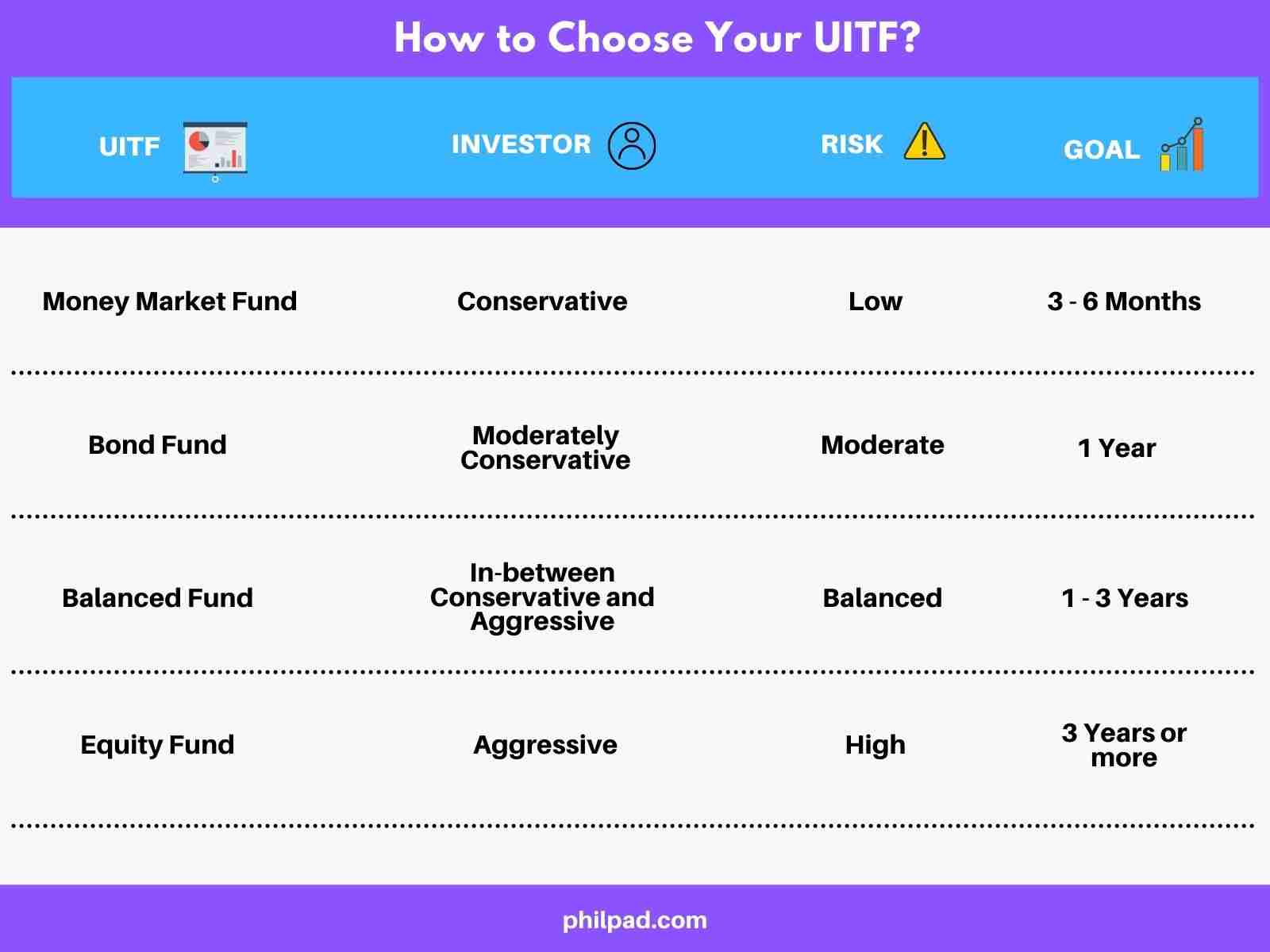 Best UITF in the Philippines

in 2022

Top-performing UITF in the Philippines. Data will be updated every quarter. Data is based on YOY (in the last 12 months) ROI.

The financial market's performance was not impressive in the previous year because the global market declined due to the pandemic and Fed hikes contributed to the fall of investments. But the economy started to recover with mass vaccination and re-opening of many businesses.

Financial experts and investors are still confident about the future growth of the economy, which will eventually lift other businesses and investments in the country.
Top 15
Best Performing UITF Equity Funds in

the Philippines in 2022:
Manulife American Growth Equity Feeder Fund (Php Unhedged Class A) 28.50%
PNB High Dividend Fund 8.32%
AUB Equity Investment Trust Fund 4.96%
China Bank High Dividend Equity Fund 4.69%
BDO ESG Equity Fund 3.79%
China Bank Equity Fund 3.49%
Manulife Asia Pacific REIT Fund of Funds (Php Unhedged Class I) 2.92%
BDO Institutional Equity Fund 2.61%
BDO Sustainable Dividend Fund 2.15%
Manulife Asia Pacific REIT Fund of Funds (Php Unhedged Class A) 1.46%
BDO Focused Equity Fund 1.20%
Security Bank Peso Equity Fund 1.12%
Manulife Equity Wealth Fund (Class I) 1.11%
BPI Invest Philippine High Dividend Equity Fund 0.88%
BDO Equity fund 0.65%
Top 6 Best Performing UITF Balanced Funds in the
Philippines in 20

22:
Manulife Global Preferred Income Feeder Fund (Php Unhedged Class I) 9.67%
Manulife Global Preferred Income Feeder Fund (Php Unhedged Class A) 7.89%
BDO Peso Balanced Fund 2.46%
China Bank Balanced Fund 1.23%
BPI Invest Bayanihan Balanced Fund 1.02%
AB Capital Balanced Fund 0.32%
Top 8 Best Performing UITF Bon

d Funds in the Philippines in 2022:
Manulife Asia Dynamic Bond Feeder Fund (Php Unhedged Class A) 1.59%
China Bank Intermediate Fixed-Income Fund 0.86%
UnionBank Peso Tax Exempt Fixed Income Fund 0.78%
Manulife Stable Income Fund (Class I) 0.77%
ATRAM Total Return Peso Bond Fund 0.50%
PNB Peso Intermediate Term Bond Fund 0.43%
BDO Merit Fund Intermediate Term Portfolio 0.36%
BPI Invest Premium Bond Fund 0.34%
Top 10
Best Performing UITF Money Market Funds in the Philippines in 20

22:
Maybank Tiger Peso Money Market Feeder Fund 1.24%
BPI Invest Money Market Fund 1.16%
China Bank Short-term Fund 1.15%
Security Bank Peso Money Market Fund 0.98%
BDO Short Term Fund 0.94%
AB Capital Short-term Fund 0.93%
China Bank Money Market Fund 0.82%
UnionBank Peso Short Term Fixed Income Fund 0.80%
Landbank Money Market Plus Fund 0.79%
BDO Institutional Cash Reserve Fund 0.74%
Like other investments, UITFs have risks. Make sure you never put your money in one investment. It is essential to diversify your capital and to have regular income sources.
To learn more about UITFs, visit our UITF articles here.
Other UITF Guides:
Disclaimer: This article is for information purposes only and should not be considered as professional advice or endorsement of a particular investment. Past performances do not guarantee future results. UITF and other assets have risks. Risk only the capital you're comfortable to lose. Always do your own research before investing your money.