Another yummy treats for Android phone users, in this post are the best free Home replacement and launcher apps alternatives for your Droid phones and favorite shell for Android with 4.0 and 4.1 OS and higher gadgets (phones and tablets). Check the latest updates of each app to suit your version of OS be it the latest Jellybean or the older OS like Ice Cream Sandwich, Gingerbread, and Froyo.
The default Home app a.k.a. the Launcher is our usual bubble on our fab Android phone. Since it's our homepage, we often want to try other apps that offer wider range of features, themes, widgets, icons, and edgy applications.
Such alternative Home replacement apps have multiple static shortcuts at a dock, stunning themes, live or 3D wallpapers, multiple screen support, scrollable widgets and amazing supports and capabilities like filtering and arranging shortcuts into categories, docks and other brilliant gestures. These apps here have versions to download for free.
Best Free Home Launcher Replacement Apps for Android
These apps work for Android phones and gadgets like Samsung Galaxy S3, Galaxy Note, Galaxy Tab, Nexus, LG, HTC, Motorola Droids, Huawei, Torque, Kingcom Joypad, Cherry Mobile and all latest phones and tablets having the latest OS 4.0, 4.1 and higher. They are totally free!
Since the web and numerous geeky websites introduce never-ending scroll of  apps choices, me here has the pleasure to lay out the best known free launcher replacements. But since some of you are so curious and want to see the long scroll of list in case you want to try the other apps, here they are: (take note I'm gonna discuss the first batch for now as some apps are too many to choose from but this list comes first)  here as they are the best for me and my BFFs) Hope you like my review…
Nova Launcher
MX Home Launcher
Home ++
ADW Launcher
Lightning Launcher Home
Holo Launcher
Apex Launcher
Nemus
Go Launcher Ex
QQ Launcher
Panda Home
Slide Screen
iHome
Sweeter Home
Live Home
3D Homescreen
Zeam
As I've mentioned, the amazing launcher apps above work for Motorola Android phones and tablets running Android 4.0 or Ice Cream Sandwich or higher like the Jellybean and the upcoming OS. Just update anyway. Some apps may work to older versions of Android like with the Cupcake OS 1.6. or Froyo. Try them if you must.
You have to remember, downloading and setting up alternative launcher requires a lot of memory space so if your Android phone only has 512 mb, you may try installing light weight apps. However, having home replacement apps will give you an enjoyable mobile experience. Sweet like honeycomb and yummy as a gingerbread. They are fresh as an Ice Cream Sandwich and Jellybean 🙂
Nova Launcher
Your Android 4.0 would surely love this most polished customizable launcher. This home replacement app includes color picker support to change your color accent. Cool color themes come with it. It has scrollable dock too which is so amazing for both phones and tablets. You can set it up in case you want an infinite scroll. Hide icons and apps you barely use no problem. Samsung Galaxy S3 and LG Android lovers love this app so much. Nova Launcher Prime is a paid app ($4 in the moment)
MX Home Launcher
MX Home Launcher (Live Petal Theme) specializes in 3D effects and themes. If you are fund of 3D, this home screen replacement would suit your taste. Its most known petal falling effect by shake makes it one of the best home replacement apps to download and try. It runs from Android 2.1 versions and updated to run to Android 4.0 Ice Cream Sandwich. Wait for the Jelly Bean update.
Home ++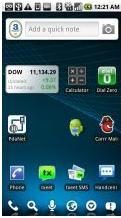 Seriously, I give 5 more pluses for Home ++. I listed it among the top list because it's clearly my favorite. This home replacement app simply knows what I want. The trouble-free looks and feature are never complicated. This app is so functional and smartly designed. I love the Power Strips as it lets me access the most used apps in my phone namely browser, search, voice search, notification, phone and the like.
By the way, the lovely bar also display stuffs in the notification bar like the date/time, battery and other status icons. It's literally a shortcut bar. Makes me remind me of the latest Google Desktop. Awesome! This app also comes with a task management feature and a screen capture just like an iphone and other Droid phones.
With this Android launcher alternative, you have the option to make your home screen from 3 up to 7 screens and supports a hip way of endless scrolling – like you can scroll left to right endlessly. I also love Home ++ drag and drop uninstall feature. In case you want to uninstall it, just hit the button.
However, this home application doesn't give me a live-wallpaper and multiple themes selection. I love live wallpaper! Me trying a trick to set up live wallpaper using this app, I heard it can be done.
ADW Launcher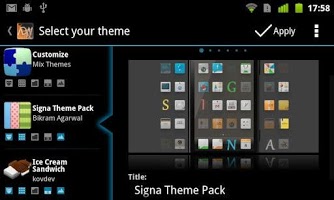 This home replacement app runs for Android 1.6 to 4.1. A bit of its screen looks like that of Nexus One (the dots at the lower corner) while the upper dots reminds me of Samsung Galaxy style. Ok if you want to hear, I know you do, this ADW launcher app supports Live Wallpaper and themes. Yay! What this app impressed me from other home replacement is its speed and brilliant way of sorting. It's simply synchronizing my stuffs which is why I listed it in my list of free functional apps.
Lightning Launcher
This shell is famous for its ultra fast and light customizable launcher. You'll have a smooth and seamless home screen replacement. Navigation will be easier because stuff can be placed just anywhere on your home screen. Lightning Launcher is also light on memory.
Holo Launcher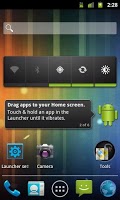 The best thing about Holo is that it doesn't only run for Ice Cream Sandwich Android 4.0.4 but also can work for Gingerbread, Froyo, and Jelly Bean. How amazing! Its features support full ICS icons, folders, outlines, drawer tabs and all features that come with the latest ICS. This is a wow new app! You can't simply miss trying this one.
Apex Launcher
With up to 9 home screens now that is awesome! Smooth animation and customization that suit Jellybean 4.1. This app runs flawlessly giving you a firm choice not to download something else. There is a paid version of it that is called Apex Launcher Pro.
Nemus
One of people's favorite. Nemus Launcher offers low memory usage, speedy response, easy folder and app management. It has some cool themes too. This app can also run to Android 4.2 which is amazing.
Go Launcher Ex

One of the most downloaded free app, this app is considered to be the most popular home replacement app in Google Play too. It gives fast and smooth tasks, pretty themes, smooth flipping operation, various Go Widgets, and efficient app management functions such as sorting, hiding app, cleaning memory and refresh function.
QQ Launcher
This launcher app offers too many gorgeous wallpapers for your home screen. Its new Moxiu Theme offers more choices of themes. It comes with other amazing functions and features just suitable for the latest Android OS phones and tablets.
Panda Home
Here comes the term 'Panda' again LOL Panda Home or 91 Panda Home app is a light weight home replacement app so if you seek for a bounty of home screen space and mobile space, then this home app is perfect for your Motorola Android. I am quite impressed with this app because it's the only full featured FREE home replacement app that supports themes.
I love themes as much as I love live-wallpapers. Yay, it supports both! This app allows you to set up up to 11 pages of screen and 6 dock bars in different corners of the screen. One more thing, I find it so unique and brilliant that we can adjust the text label font size the way we want which I never see from other apps. I heard the old Panda Home is still available and the current version is 1.4 Panda Home app is known for the following:
Support themes and skins
Allows import/export of themes
Multiple screen space
Quick app management (press and hold the app icon to access the quick menu)
Search applications by alphabet
Lightweight and responsive
91 iHome

This kinda gives you an iPhone on your Android. This app comes with magical scrolling effects and eye-candy looks. Majority of my friends love using this app so I listed it here among my Free apps although it doesn't come with live-wallpaper and themes. Anyway, compared to others, there's no application drawer in this home replacement app. All your apps will be there in the screens like the more applications you have, the more screens you have. Thanks to its search feature, it helps a lot.
Slide Screen
Slide Screen is actually a dual-purpose app – it works as a separate app or as a home replacement. That's why it's called Slide screen heh. I listed it as my number five because I always want to access my features in one screen. This is the main function of this nice app. I get access to my contacts, rss feeds, SMS, facebook and Twitter status and updates, phone calls, Google calendar, Gmail, Stock watch, and more in one screen. Ok, me gonna proceed to the next app review…
Sweeter Home
Reminds me of 'home sweet home' this home app looks amazing and neat. I love the way it customize my droid x launcher. Though this home replacement app prompts the user to download the application online at Sweeter Home official website. It's easy anyway and it does magic by scanning your phone's applications, sort them and sync all stuffs. Below is a screen shot of this launcher app. The software is also available to versions of older Android OS like V 1.5, 1.6 and version 2.0 and later. Sweeter Home 2 Beta is now available online for Éclair, Cupcake and Donut as well.
Sweeter Home's main screen looks fabulous and it was designed for quick access to the most used functions such as calls, contacts, SMS, apps list, games and social plugins. Like any other home replacement apps, this one though may be confusing. If you loved its pros, its cons may wind you up.
It comes with 5 screens to scroll and they are designed like a sweet flower – one central desktop and on the four sides. So you scroll up, down, left, right or other way around. It's up to you how you will customize your screens.
To add apps to the screen, you need to Edit the themes, add overlay (or tray) to the screen before you can add shortcuts to the tray. The size and position of the trays are fully customizable and you can place them one over another. Another feature of this app is called Springboards. They are pop-up layers within a function. Basically they are extensions to the same screen. I told you, this app is challenging to master. 🙂
Live Home

Live Home is one of the widely known home replacement apps for Android. It's known for its fancy home screen and transition. Very eye-candy! I love its task manager; it's so functional and more advanced compared to the others. Users enjoy its customizable drag and drop widgets and buttons plus customizable drawer from the old drawer or galaxy or iphone drawer. It comes with themes and wallpaper support, too. But I can't seem to browse the wallpapers in a faster way than browsing 'em screen to screen. I rate this as my six place coz I'm still waiting for the new features which sound so promising. So launch that launcher!
Homescreen 3D

3D Homescreen or Homescreen 3D definitely will give Android users an amazing 3D homepage. Found this app from appbrain. Your icons and widgets float in a cloud in your homescreen in a fluid 3d motion. The website announced its features such as – fluid 3D motion, fully customizable, 2, 3, and 4 column mode, Honeycomb/tablet friendly (with up to 6 columns), accelerometer effects, texture quality settings, and various interesting visual settings. The app's latest version works for all Android 1.2 and higher. Enjoy the full version in a very cheap price.
Zeam
This is another newly released launcher alternative. If you want sleak, simple, speedy home replacement app, this one might satisfy your taste. Version available for Android 2.0 and later. One more amazing thing, it only uses small space and memory. Zeam 2.8.6 was tested years ago. It comes with a live wallpaper support but not theme. If you want a minimalistic style, you gotta try this. Simplicity and speed always work for me.