In this page is the list of best live wallpapers free to download for Android phones and tablets. First off, the best wallpapers free to download for Android phones and tablets here also include some guides and reviews. Also they can run for Android 6 Marshmallow and Android 7 Nougat or later and let's not forget also for Motorola Droid. Take note that this is all about live wallpapers and I have also published a separate article for static wallpapers. Remember, the apps (programs) listed here are all free to download in the Android Marketplace. Thus having the right operating system, preferably Android 6 and Android 7 can run these live wallpapers to your mobile phones and tablets. You just have to have sufficient memory for these apps and avoid loading and saving up too many useless apps to save more space and avoid hanging up and freezing up of your droid gadgets. Also take good care of your battery please.
Live Wallpaper for Android Smartphones and Tablets Usual Requirements:
Make sure your Android OS supports live wallpaper. Check it out by going to your phone's 'home' app (also known as launcher) By the way, in case you want to an alternative home apps for your Droid phones and Android gadget, check out my article about best home replacement apps and launcher alternative for Android. Take note that not all Android gadgets support Live Wallpaper, even mobile phones with Android OS 2X upgrade HTC Hero, Android 6, Legend, such gadgets have hardware limits if you know what I'm saying. Although some popular Android phones and tablets such as Samsung Galaxy S, Captivate, Vibrant and the like, HTC Droid Incredible, HTC Evo 4G, Motorola Droid, Droid X, Droid 2 and the like support live wallpaper as their "Home" app and programs support it. Android can use live wallpapers. To sum up, the following are what your device should meet OS, hardware and home launcher.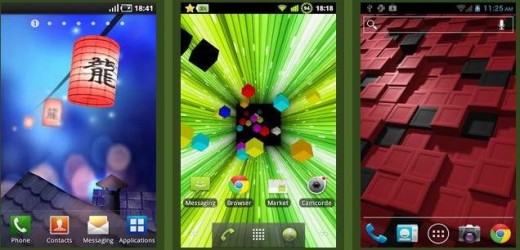 Best Free Live Wallpapers for Android
I've complied the list of everyone's favorite live wallpapers that are hundred percent free to download. I've been downloading and installing my freebies from livewallpapers.org so they all run and work just fine and totally free. How to download the applications, just read the instructions I've put below, after the list of 3d live wallpapers and screens. Enjoy!
Live wallpaper app for Android mobile phones and tablets can be set up via
Home Screen > Menu > Wallpaper > Live Wallpaper
NBA 3D Live Wallpaper
This one is amazing. It's the official NBA 2013 Live Wallpaper. The app lets you tap and shoot a basketball mainly in your home screen. How cool! Now, shoot!
Magic Tunnel
This app runs for both phones and tablets and it's designed for low battery consumption. It's fun in the eyes and it comes with free 3 themes and forward speed control.
Digital Flux
Metallic tiles pulse up and down in cool movements on your homescreen. I like the effects of this wallpaper as it cast realistic shadows and graphics.
Photokube Lite – as seen from the lovely picture, it's a rotating 3D cube that shows your photos from your gallery. This free wallpaper has been developed to more bonus of functionality such as cool features of changing pictures, photo frames, and special effects.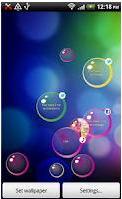 Notification Bubbles – your notifications from your favorite social networks and websites like Facebook, Twitter and Gmail can appear to every bubbles of this free lightweight live wallpaper. It's so fantastic. You get a new bubble each time you receive an update in Facebook or an SMS / MMS via email, or a notification on Twitter. How fabulous!
Smurfs 3D – who doesn't love Smurfs movie. Cool and cute Smurfs 3d wallpapers and collections can be your home screen in a wallpaper slide show by downloading this app. This application can be customized according to your type of styles, speed timeout photo effect, frame, color, refresh rate and multi wallpaper.
AniPet Aquarium – wonderful live marine aquarium wallpaper. Background can be change according to your choice.
Smiley Face Moods – I hate smileys and such icons but this free live wallpaper is awesome to everyone who likes their emotions seen on their Android phone. Your mood swings, your wallpaper…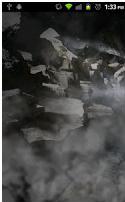 Smoke – this is smoking hot wallpaper. You'll love this one if you want a smokey effect on your screen. This will run even without a fire alarm.
Captain America – this is an uber cool 3D live wallpaper for your Android gadget. I love this one. I was using it for a month. Hehe.
The Firefly – I love Fireflies so I save this free live wallpaper in my list.
Way of Nature – this one is relaxing and refreshing and it's an interactive live wallpaper screen. I love the slow and rhythm of the abstract nature entities. Just amazing!
Dolphin Rainbow – I love the blue ocean plus jumping dolphins. This free wallpaper takes my vote, too. Just fantastic!
Camera through – This one is fantastic! I can capture a photo or a record a video and save it as my live wallpaper. How cool is that?
Panda Chub – this is so cute, a Panda looking and following your every move / touch.
Spider – have you seen a spider hanging out around your Android phone screen? Install this spider live wallpaper and you'll know what happens…I wish they made the Spidey Kiss app or screen.
Lightning Storm – this one is groundbreaking. You'll love this one like a thunder. Lightning storm live in your screen, what more can you ask for? Sunshine?
Beach – Life is a beach so is my Android live wallpaper. You can have a fantastic ocean feel in this free live wallpaper, with dolphins, seagulls, palm trees, clouds, waves and many more effects. Just magic!
Droid Eye – this is techy gadget awesomeness. The Droid eye follows and responds to your finger touches. It reacts to your touch and swiping of home screen.
Shark Reef – this is super cool as it doesn't only supports vertical and horizontal orientation but also customizable with animation speeds to save up battery and improve phone's performance. Have a jaw dropping experience with sharks and predators, swimming into the deep blue ocean with smaller fishes around the magical corals and sea ecosystem. See Atlantis and Bermuda Triangle with this lovely live wallpaper.
Solar System 3D Lite – if you love the space and the Solar System specifically, you'll like this free Android live wallpaper. Animated designs and version includes the whole heavenly bodies and planets in the Solar System plus the sun, the moon, asteroids and many more. This wallpaper is customizable for different orientations, too and you can switch between the planets whenever you like. Solar System 3d Lite live wallpaper is reserved on my live wallpaper list.
World of Warcraft – if you're World of warcraft fanatic, this free live wallpaper must be on your menu and list of Android live W. It's high definition quality and you can customize your wallpaper by choosing the photos and pictures you fancy from the famous video game. Also, you can re-size, maintain aspect ratio, change background color or rotate the lovely wallpapers.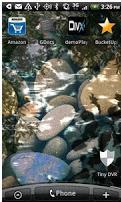 Flow Live Wallpaper – Talk about tranquility, this one is like a free yoga, too. It's a relaxing and calming creek that flows with soothing effects of stream in the woods, sunlight glistening and clear water glittering. This free wallpaper has its Flow Your Way version that is customizable with more backgrounds to enjoy.
Other Cool Free Live Wallpapers for Android and Droid Phones
Halo 4 Helmets
Kisses Audio Lite
Smile Audio Lite
Arc Clock Lite
Airplane Banner
Cat Play
Shamrock
Wave
Bridge Night Free
Droids
Sakura Falling
Mystic Waterfall
Nicky Bubbles Lite
aniPet Koi Trial
aniPet Goldfish
Fantasia Nr 7
Sea Dragon Aqua
SwampWater
Pockets
Lucky Star
Bubbly Beer
Bamboo Forest
Tweet Trends
Planet Dream Lite
Striker
SnowFlakes Lite
Shadow Balls Lite
Beautiful Live
Shake Them All
Snowfall
Color Comets Demo
Fireflies Free
LivePano 3D Free
8-bit Waterfall
Space Junk
Mystical Grass Free
3D Galaxy
Cloudy Sky
Blue Fire Free
AniPet Freshwater
Honeycomb Free
Sleepy Panda
Tea Garden
Typography Wall
How to download the Free Live Wallpapers on your Android phone?
There are 3 ways:
1. Download the .apk file available for the chosen wallpaper. Its link is displayed after the specific free wallpaper.
2. Scan the QR code using your mobile phone to get the exact URL of the desired free wallpaper on the market. You can scan the QR code if you have a Barcode Scanner. If not, you can download it for free in the Android Market. Just search for "Barcode Scanner" and install the app.
3. Send the URL of the specific wallpaper directly to your Android mobile phone inbox via email.