After I have published about the PNR Station Schedules and Fares, I am now here, as promised, to blog and review about the famous Bicol Express journey. It's not about the famous spicy dish, Bicol Express, it's about the awesome voyage of PNR train going to Bicol and Naga City.
UPDATE: Manila Bicol Trips are currently not in service. We will wait for further announcement for the trips to be available.
PNR and its famous fleet, the Bicol Express route, is active again since the successful test last June 2011. It is now serving passengers to its maiden voyage with new trains donated by Japan. Though the trains are not totally brand new, they are good enough to give comfort and convenient ride home. Bicol express train stations and complete list of terminals were discussed on my article highlighted on the first paragraph if you wanna take a peek.
To have a bit of experience of the new sleeper train, I have uploaded some Bicol express train photos and pictures for you to see. A friend of mine couldn't wait enough to ride the new train and experience Bicol. She went with her family, saw the perfect cone volcano peak,  Mt. Mayon and visited Naga City…then Camarines Sur.
I admit, it's a perfect travel adventure for backpackers and travel addicts who prefer cheaper tours and fantastic journey.  Inside the sleeper train, this is what it's gonna look like and it's gonna be…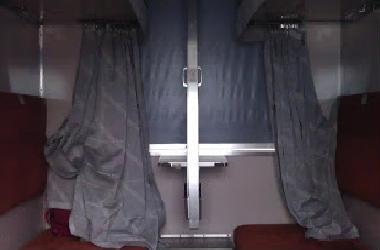 PNR Sleeper Train and Coaches
Looks comfy and nice enough to sleep in for the long train-ride from Manila to Bicol. The only thing that lacks is a wifi enabled zone. I wish PNR would make it possible soon as it's kinda nakaka-inip…Thank God if you're using internet plans on your phone, you can surf the web and Facebook anytime. lol I suggest you bring your extra food and water too so you won't be hungry to wait for the next stopover. And oh, a cologne to spray your cabin.
This is suitable for groups of travelers or families. Your friends could like a Bicol Express trip. You just have to plan it well and prepare your budget. Know the train stations, schedules and plan your itinerary. Know your stops, departure and arrival.
PNR Reclining seats
Feels like just a bus and a plane. I wish there are no Volde's creatures here or else I'll bring my wand. Ok, I kid there.  I'm still not so over with Harry Potter, I'm sorry. The reclining seats are okayish and thank goodness it's air-conditioned.
PNR Bicol Express Schedule



Manila to Ligao
Ligao to Manila
It will take about 12 hours to reach your destination. Though at some situations, it takes shorter or longer. You can buy a ticket from the main station of the trip at Tutuban Center in Manila. Tutuban is in Divisoria.
PNR Bicol Express Fares and Price List



Bicol express Rates up to Naga are as follows:
Reclining seats            P548.00
Sleeper train                P950    (P665:00 for the promo)
Executive sleepers       P1,425 (P998.00 for the promo)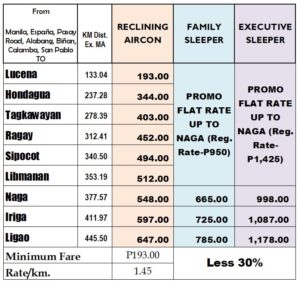 Fares and prices may change from time to time. No worries, I'll try to go here to update this post whenever the price changes.
You can also check the official website of PNR as it is available already; you can book in advance and have your reservations via phone at +63.2.319.0041 ext. 122.