Did months of quarantine make you miss the most stunning travel destinations abroad? The pandemic has brought travel restrictions. International flights have been cancelled, and vacations have been spent inside homes. While some countries have already opened their borders, that may also mean spending around 14 days for quarantine measures.
2020 has set aside the travel plans of many–especially when it comes to international travel. While going abroad isn't the best thing to do now, you can still push through with your plans by going local!
Now could be the perfect time to check out these world-class attractions in the Philippines once travel restrictions in the country are completely lifted.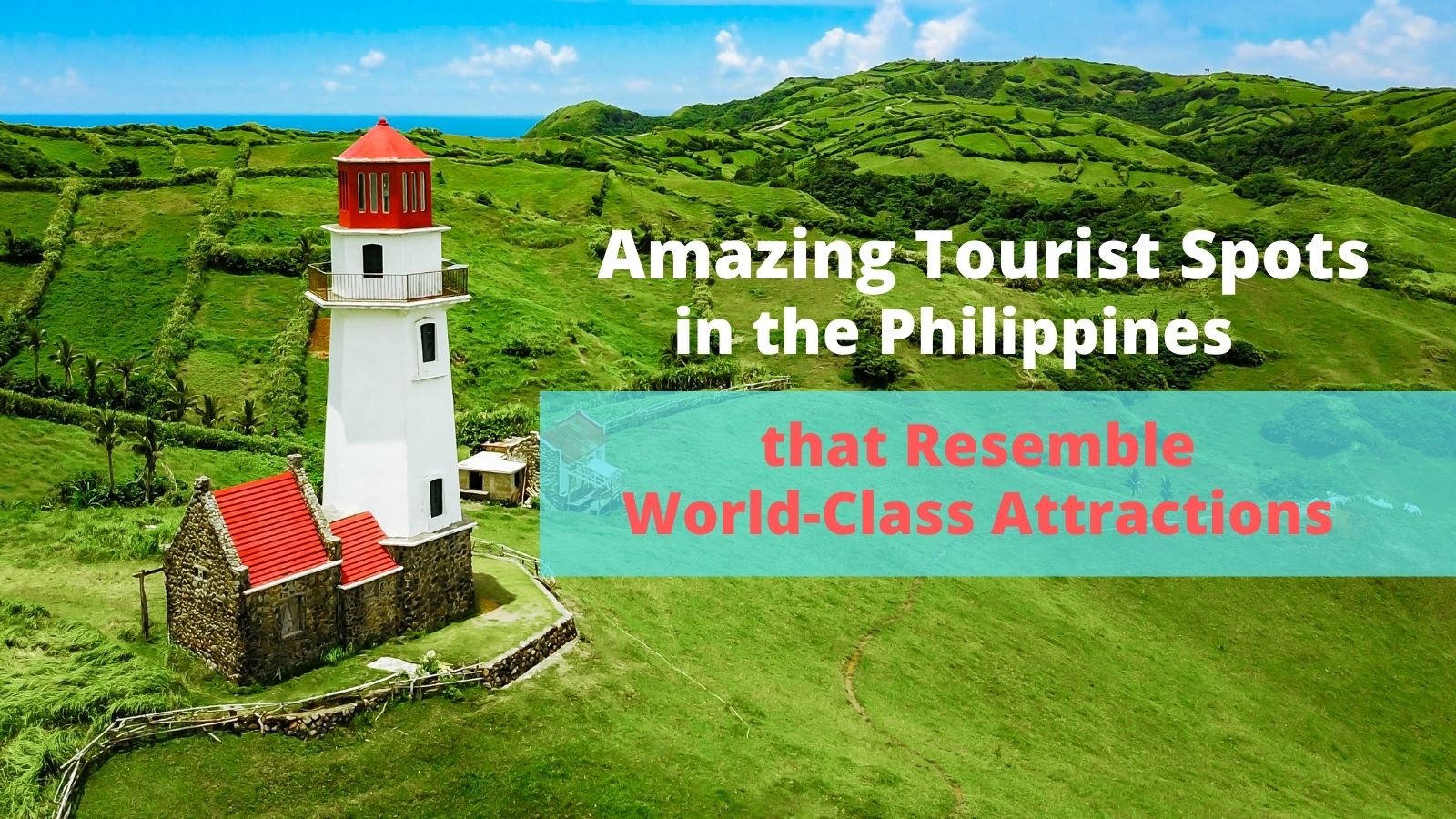 The Philippines is not just a haven for the best real estate investments, it also boasts of great attractions–from natural wonders to fantastic architecture–that resemble well-known international destinations!
To help you plan, here's a side by side comparison of tourist spots from Luzon, Visayas, and Mindanao vs. their foreign counterparts. Who knows, they could be your next dream destinations in the Philippines.
These world-class destinations in the Philippines resemble international landmarks around the world. Tell us which places have you visited already.
22 Amazing Tourist Spots in the Philippines That Look Like International Destinations:
1. Amanpulo, Palawan is as Beautiful as the Maldives
Blue skies, pristine beaches, fresh air, tropical paradise, and luxurious vacation all sound like going to the Maldives. If you don't want to fly further, but you still want a luxurious island getaway, you may visit Amanpulo, a world-class destination.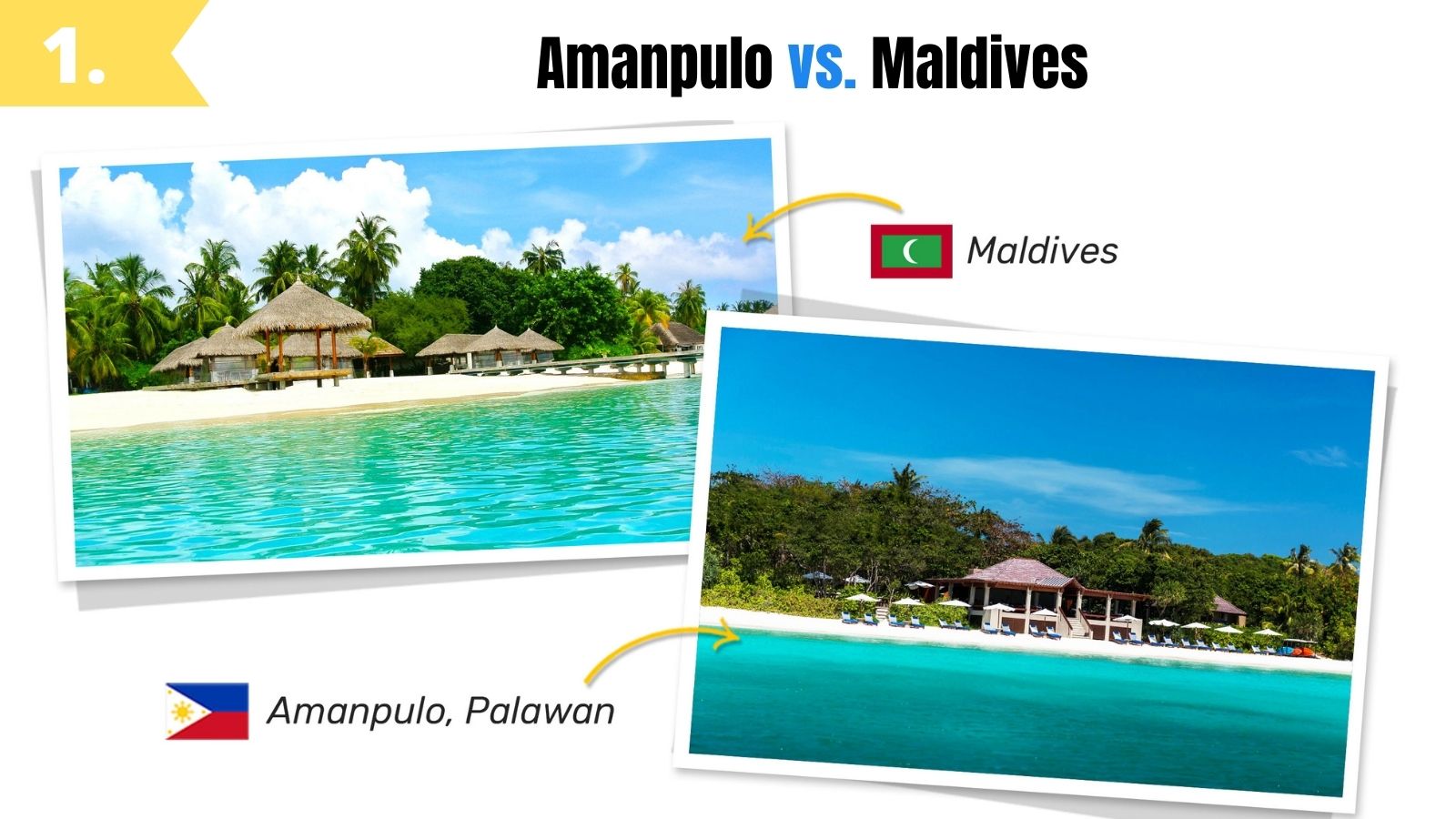 Amanpulo is an exquisite resort on Pamalican Island in the middle of Sulu Sea. It is accessible only by private plane thus, you'll gonna be on a faraway island, surrounded by white sand beaches and indulged with lavish accommodation. Amanpulo is also one of the best places to visit in the Philippines for couples.
Fact:
The name Amanpulo came from the Sanskrit word, "Aman" which means peace, and the Filipino word "pulo" which means island.
2. Batanes is as Mesmerizing as New Zealand
New Zealand is home to gorgeous and unique landscapes – from fiords to cliffs, wonderful mountains to glaciers, hot springs to geysers, lovely rainforests to magnificent hills. One of the most popular attractions in New Zealand is Hobbiton, which was featured in the movie The Lord of the Rings.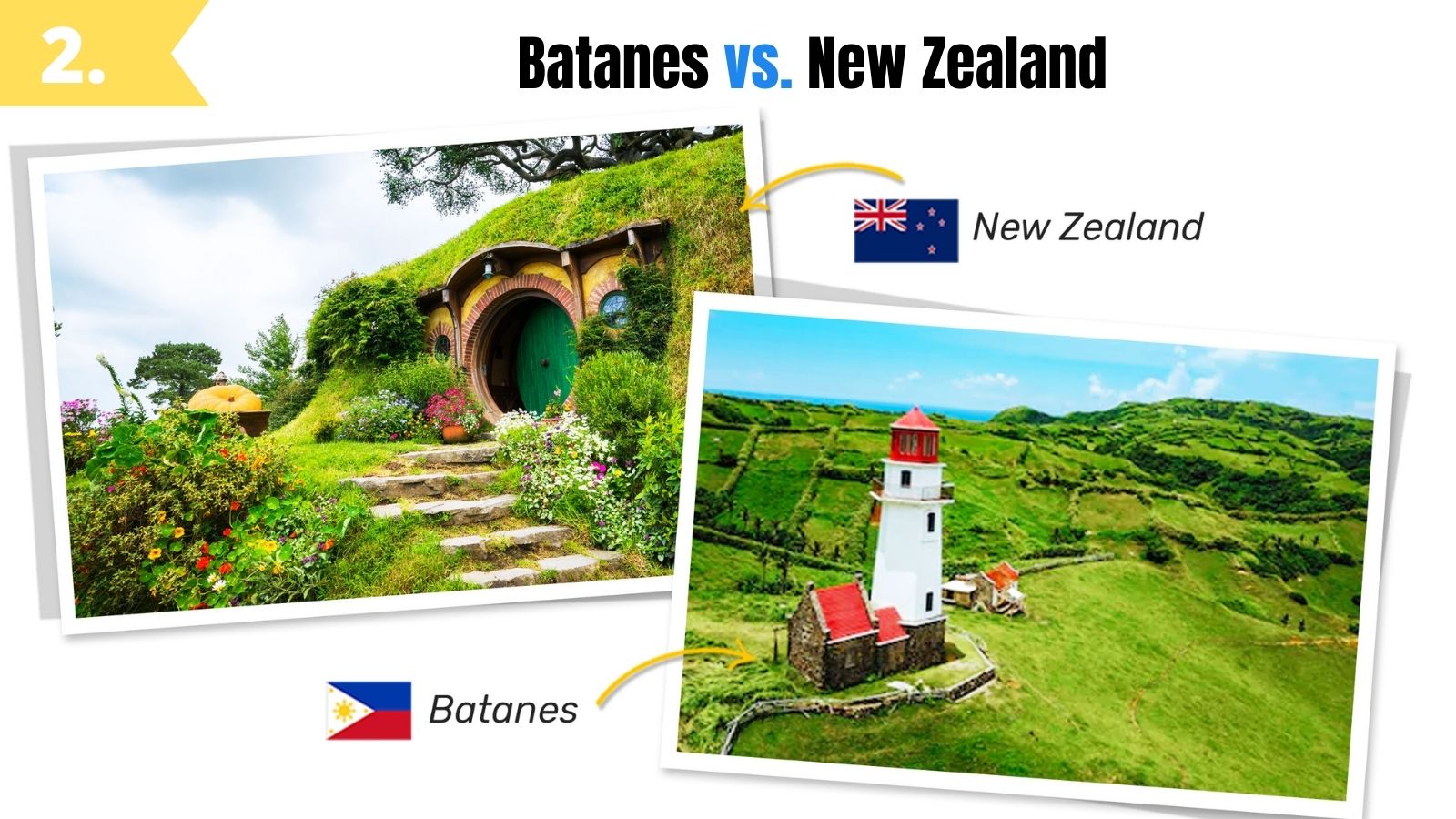 If you love the astounding green landscape of Hobbiton, you'll like the breathtaking views of Batan Island in Batanes, the northernmost part of the Philippines. The best time to visit Batanes is during summer, in March to May.
3. This Backdrop in Sagada is Fantastic as the Picnic Meadow in Werfen, Austria
Seeing the beauty of the Austrian Alps is a dream come true to many travelers. Like that of the popular location of the picnic scene from The Sound of Music, the Picnic Meadow in Werfen, Austria, the landscape is undeniably beautiful.
If you cannot visit Europe as soon as possible, don't fret because the Blue Hills of Sagada is another sight to behold. It's an extraordinary scenery plus the Mountain Province in the Philippines has a lot of adventures to offer.
4. Our Banaue Rice Terraces in Ifugao are Stunning Like Honghe Hani Rice Terraces in China
After you've seen the marvelous places of Sagada, take time to visit the Banaue Rice Terraces in Ifugao, another wonder of the world. Oh my, oh my, it's like a stairway to heaven! The Banaue Rice Terraces resemble the well-known Honghe Hani Rice Terraces of China. Both are incredible beauties!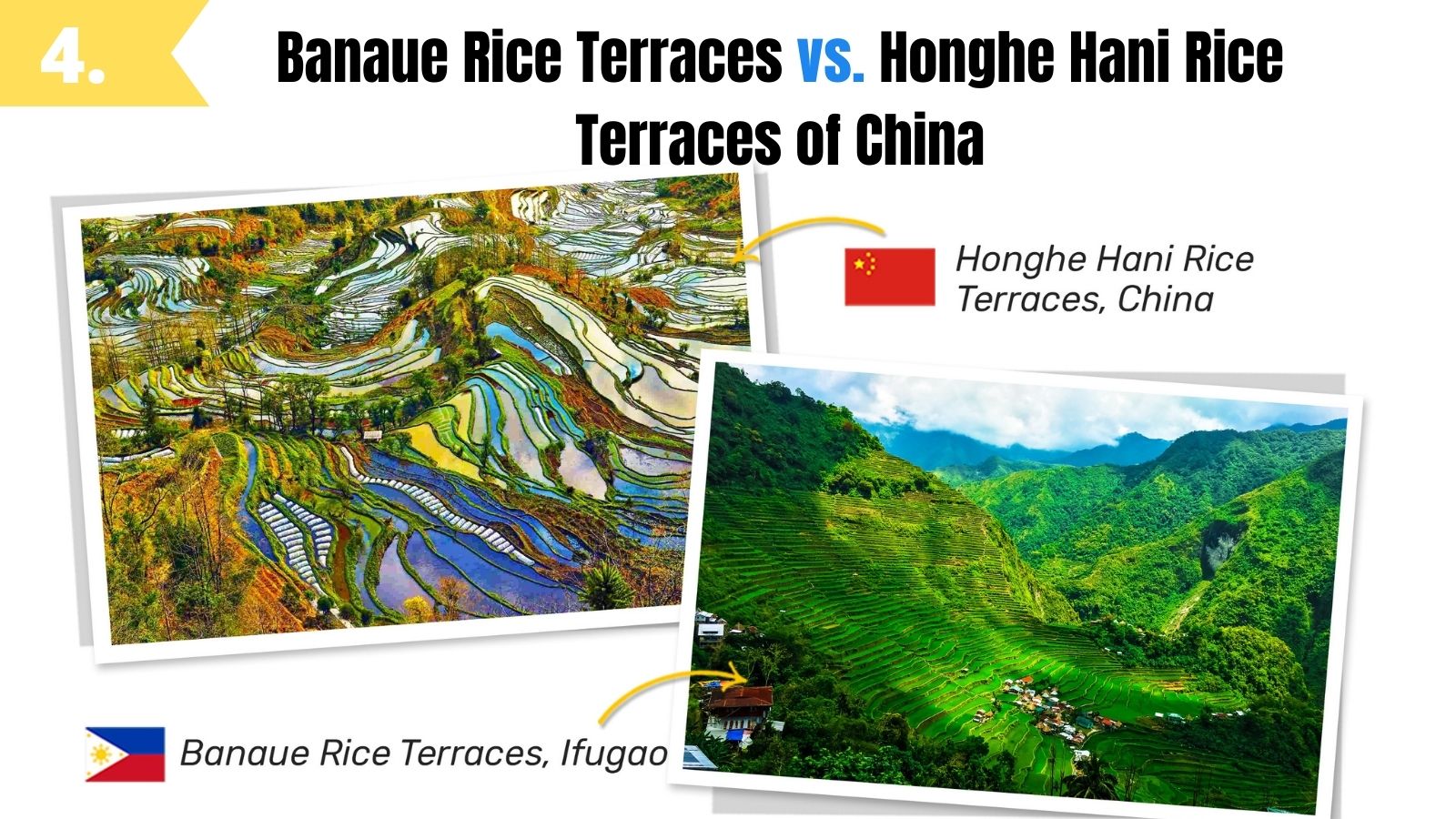 5. The Structures in Fortune Island, Batangas Remind Us of The Parthenon of Greece
The Parthenon in Athens, Greece, is a former temple dedicated to the goddess Athena. If you don't have a travel visa to visit Greece right now, why not visit the Fortune Island in Nasugbu, Batangas.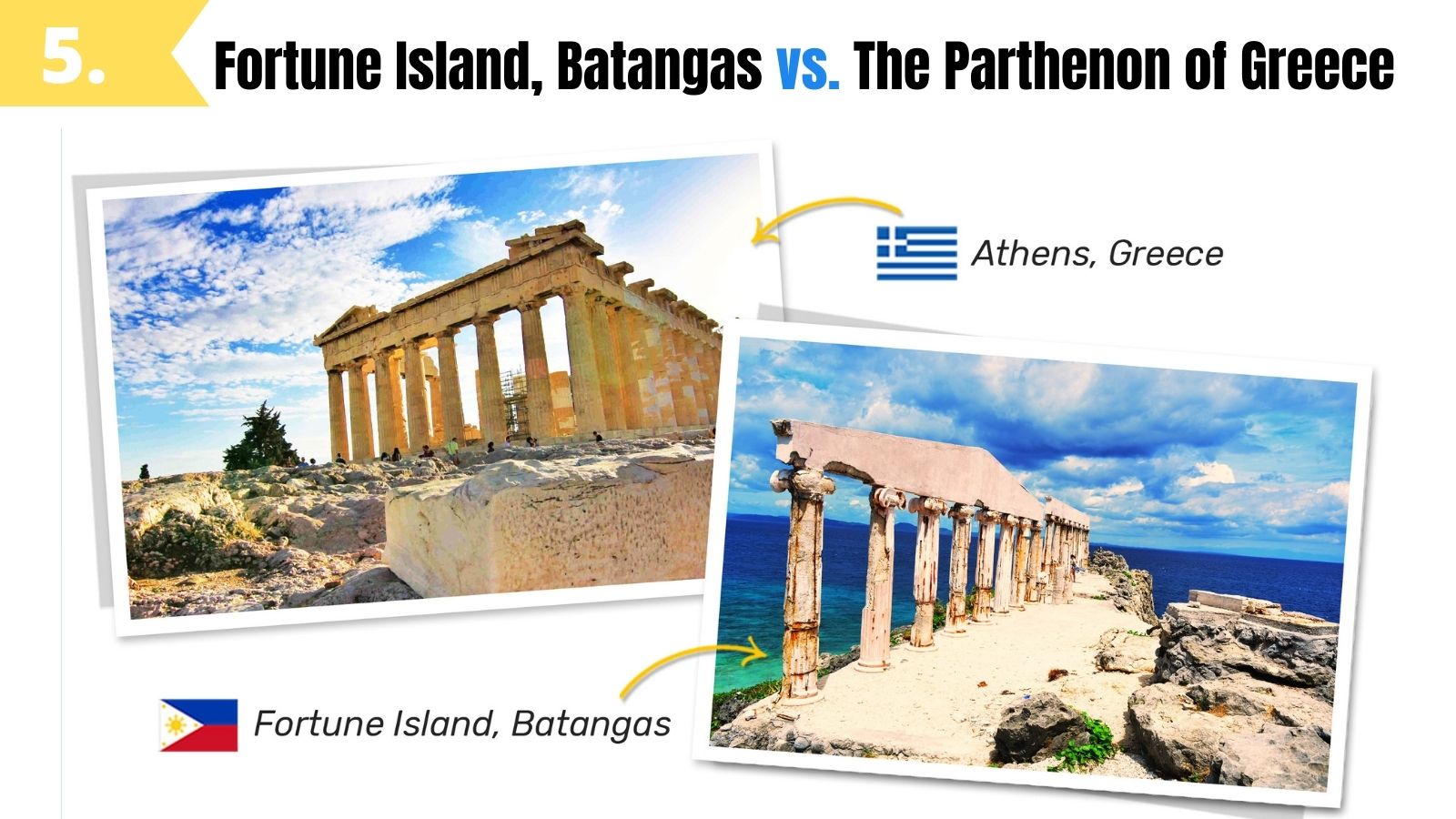 The island boasts with white sand beaches, azure waters, and rocky cliffs. The most adorable part of the island features those Parthenon-inspired structures. Truly an Instagram worthy spot.
6. Coron Island, Palawan Resembles the Paradise of Ha Long Bay, Vietnam
Ha Long Bay in Vietnam is a UNESCO World Heritage Site and has been among the New 7 Wonders of Nature in 2011. It is dotted with 1,600 limestone islands and islets covering an area of over 1,500 square kilometer.
If you've been dreaming of visiting Ha Long Bay but cannot do it soon, Coron island in Palawan is closer, and it's another spectacular beauty waiting for you!
Your adventure in Coron could be more exciting because you won't only see limestone cliffs. The superb island-hopping tour also includes swimming in its popular Twin Lagoon, snorkeling, and scuba diving to see World War II wreckage.
7. Las Casas Filipinas de Acuzar in Bataan is Spectacular as Venice, Italy
If you want to travel back in time and experience a classic heritage of the Philippines, a perfect place to visit is Las Casas Filipinas de Acuzar. There is no place in the Philippines that is as big as Las Casas that flawlessly restored Spanish-Filipino historic architecture, landscape, and waterworks.
Las Casas Filipinas de Acuzar has earned international recognition, and it's included in Conde Nast Johansens Luxury Global Collection. One of the most incredible things we love in Las Casas is their Venice-inspired setting.
8. Apo Reef in Occidental Mindoro is Extraordinary Like the Great Barrier Reef in Australia
The Great Barrier Reef in Australia is the largest coral reef system in the world. But what if you can't fly to Australia right now? Visit one of the Philippines' treasures, the Apo Reef in Occidental Mindoro.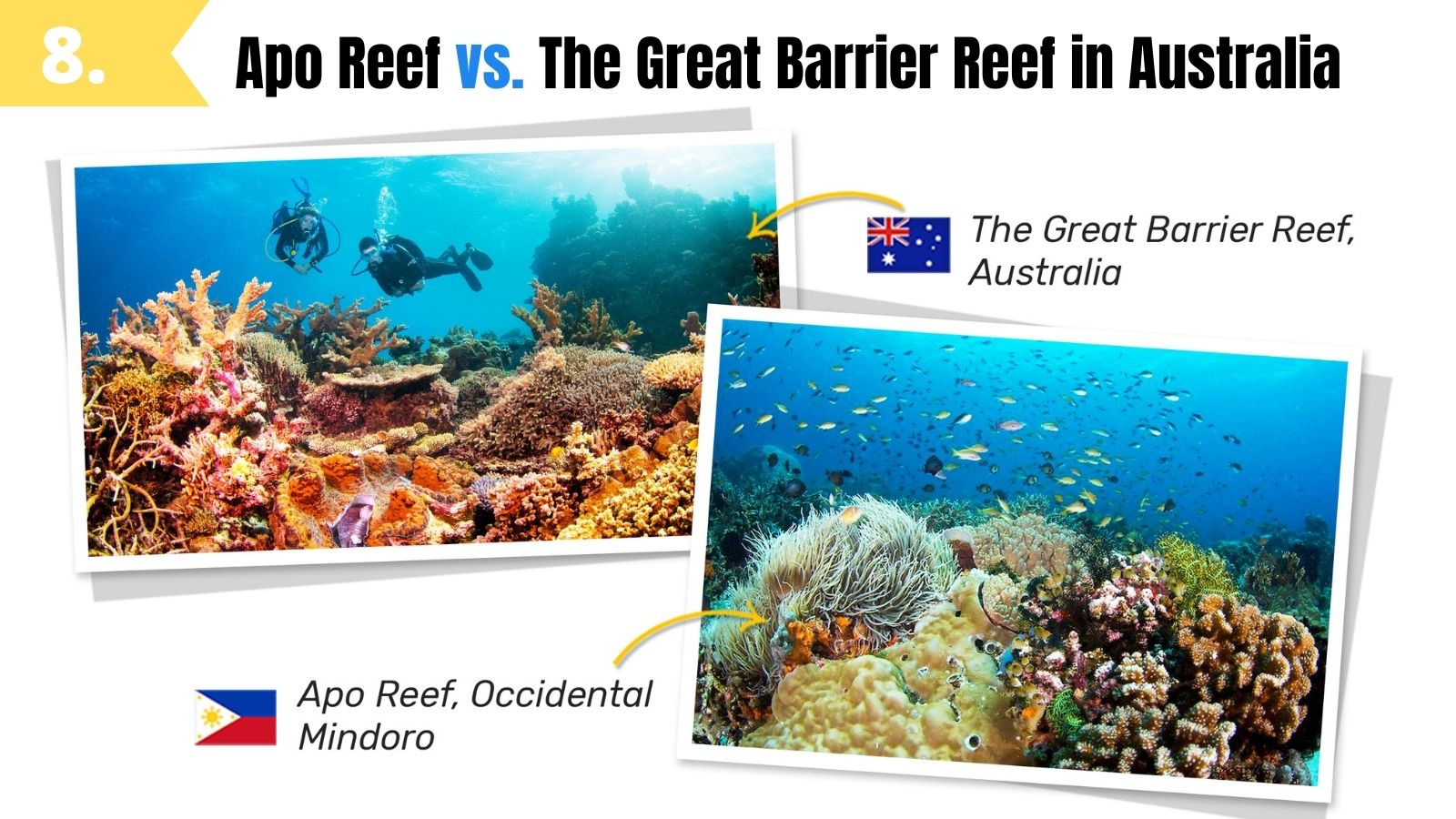 One of the best in the world because it has a shallow lagoon, and its diverse corals are approximately 34 square kilometers of reef with numerous species of fish and marine life. If you're looking for the top 10 destinations in the Philippines in 2020, Apo Reef is undoubtedly on the list.
9. Hinatuan Enchanted River in Surigao del Sur is Dreamlike like Ik Kil Cenote in Mexico
There is a sacred place in Mexico called Ik Kil Cenote, a deep natural sinkhole that is open to the sky. If you have been dreaming of visiting it someday, we're sure you'll also like our very own sacred Hinatuan Enchanted River in Surigao del Sur.
Visiting Hinatuan Enchanted River is surreal and beautiful. The water is so blue yet so flawlessly clear. Legend has it that fairies add some mesmerizing colors of sapphire and jade to the river and that the river is home to a mysterious fish that is impossible to catch.
10. Miniloc Island is Picturesque Like Maya Bay, Thailand
Maya Bay in Thailand is heaven and truly one of the most beautiful beaches in the world. If you watched the movie of Leonardo DiCaprio, "The Beach," perhaps you've included it on your bucket list.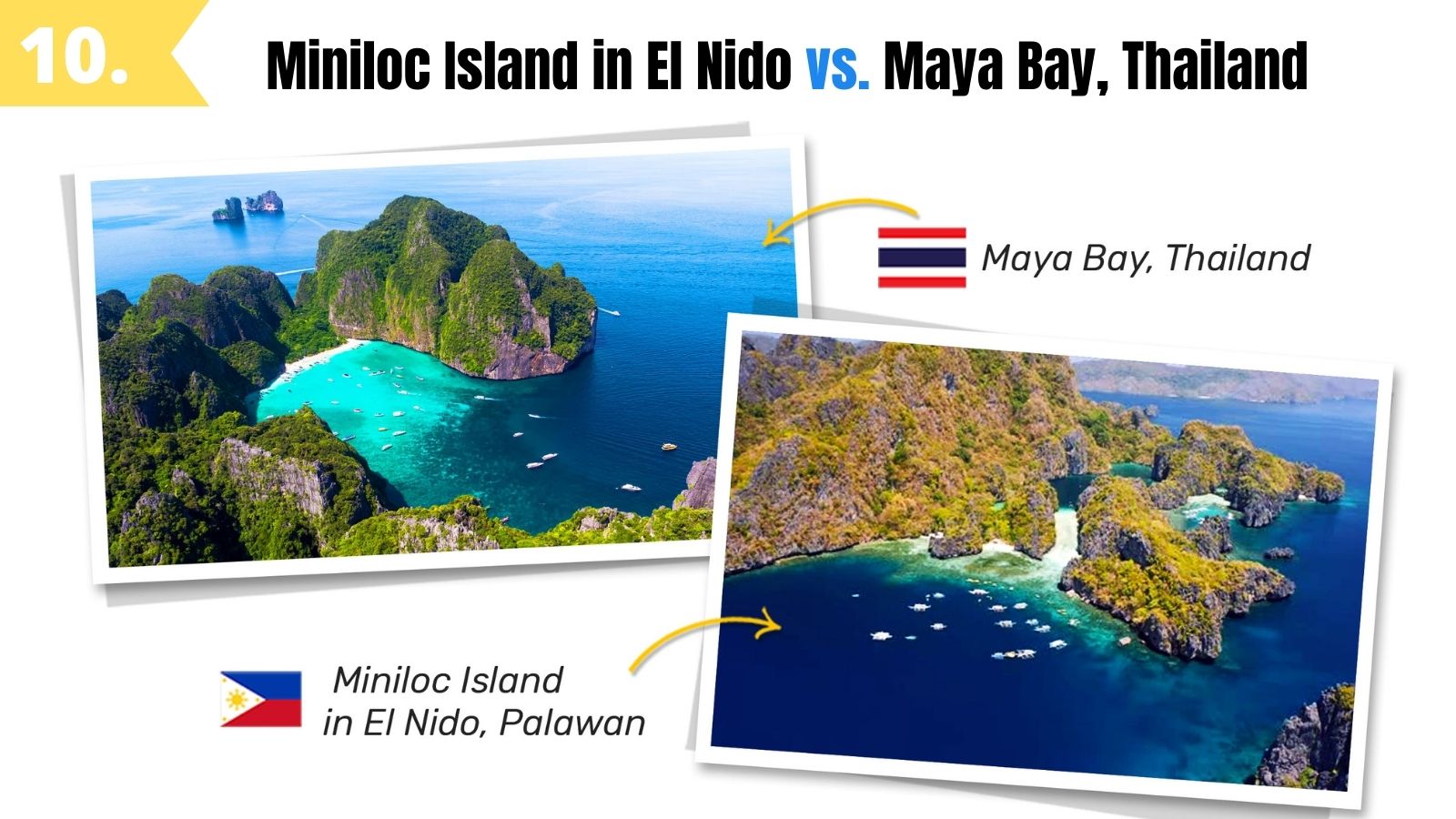 However, BBC reported that Maya Bay would be temporarily closed until 2021 for its ecological recovery. Don't worry because you can still visit another mind-blowing destination. Miniloc Island in El Nido, Palawan Philippines, is simply heaven. It's also one of the most relaxing places in the Philippines. The bonus part, it's less crowded than Maya Bay.
11. La Paz Sand Dunes in Ilocos Norte is as Exciting as Going to Dubai Desert Safari
Dubai Desert Safari is an adventure of a lifetime, but it is not our only choice. Start a road trip to Laoag, Ilocos Norte and have a thrilling escapade riding a 4×4 navigating the beauty of La Paz Sand Dunes. Don't finish your day without going to other attractions nearby. Cape Bojeador Lighthouse is just an hour drive away.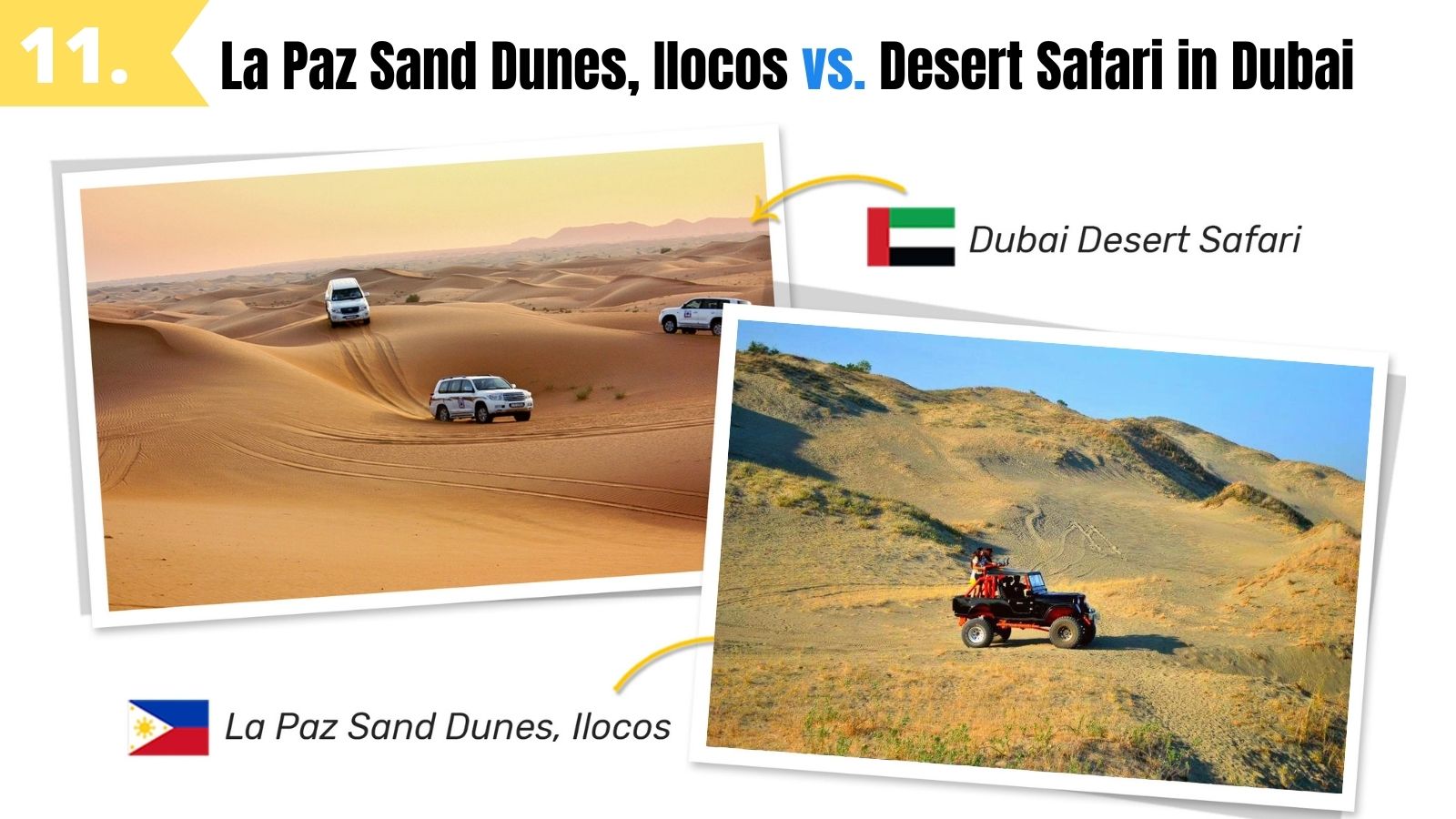 12. Vigan Heritage Village is Nostalgic as the Streets in Spain
Take the opportunity while you're in Ilocos and visit Vigan, Ilocos Sur. Travel back in time walking along the cobbled streets of Vigan Heritage Village or ride the kalesa (horse-drawn carriage) that will take you around the preserved Spanish Colonial Era town.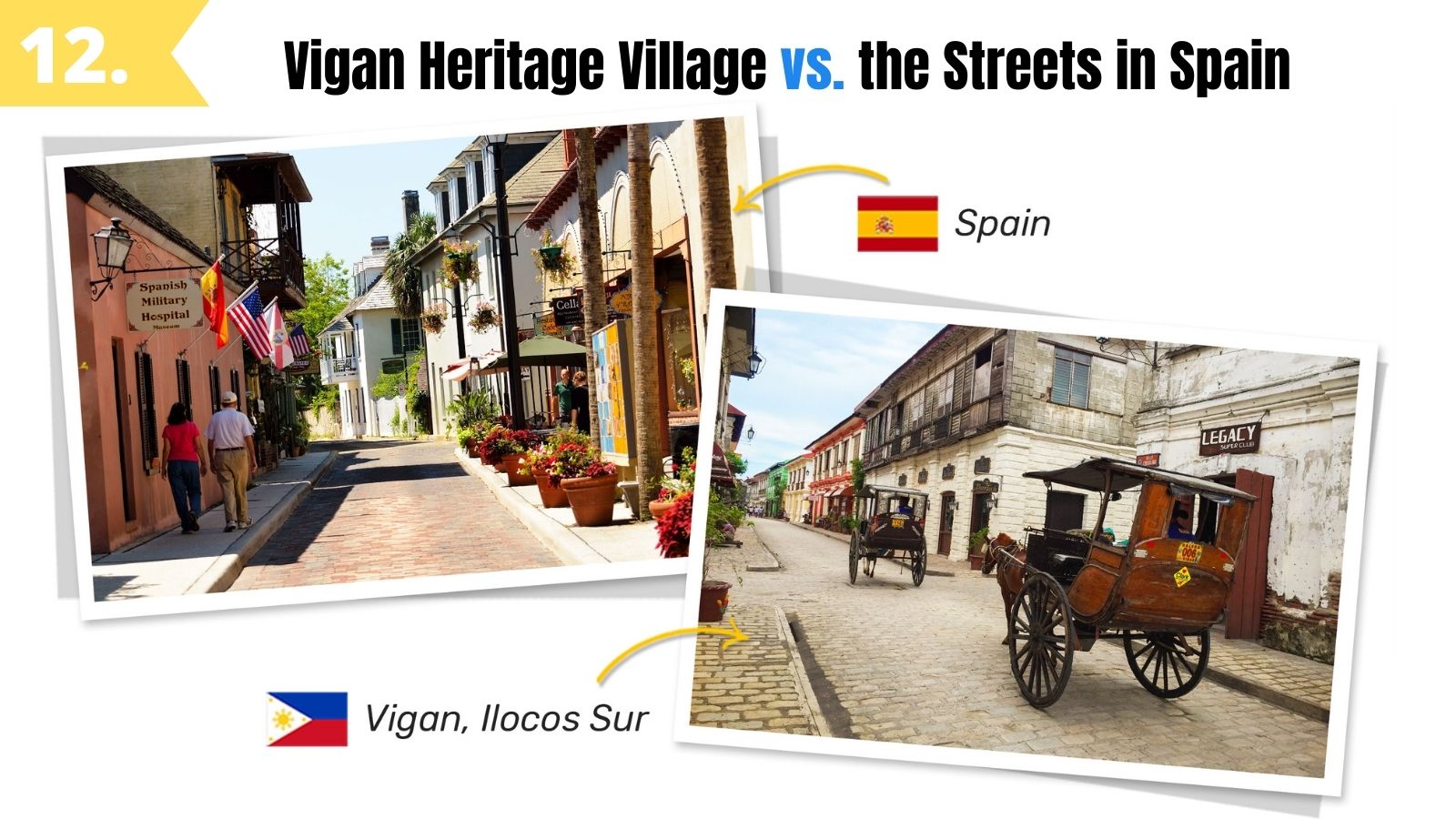 Vigan Heritage Village is a UNESCO World Heritage site. The town was established in the 16th century. Its architecture reflects the historical footprint of cultural elements of the Philippines, China, Europe, and Mexico.
13. Magpupungko Rock Pool of Siargao is Breathtaking as Giola Lagoon of Thassos Greece
Siargao used to be one of the undiscovered beautiful places in the Philippines, but it became so popular in recent years among surfers, millennials, and digital nomads. There are so many activities to do and so many places to explore in Siargao island.
One of the most exciting places to visit in Siargao is the Magpupungko Rock Pool. It appears during low tide, and it resembles the famous Giola Lagoon in Thassos, Greece. Just wow!
14. Calauit Safari Park in Palawan Lets You Feel Like You're in African Savanna
African Savanna is an open landscape of grasslands and home to a rich population of wildlife. You can see herds of animals roam around freely. Calauit Safari Park in the Philippines is also a wildlife sanctuary.
You can find many giraffes, zebras, and Calamian deers roam around freely inside Calauit Safari Park in Palawan. There are also Philippine crocodiles, porcupines, pythons, tortoises, and other animals inside the park.
15. The Pristine Waters of Boracay Island Are Magical Like That of The Bahamas
A vacation to The Bahamas is on the bucket list of every beach lover. Who could not resist its turquoise waters and white sands? But going to the Caribbean could be so expensive. You can have the same remarkable holiday by visiting Boracay Island in Aklan.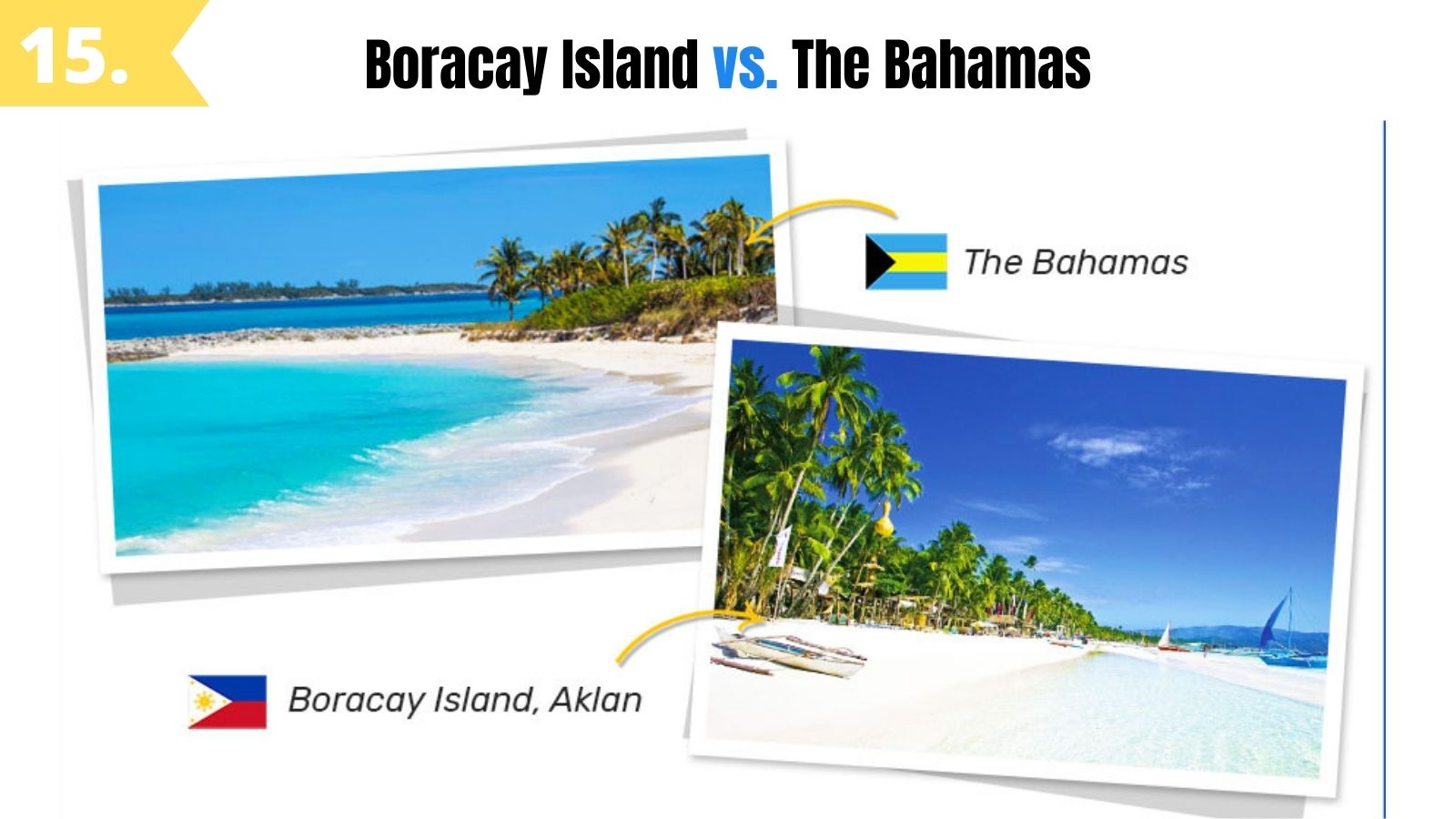 Boracay Island has been featured as one of the Best Islands in the World by Condé Nast Traveler and always on the top list of best islands in Asia. It has a long stretch of powder white sand beach with crystal clear blue waters. Packed with exciting day-tour activities, cozy bars, and restaurants, top-notch hotels, once you go to Boracay, you'll always come back again.
16. Puerto Princesa Subterranean River is Enchanting as the Rivers of Yucatan Peninsula in Mexico
The world's longest underground river is Mexico's Yucatan Peninsula. For some reason if you can't visit Sistema Sac Antun in Mexico, you can explore the world's second-longest underground river, Puerto Princesa Subterranean River National Park.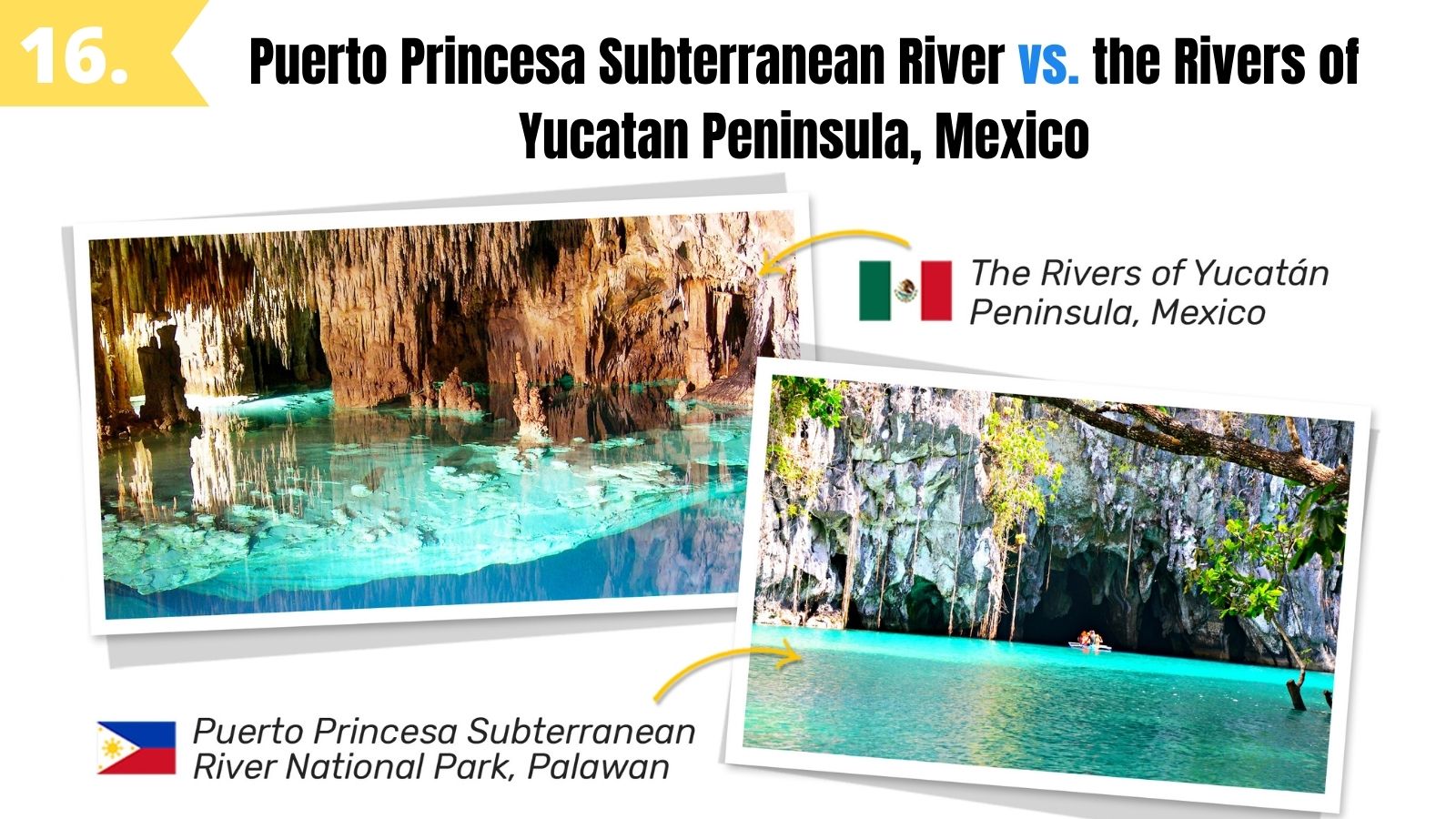 It's also a UNESCO World Heritage Site featuring stunning limestone karst landscapes, untouched natural beauty, unbelievable rock formations, and a protected ecosystem.
17. Man-Made Forest of Bilar, Bohol is Charming Like Arashiyama Bamboo Forest of Kyoto, Japan
We're positive you know that famous and most-photographed Bamboo Forest in Kyoto, Japan. Japan is one of the favorite countries to visit of many travelers because of its rich culture, sumptuous foods, and one-of-a-kind tourist destinations.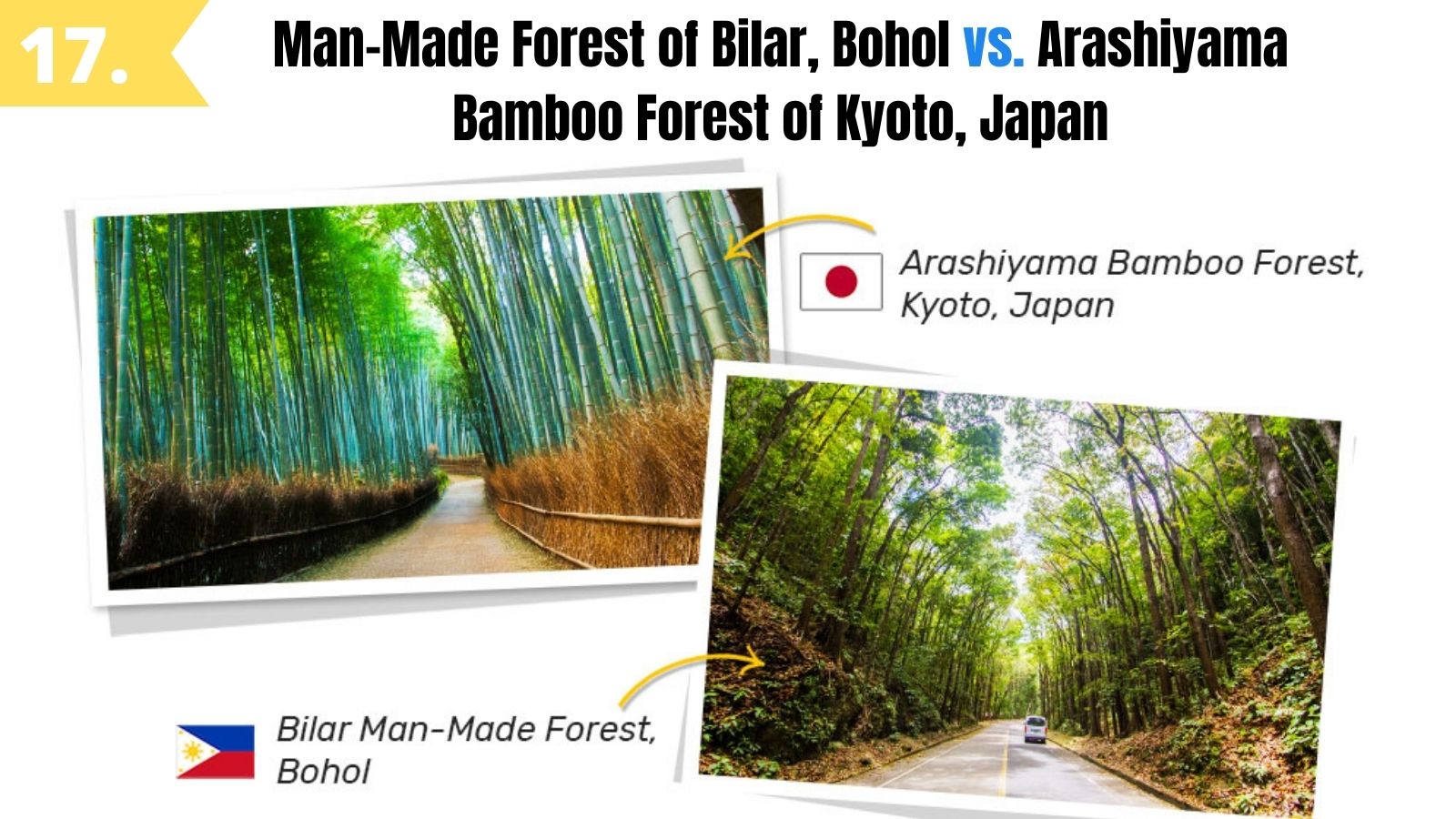 If you can't visit the Arashiyama Bamboo Forest of Kyoto for now, you can explore another nature's beauty, the Man-Made Forest in Bilar, Bohol. As a reward, you can also visit the most prominent attraction in Bohol, the Chocolate Hills.
18. Cadapdapan Rice Terraces in Bohol are Wonderful like the Sapa Valley in Vietnam
Bohol has another wonderful tourist destination, the fabulous Cadapdapan Rice Terraces! It's comparable to the Sapa Valley in Vietnam. This one is not as big as Banaue Rice Terraces, but the green landscape and picturesque panorama are way beyond beautiful.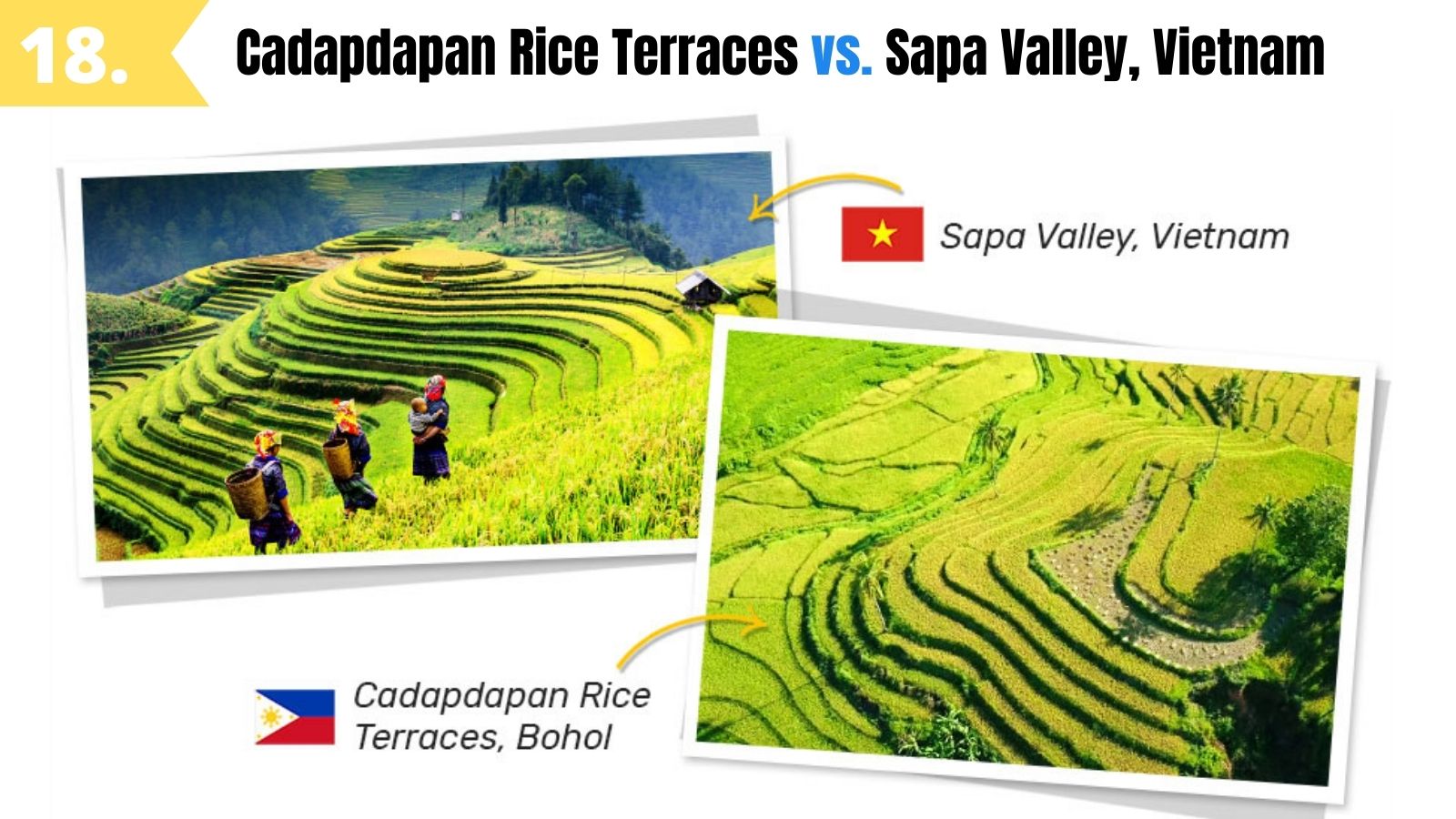 19. Corregidor Island is Fascinating as Iwo Jima, Japan
If you're a history fan and would want to go to Iwo Jima, Japan but can't do it right now, you can alternately visit Corregidor Island. You'll find ruins and historical footprints of World War II. The island served as a fortress of many battles. The oldest landmark on the island is the lighthouse dated back in 1853.
20. This Scenery in Sirao Flower Garden in Cebu is Captivating as the Keukenhof (Garden of Europe) in The Netherlands
Keukenhof, a.k.a. The Garden of Europe, is the world's largest flower garden, with over 7 million flower bulbs planted every year. You can also be in a similar scenery by visiting the Sirao Flower Garden in Cebu.
It features a mini-Amsterdam garden full of lovely flowers with a spectacular view of the mountains in the background. No wonder why this tourist spot broke social media many times.
21. Limunsudan Falls in Iligan City is Magnificent like Gocta Waterfall in Peru
The second highest waterfall in the Philippines is located in Iligan City, Lanao del Norte. Limunsudan Falls is a natural beauty and would remind us of the two-drop Gocta Waterfall in Peru. The virgin forest surrounding this gem compliments its exquisiteness.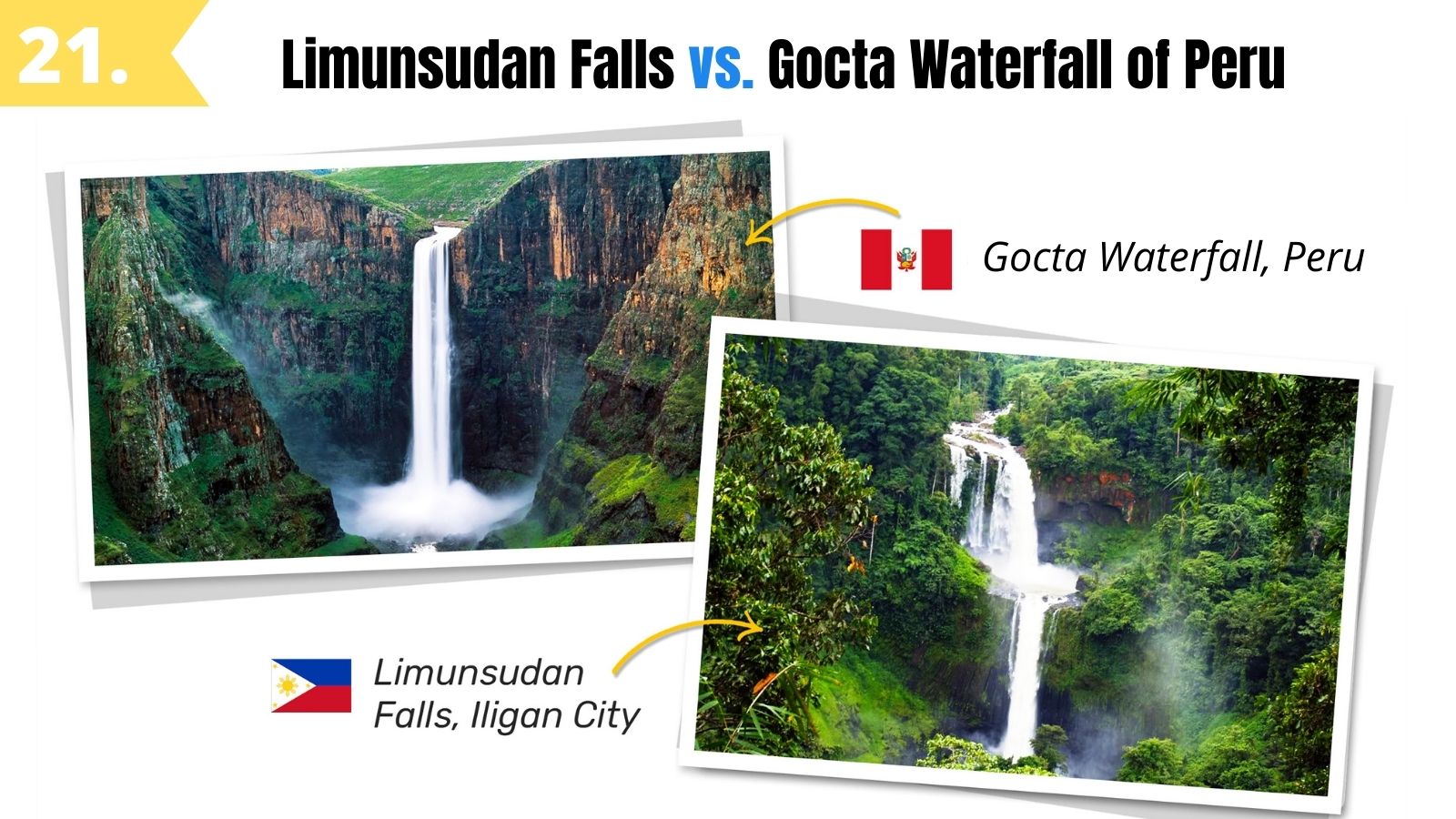 22. Sitangkai in Tawi-tawi is Remarkable like the Floating Market in Bangkok, Thailand
The Floating Market in Bangkok is a well-known tourist spot in Thailand. The Philippines has its version of floating market in Sitangkai Tawi-tawi. Both floating markets are among the only few in Asia. Tawi-tawi is also known for its turquoise beaches and amazing islands.
Now tell us which among these dream destinations have you visited already? Leave your answers in the comments below.
Other Travel Destinations: