How much is iphone 5 in the Philippines? When will it be released? The new iphone from Apple was launched on September 12 and it is making huge good impression already. Expected amazing features such as 4G LTE capability and latest iOS certainly come with it. Some tech and gadgets reviewers have shared about its bigger 4-inch touch screen and improved retina display, cool redesigned headphones and credit card-like features.
UPDATE September 2013: 2 new iphones were released.
Check out this post –> iphone 5c and iphone 5s price in the Philippines.
Updated iphone 5 price in the Philippines are listed below:
Colors available are black, white and silver.
P33,600 for the 16gb
P38,780 for the 32gb
P43,950 for the 64gb
Iphone 5 was released for sale on September 21 in the USA, UK, Singapore, Japan, France, Hong Kong, Sweden, Norway, Switzerland, Australia, Canada and other wealthy countries by the end of September, 2012. Price of iphone 5 is like its predecessor, iphone 4s, which started at $649 iphone 5 without contract. (I updated the final selling price without contract or postpaid plan here on the 12th of this month. So check the updated info.)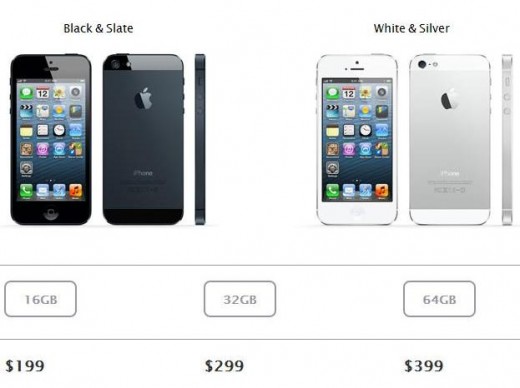 Iphone 5 price in the Philippines is expected to be around P33,600 for the 16gb for the unit in cash without contract. Globe and Smart postpaid plans are expected to be offered before the holidays. The release date of iphone 5 in the Philippine market was on December 2012.
You think iphone 5 will be available to more colors other than black and white? Let's see. I'm curious how much merchants will sell their factory-unlocked iphone 5 units to interested iphone lovers and buyers looking for cheaper price. I think factory unlocked units will be offered around P27,000.
UPDATE:
iphone 5 is now available in the Philippines nationwide. See the updated price as of December 2012, below.
What's new with iphone 5? Some of the amazing features include:
A6 Chip which is twice faster than the A5 chip.
iOS 6
4G LTE capable
4-inch bigger multi-touch screen
Apple EarPods which promise enhanced audio experience, unlike anything seen or heard before
iSight Camera
8 mp camera
Panorama
Smaller Lightning connector (you can also connect this to the older connector by having a Lightning 30-pin adapter)
Maps designed by Apple
Iphone 5 price without contract or carrier plan is $649. Price released by Apple starts at
$199 for the 16gb
$299 for the 32gb
$399 for the 64gb
The above prices come with a two-year plan – means you will have a contract with phone carrier companies like AT&T, Verizon, and Sprint.
Price right now
Today, it starts at 33,600 at Prepaid. It went down from the P52,000 starting price to some merchants.
Other topics:
iphone 5 Globe plans
iphone 5 Smart postpaid plans