How to Get PSA CENOMAR Online, at SM, at PSA – Requirements 2023. Here are the latest procedures on how to get Cenomar online (formerly NSO), at the PSA branch and at SM Business Services. We also share in this page how much money you need for the payment fees of application of PSA Cenomar.
If you are also looking for a sample application form, we also got them here. About the processing days, how long do you need to wait, we also discuss it here. So let's get started.
What is CENOMAR?
CENOMAR, is Certificate of No Marriage Record or Certificate of Singleness. It is one of the most requested documents in transactions or official documentation such as marriage, fiancé visa application, passport and travel purposes, employment abroad or overseas, local employment, school requirements, application for claims, benefits and loans.
In addition, CENOMAR is also required for US embassy verification, Australian embassy verification, Consulate General of Spain requirement and other related requests.
Sometimes it is also requested as one of the supporting documents in legal matters involving your being single. If you are one of those people who need a new Cenomar document, this page is for you.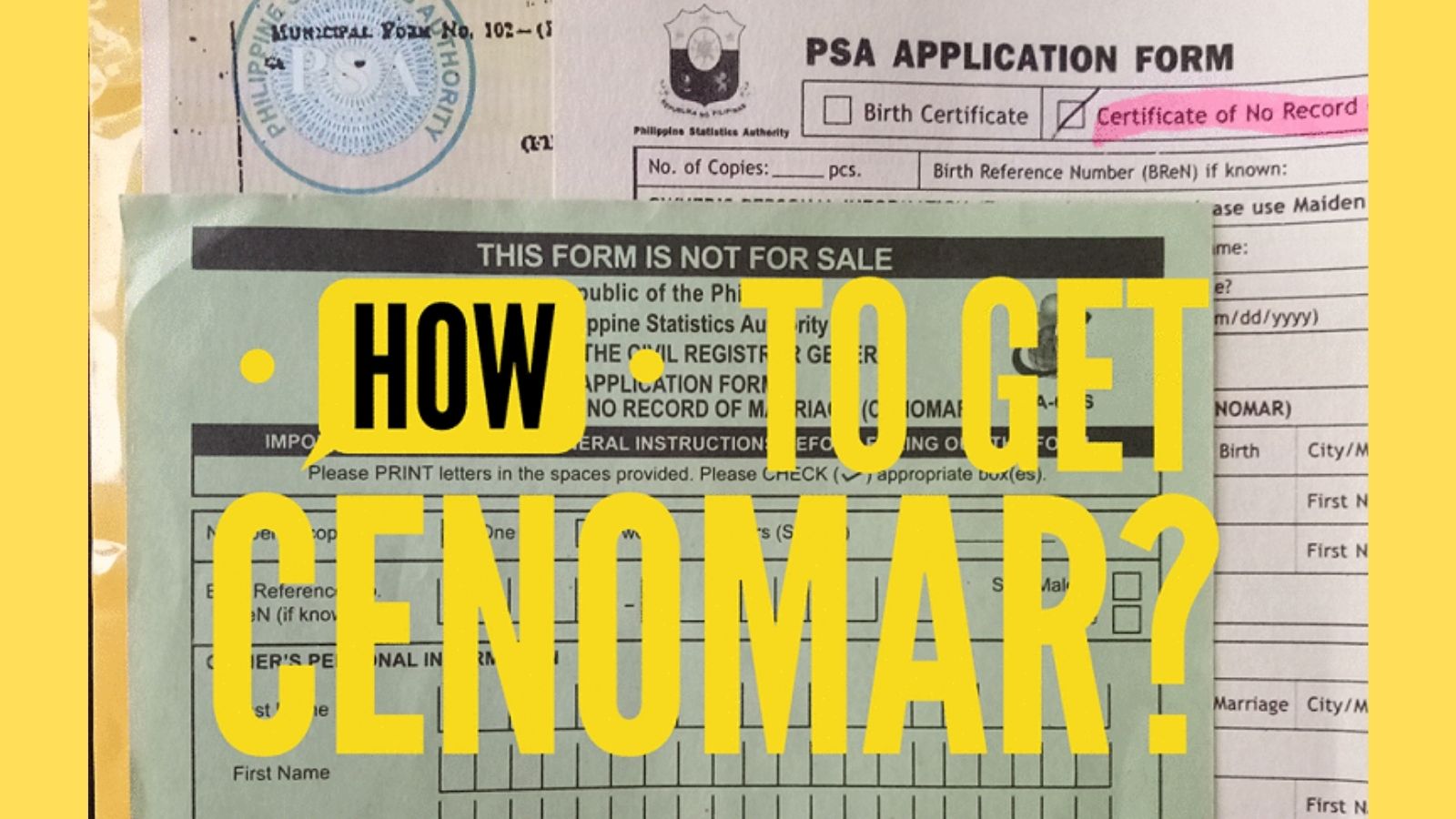 PSA CENOMAR Requirements in 2023
Application Form from the PSA
Certificate Fee of P210 per copy (420 if ordered online)
Valid ID
Note that according to PSA Office Memorandum No. 2017-050, these certificates can only be issued to:
the owner himself or through a duly authorized representative
his/her spouse, parent, direct descendants, guardian or institution legally in-charge of him/her, if minor
the court or proper public official whenever absolutely necessary in administrative, judicial or other official proceedings to determine the identity of a person
in case of the person's death, the nearest of kin
How to Get PSA CENOMAR Online?
Create an Order of Request Online
Pay the CENOMAR Fee
Check and track the status of your request
Receive Your CENOMAR
The Philippine Statistics Authority has accredited the following websites to facilitate and process PSA certificates on behalf of PSA. This means you can apply to request copies of your PSA documents including birth certificate, marriage certificate, Certificate of No Marriage Record, and death certificate. The Certificate of No Marriage Record applies in this topic.
The best thing about getting Cenomar online is that you can track the status of your ordered documents. Just enter the reference number of your request and use it to monitor your order's status online.
PSAHelpline.ph (formerly NSOhelpline.com)
PSAserbilis.com.ph
Step 1: Create an Order of Request Online
Create an ORDER. You need to fill out the details on the application form provided at the website. Select the purpose of your request. Double check each detail you have typed and entered before proceeding to the next step.
Step 2: Pay the CENOMAR Fee
How much is CENOMAR delivery online? A total fee of P420 is charged per certificate. That includes P210 for document fee plus 50 courier fee, and P160 service fee. Accepted mode of online payments are: Visa, Mastercard, Bancnet ATM, Globe Gcash, ECPay at 7-Eleven, and over-the-counter in all Metrobank and Security Bank.
Step 3: Check and track the status of your request
Check and track the status of your certificate request by entering your reference number.
Step 4: Receive your CENOMAR
Note that Cenomar delivery within the Philippines, processing and delivery of paid requests takes about 7 to 8 working days after receipt of payment. Delivery outside the Philippines, processing and delivery will take six 6 to eight 8 weeks after receipt of payment.
PSA CENOMAR Fees:
How much is PSA Cenomar certificate? Depending on where and how you want to request your certificate, see the latest cost of Cenomar processing fees below.
Online Fee – 420 per copy
Branch Fee – P210 per copy
SM Business Service Fee – P235 per copy
How to Get PSA CENOMAR at the PSA Branch?
The process of Cenomar request at the PSA branch is the same except that you will receive your paper within the day. This means you don't have to wait for another days. This way of getting this document is also cheaper. The disadvantage of this method is the possibility of long lines of applicants. Thus, you have to spend more minutes or even hours in waiting for your turn. Nevertheless, you can finish it faster if you come early in the morning.
How to Get PSA CENOMAR at SM?
SM malls also serve PSA certificate requests. Same procedure also applies. You have to fill out an application form and pay the processing fee. Price is a little higher and the average day for the release of your certificate is 7 days. There is also an option for a courier delivery which also charge another fee.
PSA Cenomar Application Form
The Green form is the application form used when getting Cenomar at the PSA branches while the white form is used at SM Business Centers.
CENOMAR Validity
A CENOMAR is valid as of the date written on the document. You would know that the document is authentic if it was released by the Philippine Statistics Authority with its official seal and current signatory. The validity of Cenomar is mainly from the date on the certificate that is why any office or agency can request you a new copy because your status as single can change when you marry.
Related Article: