These are the requirements and procedures on how to get a PWD ID Card in the Philippines. There are many benefits given to PWD (Persons With Disabilities), including discounts, educational assistance, tax incentives, and many more, as you read the list below.
The Philippine government implemented the Magna Carta Law for disabled persons to support, protect, distinguish and recognize the rights of PWD by giving privileges and benefits.
Getting a PWD ID card is free and at no charge. Also, note that the PWD ID expires every three years, so you need to renew it after three years. The same requirements apply for the renewal, but recent and latest documents are required.
What is a PWD ID?
A PWD ID is a valid identification card issued for Persons With Disabilities in the Philippines. It provides government privileges to the PDW cardholder, including medical benefits, discounts, tax incentives, educational assistance, courtesy lanes in commercial and government establishments, and other social services.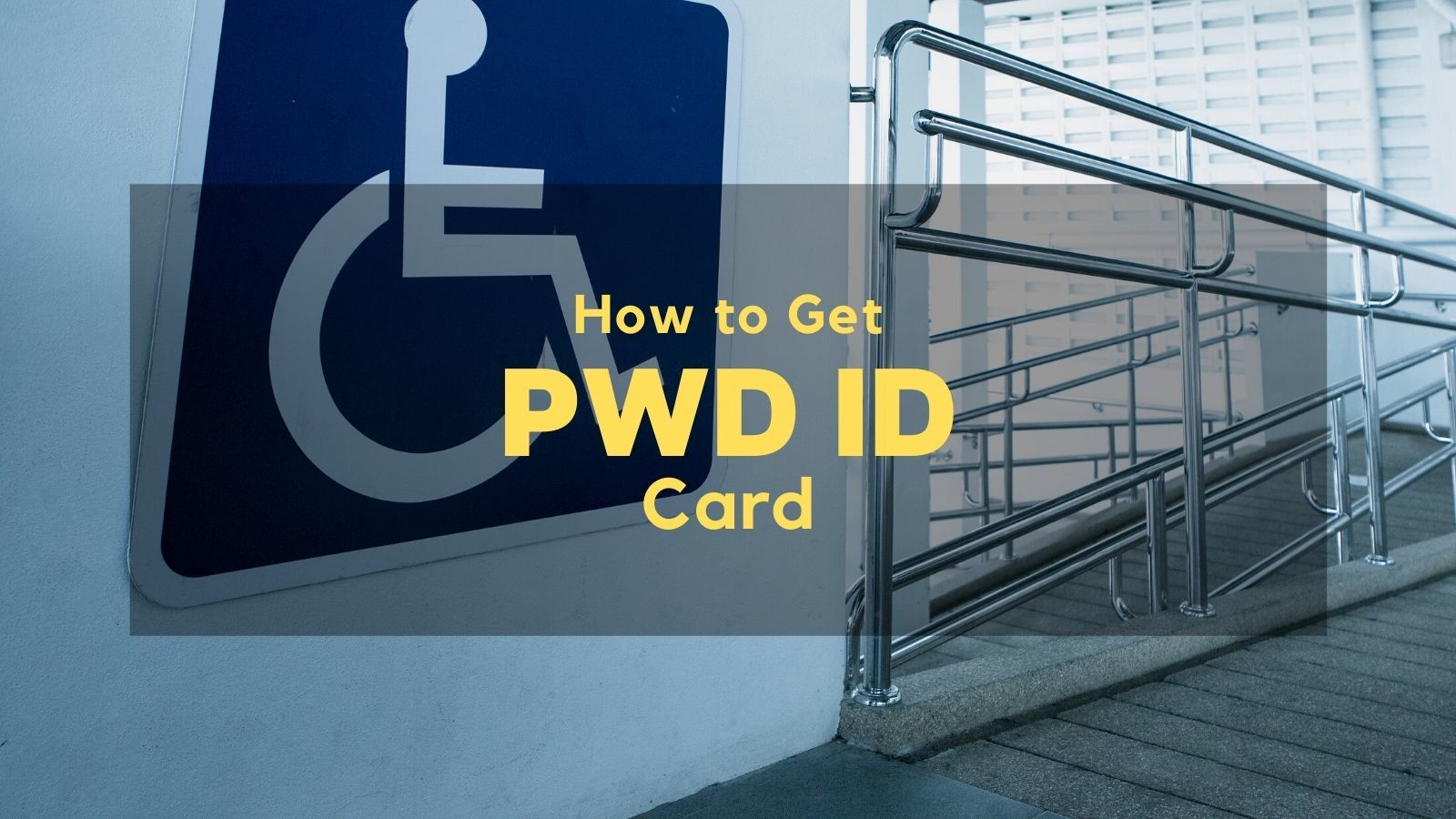 How to Get a PWD ID Card

in the Philippines?
Step 1: Go to any participating government office that assists Persons With Disabilities
The caregiver or applicant can go to any of the following offices where he/she resides:
Office of the Mayor
Office of the Barangay Captain
National Council on Disability Affairs (NCDA) or its regional counterpart
DSWD Offices
Participating organizations with memorandum of agreements with the Department of Health
Step 2: Submit the following PWD ID Requirements:
Barangay Certificate (you can get this one from your Barangay Hall)
Two 1×1 ID pictures of the disabled person (this is for the medicine booklet in availing discounts)
A duly signed clinical abstract and medical certificate signed by any licensed private, government clinic, or hospital-based physician
The application form is called Philippine Registry Form for Persons with Disability ver. 2.0. You can download the form in PDF format on the link found at the DSWD website.
Step 3: Wait for the Verification and Approval by the Department of Health
Once everything was verified and approved, the forms will be delivered to the Health Officer of the Main City or Municipal Health Center.
The Health Officer will then fill up a certification form, affix the control number and upload the information to the Philippine Registry for PWD that apparently can be downloaded from the Department of Health National Office website.
Step 4: Issuance of PWD ID Card
The applicant then must bring the duly approved application form and certificate of disability to the City or Municipal Social Welfare Office or DSWD or NCDA for issuance of the identification card.
How long is the process of getting a PWD ID?
It is very quick nowadays, especially if the doctors from the Health Office are there to issue your medical certificate. In just minutes, you will be able to get your PWD ID card like the one posted below.
Persons With Disabilities (PWD) Benefits in the Philippines:
At least 20% discount in public railways, skyways and bus fare for the exclusive use or enjoyment of Persons with Disabilities
20% discount for all services in hotels and similar lodging establishments, restaurants & recreation centers.
A minimum of 20% discount on admission fees on theaters, cinema houses, concert hall, circuses carnivals and other similar places of culture, leisure and amusement.
At least 20% discount for all purchase of medicines in all drugstores.
At least 20% discount on medical & dental services including (diagnostic and laboratory fees & professional fees of attending doctors in all private hospitals & medical facilities).
At least 20% discount on fare for domestic air and sea travel.
Educational assistance to pursue primary, secondary, tertiary, post tertiary, vocational or technical education in public & private schools thru scholarship grants, financial aids, subsidies and other incentives such as books, learning materials & uniform allowance(DEPED).
Continuation of benefits of GSIS, SSS & PAG-IBIG (previously employed) as the case may be necessary.
Special discounts (5%) in special programs for Persons With Disabilities on purchase of basic commodities (with guidelines from DTI & DA).
Provision of express lanes for Persons With Disabilities in all commercial and government establishments.
I want to thank my good friend Mark Alfonso from the DSWD (Department of Social Welfare and Development)  in sharing these information for my article here.
Other Helpful Guides: