How to get an OFW eCard Online in 2023? The easiest and fastest way to get this OFW card issued by OWWA. Just follow the simple and updated procedures and requirements below and you will surely get your OFW eCard. The OFW eCard will serve as the official ID of documented OFWs.
OWWA (Overseas Workers Welfare and Administration) has recently launched the issuance of OFW eCard for our OFW heroes to facilitate and serve OFW and their families the best and fastest way regarding their benefits, overseas documentation, and consular services.
As mentioned, the OFW ecard will serve as the official ID of legit and documented OFW bearing their own permanent OFW ID number. Using the OFW eCard, OFWs can now have easy access to OWWA's Welfare Services, Scholarships, Training Programs and Social Benefits.
In the past, it would take how many days before OFW could register for something, now it's in the past. You may check out the complete list of OFW eCard benefits below.
What is OWWA OFW eCard?
OFW eCard is the official ID Card of active, legit, and documented OFWs. It aims to accelerate the access of OWWA programs and services. The OFW eCard is also an acceptable government-issued ID and can be presented to any Philippine Overseas Labor Office (POLO) and to any embassy or consulate office abroad.
OWWA OFW eCard Requirements:
All Balik-Manggagawa with active OWWA membership
Valid Overseas Employment Certificate (OEC) or Exemption Number
Valid passport
Note that your OWWA membership must have at least 90 days of validity from the day of your application of OWWA OFW eCard.
Are New OFWs Allowed to Apply for OFW eCard?
Since OWWA OFW ecard is newly launched, it is still in Phase 1, that's why the administration only allows Balik Manggagawa for the issuance of card for now. Eventually, it will be available for all active members.
Who are Considered as Balik Manggagawa?
According to POEA, Balik Manggagawa is an OFW who have finished or active employment contract and:
a. Will return to the same employer in a similar location abroad
b. Will return to the same employer in a new location abroad
Newly hires, direct hires, and Government Placement Branch (GPB) hired workers are not considered as Balik Manggagawa.
How to Get OFW eCard Online in 2023:
Visit OWWA OFW ecard Application Page
Enter and provide the necessary information
Choose your Pick-up location
Submit your Application
You will be given a Tracking Number as a proof that OWWA has received your application for the OFW ecard
Provide your email address or Facebook profile to receive a notification or update regarding the status of your application
Once you received a notification, you can now get your OWWA OFW ecard at your chosen OWWA Regional Office.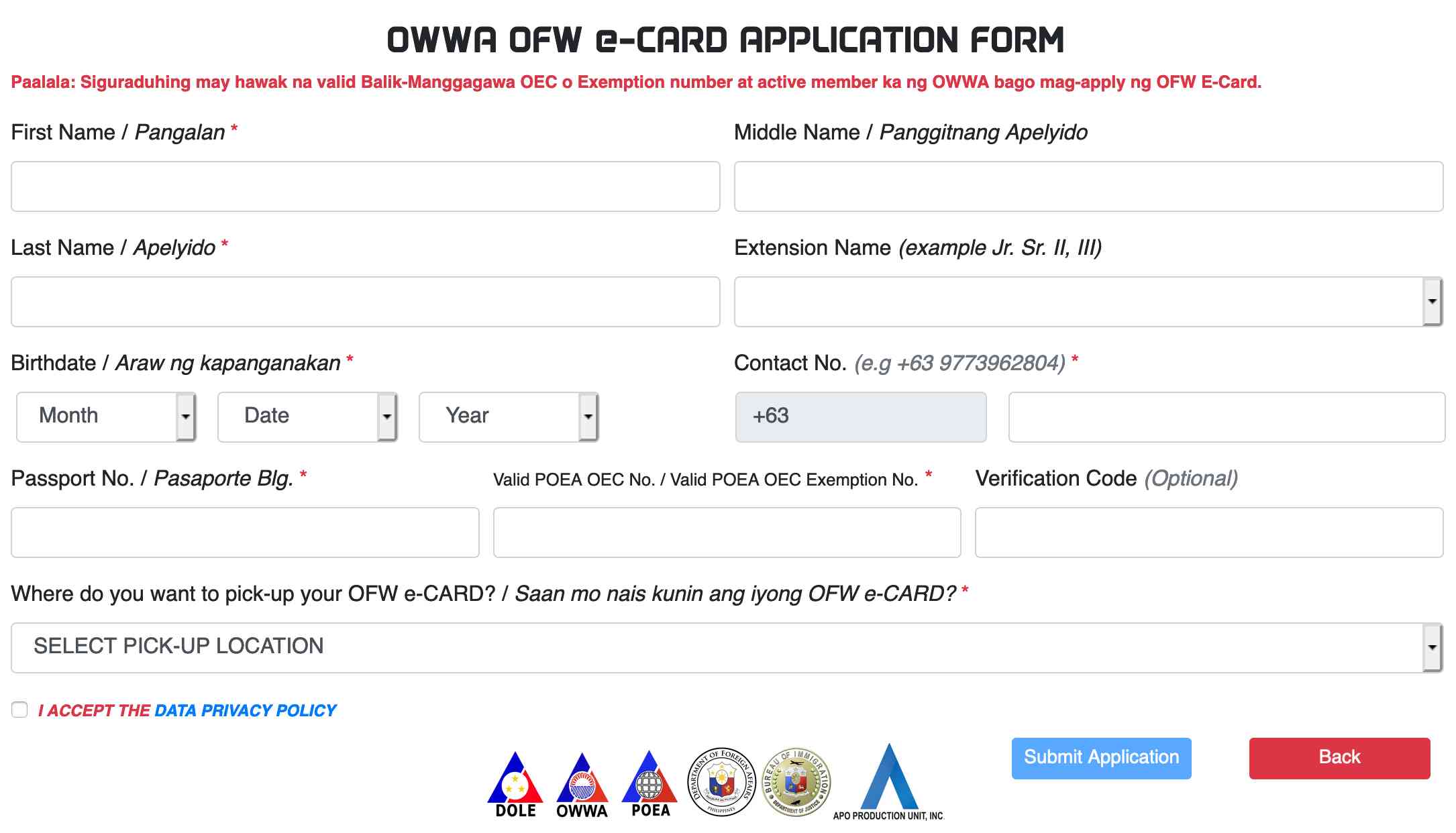 How to Apply for OFW eCard Abroad?
You can also apply for OFW ecard if you are in Singapore, Dubai, USA, Saudi or anywhere abroad as long as you meet the requirements mentioned above. Follow the procedures discussed above. Since claiming the OFW ecard is limited for regional offices for now, you can still claim your card when you arrived in the Philippines.
If you are not going home in the Philippines, you can still get your ecard by authorizing someone to claim your card on your behalf. You can do this by providing an Authorization Letter to your family or relative with a copy of your passport information page. Your authorized representative must also bring valid ID in claiming your OFW ecard.
OFW ecard Benefits
OWWA OFW e-Card has numerous benefits for active OWWA members. They include the following:
Faster availment of OWWA programs and services
OFW ecard will serve as valid exit clearance
It will serve as Digital OWWA OFW ecard on OWWA Mobile App
The OFW card will provide a permanent OWWA / OFW membership number
It will serve as a valid government-issued ID
How to Track OWWA Membership Status?
It's now easy to track the status of your OWWA membership. Just download the OWWA Mobile App on your mobile phone. It's free and only takes few seconds. Another option to monitor your membership is by going to any POLO-OWWA office if you are working abroad or to any nearest OWWA Regional Welfare Office if you are currently in the Philippines.
How to Renew OWWA Membership?
You can apply to renew your OWWA membership if it's already expired and you still have an active employment contract. Follow any of three procedures below:
Online – Visit OWWA website or download the OWWA Mobile App
Abroad – visit any POLO-OWWA office abroad
In the Philippines – visit any OWWA Regional Welfare Office or OWWA satellite office located at POEA Ortigas, NAIA Terminal 1, 2,3, Trinoma, and Duty Free Fiesta Mall.
How to Apply for OFW Ecard If OEC Exempted?
If you are a Balik Manggagawa who is exempted in getting OEC, you should register at POEA Balik Manggagawa Online to be able to get a BM Exemption Number. You will use your BM Exemption Number instead of OEC Number upon your OFW ecard online application.
Other OFW Guides: