How to play Flappy Bird online for free? Now you can play this famous and addictive game online for free even though it has been removed in the AppStore and Google Play. If you missed this game, you can now play it on your desktop without installation. It's actually easier because you just have to use your space bar button.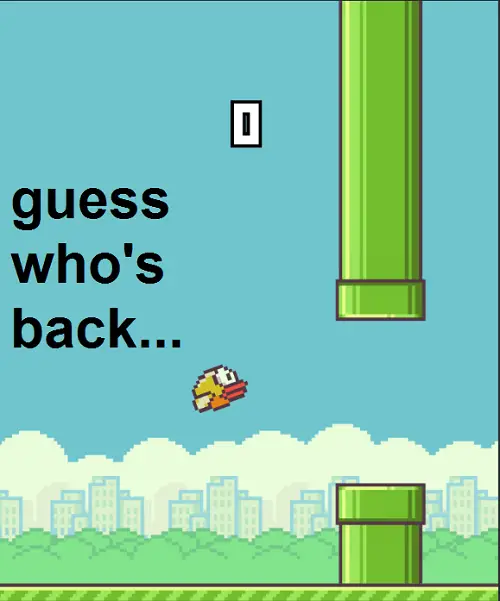 When will Flappy Bird return in the iphone and Android?
Dong Nguyen, the smart and instant star developer of the most downloaded game in the iOS App store and Google Play, recently hinted having plans for the comeback of Flappy Bird in the app stores. When asked about the possible return of this mega hit game, Nguyen said, 
"I'm considering it."
from his interview with Rolling Stone.
Are you enjoying Flappy Bird alternative games? I have tried some although there is really something about the original. As Dong Nguyen said
"People can clone the app because of its simplicity, but they will never make another Flappy Bird."
I wonder how much these app cloners are getting every day because I heard the original creator of Flappy Bird still earns tens of thousands of dollars even though Flappy Bird was removed from the app stores. I'm just sure they are getting lots of money too especially those apps that are in the top 10 free apps. Well, you gotta eat the bread while it's hot.
How to play Flappy Bird Online?
Just go to flappybird.io
Hit your Space Bar
Avoid hitting the tubes
Flappy Bird Comeback
While I still have Flappy Bird in my iphone and ipad, I'll just wait for its return in the Appstore. I'm curious and excited about the updates soon. Are you expecting more features and new twists from Flappy's return? Leave your comments below.