Here is the step-step guide on how to sell stocks online using COL Financial, one of the best stock trading platforms in the Philippines. If you are using other brokerage accounts, the procedures in selling shares of stock are likely similar.
Why do we sell our shares of stock?
When our stocks have reached our Target Price or Target Period, it is an alarm that we should sell them. We shouldn't wait for anything else or follow our instincts or anticipation that the stock price would go higher than the price right now.
We simply sell our shares when the price reaches our Target. Unless, of course, there is a very reliable valuation reason that the stock price would climb up more. More often, we sell anyway.
The only certain thing about the stock market is that prices change every now and then. As passive investors, we shouldn't lose our focus on following our strategy no matter what.
We are passive investors, we are not gamblers, and we are not greedy. We stick to our plan because we have faith that we are reaping profit soon.
Often it takes only a few months when we reach our Target Price, especially if we use the Fantastic 5 Stocks of DailyPik or their Flipping Method.
Investing in blue-chip stocks for long term usually gains more earnings as high-quality companies grow over time effectively. It would take a few years to build that vast capital. Nevertheless, it would take much discipline and patience.
So when our Target happens, it's the moment we've been waiting for. It's time to sell. To learn more, please visit the page "when is the right time to sell stocks."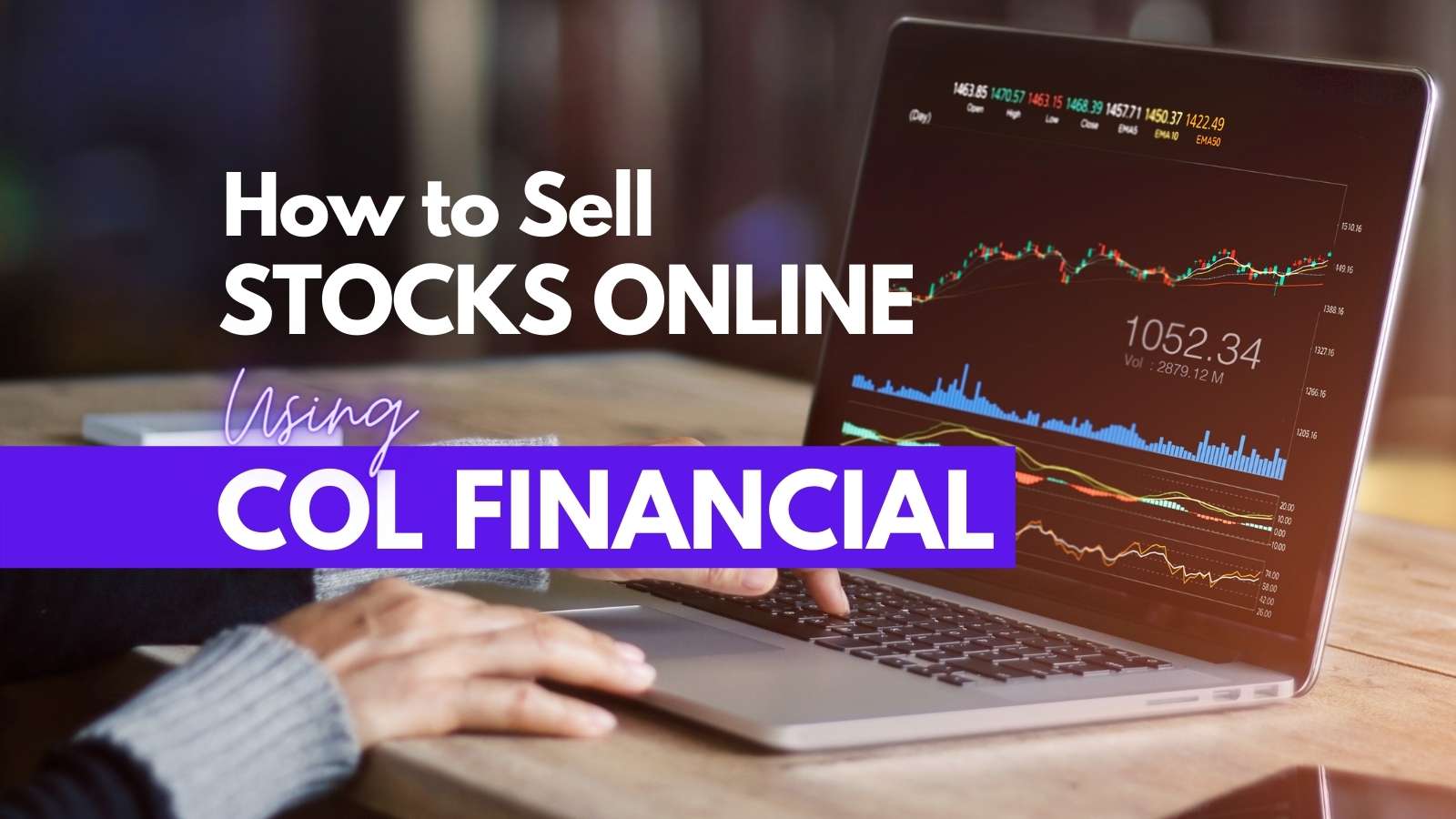 How to Sell Stocks Online Using COL Financial

(Step-by-Step Procedure)
Step 1: Log in to your COL Financial account and head over to your Portfolio
Your Portfolio page contains all the companies you're currently holding or investing. You will see here the total number of shares you own per company or mutual fund. Likewise, you'll find here the market value of your stocks and your capital gains or losses.
Step 2: Choose the stocks you want to sell and click the red SELL button
In this example, I'm selling my 1,500 shares of LRI. I have enough gains already with my stake of that company, and I think that the price of the stock has already reached its optimal bullish level, so I'm selling my shares now.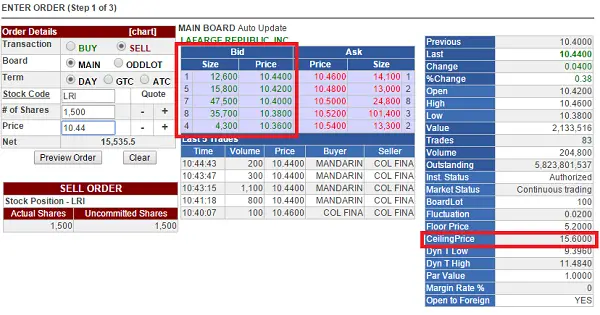 Step 3: Type the selling price of your shares of stock
You can type or provide your selling price. Similarly, you can bid for the highest amount among the values that appeared from the BID column. Take note of the Ceiling Price because we are not allowed to sell beyond that price. In the next box, set the number of shares you want to sell.
Step 4: Preview your Sell Order
Tap Preview Order. Afterward, you're going to see the information, amount, and fees associated with your sell order. Place your Sell Order by typing your password. Then, COL Financial will execute your sell position.
Step 5: Receive your Sell Order Confirmation
You will receive a confirmation about your order at the next screen. Besides that, you will know that your Sell Order has been executed by going to Trading History and typing the stock code of the shares you have sold. In the screenshot below, my 1,500 shares have been sold successfully.

Step 6: Check your profit from your Sell Order
Your income will be credited to your account when your sell order has been executed. It's usually just after a few seconds, especially if you've chosen the price from the main Bid board.
After a few seconds, the money was credited to my account, which was automatically reflected in my Cash Balance. I can now use that money to buy other stocks.
What would you do with your profit? It's up to you, really. If you are a passive investor like me, I always use the profit or earnings from stocks to buy other worthy stocks to invest to let the compounding method do its job.
Want to learn more tips and easy investing guides?
To learn more about investing in the stock market, go to our Stock Tutorials Page and Complete Guide.
Disclaimer: This article is for information purposes only and should not serve as a recommendation or endorsement of a particular investment. Trading in the stock market carries high risk and doesn't guarantee future profit. Risk only the capital you're comfortable to lose.