I know Aeronautical Engineering may be quite interesting to many so I decided to interview someone who just got his license and passed the Aeronautical Engineering board exam in the Philippines. He is so young and very friendly and has just admitted he toured the whole Philippines recently which made me so jealous. 🙂 He is Ysmael Caballero. He's been to a pilot school and I have lots of questions for him so let's start.
Filipino Aeronautical Engineer Interview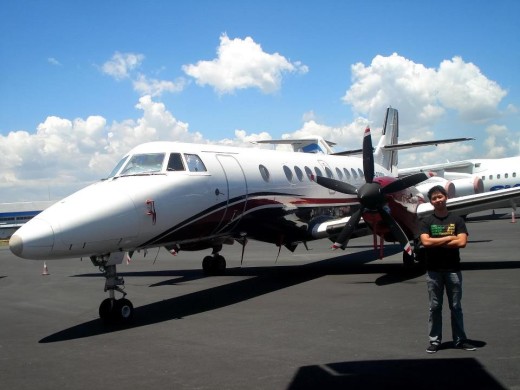 Fehl: First tell us a bit about you Yael. What's your first childhood memory?
Ysmael: My first childhood memory was when I was in pre-school. I remember my teacher asking us one by one what we would want to be when we grow up. My classmates said they wanted to be a nurse, doctor, teacher, fireman, and some profession like their parents have. Then, my teacher called me, "Ysmael! What do you want to be when you grow up?" I looked at the poster hanging on a wall and looked for something they haven't chosen yet and said, "When I grow up, I want to be an airplane!" Hahahaha! I'll never forget that day! That was my calling. I knew from that moment I'll be working with airplanes in the future.
Fehl: Holy crap! I'm sure your teacher will never forget about you.
Have you dreamed to become an aeronautical engineer since then or you just realized you wanted it before college?
Ysmael:  Actually, I wanted to be a pilot before but as I grew loving the industry of aviation, I realized that I wanted "more" than just flying an aircraft. I wanted to design an aircraft, invent new propulsion system, and be on the moon! So I took Engineering and pilot's ground course at the same time. You know if you are going to dream of something, dream of something BIG! Never put a limit on what you can achieve! Go for the impossible and do your best to achieve that.
Fehl: I absolutely agree.
Why Aeronautical Engineer? Is it different from being a Pilot or Aerospace Engineer?
Ysmael:  I'll sound like a nerd if I elaborate their differences. So here's what they are:
Aerospace is the head of Aeronautics and Astronautics. Aeronautical Engineer designs aircrafts while Astronautical Engineer designs spacecrafts. So Aeronautics, Astronautics and Aerospace are actually the same. As for Pilots, they are the persons aboard the aircraft who is ultimately responsible for its operation and safety during flight so never stress them! 🙂
Why Aeronautical Engineering? Honestly? What do I want to achieve? No one will ever believe that I can do it actually… I'm literally thinking about making UFOs you see on the movies. I want to fly in and out of the moon anytime I want to. Impossible? I'll never know unless I try. 😉
Fehl: Geez, you're really so into the "moon." You know great inventions came from crazy ideas and dreams.
How would you rate the board exam for Aeronautical Engineering in the Philippines– is it easy, hard or very hard?
Ysmael: Hard. I remember some examinees were actually crying while taking the exams! We had reviewed the difficult subjects but it just so happened that the exam was mostly about the basics so it was tough. My tip would be – stick to the basics, study hard, and break a leg.
Fehl: Where do you currently work?
Ysmael: I just got hired by Dornier Technology Inc, at Clark Pampanga as an Aircraft maintenance controller engineer. I will start working there officially on Feb 18. I really can't wait to start! It's my first non-callcenter agent job. Hahaha!
Fehl: What's your happiest moment so far on being an aero engineer?
Ysmael:  The day I received a call from my aunt telling me that I passed the licensure exam. I didn't believe her at first, but while on phone with her I've been receiving text messages so I dropped her call and read the text messages. I was shocked that people were congratulating me so I called my aunt and asked her where she saw the result then I checked the web and I cried when I saw my name! Five long years in college and six stressing months of review, all worth it!
Fehl: Where do you dream to work someday and why?
Ysmael: It would be NASA or NTSB. Why? NASA will actually pay you to go to the moon! Cool huh? But wait, there's more! NASA is one of the leading experts in aircraft technology, some even say they are building some lightning speed aircrafts and I want to be part of that! Yes, someday.
As for NTSB, I've been watching air crash investigations in Nat.Geo and it fascinates me to see people doing detective stuff to find out why the aircraft crashed. I really love how the way they think and how they use their imagination to solve a puzzle. I really want to be like them.
Fehl: How much is the starting salary for Aeronautical Engineer in the Philippines?
Ysmael: It depends on the field you are going to work. College instructors get about 19,000 to 22,000 pesos while we, on the technical side, get only about 15,000 to 20,000 as a starter (no experience) but after 2 years of experience you can expect to get 200,000 per month!  How much more if you went abroad? Hmmnn…  Now that's something to look forward to. 🙂
Fehl: Wow, 200,000 a month? That is huge to think you're in the Philippines.
I know you cannot disclose your benefits and perks of your job, would you just share us your favorite benefit? 🙂
Ysmael:  TRAVEL BENEFITS! OH YEAH! I really love going to different places backpacking and meeting people along the way. I even backpacked the whole Philippines after passing the board as a gift for myself. Other than travel benefits? I don't need more. 🙂
One of the benefits of being an Aeronautical Engineer is traveling "
Fehl: Lastly, Yael I know everyone who wants to become an Aeronautic Engineer someday would want to hear some tips from you. Can you give us some? 🙂

Ysmael:  Just a simple message that I've said before. Dream of something big! The more impossible it is, the better! Bill Gates told his professor that he would be a millionaire at the age of 30. His professor laughed at him and said it's impossible. Well guess what, he became a billionaire at the age of 31!
Fehl: Shucks you really have an amazing mind. 🙂 Thank you for this great interview and we are happy to have you here at Philpad. I'm sure you will inspire a lot of engineers and pilots out there. Kudos!
Ysmael: It's a big honor to be here at Philpad, Fehl. Thank you very much. I'm happy to meet an amazing friend like you.
Fehl: That's a wrap. I hope you like this post and if you ever have a request for future interviews, don't hesitate to contact us and we will gladly hear them. We will do our best to grant them. Have a fantastic day everyone!
My name is Fehl and I love interviewing people. These people are not celebrities, not listed in Forbes or Time magazine yet I feel someday they could be. Sometimes I just meet them at Starbucks or bump into them in Boracay or I just like their current Instagram. These people I know will inspire others. These people are Filipino…and that gets my attention :)"