We have the pleasure to interview an OFW working in Taiwan as a Machine Operator in an Electronic Company. In this interview we asked about how to work in Taiwan, applying in an agency, getting work permits and visa and how fast it is to have the requirements. How much is the salary and what are the benefits. We also share some stuff about how is it working in Taiwan, what you'll love about working and living there, the culture, everyday life, Taiwanese people and more.
Truly honored to have Ronald Tila as a guest here for this post. He is very decent, smart, funny and so resourceful that he gave me not just answers but complete details and tips about the process of applying jobs in Taiwan. Ronald has graduated a Bachelor of Science in Business Administration Major in Marketing Management in PUP (Polytechnic University of the Philippines) yet he chose to work abroad to achieve his bigger dreams.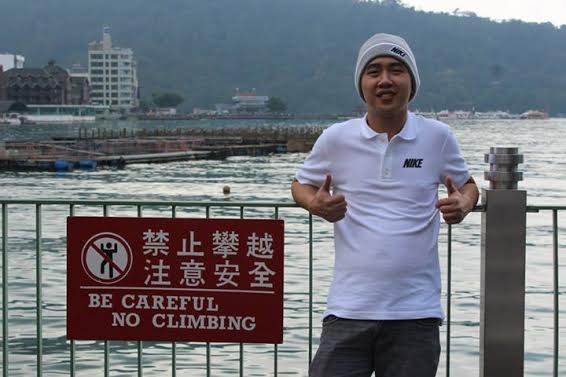 Tell us a bit about you
Ronald: Hi! I'm Ron, and I am one of the thousands OFWs here in Taiwan, a typical Filipino who has BIG DREAMS and one of them is to have a better life and a greener pasture. It's been almost 9 months since I left our country to create a stake working abroad.
I'm an extrovert person and I love to try and explore new things. I love reading, writing, listening to different genres of songs but I prefer oldies (80's and 90's), and eating a lot. *chuckles*
Why did you choose to work in Taiwan?
Ronald: I've decided to work abroad because of my playful mind and adventurous personality. Of course, the main reason was financial matter. I remember when I was working in Philippines as an Office Administrator at ServeQuest, a real estate company, I saved nothing but experience of fun and enjoyment. As time goes by, I've realized that life is not just all about maximum enjoyment; I felt that I am growing older and I should start to secure my future.
I asked myself what kind of person I really like to be 10 years from now, and knowing that I told myself that I wanted to become a businessman someday – to own a resto-bar specifically. I know that plans must be realistic and it's not a joke to have an instant investment to fulfill my dream, and that made me decide to work here in Taiwan.
Fehl:  I can relate so well and I know lots of people can relate with you too. 🙂 You are so mature and smart, Ron.
Taiwan was your first choice to work abroad?
Ronald: Yes, Taiwan was my first choice to work abroad because of my college friend, Noel who also works in a company where I am now. During the time of realization and self-evaluation, I called him and asked him if I could work in Taiwan. I almost asked everything which will help me to decide if I can make it – from salary to expenses, culture, food and party life. However, I also considered Singapore and the Middle East since I have cousins and friends there, but when I made a research, the cost of living in Singapore is very high and the culture in the Middle East doesn't fit my personality. With that, I ended up with my first choice.
Fehl:Ok, I understand now. Yes, cost of living is a big factor to save more money working abroad not just the salary.
How many days did your work permit arrive from the day you applied in the agency?
Ronald: Before the processing of my working permit, I submitted first all of these requirements:
Passport, if you have an old passport, don't forget to include it. (must be valid for at least 6 months or much netter if the validity will embrace the time of your working contract to lessen the hassle of renewing it here in Taiwan.
Birth Certificate from NSO, Marriage certificate if married
Diploma (for college graduates)
Transcript of Records
NBI Clearance
SSS ID or E1, Pag-ibig Member ID, PhilHealth Card, /Unified Multi-Purpose ID – single ID for the 3 including GSIS for government employees who doesn't have SSS
TIN ID
Certificate of Employment from previous company
Other Valid IDs (Driver's License, Postal ID, Voter's ID Etc.)
After completing all of these requirements, the agency will do their part in processing your documents and all I did then was bought tons of patience in waiting.
Work permits were already settled here in Taiwan by the employer. Employers who wish to hire foreign nationals to come and work in Taiwan are required to first apply with the Council of Labor Affairs to obtain a work permit for the foreign nationals they wish to hire the work permit application review process takes approximately 2 weeks. Once the application is approved, the work permit — a formal government-issued letter of approval — is sent by registered mail to the employer. The letter, which serves as proof of permission for the prospective employee to undertake employment in Taiwan is required for the resident visa application. Thus, prior to application of visa, work permit has already been settled.
A friend of mine who works at Great One ManPower Inc. (the agency where I applied for) told me that our passport where sent to Taiwan, and I found out that was the time where our working permit were on process. That was 5 months before I knew that my plan to work here in Taiwan becomes clearer.
How is the working visa application in Taiwan? Is it fast?
Ronald: Philippines does not have visa exempt arrangement with ROC (Taiwan), you will need to apply for a visa with the following documents and fee:
A copy of duly filled application form
2 recent passport photos
A photocopy of your passport (with a minimum valid period of 6 months)
An invitation letter (provided by the agency you are applying with)
An employment letter (provided by the agency you are applying with)
Business documents like Letter of Credit, airway bills etc (provided by the agency you are applying with)
Other relevant documents (documents that the agency will require you)
Visa fee of S$65
Last May 2013, the incident between the Philippines coast guard and Taiwanese fisherman has resulted to strict measure of visa application procedures, these are the changes;
a.The applicant shall be required to submit the following:
a.1. Philippine government issued "Unified Multi-purpose ID (UMID)";
a.2. Birth certificate issued by National Statistics Office, authenticated by
the Department of Foreign Affairs (DFA) and the Taipei Economic and Cultural Office (TECO) in the Philippines;
a.3. Certificate from National Bureau of Investigation (NBI clearance) authenticated by the DFA and TECO.
b.The processing time for visa application is 14 WORKING DAYS
(Strictly NO EXPEDITE Processing)- Expedite processing are for rush application of visa usually ex-workers who already finished their contracts and requested by the company to go back as soon as possible.
It might sound complicated for a typical Filipino who wish to apply for a working visa in Taiwan, but applicant doesn't have to worry because the agency will do half of the work.
Fehl: Oh thank you for the complete details and research 🙂
What do you love most about living and working in Taiwan?
Ronald: Automatic! That's the top thing that I love living here in Taiwan. Just like the machine that I used to operate, the way of living here in Taiwan is organized.[highlight] Taiwanese people have an admirable discipline. A rule is a rule and a law is a law. [/highlight]Everything is so convenient, no wonder why Taiwan is the most dens country when it comes to convenience store. About 10,000 convenience stores Taiwan has, it means you can literally bump into one convenience store every 500 meters.
Fehl: Oh wow! Sounds like the people in Macau, so disciplined and organized.
Ronald: I also treasure a few good Taiwanese friends. Few in a way that Taiwanese are not that totally approachable, unlike we Filipinos, majority of us are friendly that even strangers that we've only met for a while already know bit of our personal life. My Taiwanese friends here admire the sacrifices of the Filipinos who work for their families. Surely, they won't let you down and you can always count on them.
Fehl: Surely people are very kind at heart, no matter who they are, there is always kindness inside the heart.
What about the things you kinda don't like there?
Ronald: First thing would be their language. It's so difficult to pronounce and even understand. Even their writings, it's quite strange to me. Their language will cause barriers that will limit you to several things. Only few can speak English and you will be happy to hear those few since they are very rare.
We know you have quite a degree and you had a decent job back here in the Philippines, is giving it up to work there so worth it?
Ronald: Yes, it is worthy though giving up the kind of work there in the Philippines for a work here in Taiwan is like fasting for a delicious pork steak and eating a bitter melon or bitter gourd. Giving up a steak that will make you feel good while eating then give you a high blood pressure at the end and eating a fruit with a thick wrinkled skin and tasting very bitter but will reward you a healthy benefits after consuming it.
Helping now my family in terms of financial needs is enough to say that it is worthy but I am sure that at the end of this line it will be more worthy because this is my stepping stone to achieve my goals and plans in life. The degree and the knowledge that I have (which I don't usually use or literally use in my present work) is reserve for my future business after this chapter.
What is your present job in Taiwan?
Ronald: I'm a machine operator in an electronic company. The department where I was assigned is called "SB" (Solder Bump) putting a Solder Paste. It's like printing a bond paper with several circles on it and filling those circles with an ink with the use of computer and a printer, the only difference is the machine that I am using is 20x bigger than an ordinary home printer. Another comparison would be like a traditional printing of shirts with the use of silk screen. Hope you could imagine. Though we have more and different departments here in the factory, some have more chemicals while some requires heavy lifting.
What about the salaries and benefits being an OFW in Taiwan?



Ronald: 1 NT$ = Php 1.40 playing to Php 1.50
Our Salary based on our contract is around NT$ 19,000.00 8 hours per day with a 1 rest day per week, the tax, food, brokers fee, dormitory and other deductions are not yet deducted. But our contract seems to be a little different, our company's usual working hours is 10.5 hours, 12 hours including break time. Thus, 2.5 hours is set to be our overtime and we can also work during our rest day for a whole day – OT. For a complete attendance during day shift, we can earn NT$ 29,000.00 to NT$ 31,000.00 as NET PAY (All the deductions were already subtracted) and for the night shift, additional NT$ 5,000 to 6,000 as night differential.
We also have our monthly bonus which depends on our performance and departments. A worker can have none or can range to NT$ 2500
For our quarterly bonus, the company gives us NT$ 2,000 worth of Gift Checks which we can also sell and convert to cash for NT$ 1800
They also treat us during our birthday by giving us NT$ 1000 worth of GC
We have our health card which lessens our medical expenses whenever sickness comes along our way.
Yearly, they treat all their employees including foreign workers for a tour and give something such as cakes, chocolates, raffle entry etc. whenever there's an occasion (moon cake festival, Valentine's Day, Chinese New Year etc.)
Fehl: Wow, you can't really earn that here unless you're promoted to managerial and higher ranks. Maybe after 5 years or so. Worse 10 years or so.
What is your most unforgettable experience in Taiwan so far?
Ronald: I will never forget my first Christmas and New Year here in Taiwan. Everything was different, I had to work during that time and I couldn't help but miss my family and friends I used to be with during those special occasions. BIG THANKS to my fellow Filipino workers I consider as my family here, with the help of each other's fun and craziness, plus a cold beer in our hands and the Filipino food that we ordered, our homesickness were turned into pieces until it's gone. Then, I saw how wonderful Filipinos are, no words can describe all the sacrifices during those seasons but still manage to enjoy it.
Everyone has a code/motto/creed in life. Can you share yours?
Ronald: Life may lead us where we least expect it, but have faith, we are exactly where we are meant to be"
This statement gives me courage and strength to face life. I know God has the best plan for me, same as for everyone. Often times, I never expect things to happen but whatever it is, I know everything happens for a reason.
I also live my life by trusting my own sky. I have faith in God and I trust myself, that's the first thing to do to get a life. When all things seem so wrong, the only person who can help you is you, we are the hero of our own story. I don't mean family and friends do nothing but they are not always around to be with us. It's our own feet that will lead us to our journey". Enjoy life, be strong and live your dreams.
Fehl: Very well said, Ron. I agree totally.
Lastly, what do you want to say for everyone and fellow Filipinos who wish to work in Taiwan?
Ronald:  To all my fellow Filipinos who wish to work in Taiwan, I admire you because as soon as you plan to work abroad, it means you have bigger plans, dreams and goals in life. It's so hard to start this kind of journey especially if it will be your first time to work abroad, but you have to make the first step to breathe your plan of working here in Taiwan. But before making the first step, you have to ask yourself a few questions;
Do I really want to do this?
Am I ready for this?
Can I adopt to a different environment?
Do I have the courage and loads of patience?
Can I take all the risk?
What are really my plans?
After this what would it be?"
Those are some of the questions that will help you to decide. And when the day comes that you will become a foreign worker here, go back again to your plans and the reasons why you wanted to work here; you will never get loss on your journey here. Lastly, wishing you all including those who are already working here all the success in life and may all our dreams will soon come true.
Thank you, Fehl for having me here. God bless and more power!
Fehl: Thank you so much, Ron. You have shared not only helpful details about working in Taiwan but also meaningful tips about life and philosophical lessons we can all look up too. All the best to your career and life! Cheers!
My name is Fehl and I love interviewing people. These people are not celebrities, not listed in Forbes or Time magazine yet I feel someday they could be. Sometimes I just meet them at Starbucks or bump into them in Boracay or I just like their current Instagram. These people I know will inspire others. These people are Filipino…and that gets my attention