The new ipad Air was unveiled yesterday, October 23, 2013 together with the new ipad Mini (with Retina Display). iPad Air, the latest generation of ipad is expected to be released by November or December. How much is the price of ipad Air in the Philippines? Without contract I've listed the prices below the same as prices for prepaid plans.
The new ipad brags about lightness thus it is called iPad Air. It's literally just a pound in weight. Slimness and lightness reign in the tablet world. This gadget is 285 lighter and 20% thinner than its predecessor. Its other features are listed below together with main specs.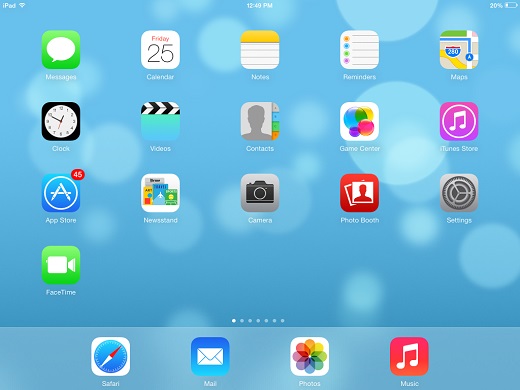 iPad Air Features and Specs
iOS 7
A7 Chip with 64-bit Architecture and M7 Motion Coprocessor
9.7-inch (diagonal) LED-backlit Multi-touch Display
2048×1536 Resolution at 264 pixels ppi
iSight Camera – 5Megapixel with Autofocus, Face Detection, 5 Elements Lens, Hybrid IR Filter
Facetime Camera -1.2Megapixel photo camera, 7220p HD video
1080p HD Video Recording with 3x video zoom
Wifi and Bluetoooth technology
Height 9.4 inches / Width 6.6 inches
Weight 1 pound (469 g) / Wifi + Cellular Weight is 1.05 pounds (478 g)
(source: Apple)
iPad Air is available in Wifi and Wifi + Cellular units. The latter has LTE feature which is amazing. The differences between this new ipad compared to ipad 2 are of course it's A7 Chip and fast processor, camera resolution, photo and video High Definition feature, iSight camera of 5MP, unit height, weight, depth and width and also the LTE feature for the wifi + cellular model.
iPad Air Price in the Philippines
Expected prices for ipad Air in our country are as follows. Notice that prices are always slightly similar with the current new ipads before. And of course the old ipad price will decline with this release. Perfect to shop for Holidays!
iPad Air 16GB P21,990
iPad Air 32GB P25,990
iPad Air 64GB P29,990
iPad Air 128GB P34,990
Why should you buy this new ipad Air?
If you don't have an ipad yet, yes I recommend you buy one especially if you love browsing the internet often, going on Facebook, Twitter, Intagram and other social media. You can also use this ipad Air for saving documents using Microsoft Word related apps and other products such as iWord and CloudOn if you are a student or a writer. Geez it is also useful to bloggers. Microsoft is into finally releasing Microsoft Office for ipad but it's not free.
This new ipad is also clearer and sharper than the old ones. I've been waiting for the 5MP feature like that of an iphone and now here it is.
If you don't badly need this tablet and you still have your old ipad, then don't buy a new one. Instead, save your money. It's more than half a grand. It's really not that cheap. Why not save your money and let it earn more by opening a Trust Fund or investing to any money-making wheel. Read our MONEY
Are you buying the new iPad Air or ipad Mini with retina Display? Share your comments below.