How to get a postal ID in the Philippines? We listed the complete requirements and application procedures here. The Philippine Postal Corporation (PHLpost) announced that they would issue a new postal ID card in the previous years and that became a reality already.
The new and improved postal ID card will now be accepted to any office or agency, just like the other government-issued IDs in the Philippines. It is easy to apply for the new postal ID, and it will be delivered to your doorstep after a few days.
The old laminated postal ID was very vulnerable and easy to copy. That's why PHLpost launched a new ID card system. You can also use the new postal ID card when getting a passport as DFA approved it as one of the accepted valid IDs. Likewise, we can use it for our transactions at the banks, hospitals, ports, and other offices.
It's a pleasure to share the details, requirements, and procedures in getting the new postal ID card. I would like to thank Marie Grace Dizon and Gia Anne Villanueva from the PHLpost, who contacted me to spread the great news.
What is a Philippine Postal ID?
A Philippine Postal ID is a valid identification card issued by the Philippine Postal Corporation to resident citizens and resident foreigners of the Philippines. The postal ID has advanced security features such as an automated fingerprint system and sophisticated identity verification.
What does the new postal ID look like?
The new postal ID card is hardbound, just like an ATM card and a UMID card. In addition, it also has electronic security features (listed below). It will be valid for 3 years for Filipino citizens and foreign residents with Special Retiree's Resident Visa (SRRV). For the rest of the foreign residents, it will be valid for 1 year.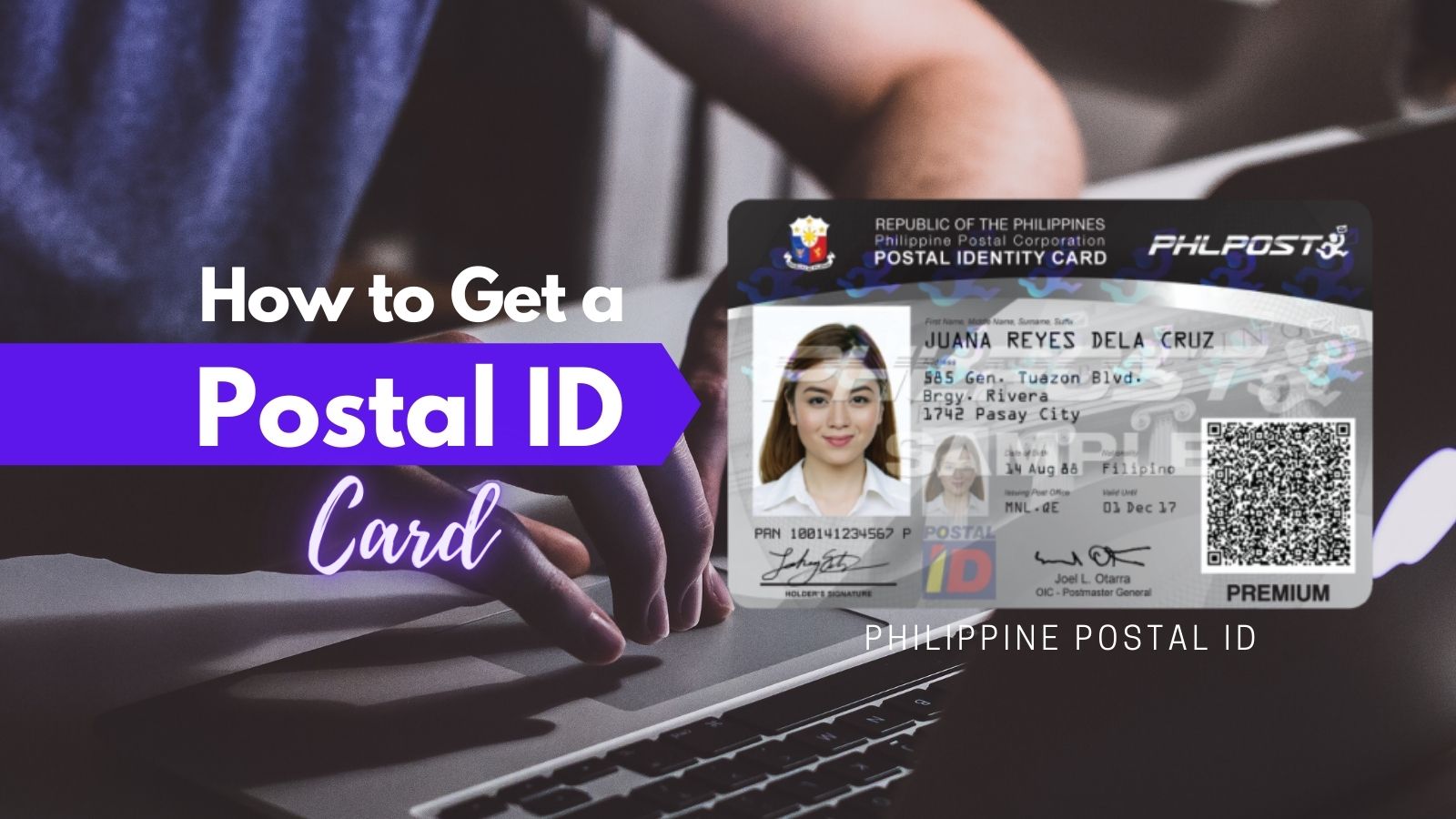 Who can apply for a Postal ID card in the Philippines?
All Filipinos of any age, living here in the Philippines or abroad (but were in the Philippines at the time of application), are eligible to apply
PHLpost now allows foreigners residing in the Philippines for at least six months to apply for a postal ID
How to get a New Postal ID Card

in the Philippines?
Step 1: Gather the complete requirements
Prepare all the necessary documents we listed below and submit your documents to the nearest post office in your residential area. Resident citizens and resident foreigners will need to show proof of identity and proof of address.
Step 2: Accomplish the Postal ID Application Form
Fill out the application form with accurate information. PHLpost will provide the documents for you. You can also get the application forms at the nearest PHLpost office or download the forms online.
Step 3: Attend the photograph and fingerprint capture
After your documents are screened, you will go to the nearest ID "capture" station for your photograph and fingerprints scan. There are 260 postal ID capture stations nationwide, and you can find them at the website of PHLpost.
Step 4: Receive your new Postal ID card
PHLpost will deliver your new or postal ID to your doorstep. You will receive the card within fifteen working days from the date of your completed application if you're residing in Metro Manila.
If you're residing outside the metro, expect around twenty working days. If you live in a remote area or island province, expect to receive your card in around 4 to five weeks.
New Postal ID Requirements for Philippine Citizens or Residents:
Unlike other identification cards like SSS, GSIS, PRC license, etc., getting the new postal ID does not need particular skills, qualifications, or employment records. You only need to show the following requirements. Bring the original and photocopy of the following documents:
Two copies of duly-accomplished application form (form is provided by PHLpost)
Proof of Identity – Submit any or one of the following:

Birth Certificate Issued by Philippine Statistics Authority (PSA) or Local Civil Registrar
SSS or GSIS UMID Card
LTO Driver's License
Valid Passport

Proof of Address – Submit any or one of the following:

Barangay Certificate of Residency issued withing three months prior to your Postal ID application
Certified True Copy of Lease
Certified True Copy of Titles issued by the Land Registration Authority (LRA)
Certified True Copy of Real Estate Tax Receipt
Bank Statement
Credit Card Statement
School Billing Statement
Utility Bill (electricity bill, water bill, cable, internet, telephone bill)
Important Notes:
Married females must bring their Marriage Certificate to validate change of name from birth document
Minors or those below 18 years old must be accompanied by a parent or a legal guardian
Applicants with no Birth Certificate, UMID Card, LTO Driver's License or Valid Passport may submit ANY TWO (2) of the following documents, at least one of which should bear the applicant's photo and signature: Valid paper-based Postal ID, Valid NBI/Police Clearance, Old SSS or GSIS card, Valid OWWA ID, Valid PRC ID, Digitized BIR ID, Valid Seaman's Book, Valid Integrated Bar of the Philippines ID, Voter's ID, Valid Company ID, Senior Citizen ID, Baptismal Certificate, Certificates of Birth/Marriage from National Commission for Muslim Filipinos (NCMF), National Commission for Indigenous Peoples (NCIP), Elementary or High School Form 137, Transcript of Records with readable dry seal (for applicants 18 years old and below), Marriage Contract, Valid University/School or Alumni ID, TIN card
Postal ID Requirements for Foreign Residents

in the Philippines:
Two (2) copies of duly-accomplished application form (provided by PHLpost)
Proof of Identity

Passport – must be valid for at least six (6) months prior to postal ID application
Any one (1) of the following documents relative to the stay in the Philippines valid for at least six (6) months prior to application

Alien Certificate of Registration Identity Card (ACRI-Card)
Long Stay Visitor Visa Extension (LSVVE)
Temporary Resident Visa (TRV)
Diplomatic Visa
Special Resident Retiree's Visa (SRRV)

Proof of Address – Submit any one (1) of the following:

Barangay Certificate of Residency – issued within three (3) months prior to Postal ID application
Certification or statement of account from hotel, transient home or any temporary residence within three (3) months prior to application
Certification from hotel, transient home or any temporary residence within three (3) months prior to application
Notarized, if applicable, Land, House or Condominium Lease Contract
Bank statement
Credit card statement
School billing statement
Utility bill (cable, electric, internet, landline, telephone, water)
How Much is the
New Postal ID Card in the Philippines?
Applicants will pay the a fixed fee of P504 anywhere in the country. The breakdown of postal ID fees is listed below:
Postal ID Card + Delivery Fee P450
12% VAT P54
Rush processing of postal ID costs P650.
Postal ID Released and Delivery:
How long do you need to wait for the release of your postal ID? PHLpost will deliver it at the address you provided in the application form in:
15 working days – for Metro Manila address
20 working days – for other major cities and municipalities
30 working days – for island provinces and remote barangays
Security Features of the new Postal ID:
On-site digital capture of fingerprints, photo, signature and personal details
Centralized ID printing and database to guarantee that the cards are authentic
An encrypted QR ('quick response') code printed on the card can verify the identity of ID holder using a downloadable smart-phone application
Overlaid with a hologram that can be viewed only at certain angles
Has a ghost image and UV ink that illuminates in UV light
Applicant uniqueness check via the Automated Fingerprint Identification System (AFIS). It compares the fingerprint collected with the fingerprint database records to ensure the applicant's identity.
What will happen to my old but still valid Postal ID?
The old postal ID will remain valid up to its date of expiration. Post offices will stop issuing paper-based IDs when the new Postal ID becomes available in their area. Old but valid postal IDs may also be converted to the new Postal ID at a price discount.
How to Renew Your Postal ID Card

?

If you want to upgrade your existing postal ID into the new, improved Postal ID or simply renew your expired postal ID, follow the steps below:
Go to the nearest PHLpost Office
Fill out two copies of the duly-accomplished Postal ID application form
Submit your current Postal ID
Your existing ID will be perforated with a puncher in the QR Code and be returned to you
Postal ID Benefits

and Privileges:
A postal ID can serve as a proper valid ID you can present in banks, hospitals, and offices
You can use a PHLpost ID card when boarding a boat or an aircraft
The new postal ID card is accepted at the DFA when applying or renewing a Philippine passport
It is now accepted as a valid ID when applying for a job or a loan
It serves as a valid proof of identity and residential address
The new postal ID is equipped with high-tech security features; thus your identity is very safe
New postal ID card gives numerous privileges including discounts, freebies, and exclusive deals with PHLpost's partner merchants nationwide
For questions and Postal ID concerns, you may contact PHLPost at their official website.
Information above are updated and were shared officially from PHLpost. Again, thank you very much Marie Grace Dizon and Gia Anne Villanueva for sharing the new postal ID requirements.
FAQ About Postal ID:
How to get a Postal ID in 24 hours?
The PHLPost has launched a Rush Postal ID Application, where applicants can register their Postal ID faster. The card will be released within the day of application or the next business day. The processing fee costs P650. Only selected PHLPost branches serve rush postal ID processing.
UPDATE: The PHLPost has suspended the Rush Applications for Postal ID. It will not resume until further notice.
Is Postal ID a valid ID?
The new Philpost ID is now accepted as a valid government-issued ID in the Philippines. Thus, you can use it as proof of identification in any government and private office. Ensure that your card is not expired and it will remain valid.
Does postal ID expire?
According to the Philippine Postal Corporation, the new Philpost ID card is valid for three years for Filipino citizens, residents of the Philippines, and foreign residents with a Special Retiree's Resident Visa (SRRV). The postal card of other resident foreigners is valid for one year.
How to apply for a Postal ID online?
The PhilPost office doesn't accept online applications for postal ID yet up to this time. There can be an online appointment or schedule before the application for postal ID. The primary process is still face-to-face since biometrics scan, signature, and photo capture are done in real-time.
How to verify if a postal ID is legit or fake?
Your Postal ID card is legit if the official Philpost office issued it and if you have applied at any PhilPost office near your residence. You can verify the authenticity of your postal ID by scanning the QR code on the card.