Why I Switch and Transfer from Hostgator to Websynthesis? Recently, I decided to move my domain from Hostgator Shared Hosting to Web Synthesis VPS Managed Hosting. I think website migration and switching hosting are part of a website growth. I loved my experience with Hostgator and their customer support was awesome. However, as my site's traffic grows every day, I want more server security. Additionally, I want to use a CDN service and caching plugin to make everything load faster.
With those things in mind, I may need to pay for the service or the proper setups. I was paying hosting fee and back up service. So I was wondering if I could have a VPS hosting with backup, high end security and fast website in one service. That's then I discovered Web Synthesis. So, I switched.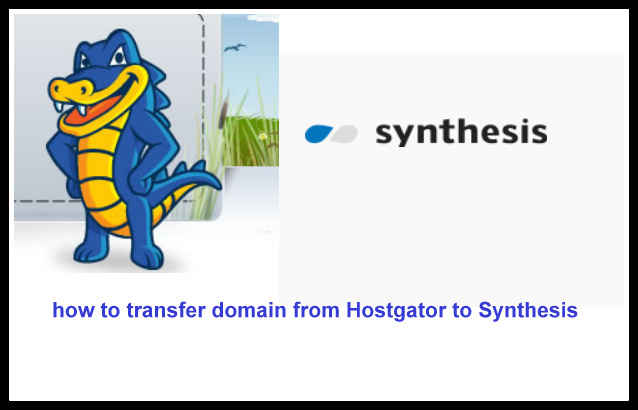 Why I switched to WebSynthesis Managed Hosting
I'm not a very technical person and I honestly don't understand so much about .htaccess, cPanel, phpMyAdmin, SQL database and the likes. With Web Synthesis Managed Hosting, there are experts available 24/7 to do the technical stuff I don't understand. They know and breathe WordPress and that's exactly who I need to count on if there's anything I need. With Web Synthesis, I can focus on publishing my content with peace of mind. Plus I don't need to pay for backup because they back up my entire site every night. I summed up the reasons why I moved to Synthesis:
I get a VPS with dedicated IP address
My site is customized with NGINX, APC, PHP-FPM used by top and expensive websites
They set up W3 Total Cache already
They back up my site every night and I get a free Amazon S3 Bucket for personal backup
They scan my website regularly for any brute force attack or malware
I get a free Genesis framework, Scribe, and Site Sensor account
My site loads faster that I don't need a CDN anymore, if I need it, they will assist me in setting it up
I get 10% discount because I pay quarterly. Oh I love discounts.
Switch from Hostgator to WebSynthesis – Complete Procedure
I summed up the process of transferring from one hosting to another – in my case, from Hostgator to WebSynthesis. I will explain the process one by one.
Sign up for Synthesis
Migration Process
Site Preview
Pointing DNS to Synthesis IP Address
Closing Hostgator account
Sign up for Synthesis – you don't have to close your old hosting account yet even if you signed up for synthesis to transfer your domain. After you signed up, wait for an email until you'll be notified that your server is ready. Once your server is ready, they will send you your Synthesis Customer Portal account where you can log in. You can log in and view it but I recommend you don't do a thing in there at this time and proceed to step 2.
Migration process – if you are very certain you know how to back up and migrate your site following Synthesis complete guide found on the customer portal, then you can do this or you can just use Fantasktic (recommended by Synthesis) to do the complete migration and cleansing of your website before you proceed moving on the next steps. I used Fantasktic service and they were very fast. It costs $99 for their service. Well, I love peace of mind.
Site Preview – once your migration was complete and successful, you can now preview your website. Contact Synthesis to give you credentials on how to access a proxy server to preview your site. I kinda had a little problem with previewing my site because the LAN Settings kept coming back to the default settings again and again. I used Windows and Firefox and successfully previewed my new website anyway. My advice, if you use an internet browser other than Internet Explorer, do the LAN settings configuration via Control Panel. If you can't still change the LAN settings, try turning off your Firewall from your anti-virus software settings.
Pointing DNS to Synthesis IP Address – again Synthesis will provide the detailed instructions on how to update your DNS records. If you bought your domain name from your domain registrar, you do the update via your account from them. If you bought your domain in Hostgator directly, you have to go to your cPanel and point you're A Record to your new Synthesis IP Address. You can do that by going to your cPanel, then to Domains then to Advanced DNS Zone Editor. Since you can't do the change via your domain registrar inside Hostgator, you have to ask them by submitting a ticket to point you're A Record and WWW if any to a new IP Address. Wait for 4-8 hours until the change propagated.

Closing your old hosting account – you can close your Hostgator or old hosting account once you are 100% sure your new website is on Synthesis. You can check this by viewing your Whois info. If your nameservers were changed and your IP Address now points to your new Synthesis IP address, then you're in a new hosting. It takes about 24-48 hours to be sure readers are now accessing your new IP.
If you logged in your WordPress and see Synthesis Software Monitor message (like that in the screenshot below), then you are now successfully in your new hosting. I recommend you close your old hosting account after 3 days from the time of your DNS switch.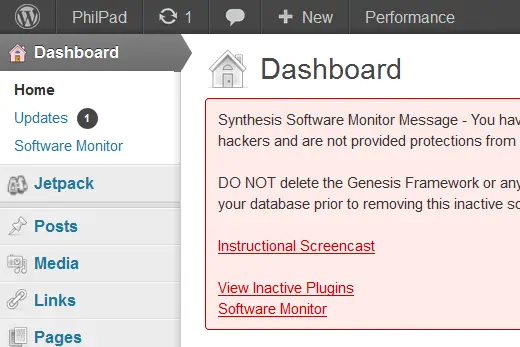 You're done. Welcome to Synthesis! Now what's next? Check your WordPress dashboard, check if W3 Total Cache is set up properly according to Synthesis recommended settings. Check if your Scribe account is active. Claim your Site Sensor account and add your website. You can now enjoy being in Synthesis.