Starting December 27, mobile subscribers in the Philippines must comply with the SIM Card Registration Act, also known as Republic Act 11934.
Therefore, all Globe, Smart, TM, TNT, Dito, Sun, and other cellular network subscribers must now follow the policy.
According to the new law, all existing SIM subscribers shall register within 180 days from the effectivity of the act. The registration may be extended for a period not exceeding 120 days. SIM card registration is free.
Failure to register your existing SIM within the prescribed period will result in automatic deactivation. It will only be activated after you complete the registration process. You have 5 days after the automatic deactivation to reactivate your SIM card.
The NTC (National Telecommunications Commission) also issued the memo of implementing rules and regulations tackling the comprehensive guidelines for registering new and existing end-users SIMs with the respective Telco or PTE (Public Telecommunications Entity).
What is a SIM card?
A SIM Card is a Subscriber Identity Module card that stores a mobile subscriber's identity number and connects a device to a cellular network. SIM cards evolved from micro to nano SIMs and are essential for securing identity and digital fingerprints.
What types of SIM are covered in the registration?
All covered SIMs, including embedded SIMs (eSIMs) and other variations of SIM cards at present and future technologies, provided by Telcos for SMS, voice, data services, or data-only used for fixed wireless broadband modem, machine-to-machine service, and internet of things gadgets.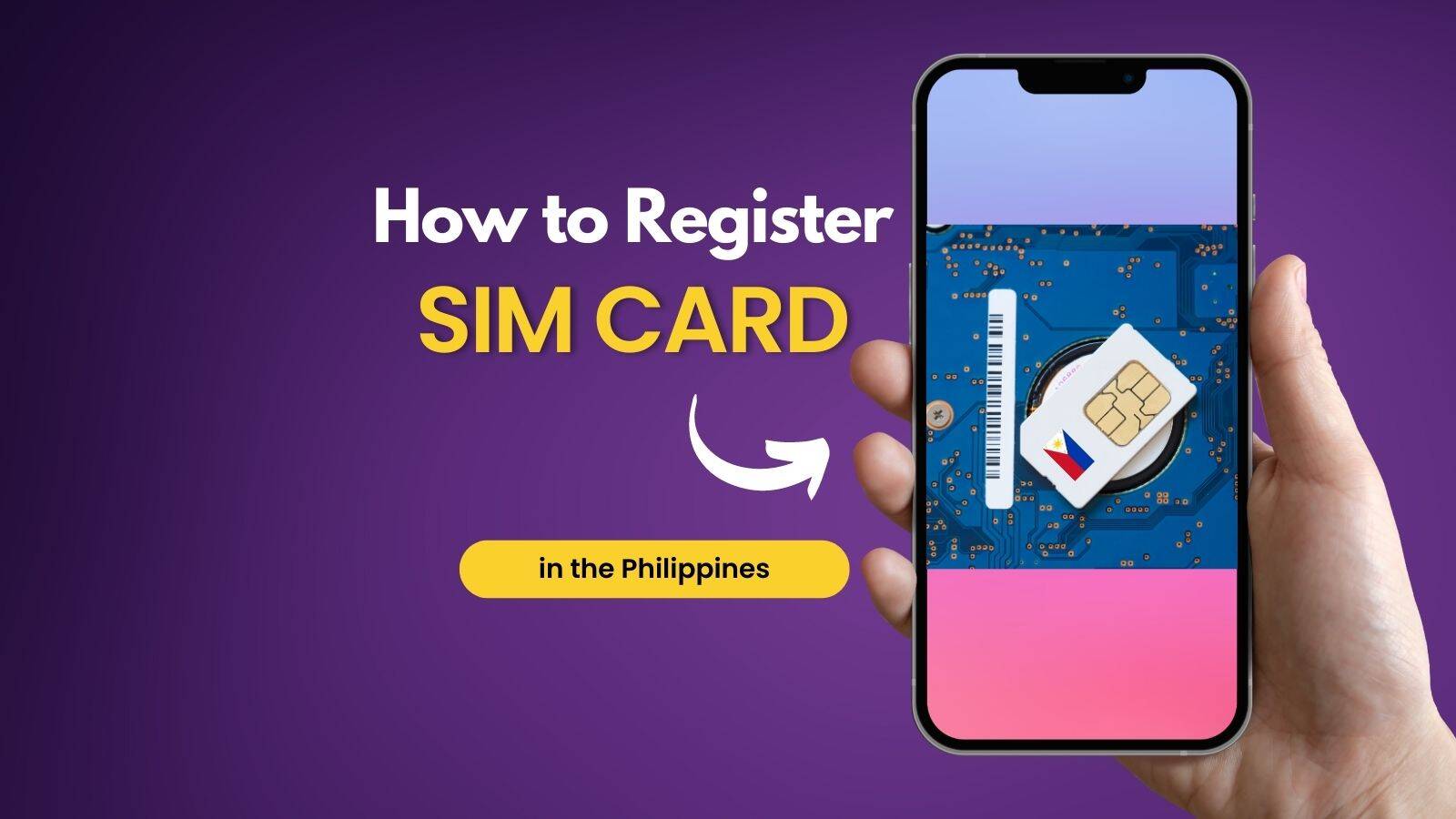 How to Register a SIM Card in the Philippines Online?
New Users
All SIM cards from Smart, Globe, and other Telco companies in the Philippines sold from December 27 onwards will be in "deactivated mode." To activate your SIM card, you need to register it through the online platform of your Telco company.
The requirements to register your SIM in the Philippines includes duly accomplished registration form, which collects the following information:
Full name
Birthdate
Sex
Present or Official Address
Valid ID and ID Number
Assigned mobile number of the SIM with its serial number
Individual users will need to present their valid government-issued ID cards or other similar forms of documents with photo that will verify their identity.
Phil ID (Philippine National ID Card)
SSS UMID Card
GSIS eCard or UMID Card
LTO Driver's License
Police Clearance
PRC ID Card
Integrated Bar of the Philippines ID
OWWA ID
BIR ID Card
Voter's ID
Senior Citizen's ID
Existing SIM Card Owners
Existing prepaid and postpaid subscribers must register their SIMs within 180 days from the effectivity of the SIM Card Registration Act. Otherwise, your card will be deactivated automatically. You have 5 days to reactivate it by completing the registration procedure.
Globe, Smart, Sun, Talk N Text, Touch Mobile, and other cellular networks will launch their SIM registration platforms. Thus, an active mobile number must be registered in the authorized database.
Foreigners and Tourists
SIM cards registered by foreigners and tourists will be valid temporarily for 30 days and automatically deactivated when they expire. The validity of SIM can be extended upon submission of an approved visa extension.
Foreigners are required to provide the following data to register their SIM card in the country:
Full name
Nationality
Birthdate
Passport
Address in the Philippines
Type of Travel or Admission Document Presented (for Persons of Concern (POCs)
ID Number or Number of Documents Presented
Assigned mobile number of the SIM card
Minors
SIM card users under 18 are required to register their SIMs under the name of their parent or guardian. In addition, a valid ID must also be presented, and the minor's parent or guardian must consent.
Business users
For business users and subscribers, you need to provide and present your:
Business name
Business address
Full name of authorized signatory
Certificate of Registration (for verification)
Duly adopted resolution designating the authorized representative or special power of attorney (for verification)
What to do if your SIM card is stolen?
If you lost your SIM card, you must report it to your Telco or cellular provider as soon as possible. You may need to submit your primary information:
Full name
Address
Birthdate
Mobile number
Other evidence or information to prove your SIM card ownership
Any entity, Telco, agent, or reseller who engages in the sale of stolen SIMs shall be criminally liable and will be punished by law.
Penalties for Violation of SIM Card Registration
Providing false or fictitious information or using a fictitious identity or fraudulent identification documents to register a SIM card
Sale or transfer of a registered SIM without complying with the required registration
Spoofing a registered SIM
PTE failure or PTE refusal to register a SIM
Sale of a stolen SIM card
Breach of confidentiality
Breach of confidentiality due to negligence
FAQs About SIM Card Registration in the Philippines:
How to Register a Globe SIM Card?
Globe, TM, and Globe at Home Prepaid Wifi subscribers can now register their SIM at the official Globe SIM Registration website. Globe is also launching an easy registration process via the GlobeOne app, which will be available in 2023. These are the steps to register a Globe SIM card:
Register at the Globe SIM Reg website
Enter your 10-digit mobile number (example: 9171234567)
Enter the 6-digit OTP on the registration website
Complete all the required information
Take a selfie and upload your valid ID
Tick to agree with Globe's Privacy Notice, Attestation of Completeness and Accuracy, Marketing and Promotional Permission, and Data Sharing
Click the "Submit" button
You will receive a reference number as proof of your Globe SIM card registration
How to Register a Smart SIM Card?
Visit the official Smart SIM Registration site
Enter your Mobile Number example (+63 9181234567)
Click the "Send OTP" button
Tick to Agree with Smart's Terms and Conditions and Privacy Notice
Type your OTP to verify your mobile number
Complete your profile information
Attach a copy of your valid ID
You will receive an SMS confirmation with your Control Number
Smart will notify your successful registration via SMS or call
How do I know if my SIM Card is registered?
Your Telco or cellular network provider will send you a notice of successful submission and acceptance of registration on the same day you registered your SIM card. The successful submission shall serve as the certification of registration. Hence, confirming your SIM card has been registered successfully.
Can I buy a SIM card without registering?
Starting December 27, 2022, all SIM cards bought from any Telecommunications company (Telco) in the Philippines will remain inactive. To activate your SIM, complete the registration process through your cellular network SIM Card Registration platform.
What will happen to your SIM card if you die?
In case of death, the immediate family or relatives of the SIM card owner shall notify or report the said information to the respective Telco provider. The Telco provider will deactivate the SIM within 24 hours from the receipt of the information about the death of the SIM card user.