Life is a beach! So I can't miss making a page about the best and top 10 most beautiful beaches in the Philippines. With over 7,107 islands, our country is rich in gem and natural resources and every isle stretches not only thousands of gems but also a magnificent feeling of tranquility, beauty, pride and treasure.
It's not only more fun in the Philippines. This is the place closest to heaven and paradise. See our blue and pristine beaches with white powdery sand as white and gorgeous as the clouds.
I came up with ten on my list although there are thousands of beautiful beaches here and islands too. I also added 'how to get there' as a bonus because we love bonuses here. Please leave your list by simply commenting. Here we go, the best beaches in the Philippines to visit.
Most Beautiful Beaches in the Philippines
Boracay
The 'blessed island' as a local claimed it to be. I have proven that myself because the moment I visited the island, more blessings have come my way. Just visit the beautiful groto where Mama Mary hails above the rocks in the blue pristine waters along Station 1. Boracay Island has been awarded by Yahoo and TripAdvisor as one of the Best Beach in the World so many times already.
It is also ranked in the top of different beach and most beautiful hot spots in the world online and offline. It is so famous around the world. Peak season is everyday now. Tourists like Americans, Germans, Europeans, Italians, Koreans, Australians and many more come back here again and again.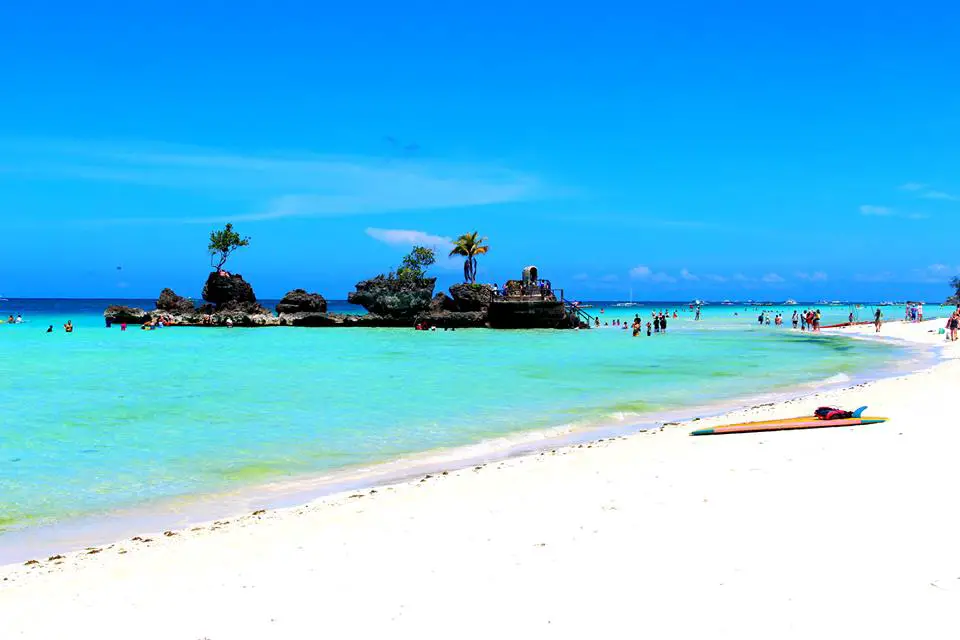 Everything is in Boracay – restaurants, clubs, private and leisure resorts, nice hotels, spa and massage stations, diving spots, malls, bars and a lot lot more. It is a perfect spot for relaxation, honeymoon, family outing and adventure. Once you go to Boracay, you will definitely come back again and again. See the activities at 25 Activities and Adventure to do in Boracay
How to go to Boracay from Manila?
By air: Either to Caticlan or Kalibo, Aklan
Almost all domestic airlines now serve flights to Boracay via Caticlan or Kalibo (two airports to Boracay)
By sea: You can find a local ferry, they also serve rides to Aklan and you can reach Boracay easily but I recommend 2Go Travel
If you want, you can select Boracay cheap travel packages. They offer very affordable and low-price trip to Boracay.
Coron
Coron is one of my favorite beaches in the world and I admit, almost the most stunning and breathtaking beaches in the Philippines are found in Palawan. Coron is just one of them. If you visit Coron, you will find amazing lagoons you never imagined they even existed before. Makes me feel like I'm within a paradise forest in the movie, "Avatar." Its water so clear, so blue, some so green yet so shallow. You will be amazed by its coral reefs and rocky mountains.
Coron tells all how wonderful and rich the Philippines is with nature's wonder. A lot of the sea, islands and spots would tell you about history, too. FYI, amazing Japanese shipwrecks of World War II are under its super clear water. In fact, Forbes Traveler Magazine has listed these wrecks among the Top 10 Best Scuba Diving Sites in the World.
How to go to Coron, Palawan from Manila?
By air: Just reach Busuanga (about 45 minutes away from Manila by air) and you will find lots of service vehicles that will take you to Coron
By sea: Local ferries with Palawan routes
El Nido
El Nido is another wonderful paradise in Palawan (a.k.a. the city of the Gods). I know there are lots of virgin islands and beaches in Palawan but El Nido gives a big pride to the Philippines for being the "Best Beach and Island destination in the Philippines" by CNN International.
Wow! El Nido is definitely on anyone's place-to-visit list. White sands, magnificent waters, beautiful forests, nature and wildlife, you missed a lot if you've never been to El Nido, Palawan.
How to go to El Nido, Palawan?
By air: There is a direct flight from Manila to El Nido via Seair
By sea: Local ferries also offer rides to and from Palawan that will take you to El Nido
Panglao Island (Bohol)
Your trip to Bohol wouldn't be complete without visiting and dipping at the breathtaking beach and and walking along the shores of Panglao Island. It also known as the "little paradise of pure hearts". After visiting the Chocolate Hills, why not relax and have moments of heaven in Panglao.
How to go to Panglao Island, Bohol?
By air: From Manila, choose a flight to Tagbilaran it will take about 1 hour and fifteen minutes
From Cebu, a ferry will take you there
By sea: From Cebu, there are daily ferries that will take you there
Siargao
Siargao is also known as "surfing capital of the Philippines" located in the province of Surigao del Norte. The waves here are perfect to feel the adrenaline-rush and fun surfing the blue pristine water. Popular surfing events and tournaments occasionally held here in Siargao. FYI waves can reach up to 20 feet in the peak season of August and September.
How to go to Siargao?
By air: There are direct flights from Manila to Surigao via SkyJet and Philippine Airlines
By sea: I recommend 2Go Travel
Pagudpud
Aloha! This is a place that you might compare to Hawaii because this beach has long continuous white sand and inviting blue waters just like the ones in Hawaii. It is so cheap to get here. When I had my Ilocos tour, I made sure to visit Pagudpud. I took the photo below during our lunch at a famous bar there. What I loved here is it's not too crowded so it's really perfect to relax and have romantic moments.
How to go to Pagudpud?
By air: Take flights going to Laoag City. Once you're there there are many vans and service vehicles offering tours all around Ilocos Norte and Ilocos Sur.
By land: You can also get here by driving if you're from Luzon
Bantayan Island (Cebu)
Bantayan Island has one of the most amazing sandbars I have ever seen. It is in the Northern part of Cebu. A new wonder you cannot miss to visit if you love virgin islands and white sands. Bantayan is not very crowded and is also packed with great adventures and activities such as Skydiving.
How to go to Bantayan Island?
I made a very detailed post about getting to Bantayan Island and also some resorts you can visit. Check this out: Bantayan Island Best Travel Guide
Camiguin Island
When I hear about Camiguin, I always think about that funny commercial quote, "come again." Camiguin is a pear shaped island located in northern Mindanao but what enchants me is that this island has been affectionately called by some as the "Garden of Eden" in the Philippines and it has great topography that will really lure you to come back again – thus come again. Popular spot here is The Cross at the Sunken Cemetery which is really intriguing why it got there.
How to go to Camiguin from Manila?
By air: Take flights going to Cagayan de Oro airport (1 hour and 20 minutes flight) then take a bus going to Balingoan, then take a ferry going to Camiguin Isaland.
By sea: From Bohol or from Cagayan de Oro, ferries will take you here
Dakak Park Beach Resort
Dakak park and Beach Resort gives pride to Dapitan, Zamboanga del Norte, Dipolog in Mindanao. Their resorts have been so popular for quite a while now. Too many private resorts and leisure spots within Dakak. Being here gives a feeling of luxury and pleasure. This place is a hub for those who prefer private moments. For sunset lovers, this is the great place for you. By the way, this place is not prone to typhoons so you can go anytime.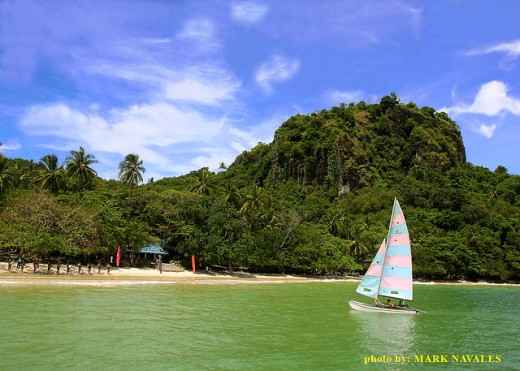 How to go to Dakak Park Beach Resort?
By air: From Manila, take a flight going to Dipolog (about an hour flight)
Puerto Princesa Beaches
Another heaven here on earth, Puerto Princesa's stunning beaches are one of the best beaches here in the Philippines. Not only it would take your breath away with its virgin isles but you would be gobsmacked by its magnificent caves, forests and one of Nature's Wonder of the World, the Puerto Princesa Subterranean Underground River a.k.a. St. Paul Subterranean River.
How to go to Puerto Princesa?
By air: Take a flight going to Puerto Princesa Airport, domestic airlines like SkyJet, Cebu Pacific and Philippine Airlines always have flights for this route. Then there are taxis and cab when you're in Puerto Princesa that will take you around, anywhere you want.
Now, share us your list of best beaches in the Philippines by commenting below. Thank you!