We're sharing here the best Bantayan Island Cebu travel guides and tips. What are the best resorts and hotels to check in Bantayan island, how to go to Bantayan island, and the places you must visit while you're in the island.
Why you should visit Bantayan Island?
Bantayan island is one of the most beautiful islands in the Philippines because of its crystal blue waters, white powdery sands, amazing sandbars and virgin islands.
It's not too crowded there like many other famous beaches in the country.
The oldest Catholic Parish Church in the Visayan Region (St. Peter and St. Paul Parish), is located in Bantayan Island Cebu
Lots of activities to do like snorkeling, island hopping, jet skiing, kayaking, SUPing, scuba diving and other water activities
Sky Diving and Aerial Tour Sight Seeing are also what make the island in your bucket list
Why it's called Bantayan Island?
I've asked locals about the history of Bantayan and I've got two answers:
One, it was believed that the first people who came and discovered the island found a little boy who used to guard and protect the island. They believed it was Sto. Niño. Sto Niño is the patron saint of Cebu. Guarding and protecting in our dialect means "bantayan."
Second, the word Bantayan came from the locals who used to guard the island from invaders. They would shout "Bantayan! Bantayan!" when they see invaders coming closer.
How to go to Bantayan Island?
Bantayan Island is located in the northern part of Cebu so I will share here the most common route originating from Mactan International Airport. The port in Bantayan is in Santa Fe. It is where most of the beach resorts are located.
There are 2 ways to reach Bantayan island:
Via bus and ferry
Bus (3 ½ hours) + Ferry (1 ½ hour). From Cebu MIA, take a taxi to go to the North Bus Terminal. At the terminal, ride a yellow Ceres Bus going to Hagnaya Port. In Hagnaya Port, take a ferry going to Santa Fe, Bantayan Island. Cost: P125 (regular bus) + 167 (ferry)
Via plane
Southern Air Flight Services, Inc. serves flights from Sante Fe Airport to Cebu Airport and to any destination in the Philippines. This is very expensive, starts at P15,000 for 3 persons. Note that you have to contact their company if you're interested with their service.
Bantayan Island Travel Tips
Know the schedule for the bus and ferry to save most of your time considering your hotel check in time as well. Remember that the trip from Bantayan alone takes around 5 hours from Cebu MIA. We posted the bus and ferry schedules below for your guidance for both arriving and departing Bantayan.
The color of the beach in Bantayan is amazing and beautiful starting from 10am until 4pm. I'm telling you this because I know you love taking photos and videos. The sandbars look perfect, too during those times.
I suggest that you take the bus ride to Hagnaya Port as early as 7am so that you will avoid traffic on the way. This will make your trip comfy and faster. You'll likely arrive in Santa Fe after lunch and just in time for your hotel check in. If you don't have hotel yet, ride the bus as early as 6am.
Book a beach front room because nothing is beautiful as waking up in the morning seeing a fantastic beach view.
Your Roadmap Visiting Bantayan Island:
Bantayan Island Ferry and Bus Schedule
It is important to know the schedule of trips especially for the ferry. Remember, the last trip of the ferry.
Ceres buses from the North Bus Terminal are always available so no worries.
Bantayan Island Best Resorts and Hotels
There are no 5-star hotels yet in Bantayan Island so do not expect a 5-star service and accommodation. However, there are resorts that serve well with nice amenities. I have listed the resorts I recommend below. I also recommend resort hopping, like going to another resort for lunch to see their beach front and amenities.
Room rates are around 2,500/night or 3,500 on some beach front rooms. The closer to the beach, the pricey it gets. I checked in for 4 days at Budyong Beach Resort since it has the perfect view for me and it is next to Kota Beach and Marlin's Beach. Staying in a beach front Cabana is priceless for me.
Anika Beach Resort – if you're looking for great amenities, yummy foods and shallow beach
Marlin Beach – if you're looking for a nice view while relaxing or eating
Budyong Beach – if you're looking for a perfect beach view with sandbars
Kota Beach – if you're looking for a nice beach front villa and gorgeous view with sandbars
Bantayan Island Resorts Map
I was actually searching about this map but never found it online so I got it from Bantayan myself. I like to share it here because I know it will guide and help you.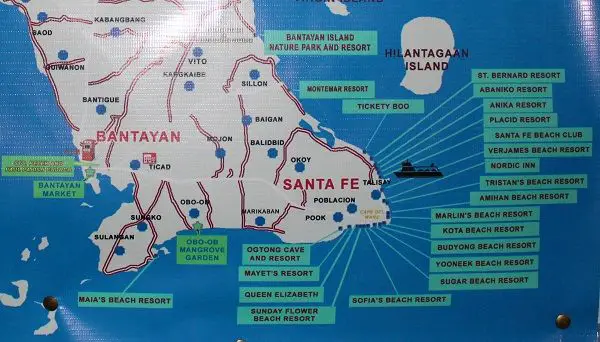 The Best
Places you must Visit in Bantayan Island

:
Amazing beaches of Santa Fe
Sandbars at Kota Beach, Budyong Beach, Anika Beach
Ogtong Cave
Virgin Island
Sts. Peter and Paul Parish
Bantayan Island Nature Park and Resort
Island hopping – Virgin Island, Hilantagan Island, Kinatarkan Island
Tristans' Pizza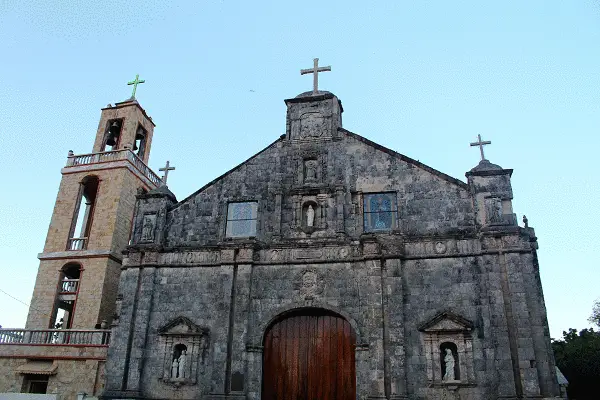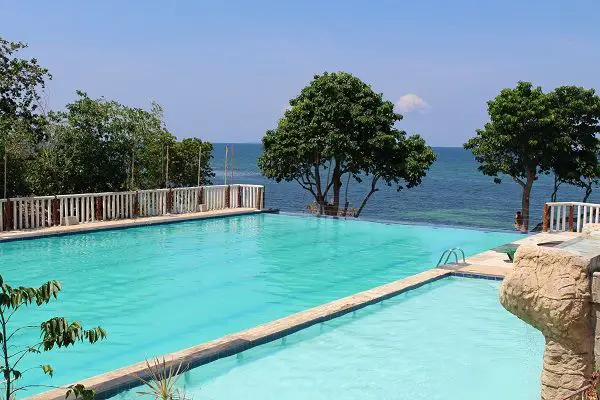 Bantayan Island Entrance Fees and other Fees:
Terminal Fees P5 per person
3-wheeler bike service – P20/person
Habal-habal (motorcycle rent) – P150/day
Island hopping – P1500/boat service
Virgin Island Entrance Fee – P500/2 persons, P100 extra person
Virgin Island Cottages – P300, P500, P800, P1000 depending on sizes
Snorkeling Gear Rental Fee – P100/day
Bantayan Island Nature Park and Resort entrance fee – P200/person
Sky Diving – P18,000 per person (includes

1 tandem skydive, photos, raw videos and certificate

)
Follow Bantayan Island Facebook page for more pictures and videos