Are you looking for the best places and tourist spots to visit on Bantayan island? We're sharing the best travel guides and tips to see the scenic island of Cebu.
If you're planning to travel to this tropical paradise, we also mentioned some of the best resorts and hotels to check in Bantayan island. Let's start so you know where to stay and bookmark this post as your itinerary.
What is Bantayan Island?
Bantayan Island is one of the most beautiful islands in the Philippines and Asia. It is at the northernmost tip of Cebu, the "Queen City of the South." Bantayan Island is made up of three towns – Bantayan (the biggest part), Madridejos (the northern part), and Santa Fe (the tourist hub).
How Bantayan Island Got Its Name?
We've asked locals about the history of Bantayan island, and we've got two answers:
One, it was believed that the first people who came and discovered the island found a little boy who used to guard and protect the island. They thought it was Sto. Niño. Sto Niño is the patron saint of Cebu. Safeguarding and protecting in our dialect means "Bantayan."
Second, the word Bantayan came from the locals who used to guard the island from invaders. They would shout "Bantayan! Bantayan!" when they saw invaders coming closer.
5 Reasons Why You Should Visit Bantayan Island
Bantayan island is one of the most beautiful islands in the Philippines because of its crystal blue waters, white powdery sands, amazing sandbars, and virgin islands.
It's not too crowded like many other famous beaches in the country.
The oldest Catholic Parish Church in the Visayan Region (St. Peter and St. Paul Parish) is located on Bantayan Island Cebu
Lots of activities to do like snorkeling, island hopping, jet skiing, kayaking, SUP, scuba diving, and other water activities
Sky Diving is also what puts the island on your bucket list
How to Go to Bantayan Island in the Philippines?
Since Bantayan Island is located in the northern part of Cebu, we will share the most common route from Mactan International Airport. The port in Bantayan is in Santa Fe, where we can find most beaches and resorts.
There are two ways to reach Bantayan island:
1. By riding a bus and ferry
Bus (3 ½ hours) + Ferry (1 ½ hour). Take a taxi from Cebu Mactan International Airport to the North Bus Terminal. At the terminal, ride a yellow Ceres Bus going to Hagnaya Port. In Hagnaya Port, take a ferry going to Santa Fe, Bantayan Island. Ferry tickets for adults cost PHP180.
2. By airplane
Air Island Tours serves flights from Cebu Airport to Bantayan Island every day. Although it's expensive, you'll arrive in Bantayan in 30-40 minutes. The flight starts around P23,000 for three persons. Note that you have to contact their company if interested in their service.
Bantayan Island Travel Tips
Know the bus and ferry schedule to save most of your time, considering your hotel check-in time. Remember that the trip from Bantayan alone takes around 5 hours from Cebu MIA. We posted the bus and ferry schedules below for your guidance when arriving and departing Bantayan.
The color of the beach in Bantayan is amazing and beautiful, from 10 am until 4 pm. We're telling you this because we know you love taking photos and videos. The sandbars look perfect, too, during those times.
We suggest you take the bus ride to Hagnaya Port as early as 7 am to avoid traffic on the way. It will make your trip comfy and faster. You'll likely arrive in Santa Fe after lunch and just in time for your hotel check-in. If you don't have a hotel, ride the bus as early as 6 am.
Book a beachfront room because nothing is beautiful as waking up in the morning and seeing a fantastic beach view.
Bantayan Island Ferry and Bus Schedule
It is essential to know the schedule of trips, especially for the ferry. Remember the last trip on the ferry to avoid hassles and delays in your itinerary. Ceres buses from the North Bus Terminal are always available. Remember that the bus trip from the North Bus Terminal to Hagnaya Port takes around 4 hours.
25 Best Tourist Spots and Places to Visit on Bantayan Island
1. Beautiful Sandbars of Santa Fe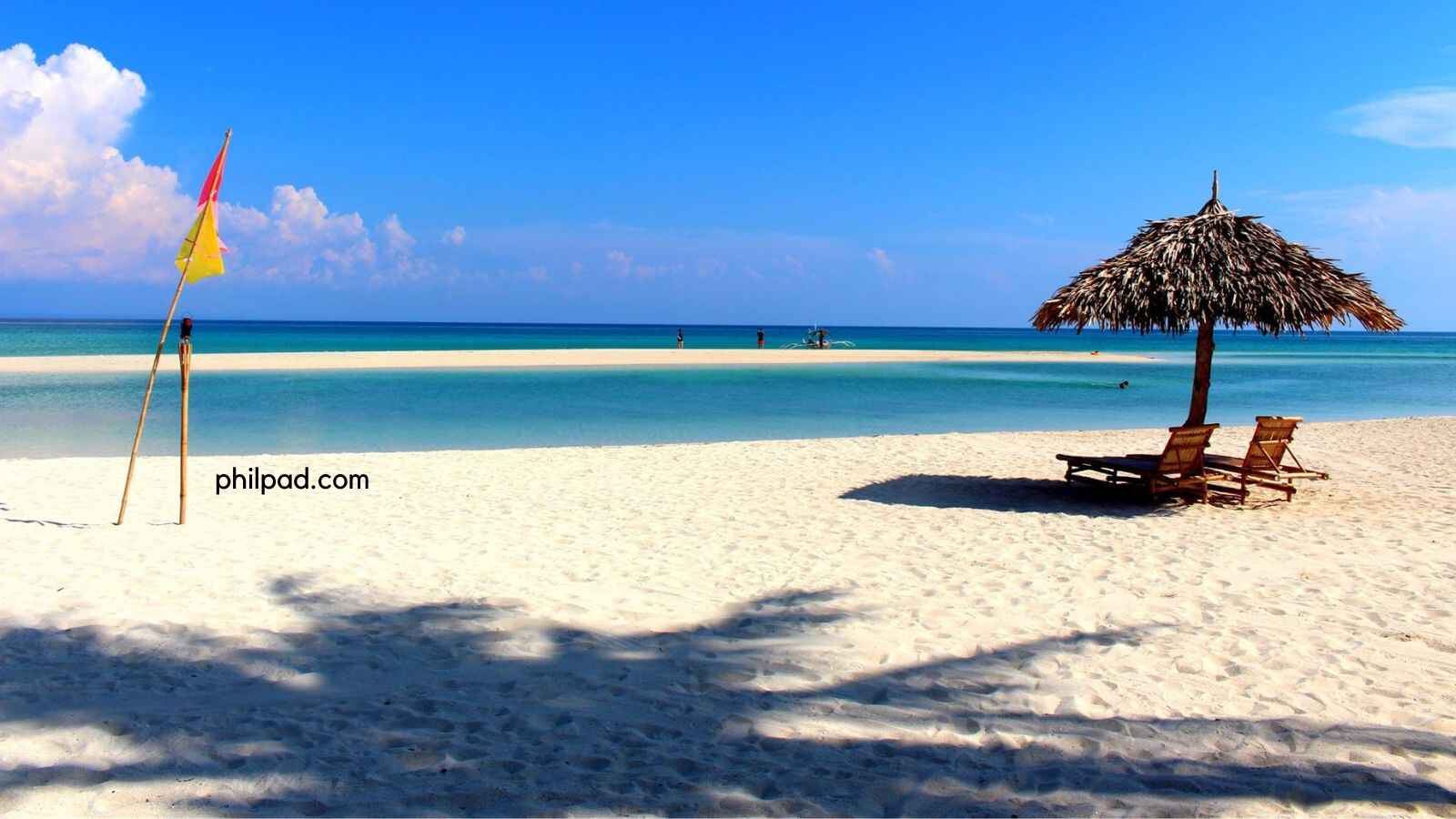 The sandbars of Santa Fe are sights to behold and must-visit Bantayan Island tourist spots. They are among the best sandbars in the Philippines, we must say. They are located in Kota Beach and Budyong Beach resorts. Don't miss getting an aerial shot of the dreamy landscapes here.
2. Virgin Island
Bantayan's Virgin Island reminds us of the movie, The Blue Lagoon. If you want an unforgettable beach adventure, visit the Virgin Island, a tropical island paradise off the coast of Bantayan that is about 30 minutes boat ride from Sante Fe.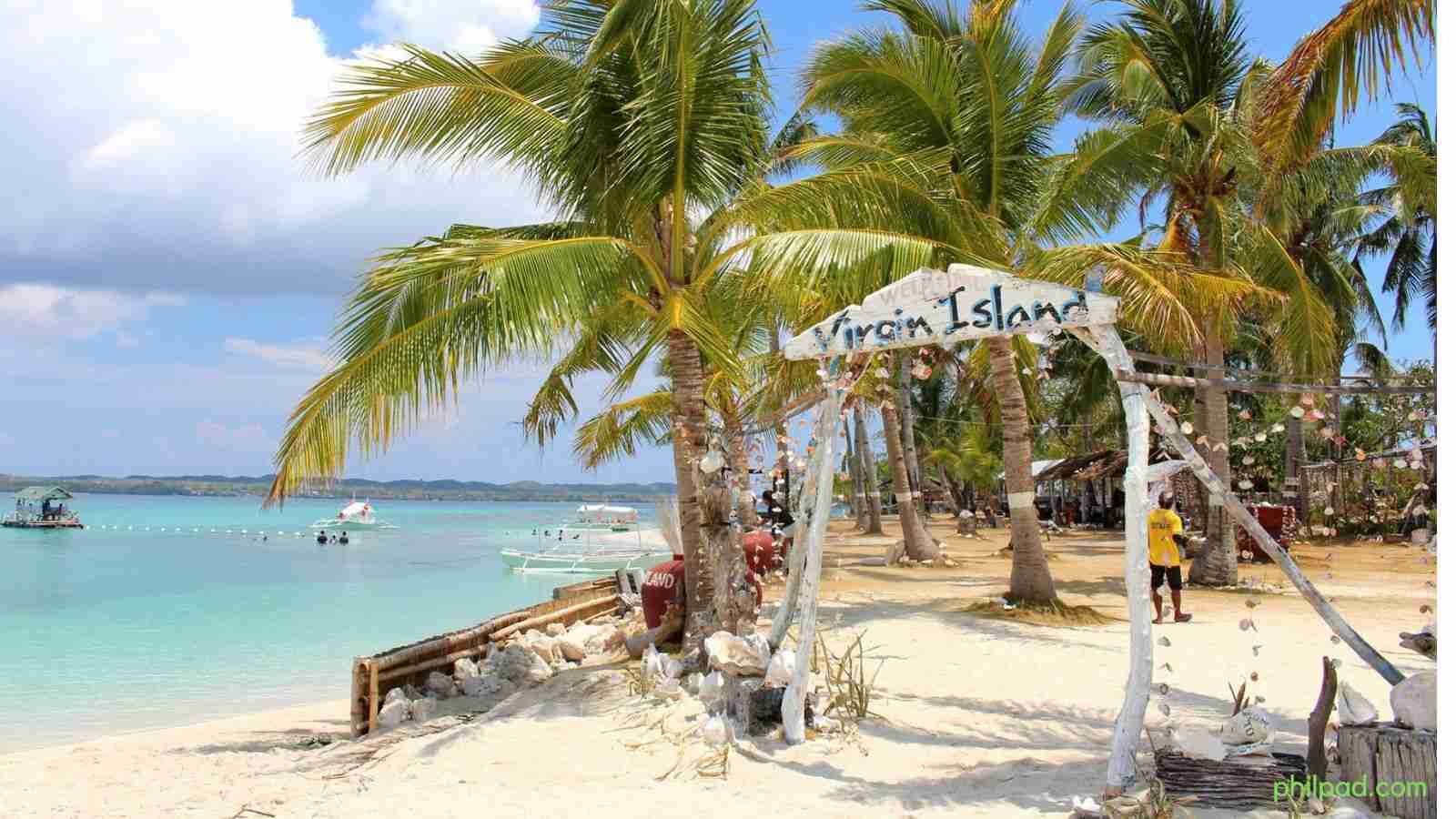 Travelers can snorkel the pristine waters of the Virgin Island. You can also relax and sip your favorite lemonade at the cozy hammocks of the island. There are restaurants and beach activities, too.
3. Ogtong Cave
Ogtong Cave is a popular Instagram-worthy place in Bantayan Island because of its magnificent crystal blue water and natural cave wonder. It is located within the Ogtong Cave Resort. Day tour access costs PHP100 per person. Stone-formed staircase will guide visitors to the cave's deeper part.
4. Kota Beach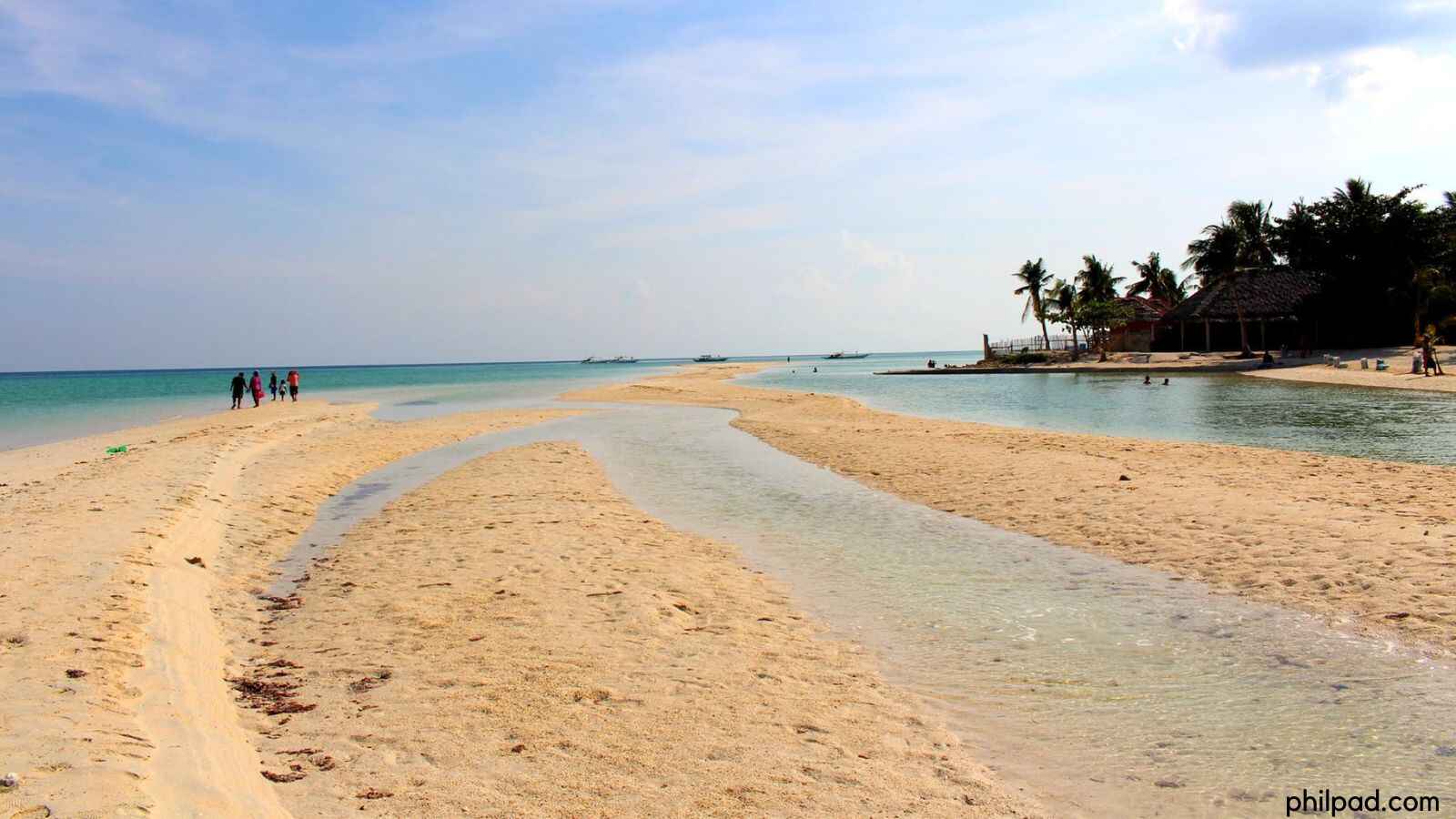 If you're looking for a romantic beachfront villa with a gorgeous view of sandbars, the perfect spot is Kota Beach. There are four things I won't forget about staying at Kota Beach – the bamboo cabins, the powdery sandbars, and the sunrise and sunset moments.
5. Balidbid Lagoon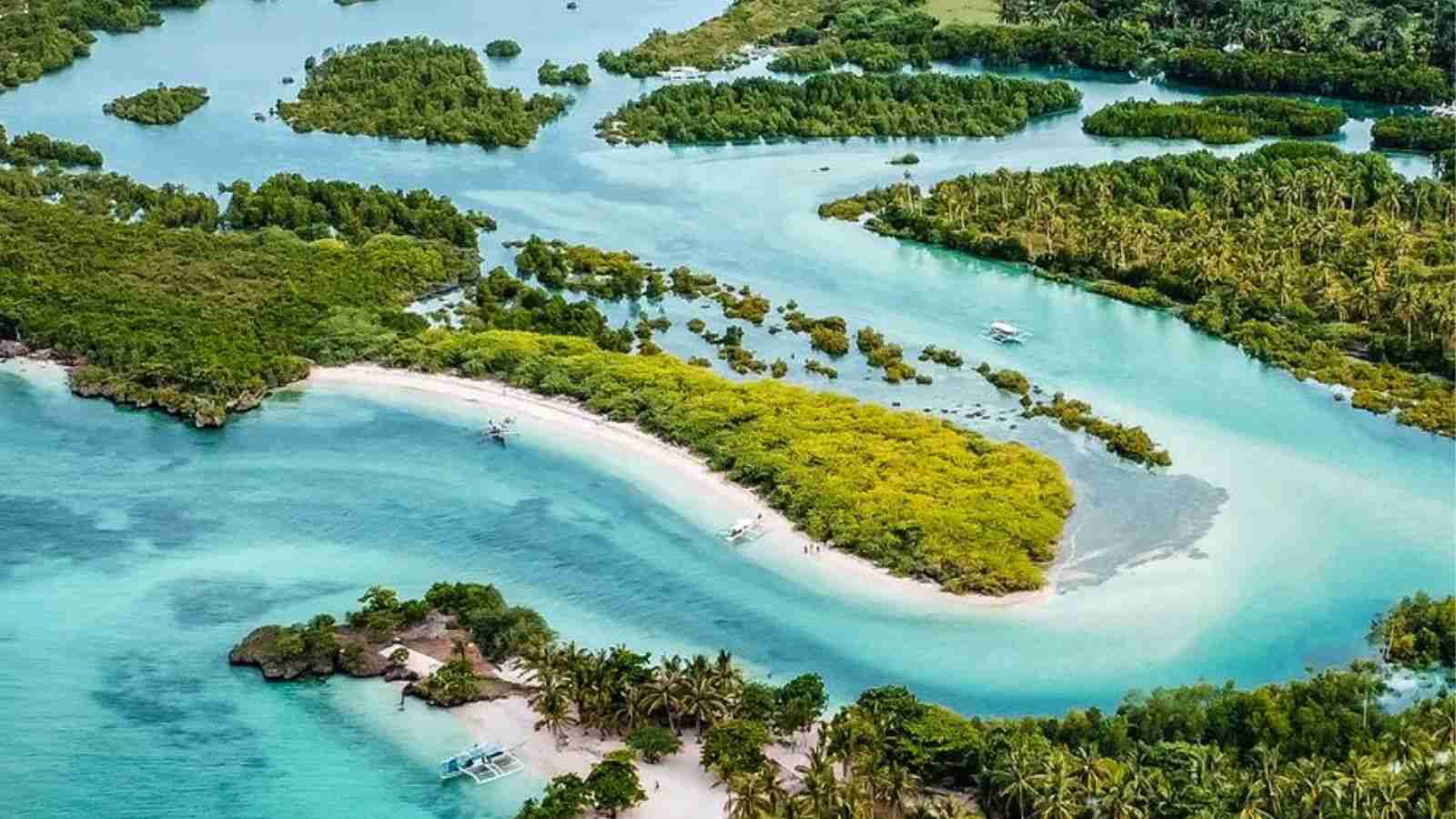 A one-of-a-kind experience is paddling along the sparkling blue-green lagoons of Balidbid. Explorers can rent SUP paddle-boards at SUP Bantayan or schedule a guided tour into the tranquil shallows of this fascinating natural wonder.
6. Hilantagan Island
Take an island-hopping tour and include Hilantagan Island on your itinerary. Hilantagan Island boasts turquoise waters and powdery white sand. It's also a sweet spot for snorkeling and beach photography sessions because it's a private island in Bantayan.
7. Lighthouse and Cliffs of Kinatarcan Island
Kinatarcan Island is an exotic untouched island in Bantayan Island, Cebu. It's also known as Guintacan Island. Exploring this island will let you experience a hidden paradise of white sand beaches, soaring cliffs, and enchanted lagoons. There is also a parola (lighthouse) in the middle of the forest in Langub, Kinatarcan Island.
8. Sugar Beach
Sugar Beach is what its name refers to – the sand on this beach is so refined, like that of white sugar. It's a long 1 km stretch of beach in Sante Fe that resembles the famous Boracay Island. The shore is lined with palm coconut trees, reminding you that you're on a tropical island.
9. St. Peter and Paul Parish Church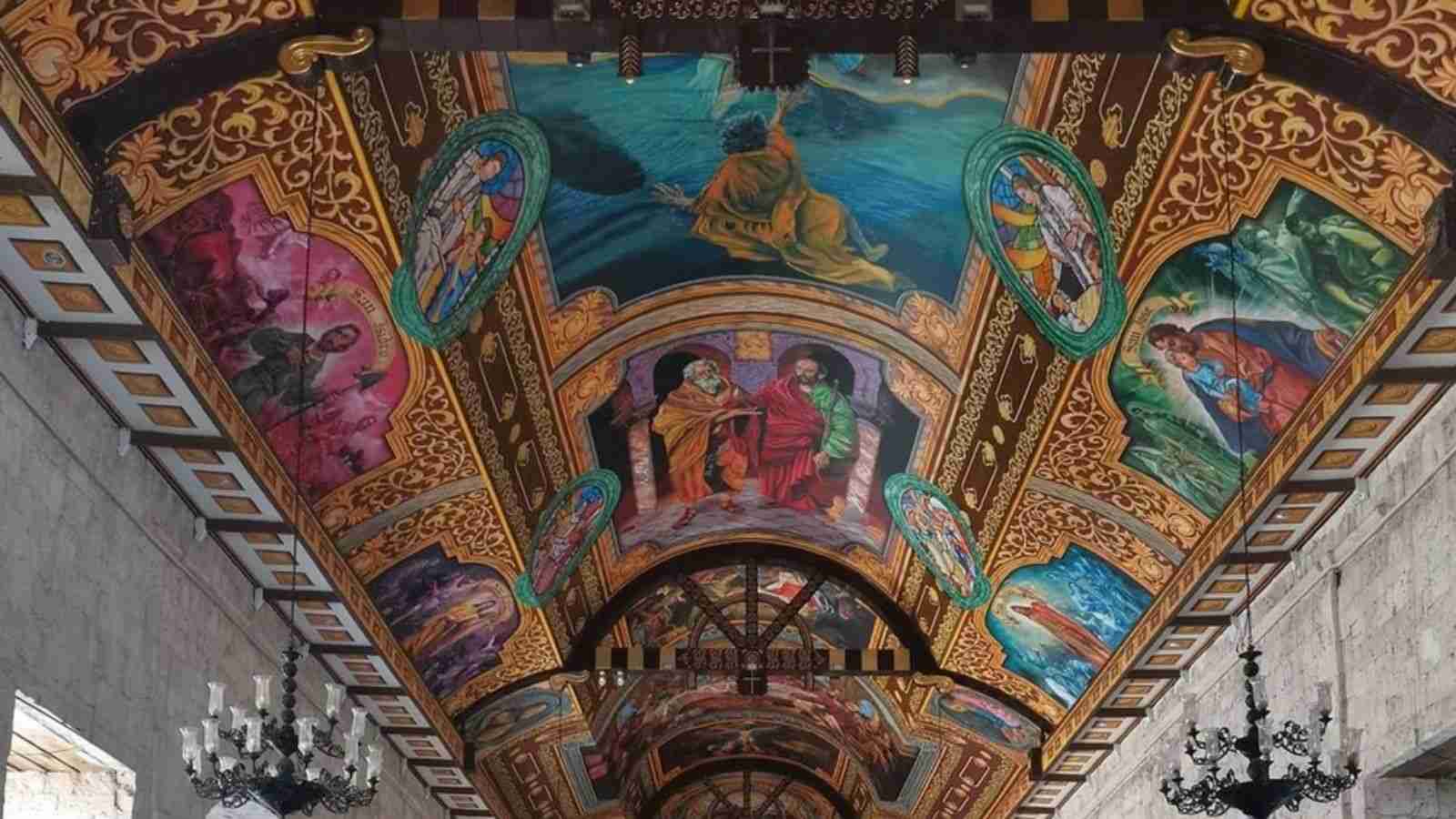 St. Peter and Paul Parish is one of the oldest churches in the Philippines. It was built in the 16th century during the Spanish era in the Philippines. It was initially constructed in 1580. The church has distinctive paintings on its ceilings and a classic interior design. The ancient church is among the top tourist attractions on Bantayan Island.
10. Sky Dive at Bantayan Island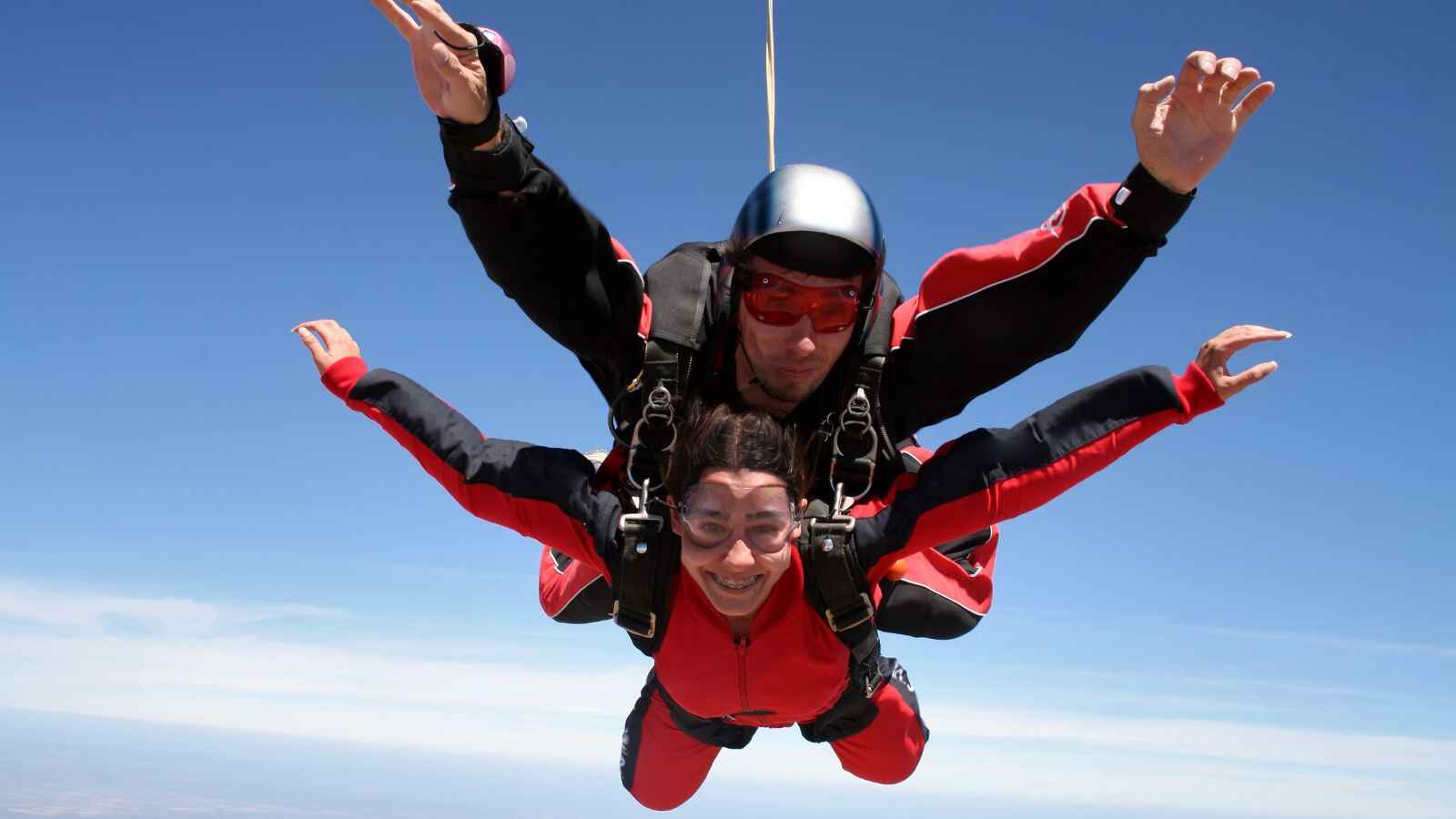 Are you looking for an extreme sightseeing experience? Then try tandem sky diving on Bantayan Island. An altitude of 10,000 feet will give you an incredible island view. The exciting part, you can also choose to land on a white-sand beach. Yay!
11. Mangrove Eco Park
Obo-Ob Mangrove Eco Park is among the famous tourist spots on Bantayan Island. The Eco Park shares awareness about the importance of mangroves in our marine ecosystem. Rent a kayak and explore the greenish swamps or stroll along the bamboo walkways of the eco-park.
12. Camp Sawi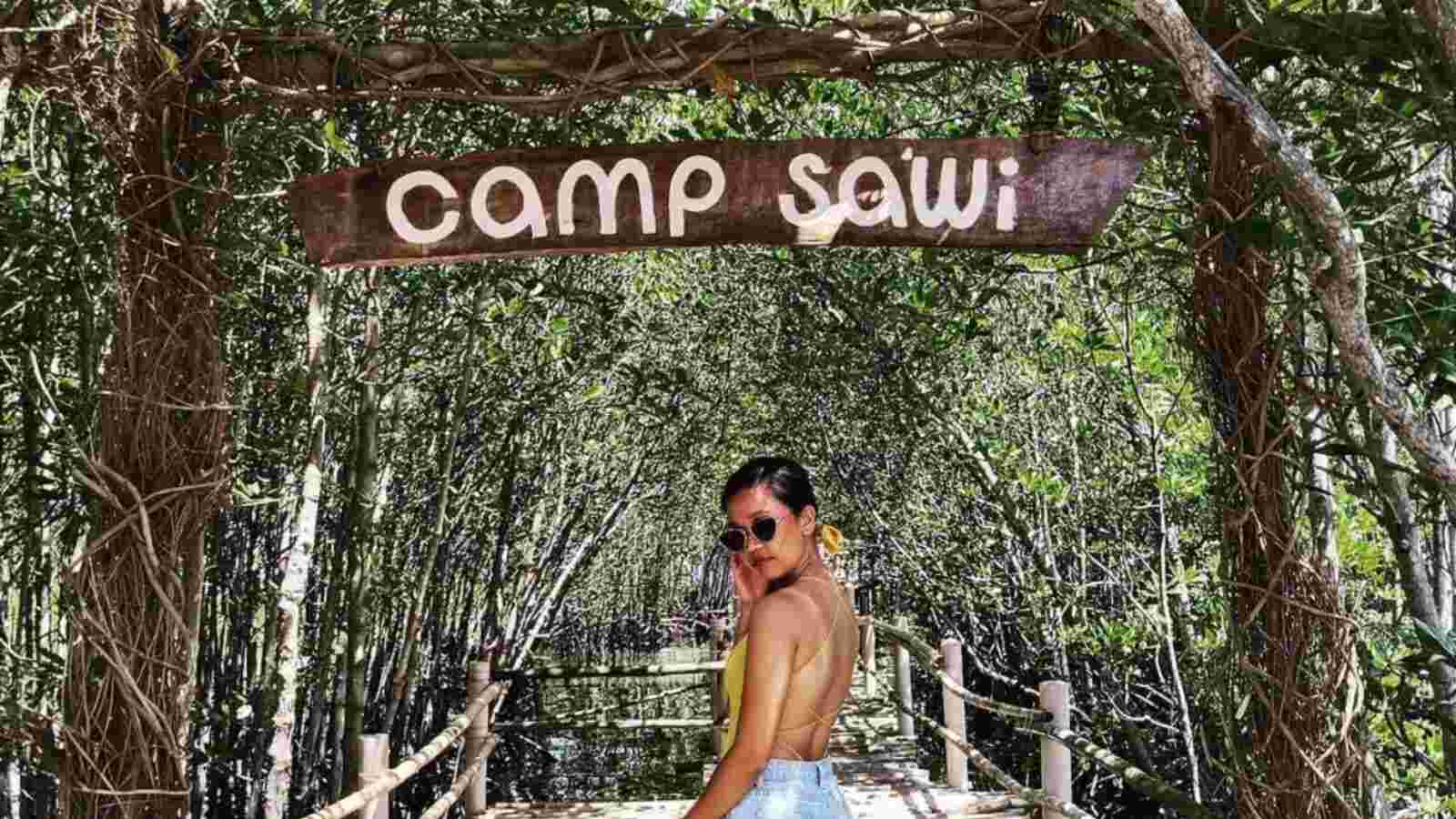 Obo-Ob Mangrove Eco Park is also popularized by the romantic-comedy film Camp Sawi. Don't forget to have your photo taken at the same spot where the "Camp Sawi" wood plank is posted. It's among the best Instagram photo spots on Bantayan Island.
13. Anika Beach Resort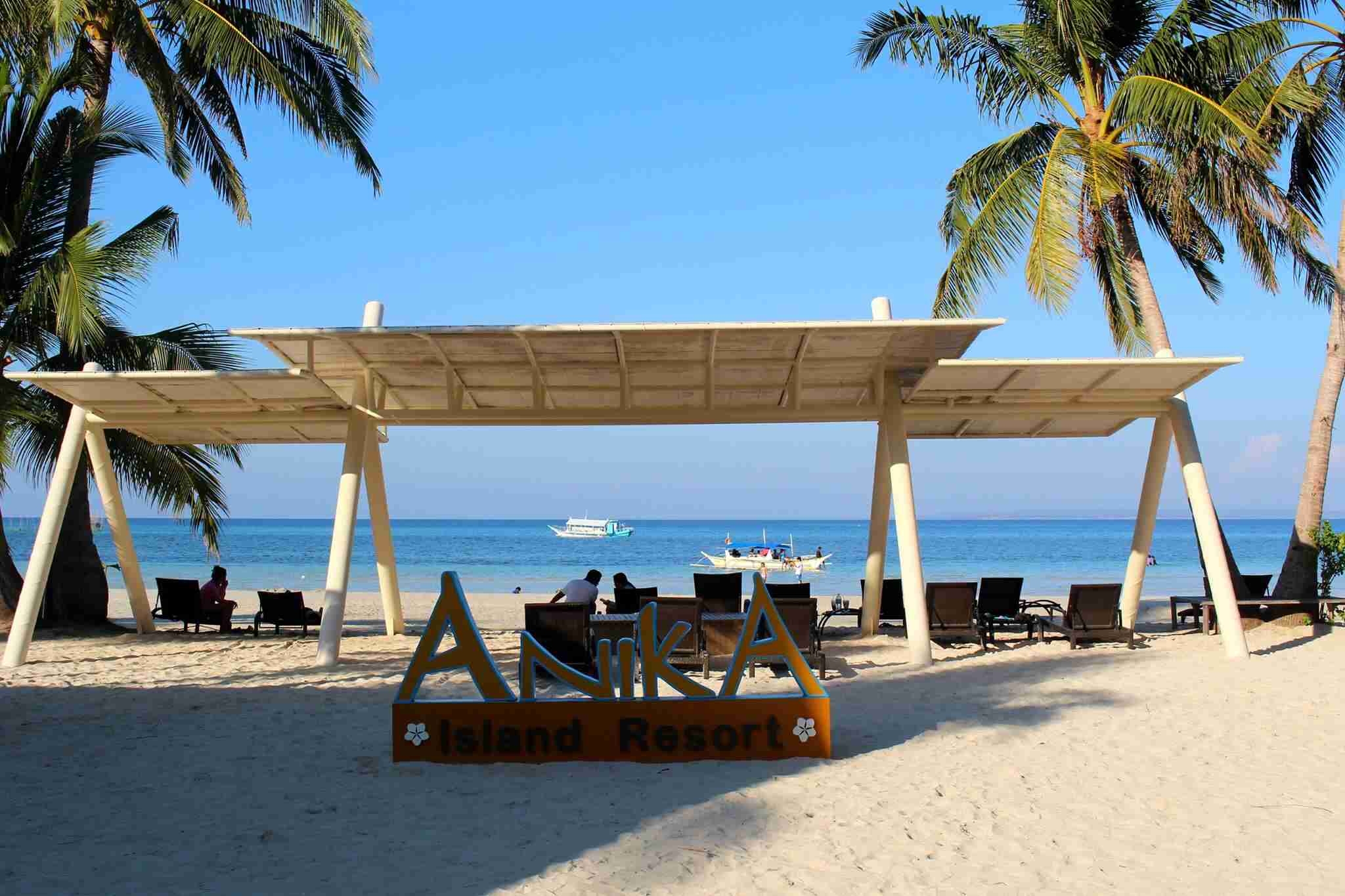 Anika Beach Resort is located in Roska Street in Santa Fe, Bantayan Island. If you're looking for great amenities, delicious foods, and easy access to other tourist spots, we recommend checking in at Anika. The resort is also swimmer friendly because it has swimming pools and shallow beaches.
14. Tristan's Pizza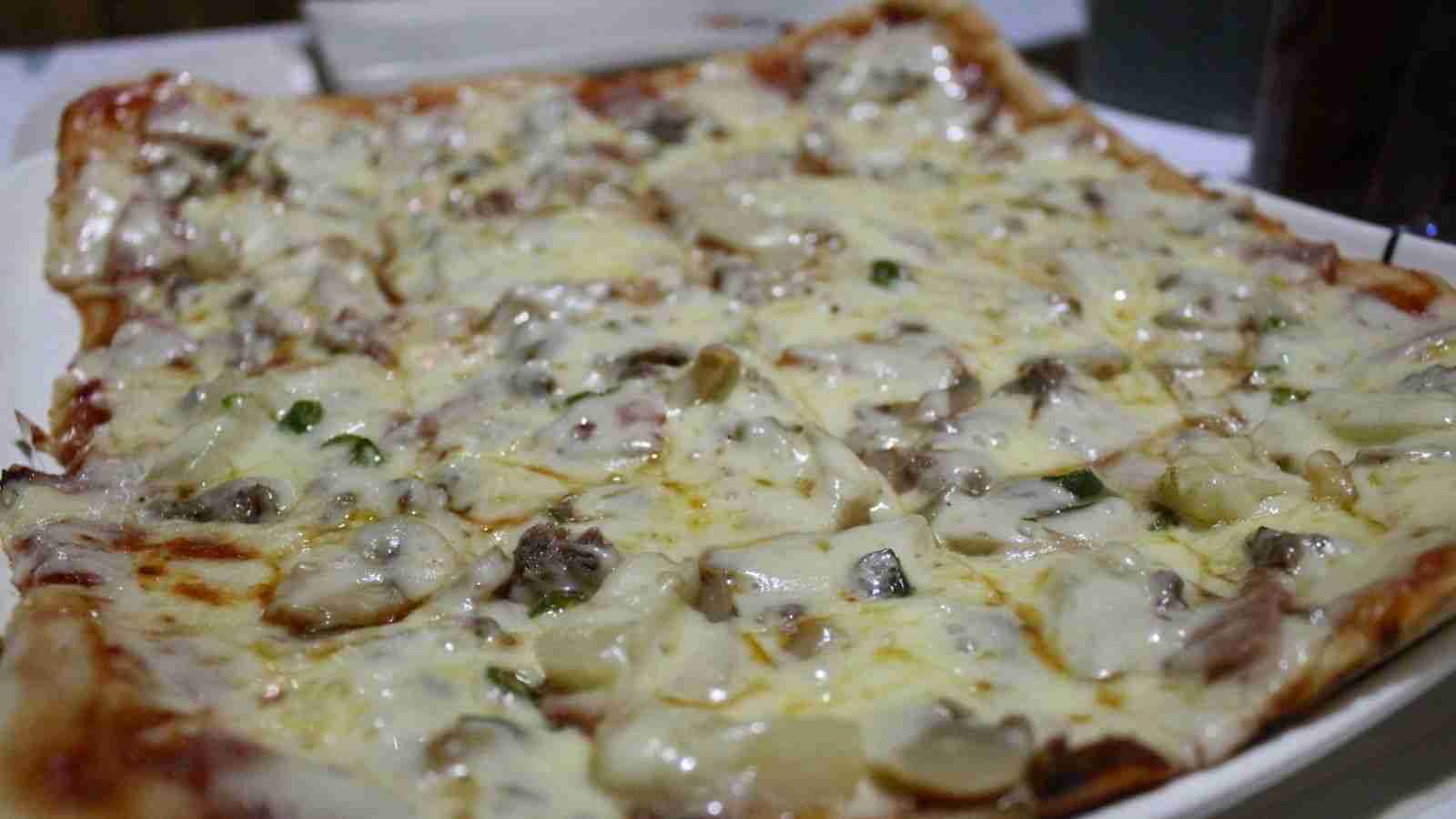 What is a beach adventure without pizza? Tristan's Pizza is the best-selling pizza on Bantayan Island. Tristan serves homemade pizza and other combo meals such as American breakfast, Filipino breakfast, and Mexican Omelet. Likewise, the little restaurant also serves healthy salads, lunch, and dinner.
15. Kiteboarding at KiteBantayan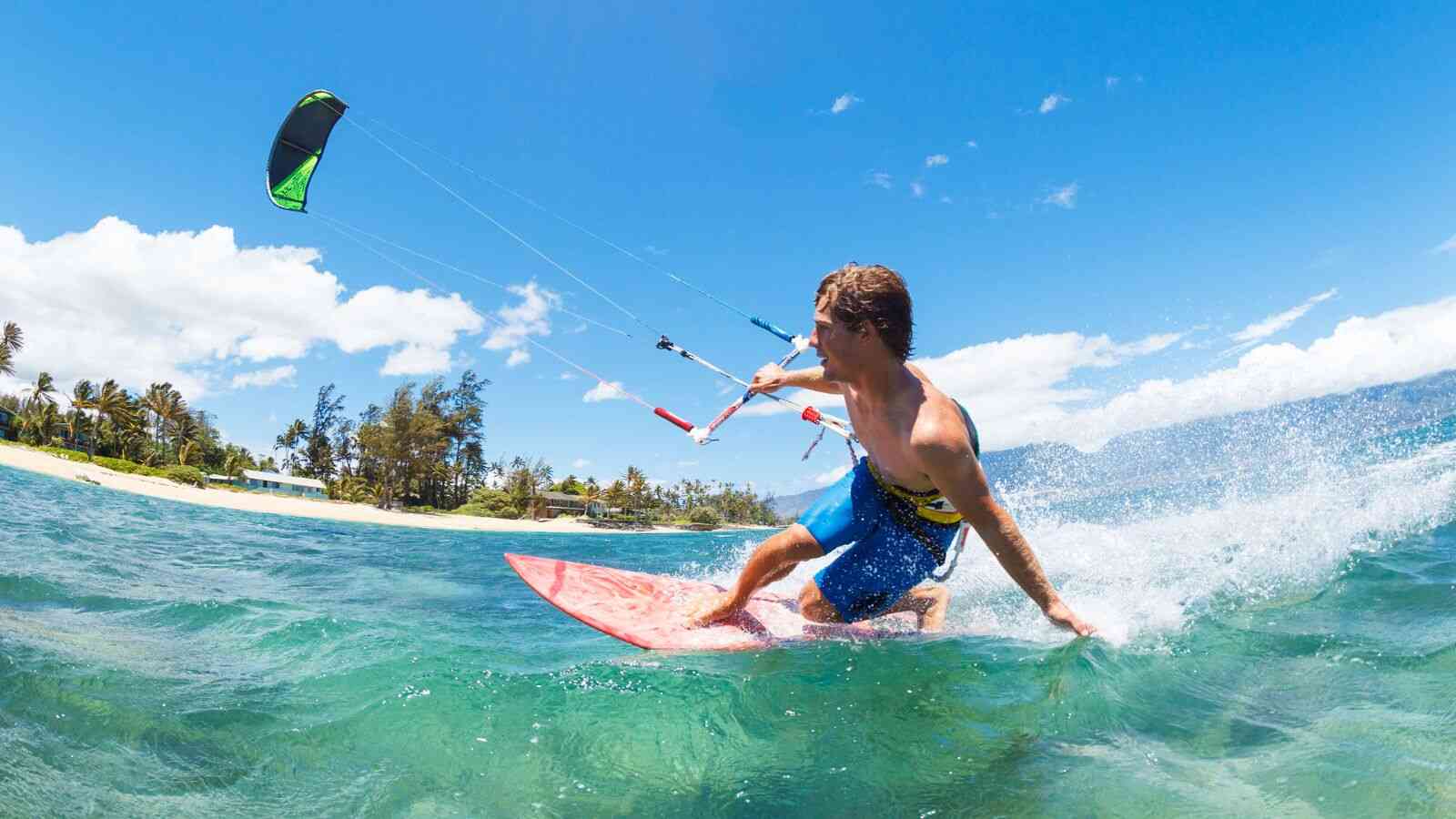 Aside from the Amihan beach cabanas, KiteBantayan offers kiteboarding lessons and courses for beginner and professional levels. If you want to learn a breathtaking sport, you can try kitesurfing. It's really exciting! KiteBantayan has a certified team of instructors who can teach you the right kiteboarding moves.
16. Marlins Beach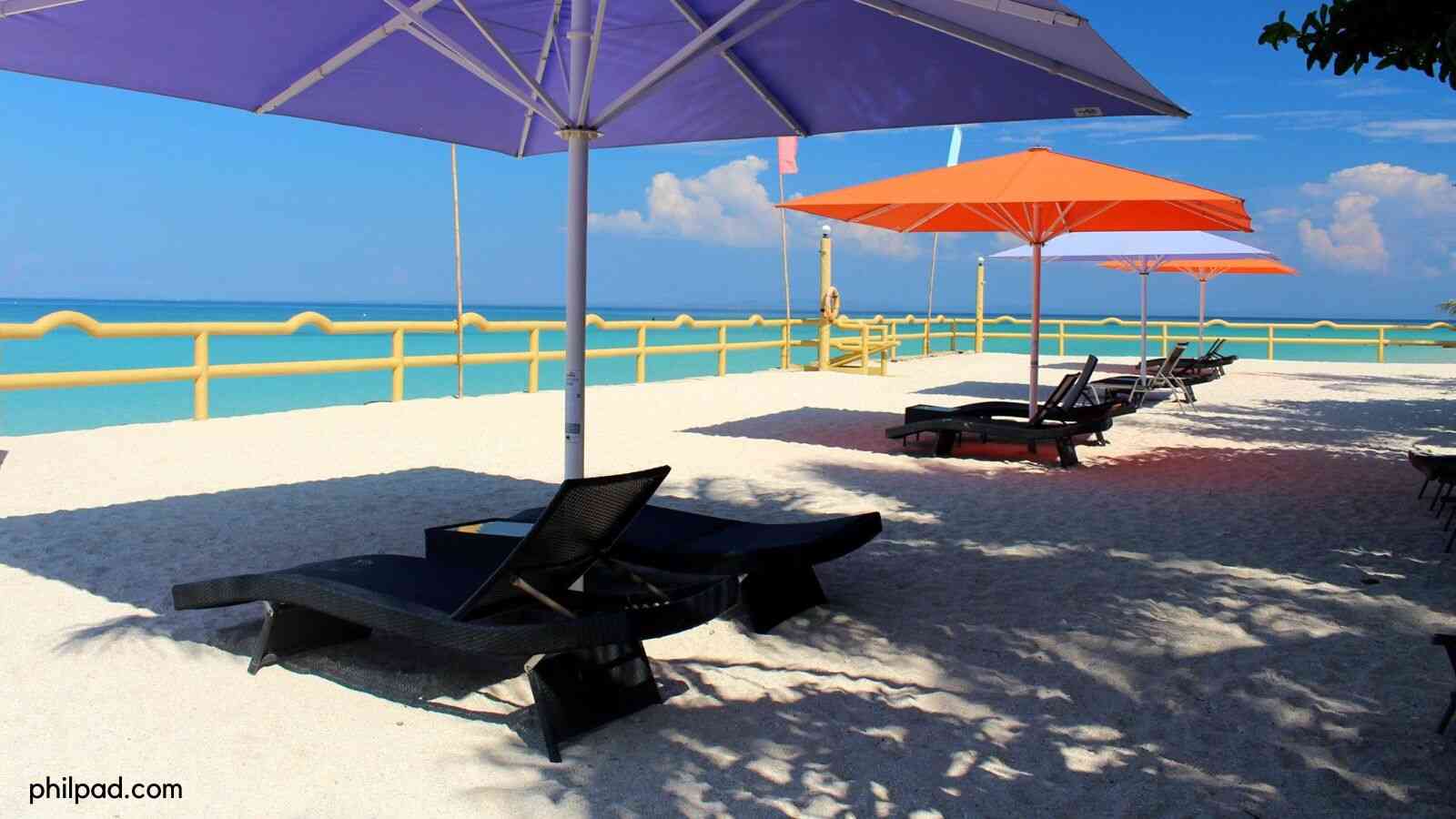 We visited Marlin's Beach, and we discovered the picturesque scenery there. If you're looking for a nice view while relaxing or eating, then stop by Marlins Beach. The resort is alongside the white sandy turquoise beaches of Santa Fe. Their restaurant also serves local and international cuisines.
17. Paradise Beach
One of the less crowded tourist spots on Bantayan Island is Paradise Beach. If you're looking for a secluded island vibe with white sands, pristine waters, and limestone cliffs, head to Paradise Beach. Don't forget to bring water and snacks to quench your hunger and thirst.
18. Every Day Sunday Café
Start your best food trip tour at Bantayan Island by visiting Every Day Sunday Café in Santa Fe. The café is famous for serving great smoothie bowls, Western cuisine, and Filipino dishes. Of course, our favorite pancakes, waffles, and quesadillas are also available. It is open from 7 am to 5 pm (Friday to Monday), and 7 am to 3 pm (Tuesday to Thursday).
19. Bantayan Island Nature Park and Resort
Get closer to nature by visiting this wonderful park on the island. It has a mini-zoo, natural cave pools, 25X12 meters swimming pool, fish feet spa, cabanas, cliff deck, and function halls.
20. MJ Square
MJ Square is a food market on Bantayan Island serving fresh and tasty seafood. The food hub has many restaurants offering fresh squids, fish, crabs, scallops, and lobsters to be cooked the way you want. There are also some shops at MJ Square selling souvenirs to foreign visitors,
21. Budyong Beach Resort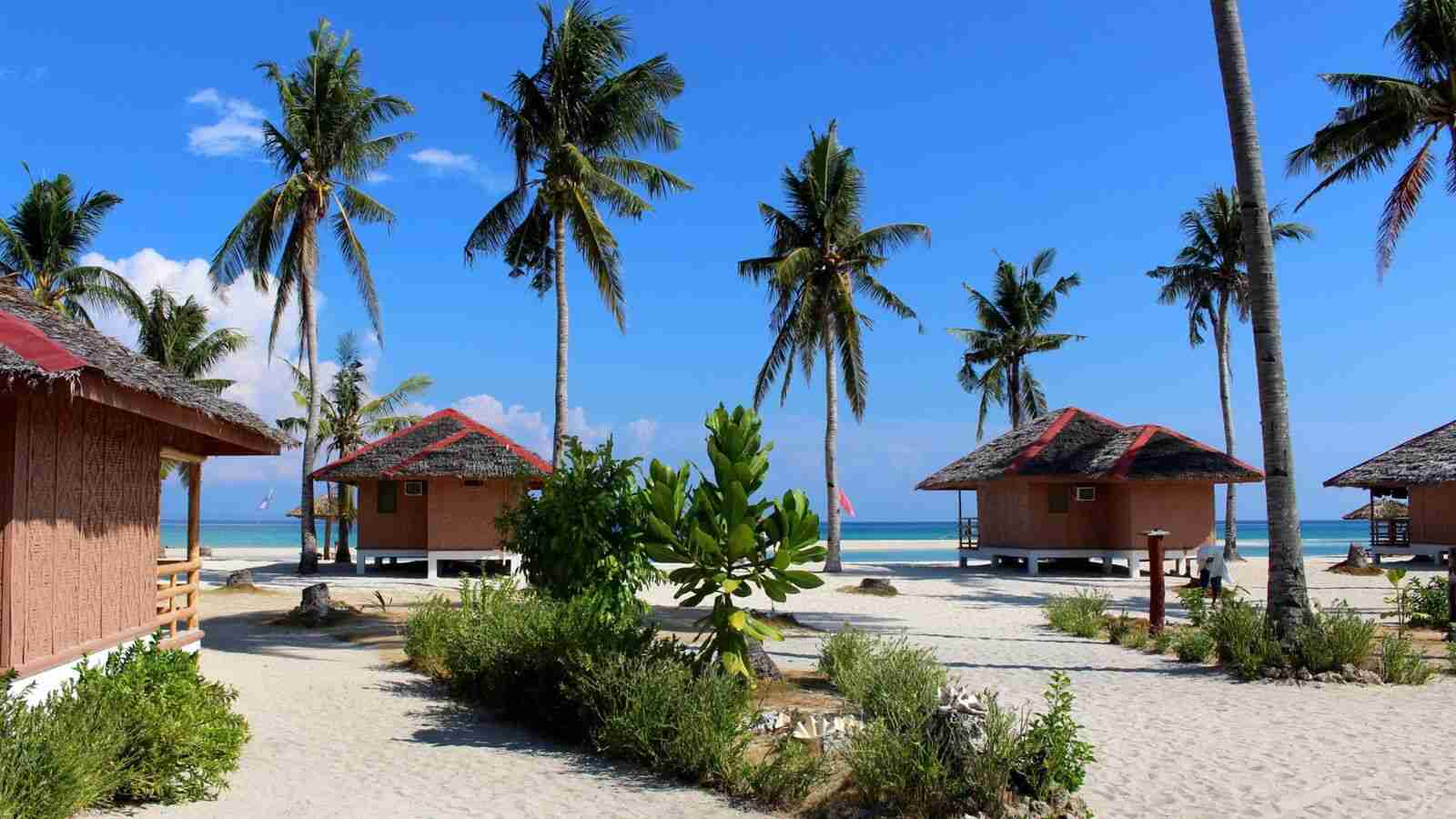 Situated next to Kota Beach is Budyong Beach Resort. With affordable beachfront accommodation, you'll also experience a perfect beach view of sandbars and the pristine blue waters of Santa Fe. The nipa hut cabanas, coconut trees, and white shoreline of Budyong will take care of your tropical vacation.
22. Santa Fe Butterfly Garden
The butterfly Garden in Santa Fe is another tourist attraction on Bantayan Island. It showcases up to 22 species of live butterflies and features a brief educational tour. The exhibit also allows a visit to the butterfly breeding area and a glimpse of adult butterflies first flight.
23. The Ruins of Bantayan Island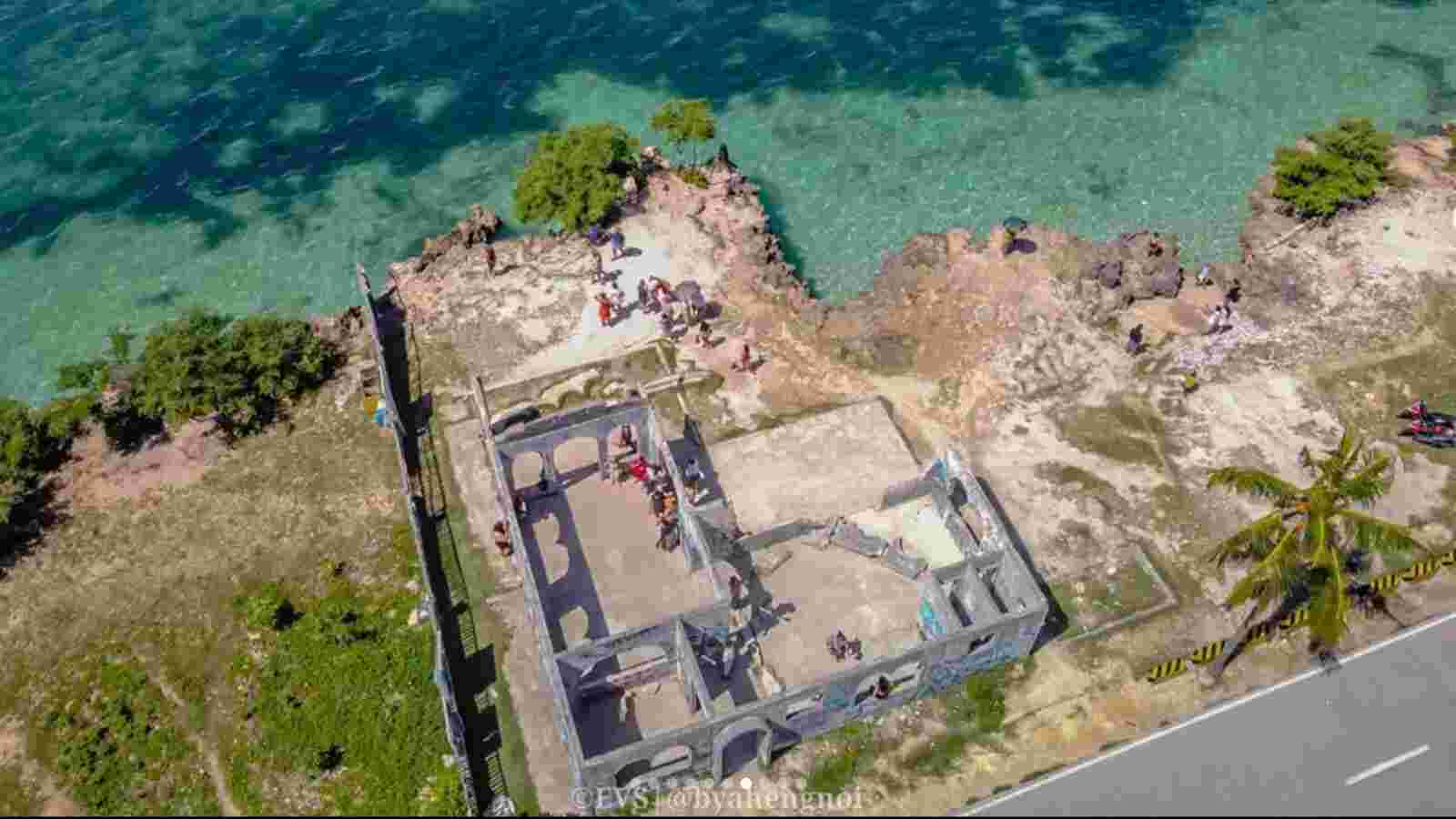 Many travelers also like to visit another sought-after tourist attraction on Bantayan Island, the Ruins. The Ruins are the remaining structures of an old house damaged by Typhoon Yolanda in 2013. Graffiti is painted on the walls of the ruins. The location is also near the famous cliff jumping spot by locals.
24. Coconut Palm Trees at Marikaban Road
Coconut trees are a perfect backdrop for a tropical Instagram post. Why not drop by the Marikaban Barangay Hall and stroll the nearby road surrounded by coconut trees? Who says you can only do this in Siargao or Bohol?
25. Old Kota Fort
Get outside Santa Fe and visit Madridejos to see the vintage Fort of Kota Park. The fort was built in 1790 by Gabriel Lazaro Mangubat, the first settler and founder of the Lawis Government. The historical structure is made of corals, limestone (apog), egg white, red sugar, stones, and sand.
Don't miss reading: