Here's our Japan Visa Schedule of Stay sample form you can download for free and use as a guide for your visa application. It is also called Daily Schedule for Japan travel itinerary.
Recently, I shared with you "How I got My Japan Multiple Entry Visa in One Shot." One of the important requirements to submit for your Japan visa application is the Schedule of Stay, often also referred to as Daily Schedule.
In this post, I am going to share with you an example of this document. You can also download the sample form and use it as a guide in making your daily schedule for your trip to Japan.
What is a Schedule of Stay for a Japan Tourist Visa?
The Schedule of Stay is a document that provides your itinerary for your travel to Japan. It covers your daily schedule. The Embassy of Japan has given a uniform format that should be followed correctly. Applicants of tourist visas to Japan must follow this format for successful visa approval.
Japan Visa Schedule of Stay Sample

Form for Tokyo Travel:

The document below is an example of our Japan Schedule of Stay for a 9-day travel itinerary to Tokyo. We also followed it as a guide for our everyday journey in Japan.

You can use it as a reference or as a guide in making your schedule of stay for Osaka as well. Just change the details for your Osaka travel plans.

You must make hotel reservations before you submit the Daily Schedule form to the agency or embassy. Read my tips below on how to make hotel reservations without a down payment.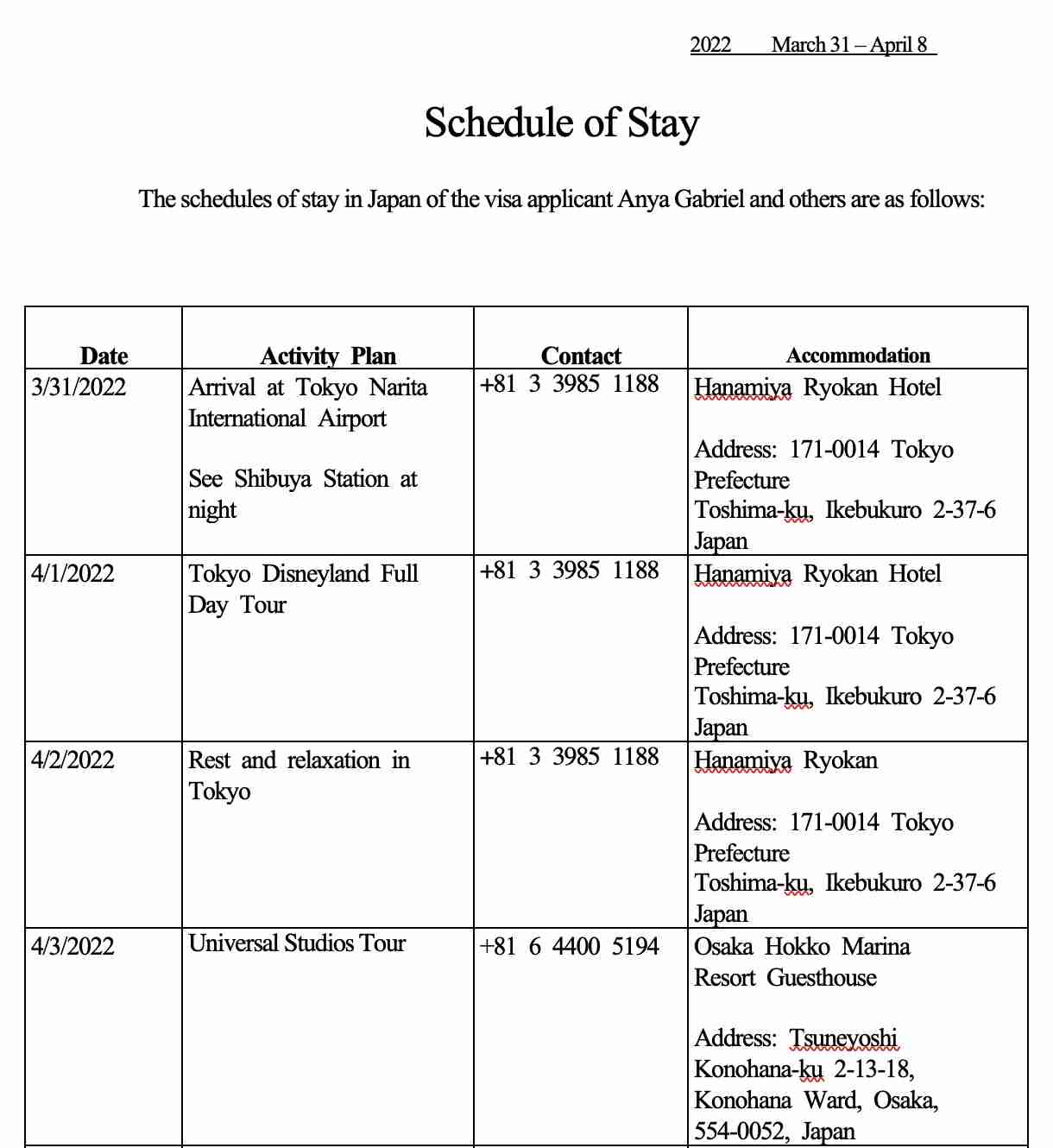 You can save the Japan Visa Schedule of Stay Sample Form in Word Format (.doc file) at this link: Schedule of Stay.
Tips for the Submission of Daily Schedule Form for Japan Tourist Visa
On your Schedule of Stay, make sure you list down the places you want to visit per day and mention the activities you plan to do if any.
It helps that the areas you want to see are interconnected or closer to each other. It will make your itinerary more convincing and realistic.
Make sure you provide accurate information, especially on the contact numbers of the hotels for your accommodation or the persons who are accommodating you for your stay in Japan.
The embassy might verify the information, so ensure you will only provide valid details and confirmed information on your document.
Do not worry about booking in advance for your hotel reservations. I will share with you the tips below on how to book hotels without paying.
How to Make Hotel Reservations without Payment
I always use Booking.com for my hotel reservations because they allow reservations without any payment or any credit card info.
You can also use it to book your hotels for your Schedule of Stay or your Japan travel. No worries, you can cancel the reservations without any fee, too.
I also find the cheapest hotels at Booking.com both for my domestic and international travels.
Want to start applying for your Japan tourist visa? You can use our helpful references below to guide you and help you get approved.
Visa

Application Related Articles: