I earn money from my poems every single day even when I sleep. It's been six years since I started posting and publishing my poetry and creative writings online and I honestly earn money from it. Not only I am able to share my passion about poetry, I can also get revenues and royalties from it. How do I earn money by writing poetry online? I am sharing here the ways…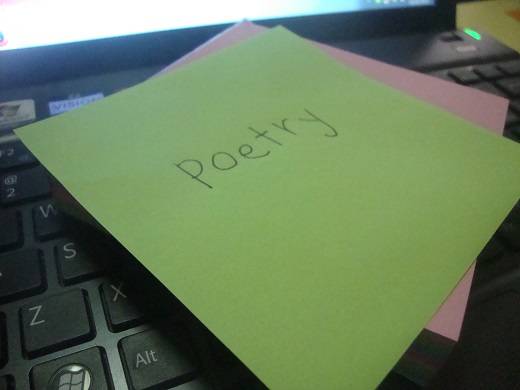 Opportunities online are infinite. More and more passionate people find success online by putting their passions and hobbies on their blog or vlog. Photographers, travel addicts, comedians, chefs and musicians put all their crafts online. Why not poets, right? Surely there are numerous ways on how to earn money writing poetry online.
If you love writing poems or related writings, don't just let them inked in your Moleskine or notepad or journal or wherever you write. Let them be read. Let your creative thoughts and amazing imaginations be felt. I think even your muse would be so happy about that.
Benefits of Writing Poetry Online
You'll be able to share your passion
You'll be able to express yourself freely
You'll be able to gain fans, readers, and audience
You'll receive insight, reaction, and critique which will help you know how to improve and grow
You'll become an author and a writer
You can earn income from it
The world is your audience and market
Ways to earn money by writing poetry online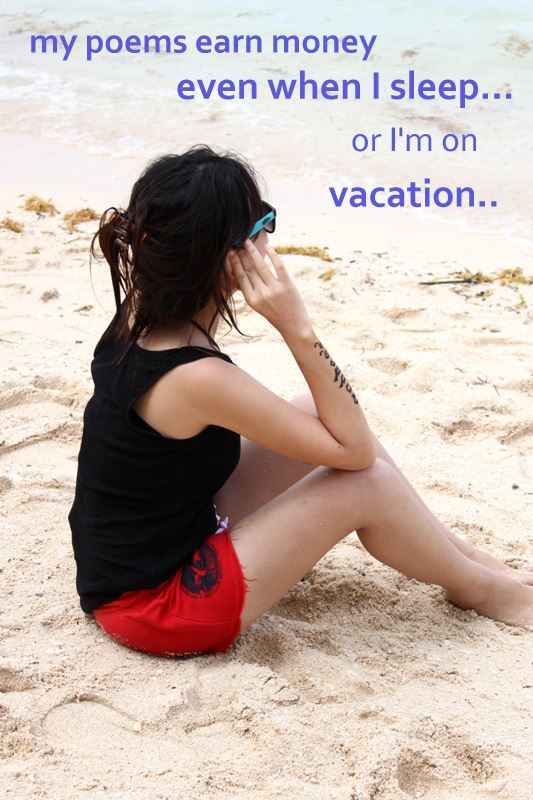 I would like to say that there are numerous ways on how to earn money writing poetry online but I am sharing here my own ways. They are proven and they are based from my own experiences. I am not an expert with this career/field so this post would be helpful for beginners and interested poets who want to start earning online by sharing their poems. I would add more ways in the list once I applied them personally too.
Also take note that you won't earn money right away. You may need to publish frequently and interact with your readers constantly to grow your audience and get thousands of pageviews. There is never a shortcut in earning money. Winning money is very different from earning money.
In my experience, I've seen good results and I started earning revenue after a month of publishing. That involves constant content posting and active reader's engagement. It is all worth it anyway because I am earning money even when I sleep and when I'm on holidays.
By publishing them at Hubpages
Hubpages is just one among of the best passionate communities of writers online and I am recommending it here simply because I'm part of it. I am a Hubber (Hubpages writer). There are millions of professional Hubbers who can read your Hubs (articles on Hubpages). You can find lots of fellow poets and lots of poetry hubs you can read and comment on. Friendship, sharing, and interaction are one of the best things I find in Hubpages. I am currently and presently earning passive income from my hubs in HP.
What you'll need to post your poems?
You need to sign up and become a Hubber
You need to post only your own articles/poems. They must be all original and not published anywhere online.
You can earn money and passive income by joining their Ad Program.
See samples of my poetry below published on Hubpages.
By publishing your own book and ebook
Nowadays, you can publish your own book even without an agent who'll try to find a good publisher for you. We call it self-publishing. Why not collect all your poems and make a book? Few years ago, I self-published my first book using Lulu platform and marketplace. Read my post about "Self-publishing a Book Step-by-Step using Lulu." It is so easy. You don't need to be geeky and techy in doing this. There are also other self-publishing platforms out there but I'm sharing what I personally used and it's a very effective way how to earn money writing poetry online.
Advantages of Self-publishing:
Your book can be available in paperback or ebook
You have the entire world (not only your country) as your market
You are in control of your book including its design and availability
You set the price and you earn royalty
You can get your own ISBN for free
Your book can be available to Barnes&Noble, Amazon, itunes etc.
Your book can also be downloaded to different devices such as Kindle, Nook, ipad etc.
You can preview my book here – TOSS AND TURN
By publishing your poems on your own website
This way needs a little bit of technical things and it can cost you some money if you purchase your own domain name and hosting. However, there are free platforms you can use to create a free website but it would look unprofessional. I recommend buying a domain name using Blogger because it's cheaper (like $10/year) and hosting is free forever. That way, you can have your own dot.com site and create your professional website.
Advantages of having your own domain:
You are in control of it
You earn all the revenue. There is no split like that of Hubpages.
You'll be able to learn lots of web creation stuff
You'll feel so proud coz geez you have your own website/domain
You can earn money by being an affiliate partner and displaying ads from Nuffnang, Amazon, eBay, Adsense, Infolinks and the like.
Disadvantages of creating your own website
It is technical and not that easy to create one in snap
It is time consuming
If it crashed or went down, you need to fix it alone unless you want to hire an expert which is very expensive
Sample poetry website I love is FlashStar Magazine
Other ways to earn money by writing poems online:
If someone or a company is interested to use your writings for lyrics, scripts and other compositions, you can also earn royalty and income.
Join poetry contest and win some prizes