Recently, Yoast WordPress SEO plugin released one major update and as usual it has many Search Engine Optimization benefits. Like many plugins, there will always be some flaws that need to be improved.
With Yoast's WP SEO new update, the most common flaw is XML Sitemap error. Good thing though, it can be fixed without ever going back to the older versions of this plugin. I'm gonna share here the easiest solution and how exactly I did the fix.
Note that I'm only sharing here the Yoast XML Sitemap white screen and blank page error. There may be some other errors using the latest update of this plugin related to its sitemap feature but I won't gonna discuss them because I have no other problem or issue with Yoast plugin except this XML Sitemap blank page error. I'm glad I'm using a clean SEO platform, theme and minimized plugins that's I don't always encounter problems with plugins.
My WordPress Plugins (all latest versions)
Akismet

Jetpack

WordPress SEO by Yoast

WP Optimize

Genesis Simple Edits

W3 Total Cache (I deactivated it for now while I'm testing stuff)
Note that I'm on NGINX so my hosting had the following rewrite before I had my sitemap working.
Yoast WordPress SEO XML Sitemap Error
After updating to the latest Yoast plugin update, everything was fine and working except for my XML Sitemap. When I visit my sitemap, Firefox and Google Chrome display only a white screen. Everything is blank. I checked Google Webmaster Tools and I found out that sitemap is working fine because my site is indexing fine.
I also asked my Hosting support if they could help me fix my sitemap blank page issue. They told me it's working fine and apparently having the latest update of W3 Total Cache was causing the page not to load and display properly. I thought so too.
But anyway, I searched from the plugin's support page about related XML sitemap issue. Nothing was marked as "resolved" yet however I saw a comment there that said saving the settings would solve the issue so I tried it. It worked well. Now my sitemap page is working again with or without W3 Total Cache.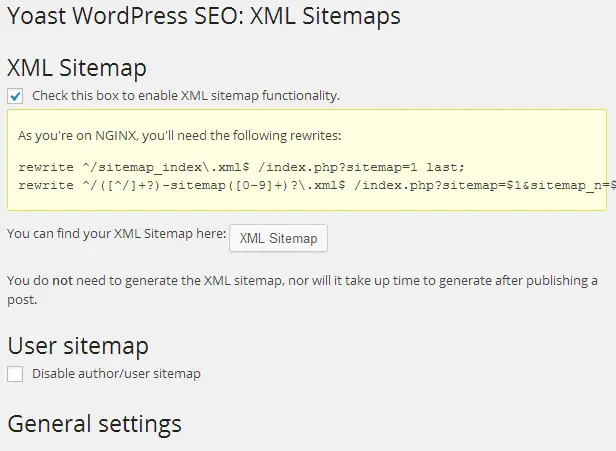 Fix Yoast XML Sitepmap White Screen and Blank Page
Go to your WordPress SEO XML Sitemap Settings page
Uncheck "Check this box to enable XML Sitemap functionality" to disable sitemap.
Save changes.
Then check the box again to enable XML Sitemap functionality.
Save changes again.
Clear your browser's cache. Visit your sitemap page. It will be working this time.
So easy right? Now share your views below about the most effective sitemap plugin you are using.