In this page, I'm sharing the complete guide on how to download and install the latest SSS R3 program because many readers were asking about the new one. The SSS R3 Program is so important to all employers because it is a software provided by SSS to every employer to assist them for reporting SSS contribution collection lists and transmittal certificates to facilitate R5 payments.
If you are an authorized signatory of your employer and you are assigned to upload R3 reports, you must download and install the R3 program correctly and properly in your computer to ensure posting of SSS contributions of all employees in your company are uploaded regularly.
Before you install the software I recommend you have the following:
Latest Java installed in your computer – make sure your computer has the latest version of Java installed. If not, I suggest you download the latest version of Java from Oracle which can be found at java.com. If you already have Java installed in your computer before, uninstall it and just install the latest software to avoid errors in handling the R3 program. Don't know how to uninstall? Simply go to Control Panel > Programs > Uninstall Program and find Java and uninstall it.
Win Rar – this is needed to uncompress rar files of the R3 program given to you by SSS.
Unexpired anti-virus software – you need an anti- virus in your computer because you are dealing with SSS files which contain important personal information. You don't wanna compromise your security on this or your employees' security especially if you use the internet in uploading R3 and viewing your SSS online account. I recommend Norton 360 and Kaspersky. Ask your employer to have one; it's just about 1200 pesos. Nobody wants their personal identity or information stolen by web thieves right?
New SSS R3 Program using New Contributions 2019, please read my new updated post here:
For first timers or beginners of installing the program, this post will help you too so it's important to continue reading below.
New SSS R3 Program System Requirements
The software discussed here is compatible with Windows Vista, Windows 7 and the latest Windows 8. I've tried XP and it worked too. Just make sure you have enough extra memory in your hard disk of 100MB. That's not really a problem since majority of computers nowadays have more Gigabytes of memory already.
Installation of SSS R3 Program Instructions:
1. Save the R3FGComp file in your computer. You can either ask SSS-R3 processor personally for this file and save it in your USB flash drive or just download the file online at sss.gov.ph. In my case, I asked the SSS employee personally since I asked another questions from them. They will ask you what OS (Operating System) you're using because they will give the software compatible for the version of your Windows (Windows XP, Vista, 7, 8) or Linux.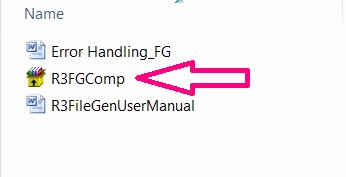 2. Save the file into a dedicated folder in your computer. Rename the folder. (e.g. R3_Employer)
3. Double click on the R3FGComp and uncompress the file in the same folder.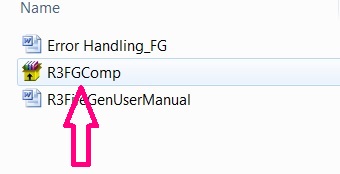 5. Install the R3 File Generator
6. Create a shortcut icon – right click on the R3FileGen.jar and choose Send To and select Desktop to create a shortcut.

7. Rename the shortcut. (e.g. R3_Employer)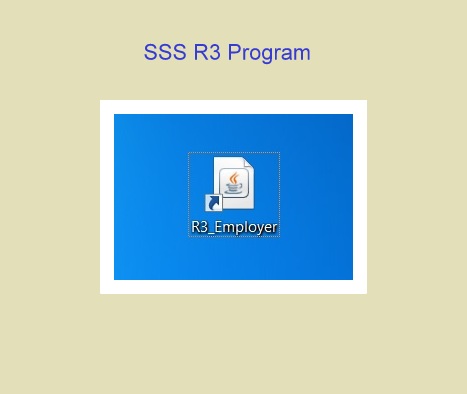 That's it. You can now use the new SSS R3 Program and print SSS R3 forms anytime. Your next job is to encode and upload R3 files to finally see your employees contributions posted at SSS database. Read the next article below.
Next article:
How to use the new SSS R3 Program to make Collection List and Transmittal Certificate
Want the Latest SSS R3 Program? Add us in Google+ and we will gladly share it to you.