How to upload SSS R3 Collection List online without USB and without going to the SSS office? It's so easy and simple. Now, all registered employers of SSS can upload R3 reports online and submit collection lists online without going to the SSS branch and office to pass USB and Diskette containing the said files.
I've been waiting for this feature to work successfully and now the wait is over. I have uploaded our recent R3 reports using the online feature of SSS for employers. I think it's cool and very convenient. Imagine how much time and how much gas we could save because we can submit R3 without driving to the SSS office anymore and without using USB and diskette to pass those monthly contributions collections requirements to the SSS.
I'd like to take this opportunity to congratulate and salute team SSS because after the Latest SSS Contribution Table for 2014 was released, all stuff and transactions seem to be easier and paperless. UMID cards are also being sent quicker. I want to thank everyone too for making our past post viral all over Facebook and Twitter. To thank you more, I am sharing this post about uploading collection list online with screenshots.
Before you do the manual online uploading of files, make sure you have done the posting of R3 reports on your computer. If you don't know how the R3 Project works, read this post "How to Use the Latest SSS R3 Program" we made to easily do the job. If you've already generated reports, proceed to the steps below.
Upload and Submit R3 Collection List Online
1. Log in to SSS as an Employer.
2. On the Dashboard, tap Transactions and choose Submission of Contribution Collection List (R3)

3. Select Upload Collection Lists as shown below: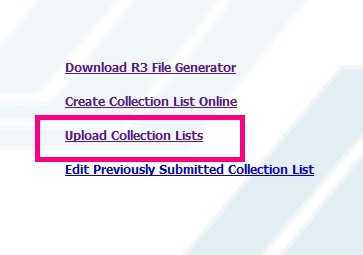 4. Fill in the information required – Receipt Date, Receipt Number, amount paid and then upload the SSS Text File you saved in your computer from the R3 Project File Generation. Remember, upload one month at a time.
5. Check the details you have entered and make sure they are accurate to avoid errors in uploading. Then click Upload and then OK (as shown below).
6. You'll then receive a message like this below: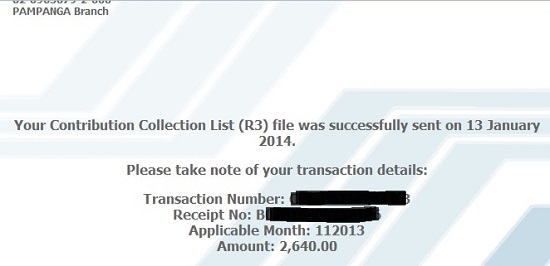 7. You're done and print the confirmation message as proof and reference for future needs.
To know more about your company's complete payment history, just log in your employer's account. Make sure though you are an authorized signatory or authorized personnel of your company to do the SSS stuff of your employer. You can check if all months are already posted. You can also check any discrepancies by going to the R3 and R5 reconciliation. You can do all this stuff checking by going to Online Inquiry via your account's Dashboard.
Related article: