All SSS members and pensioners can now view their SSS contributions online without hassles. It's free and you can check your monthly premiums and loan balances anytime you want. You can also check your SSS Static Info and Employment History or download and print them out any time you prefer.
Checking SSS contributions can help every SSS member be updated of their total contributions from the past until the present.
Using the new SSS website, you should be viewing your account faster and easier. Follow these instructions and you can view your SSS account easily. You can check your contributions anytime without going to the SSS office anymore and you can also check them even without office hours as long as you have internet connection.
How to
View and Check SSS Contributions Online

?
Step 1: Prepare your registration requirements
Prepare your active email address and log in credentials to create your SSS account. All SSS members are now required to have online account. In addition, SSS need any of the following verification before a member can register for an account.
Mobile Number Registered in SSS
Savings Account Number / Citibank Cash Card / UBP Quick Card / UMID – ATM Savings Account Number Registered in SSS
Employer ID Number / Household Employer ID Number
Payment Reference Number / SBR Number / Payment Receipt Transaction Number
Step 2: Register for SSS Member's Account
Sign up for a MEMBER account – it is important you select Member not Employer because you are registering as a member. You'll need your SSS Number for this together with your latest SSS receipt payment, your personal info (name, birth date, address, etc.)
Take note that registering covers Phase 1 and Phase 2. SSS will email you your log in username and password before you can sign in on your account. Complete all required fields as shown below.
Phase 1 of SSS Online Registration:
Be careful and double check your details before clicking the Submit button. SSS will email you after you clicked the Submit button. Check your inbox. It contains the link for the Phase 2.
Phase 2 of SSS Online Registration:
***SBR No./OTC (For Self-employed, Voluntary member, OFW, Househelper, and Non-working spouse)
If mode of payment is OTC or over-the-counter at SSS branch, type the 8-digit following the T# (eg: T#15000075)
if you are paying at the bank, type the 6-digit SBR No. (Special Bank Receipt No.)
If you're paying through SM Bayad Center, Remittance Center or I-Remit, Western Union, type the 6-digit OTC Validation Number
If you're paying SSS by ADA (Auto-debit Arrangement) type 6 zeros (000000) in the SBR No./OTC box
Again double check everything you have typed before proceeding. Don't forget to tick the "I accept the Terms and Conditions" message at the bottom.
SSS will email you. You'll receive something like this: That means you have successfully registered your account and you can now log in. Congrats!
Check your email inbox to see SSS email containing your username and password. Use these username and password to log in your SSS online account. Again don't forget to login as a Member not as an Employer. Cheers!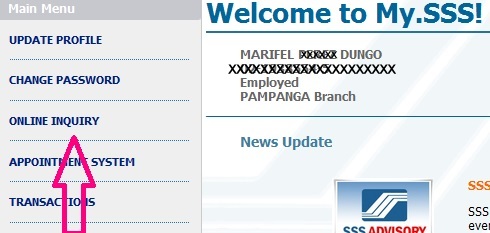 Step 3: Log in to your SSS account
Use the username and password sent by SSS to your email address. Please keep your username and password so that you can access your account anytime or in the future. Once you are logged in, you'll see the Welcome Message like that above. Select Online Inquiry and you'll be taken to your SSS Employee Static Info.
How to Check SSS Contributions and Monthly Premiums

?
Log in to your SSS account
Select E-Services tab
Proceed to Inquiry menu button
Select Actual Premiums
View your monthly contributions
Print out your SSS contributions
You will be able to view and check your SSS monthly contributions at the screen from the start up to the present time. You can print this out if you want.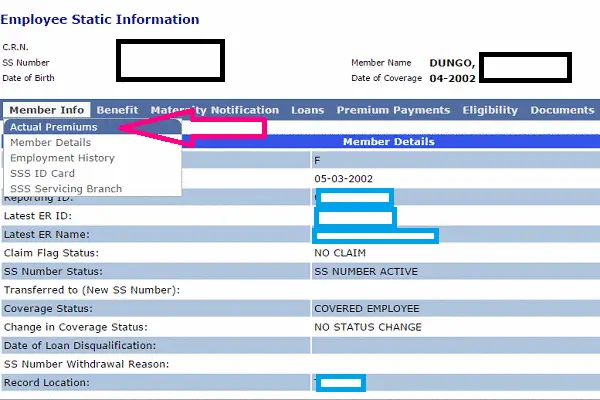 Important tips from Philpad:
SSS password usually expires after 90 days. You need to change them every 90 days.
Always keep a copy of your email address and login credentials together with your SSS username and password so you won't forget them. Your email username and password are different from your SSS username and password.
I recommend using Anti-virus software such as Norton 360 whenever you use the internet to protect your identity. Your SSS account is so important and you don't wanna risk it.
If you check your SSS account at the internet café or any public computer, make sure you log out after you used it.
Disclaimer: I'm not affiliated with SSS. I'm also a member like you. Share your comments about using this program. We can always help each other when we encounter same issues.
Other SSS Guides: