Here's your ultimate Japan trip budget if you're traveling from the Philippines. Are you looking for a Japan travel guide for beginners? We share our Japan travel tips with a sample itinerary (complete with most of the popular spots in Japan) on this page.
We had a 9-day journey in Japan, exploring the famous parts and tourist attractions in Tokyo, Osaka, Kyoto, Hakone, and Mt. Fuji. We will share some helpful info about our trip and some travel budget tips you can follow to travel efficiently and conveniently as a beginner.
We went for the Sakura Season (Cherry Blossom) on this trip. You can also visit Shibuya Station, Tokyo Tower, Disneyland, Ueno Park, Roppongi Hills, Mori Tower, Universal Studios in Osaka with The Wizarding World of Harry Potter, Dotonbori, Bamboo Forest, and all the famous tourist spots listed in the itinerary below.
Why should you visit Japan?
You cannot miss visiting Japan because it has everything you would be looking for in a place to travel – the food, the culture, the people, and the experience. The food is to die for. Visiting Japan will let you experience their heritage and its kindest people. You'll be in a completely different world from the past and the future because Japan has it all.
When is the best time to travel to Japan?
The best time to visit Japan is every new season. They say that after you go to Japan, you'll definitely come back again because every season has a lot to offer. Every traveler cannot miss experiencing the particular season of each tourist attraction, whether winter in Hokkaido or Autumn in Kyoto.
The weather in Japan is chilly from December to February as it is the winter season. Spring starts from March until April when the famous Sakura Season (Cherry Blossom) also occurs. Summer begins in June until August. Autumn starts in September to November.
How to travel Japan from the Philippines?
The most common route to travel to Japan from the Philippines is by taking a flight from Manila Airport to Tokyo Narita Airport or Manila to Kansai Airport if you want to start your journey at Osaka, Japan. It takes four hours and thirty minutes to reach Japan from the Philippines by airplane.
How to travel Japan with the most affordable budget?
To book the cheapest flights, you can find an airline promo at airlinepromo.net and search for your desired dates. That website will give you the most reasonable flight comparison.
We recommend booking as early as three months before your flight departure to avail the cheapest airfare. That's one of the best tips we have learned before traveling to any destination.
You can start your vacation in Japan in either Tokyo or Osaka; therefore, you can book for Tokyo (Narita Airport) or Osaka (Kansai Airport). Those are always the flights with the cheapest airfare compared to other airports and routes.
Consider the weather before your travel to know what clothes you will need to pack.
Do you need a JR Pass to travel to Japan?
Yes, if you stay for seven days or more and want to explore many tourist spots conveniently. This ticket will give you unlimited travel. JR Pass already includes train, bus, and ferry. The train is the fastest and cheapest mode of transportation in Japan.
We also recommend air travel from Tokyo to Osaka or some other farther parts of Japan to save time and money. Bullet train (Shinkansen) is costly in that case, but if you're really exploring more Japanese prefectures, buying a JR Pass (Japan Rail Pass) is recommended for you.
What are the benefits of using a JR Pass in Japan?
Japan Rail Pass can be used on trains, buses, and ferries across the entire part of Japan. It can also be used on all shinkansen trains (bullet trains) except Nozomi and Mizuho trains and covers all the fees involved.
JR Pass can be used for 7, 14, or 21 days. The price for 7-day usage starts at $279. JR Pass is beneficial if you explore Japan in a week or more.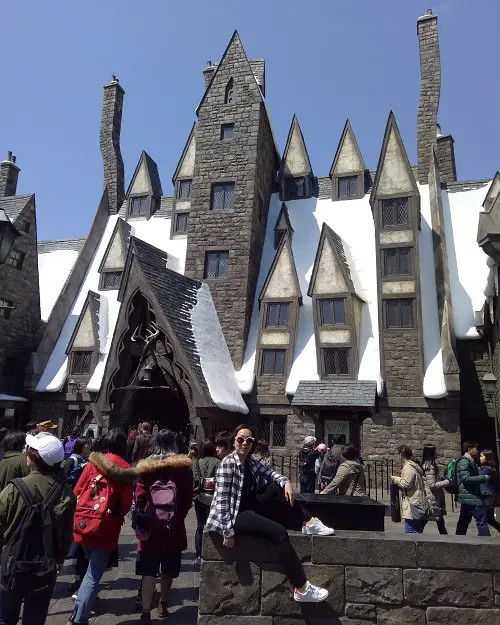 Japan Travel Guide

for Beginners and First-time Travelers

Our adventures in Japan started in Tokyo. Besides the photos here, you can also watch the videos I made to sum up my recent travel to Japan.

We went in the first week of April, the weather was still cold, and it was raining every other day.

The weather in Japan every April has both sunny and rainy days. I recommend visiting Shibuya Station, Ginza, and Dotonbori at night for the amazing lights and sights. Fantastic to take photos.

You can use the itinerary below as your Japan travel guide. It's straightforward to find Japan's famous places and tourist spots as every train station will connect you to them.

Besides, every train station in Japan has a kind and approachable staff. You can ask them in English any question about the place or route you are going.

Do not miss experiencing the Onsen (Japanese hot spring).  Some 5-star hotels offer free Onsen for every accommodation.
We checked in at Merveille Club in Hakone on the way to our Mt. Fuji tour. Unfortunately, the weather in Mt. Fuji did not let us see the iconic volcano. We will try some of their hot springs on our next travel to Japan.
How to find cheap Japan travel package?
Some travel packages are available for Japan tours, but we find them expensive, so we just made a Do-It-Yourself trip. We saved around $1,000 for our 9-day Japan travel.
I don't use Airbnb these days because prices go up even when I clear out my browser's cookies and cache. I like cheap deals from Booking.com for all my hotel accommodations these days. For my flights, of course, airlinepromo.net saves the day.
If you're not traveling alone, you can save a lot of money on your food expenses since typical restaurants offer big servings and unlimited rice.
Big servings of food for one person can be enjoyed by two. People in Japan are very generous. Just a reminder, though, you can't take out remaining foods from restaurants in Japan when you dine inside the resto.
Japan Trip Budget Philippines (Tokyo, Osaka, Kyoto, Hakone)
This budget travel to Japan includes a full-suite tour exploring the most famous spots in Tokyo, Osaka, Kyoto, and Hakone. It means that you will be able to see and experience scenic destinations and attractions even if you are a beginner or first-time traveler in Japan. The breakdown of our expenses for our Japan travel budget from the Philippines is listed below:
Flight ticket (roundtrip) Manila to Tokyo Narita Airport – Php27,600
Hotel Accommodations (for two adults) – Php17,850
JR Pass – Php14,500
Tokyo Disneyland Ticket – Php3120
Universal Studios Japan Ticket – Php3,320
Flight Tokyo to Osaka – Php5,955
The expenses above don't include pocket money which depends upon a person. Set aside enough pocket money that you will consume for your food cravings, meals, and necessary shopping.
Sample Japan Itinerary for Beginners for a 9-Day Trip:
Here's a sample itinerary for you. You can also use it in making your Schedule of Stay when applying for your Japan tourist visa.
Day 1 – Arrival in Tokyo

See the famous Shibuya crossing at night
Explore nearby shops and restaurants

Day 2 – Tokyo Disneyland Full Day Tour
Day 3 – Flight to Osaka
Day 4 – Universal Studios Japan Full Day Tour

The Wizarding World of Harry Potter

Day 5 – Explore the beautiful Kyoto and its charming places:

Arashimaya Bamboo Grove
Ryoanji Temple
Kinkakuhi Temple
Ginkakuji Temple
Philosopher's Path
Gion District
Kiyomizudera Temple
Sanusangendo Temple
Nijo Castle
Fushimi Inari Shrine

Day 6 – Experience Nara, Japan

Kohukuji Temple
Nara Park
Isuien Garden
Todaiji Temple
Nigatsudo and Sangatsudo
Wakakusa Mountain
Kasuga Taisha Shrine
Naramachi Walk

Day 7 – Back to Tokyo
Day 8 – Tokyo City Tour

Imperial Garden Palace
Asakusa
Senso-ji Temple
Tokyo Skytree
Diver City
Shibuya Station
Meguro River
Meiji Shrine
Yoyogi Park
Takedori Street
Harajuku

Day 9 – Flight back home
Japan Travel Guides and Tips: