Here is the latest Pag-ibig Contribution Table or HDMF Contribution Table in 2023. The Home Development Mutual Fund helps Pag-ibig members generate savings, earn dividends, avail housing loans and other loans offered by Pag-ibig.
While the SSS increased their monthly contributions requirements effective January 2023, the Home Development Mutual Fund (Pag-ibig Fund) also planned to increase their new contribution requirements.
In consideration with the economic crisis caused by the covid19 pandemic, HDMF scheduled the plan to increase contributions by 2023. The contributions will now follow the new rates unless the HDMF postponed the hike again.
All employees, employers, OFWs, non-working spouses, and kasambahay members must know their updated Pag-ibig monthly contribution to ensure income growth.
Pag-ibig Contribution Table 2023 for Employed Members and Employers
It is mandatory for employees to pay Pag-ibig Fund contributions every payroll or whenever they receive their monthly salaries. This is automatic and done by the employer on every payroll.
It is also essential for employers to remit and submit reports to Pag-ibig regarding their employees' contributions.
Pag-ibig Contribution Table for Self-employed Members
HDMF monthly contributions of professionals, entrepreneurs, freelancers, and other individuals considered as self-employed members must apply the contribution rates shown on the table above.
Pag-ibig Contributions Payment for OFW Members in 2023 is Now Mandatory
HDMF monthly contribution for OFW Members is now subject to mandatory coverage. The POEA would not issue the OEC (Overseas Employment Certificate) if the OFW member did not pay their HDMF contributions for the year.
All OFWs registered through the POEA e-Registration facility can fill out their Pag-ibig MID Number online on their OFW Information Sheet.
1. HDMF Monthly Contributions for OFW Members whose employers are subject to mandatory coverage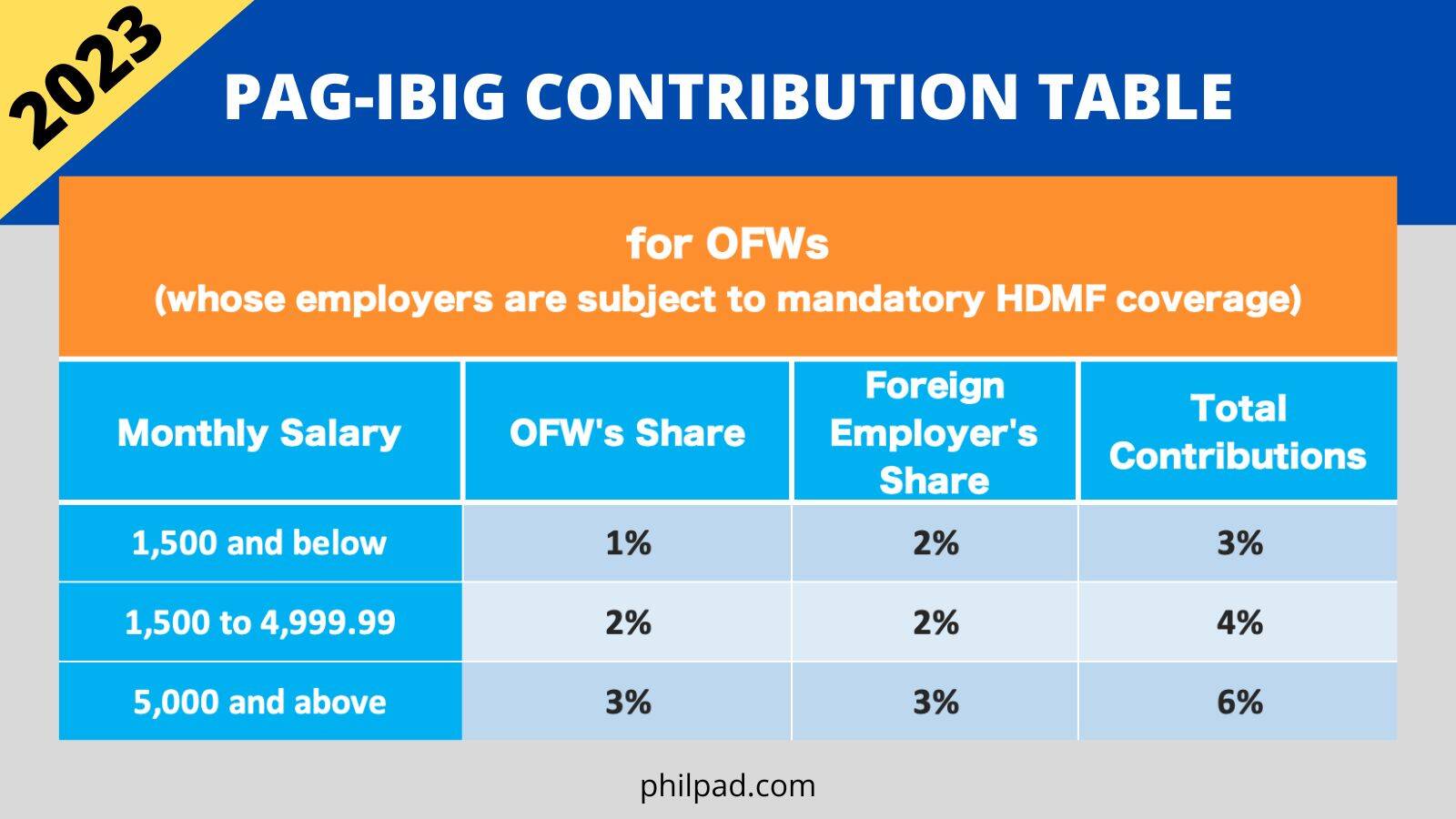 An OFW whose employer abroad is required pay a share of his Pag-ibig monthly contributions following the rates above.
2. HDMF Monthly Contributions for OFW Members whose employers are exempted to mandatory coverage
An OFW whose employer is not subject to mandatory coverage shall contribute an amount equivalent to 2% of his or her monthly salary. The said employee may opt to pay the employer counterpart according to HDMF circular 391.
Pag-ibig Contributions Monthly Payment for Non-Working Spouse
Non-working spouses including full-time housewives can also save through the Pag-ibig Fund. To compute your monthly contributions, take half the amount of your working spouse then apply the corresponding rates above.
Pag-ibig Contribution Rates for Household Employers and Kasambahay Members
Kasambahay members will pay no share of their monthly HDMF contributions if their monthly salary falls below 5,000 because household employers must shoulder their full contributions. Otherwise, the kasambahay, will pay a 3% share (when earning 5,000 above).
How to compute Pag-ibig Contributions?
The maximum monthly compensation allowed to compute each employee's Pag-ibig contribution is currently set at P5,000. It means that the maximum contribution a member can pay per month is currently P150 and the employer's share applied to that maximum contribution is also P150.
If you are employed and receiving more than 5,000 every month, you will be deducted 150 every month to cover your employee share. Your employer will also pay 150 to your Home Development Mutual Fund (employer share).
How Pagibig Fund earns money?
Pagibig (HDMF) is a mutual fund. All the money you will contribute to the HDMF will be pooled and invested in different financial instruments, usually government funds or money markets. These Mutual funds then will earn income from those investments. As a member of the Home Development Mutual Fund, you are entitled to that income.
Learn more about Mutual Funds and earn more money by going to this page: Mutual Funds Guides
How to increase your Pagibig Contributions?
Pag-ibig, a.k.a. HDMF, allows members the opportunity to earn more income and dividends from the Fund by increasing their Pag-ibig savings. You can check out this post to learn how to do that: "How to increase your Pag-ibig Savings."
Related Articles: