The new passport in the Philippines is now valid for 10 years. That means more time to travel the world, less cost and less time to consume renewing an expired passport. A passport is the most important ID of being a citizen in a country and being a citizen of the world.
Sit back and relax, getting a passport is now quick and easy. We are sharing here the complete guide on how to get a passport in the Philippines in 2023. The Department of Foreign Affairs (DFA) has made Filipino passport processing simple and very convenient.
What is a passport?
A passport is a travel document that certifies the identity of a person's citizenship and nationality required for international travel or port of entry. It is also one of the most important ID of a citizen in any country issued by their government.
What is the difference between a passport vs. visa?
A passport is issued by a country to its own citizen for identity and international travel purposes while a visa is granted by a country to any citizen who wants to travel to their country. A passport is usually a primary requirement before getting a visa.
How to Get a Passport in the Philippines (Step-by-step Guide with Pictures)
Step 1: Schedule a passport appointment online
Online passport appointment for individual and family (group) is now required by the DFA. How to get passport appointment? You need to make an appointment at this website: DFA Passport Appointment. Prior to making a schedule online, make sure your documents are already complete. List of passport requirements are posted below.
You may be exempted for online appointment if you are listed on the category under Passport Courtesy Lane.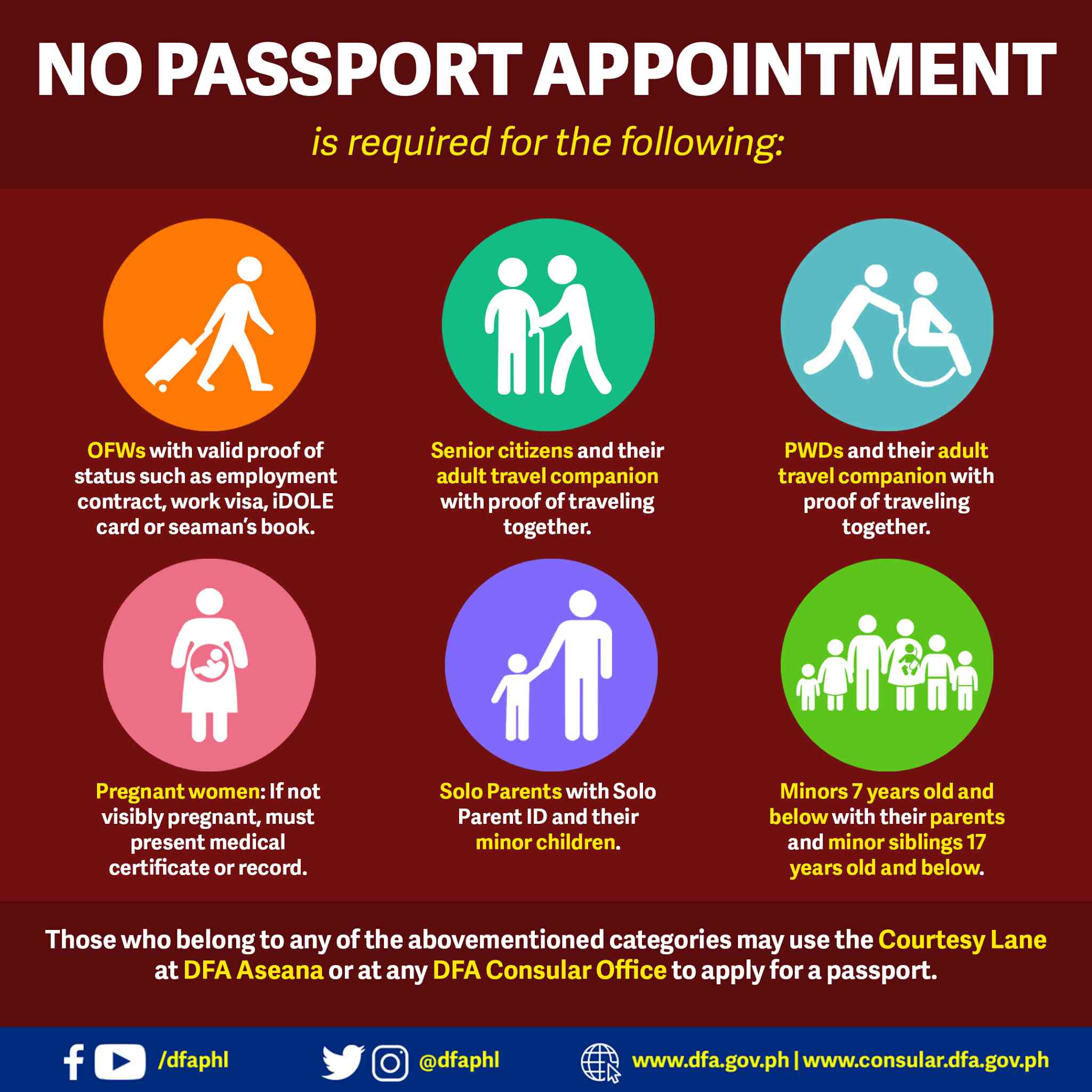 Step 2: Select your DFA office or passport center
If you are applying passport in the Philippines, select Asia Pacific under Region. Afterwards, choose the site near you where you want to process your passport application. It would be more convenient to choose a DFA regional office near your residence.
Step 3: Choose the date of your appointment
Decide when do you want to attend your passport application. The green numbers on the calendar are the available slots. Choose your own slot then click NEXT.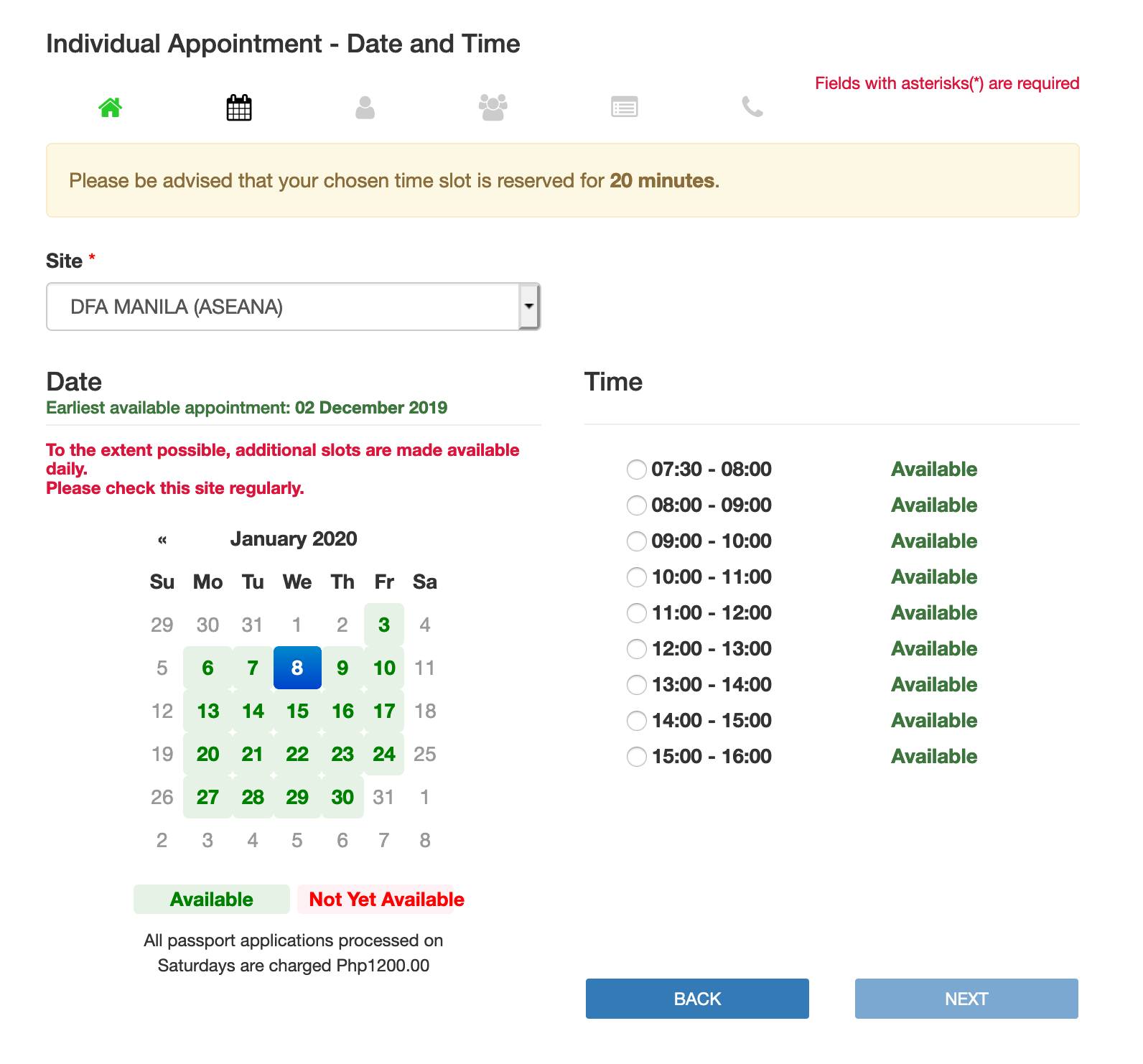 Step 4: Enter your Personal Information
It is important to provide only honest and true information to the DFA passport application form online. Before proceeding to the next step, make sure you have checked each detail as correct and accurate.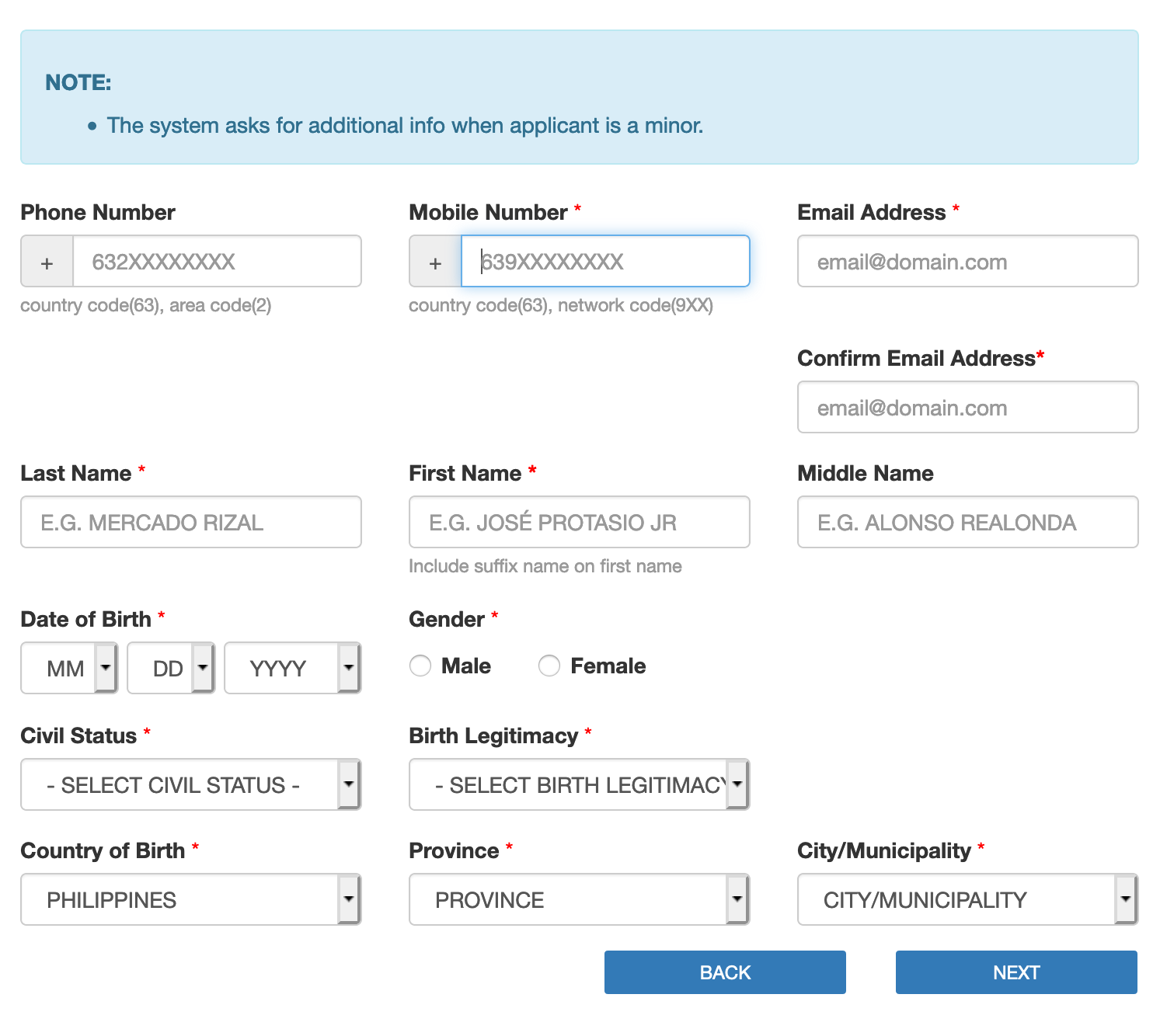 An active mobile number is needed in this section. Additionally, you need to provide an active and valid email address. This is where DFA will send confirmation and notification about your passport application. In addition, they will also email reference number for the payment of your passport.
Step 5: Pay the passport processing fee
Regular Processing – P950 (passport release 12 working days)
Expedited Processing – P1,200 (passport release 6-7 working days)
Payment must be done within 48 hours after receiving the payment reference number on your email address. Failure of payment will cancel your appointment. DFA will send one reference number per transaction.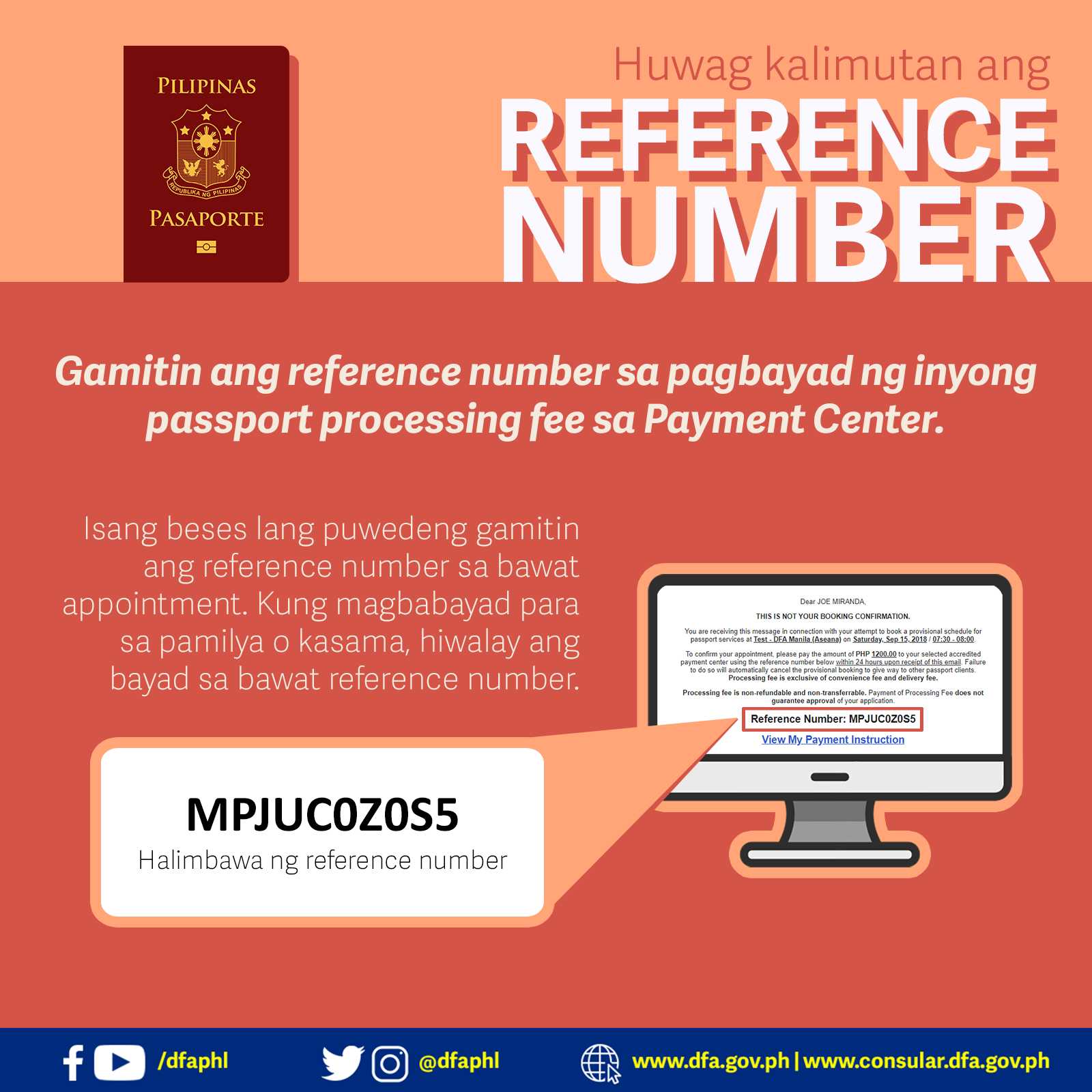 DFA acceptable payment centers include:
2GO
Bayad Center
Clothers Asia Corp.
DA5
EBIZ
ECPay
LBC
Netopia
PERAHUB
PHILPOST
True Money
Isetann
Landmark
Metro Malls
Robinsons Business Center
Robinsons Department Store
Rustans
SRS (San Roque Supermarket)
Sta. Lucia Mall
7-Eleven
Citystate Savings Bank
Country Builders Bank
Luzon Development Bank
USSC Western Union
BHF Pawnshop
Capital Pawnshop
CBE Pawnshop
Cebuana Lhuillier
CVM Pawnshop
M.Lhuillier
Raquel Pawnshop
Sinag Pawnshop
Villarica Pawnshop
Coins.ph
GCASH
Paymaya
Touchpay
Step 6: Attend your appointment at your chosen DFA office
After successful payment of passport fee, an eReceipt and passport appointment checklist will be sent on your email. Print out the documents and bring them to your passport appointment. The checklist includes the following:
Confirmed Application Form – with Appointment Reference Number (ARN), barcode and eReceipt number
Two Copies of eReceipt
In addition, you also need to bring the required documents for passport application.
Step 7: Confirm your personal details at the encoding section
The next step of passport application is verification of your personal information at the DFA Encoding Section. The DFA staff will evaluate the documents you have submitted to support your application. You must also confirm they are correct.
Step 8: Have your photo captured, signature and biometrics taken
Your photo will be taken. Be sure you war a decent attire for you will have this photo on your passport for 10 years. Also DFA does not allow jewelries such as earrings and necklaces and colored contact lenses during photo capture.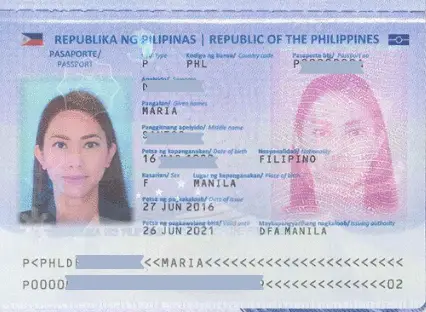 Your fingerprints and signature will also be taken. DFA will give back your receipt with the date when you will receive your passport.
Step 9: Claim your new passport
Receive your new passport at the date stamped on your receipt. If you did not use a courier service, you need to claim your passport at the Passport Releasing Section in DFA. Otherwise, wait for the delivery of your passport. Check if all the data on your passport are correct before leaving the Consular Office.
Requirements in Getting a Passport in the Philippines:
Confirmed Online Appointment
Printout of Passport Application Form with Reference Number
Accomplished Application Form (for applicants under courtesy lane only)
Personal Appearance
PSA Birth Certificate (original and photocopy)

Married Females (who are using their spouse's last name) must also present Original and submit photocopy of PSA Authenticated Marriage Contract on Security Paper or Report of Marriage
NOTE: If woman wants to retain maiden name, a Marriage Certificate is not required
Local Civil Registrar Copy is required if PSA Birth Certificate is not clear or cannot be read

Valid ID (original and 1 photocopy)
Supporting Documents (in case required by DFA)
Valid IDs Accepted by DFA for Passport Application:
SSS UMID Card
GSIS UMID Card
PRC ID
LTO Driver's License or LTO Student Permit in Card format
Voter's ID issued by COMELEC
Senior Citizen's ID
School ID for students
Postal ID Card (issued by Philpost from November 2016 onwards)
PNP Firearms License
Airman License (issued August 2016 onwards)
OWWA eCard
OFW Residence Card or any ID issued by host country which proves Philippine citizenship
List of Supporting Documents Accepted by DFA for Passport Application:
The DFA may also require additional supporting documents if necessary or if they find the primary documents are not enough for the identity of the applicant.
In case of Late Registered Birth Certificate:
If Birth Certificate was registered at least ten (10) years ago, application will be treated as a regular application, and no additional supporting documents will be required
If Birth Certificate was registered less than ten (10) years ago, applicant must submit IDs that pre-date the late registration or current IDs with NBI Clearance
In case applicant has NO Birth Certificate or Report of Birth:
If applicant is born AFTER 1950 – applicant must first file for late registration with Local Civil Registrar (LCR) or Consular Office with jurisdiction over the place where applicant was born. Applicant will then submit the original copy of the PSA authenticated late registered Birth Certificate and IDs that pre-date the late registration or current IDs with NBI Clearance.
If applicant is born ON OR BEFORE 1950 – applicant must submit original and photocopy of PSA Authenticated Certificate of No Birth Record and Affidavit of Two Disinterested Persons attesting to the identity of the applicant (Affidavit should include photocopy of IDs of the Two Disinterested Persons indicated in the presented document)
If an Applicant's marriage has been dissolved and wants to revert to her maiden surname:
Applicant must submit original and photocopy of PSA Birth Certificate and acceptable IDs.
Applicant must submit original and photocopy of the annotated PSA Marriage Certificate (MC) or Report of Marriage (ROM) stating that the marriage has been dissolved
Alternatively, if annotated MC or ROM from PSA is not yet available, applicant must submit a Certified True Copy of the Court Order dissolving the marriage and a certificate of Finality from the court.
If applicant has missing data in Birth Certificate or Report of Birth:
Applicant must present original and submit photocopy of proof of filing of supplemental report or correction from the Local Civil Registrar (LCR)
If applicant has discrepancy in data in Birth Certificate or Report of Birth and other documents
In case the discrepancy data is in the Birth Certificate, the applicant must submit annotated birth certificate authenticated by PSA reflecting the corrected entry. If the discrepant data is in the other documents, the Birth Certificate will be followed.
Discrepancy in first name – Applicant must submit the original and photocopy of the petition and supporting documents for correction of first name filed with Local Civil Registrar (LCR) or consulate
Discrepancy in other data – Applicant must submit annotated birth certificate authenticated by PSA reflecting the corrected entry
If passport applicant is a Dual Citizen:
Original PSA authenticated Birth Certificate/Report of Birth and Original Identification Certificate issued by the Philippine Foreign Service Post (FSP) or the Bureau of Immigration (BI) and a photocopy
Original and photocopy of the foreign passport.
Government issued IDs (Philippine or from country of second citizenship)
If applicant is a Naturalized Filipino Citizen
Original and photocopy of Identification Certificate of Naturalization from BI
If applicant obtained Filipino citizenship by Election
Original and photocopy of Affidavit of Election of Philippine Citizenship
Original and photocopy of Identification Certificate of Election from Bureau of Immigration
If applicant has been granted citizenship by Act of Legislation
Certified true copy of the law granting citizenship
Foreign Birth Certificate authenticated by Philippine FSP
Passport Requirements for Minor Applicants
Children 7 years old and below do not need to have an online appointment to apply for a passport. They are entitled to avail of the courtesy lane together with any of their parent and minor siblings. Please follow the step-by-step guide here: Passport Application for Minors.
DFA Passport Courtesy Lane Without Appointment
If you are an OFW, senior citizen, PWD (Person with Disability), pregnant woman, solo parent or minor, you may walk in at any of the DFA Consular Office in the Philippines without an online passport appointment.
Those who belong to any of the applicant categories above may use the DFA Courtesy Lane at DFA Aseana or any DFA Consular Office to apply for a passport without appointment needed.
What are the Benefits of Having a Philippine Passport?
Passport is a valid ID
It is the one of the most-acceptable government-issued identification cards. We can use for banking purposes, visa application, or any transaction requiring proof of identity.
Overseas ticket
Passport is our ticket and access to visit other countries in the world. It is the topmost requirement whenever we enter a new country.
Citizen protection
Having a passport is significant to every citizen of a country. In times of government conflict or war, it can add protection to every citizen.
Visa free to some countries
Philippine passport holders can travel to many countries without a visa. See the list of countries Filipinos can travel without a visa.
Philippine Passport Guide Frequently Asked Questions:
Is birth certificate no longer required by DFA for passport application?
PSA and NSO birth certificates are no longer required by DFA for passport renewal except when the application is considered:
First-time passport application
Lost or mutilated passports
Applicant is under DFA watchlist
Old brown and green passport bearing no complete middle name
Passport renewal requiring changers in personal information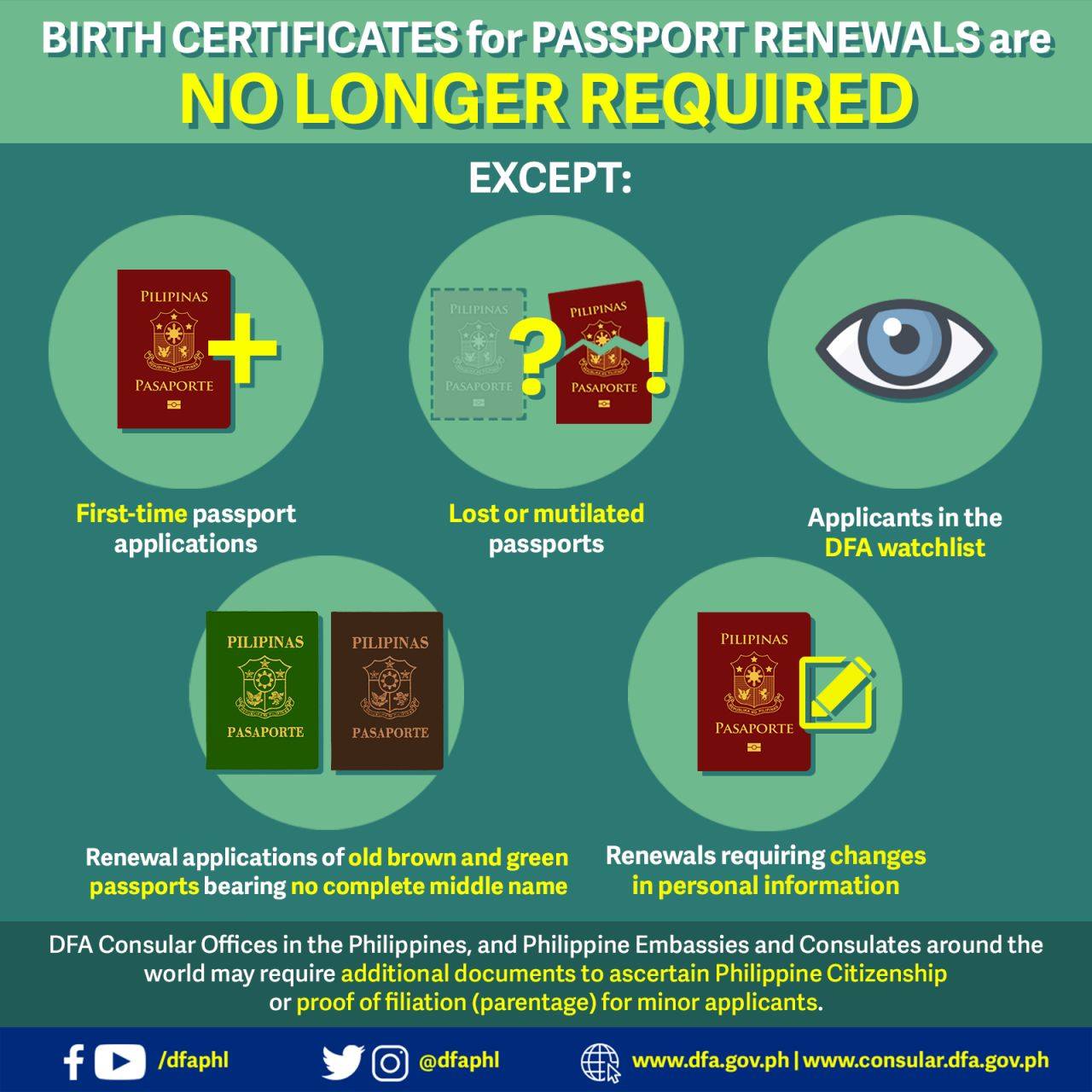 How much is the processing fee in getting a passport in the Philippines?
| Location | Regular | Expedite |
| --- | --- | --- |
| DFA Aseana and Consular Offices (within Metro Manila) | P950 | P1,200 |
| Consular Offices (outside Metro Manila) | P950 | P1,200 |
How many days will I receive my passport?
For applications made at Consular Offices in Metro Manila, processing and releasing of passports take 12 working days for regular processing and 6 working days for expedited processing.
For areas outside Metro Manila, processing and releasing of passports take 12 working days for regular processing and 7 working days for expedited processing. For all Philippine Foreign Service Posts, processing and releasing of passports take around 28-60 days.
The above timetables do not include courier delivery. Delivery fee not included and may vary upon location. Additional convenience fee for online ePayments may be charged per applicant.
Please note that there is an additional fee for Lost and Mutilated ePassports (Php 350.00 for applications filed in the Philippines: for applications filed overseas, prices may vary depending on Post. Please contact Post for details). Additional 15 business days clearing period for Lost Valid Passports.
Why do you need a passport?
We need it for identification, citizenship and overseas travel requirement.
Where can I find my passport number?
It is usually located at the upper right corner of the passport bio page. Passport number have the following format: P1234567X. It usually contains 9 characters.
Is Philippine passport number permanent?
For Philippine passport-holders, it is not. As of now, DFA issue different passport number when you renew your passport.
Why did DFA refuse my passport application?
The DFA has a right to deny or refuse any passport application for reasons such as any incorrect information or failure to provide genuine and correct details of any applicant.
Can I have two passports at the same time?
There are some countries that allow dual citizenship, so yes.
What will happen for unclaimed passports?
According to the DFA, unclaimed passports can only be kept by the concerned Embassy or Consulate General on active file for 6 months, after which the said passports will be classified as inactive and will be returned to the DFA in Manila for proper disposal.
Is TIN ID, Pagibig ID and Philhealth ID accepted by DFA in passport application?
TIN ID, Pagibig ID and Philhealth ID are currently not accepted by the DFA in passport application processing. The acceptable government-issued IDs are listed above.
Is the Postal ID accepted as a valid ID in applying for a passport?
According to DFA, the Postal ID card is accepted as one of the government-issued IDs that can be used as part of the requirements for passport applications.
Please note that the Postal ID presented must be valid during the time of the passport application. Valid Postal IDs are those that were issued starting November 2016.
Is NSO birth certificate still accepted in passport application? Should I get a PSA copy?
Fortunately, yes, NSO copies of certificates are still accepted by the DFA for passport application.
Is NBI Clearance required for passport application?
NBI Clearance is only considered as supporting document if necessary.
How to get passport in the Philippines online?
Personal appearance is required in passport processing. Although, you may apply for passport online, you still need to attend your appointment personally to have your fingerprints scanned, photo and signature taken.
Other Helpful Guides: