It's about time I share here about my personal stock market investing strategy called Magic 10. I know I should have published this post earlier but I decided I do it when I can also be able to share the 10 stocks from the list. 🙂 Before that, let's talk about Magic 10 first and why I use it investing in the stock market.
What is Magic 10 Strategy?
Magic 10 is a passive investing of the best 10 stocks carefully selected by the Team of DailyPik. It also follows the concept of Cost-Averaging method wherein we invest and buy stocks slowly over a period of time and sell them on our Target Price or Target Period.
It is composed of the Big 5 stocks and the Fantastic 5 stocks.
Big 5 Stocks:
We call them Big 5 because of their big market cap, global expansion, strong balance sheet and large customers / consumers need. These Big 5 are permanent stocks and obviously compose half of our portfolio. Why should we have these permanent stocks? Because we want to see a big part of our investment growing and appreciating in real time. Investing is not about what ifs and what could have been.
Fantastic 5:
These are also blue-chip stocks carefully selected by our financial specialists. We call them fantastic 5 because they will give us fantastic money. With their current performance and market valuation, in a few months or more, they will produce fantastic profit. Fantastic 5 are not permanent and can change and be replaced by other present recommended stocks.
Mutual Fund (PSEI Fund)    vs     Top 1 UITF (Equity Fund)    vs         DailyPik's Fantastic 5 Stocks            last Dec. Performance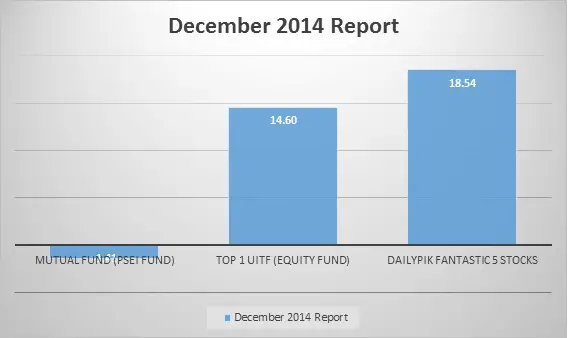 As you see in the figure above, we had an excellent gain of 18.54% from our Fantastic 5 stocks, last month. Our Big 5 stocks gained 21% giving us a total 39% gain from just last month performance alone. DailyPik shares monthly stocks report and regular stocks updates involving the financial and stock market world exclusive for members.
In a nutshell, Magic 10 is investing the Magic 10 stocks for 10 years or so.
Why I use these Magic 10 stocks investing in the stock market?
Investing in the stock market could make us multi-millionaire. Everyone knows that by now but everybody seems to always forget that investing in the stock market is very risky and there are only 2 ways to minimize risks: it is by diversification and it is by investing for a long term.
That's the goal of Magic 10 strategy, to earn millions of money by investing 10 stocks for 10 years or so.
I use this strategy because I'm not a super-active trader who watches the stock market like a hawk. I'm not one of those swing traders. I just want my money work for me and earn more money while I spend most of my time doing my passion, traveling, work, family stuff and most of all making my babe happy.
Fantastic 5 stocks table sample:

Big 5 stocks table sample

You can now access Magic 10 stocks for FREE at DailyPik's stocks page.
Disclaimer: Investments may give lots of money but always remember the risks involved.