Sharing here about American Express in the Philippines – How I got my First AMEX Credit Card. If you want to have this credit card, you should read this post.
I am so enjoying the lucrative treats and rewards BDO has been pampering me since well my savings account reached that humble figure…(thanks to my stocks investments).
First, that Prestige BDO Rewards card that came on mail last month. I remember I was wondering why I received that card. At first I thought it was one of those credit cards that come to you and all you have to do is swipe them even without activating and that all registration stuff.
Not until I read its thick luminous paper brochure, I realized it's a family of SMAC (aka SM Advantage Card). This card can be activated just by SMS, the instructions are stuck on the card itself. Wow, talk about prestige.
Another mail from BDO I got recently while I was expecting it to be my bank statement was a lovely letter offering me the first transparent credit card in the Philippine market, none other than the Blue American Express.
Because I love the color Blue than Gold and Titanium or even the Black Card, I checked out the benefits and perks the Blue AMEX is offering me. Except from the huge privilege of having that gorgeous AMEX alone which you can use to shop, dine, check in grand hotels around the world, the Blue AMEX credit card benefits includes:
First Year Free Card membership Fee (wow) and Easy on the pocket Monthly Fees thereafter (P 135 for Basic and P70 for your Supplementary card member)
First Supplementary Account's Card membership Fee is Free for Life, while succeeding Supplementaries shall be charged P 70 Monthly Fees. What about that?
Spend based fee waiver (at P10,000 monthly)
Low Introductory Finance Charge/APR and 3.25% every month thereafter
Installment offers and balance transfers just like any other credit cards
BDO/AMEX privileges like those usual 3,6,9,12,18 or 24 monthly installment schemes, BDO account tied to credit cards transactions, convert cash or straight transactions into installment
Retail purchase insurance – from loss, theft, damage within 30 days from purchase for up to P50,000 per occurrence or P250,000 per year
Easy access to ATM and BDO banking services because hey, AMEX is tied to BDO
How I got my first AMEX Blue credit card from BDO?
I simply received it one day, yeah it came to my mailbox with that bulk mail envelope. Seeing the AMEX logo, I knew right away it's my lovey-dovey Blue transparent AMEX credit card. Yeah I never replied to their mail invitation. The card just arrived. I guess, BDO is expanding its AMEX clients and I'm just one of those lucky clients.
After knowing the awesome perks and privileges, now you want to have that transparent credit card too, you can go to your main BDO bank branch at SM and bring the letter if you received any together with your valid IDs, your BDO savings account passbook, your other credit cards, and latest ITR and fill out the application form.
By the way, everyone can also apply online by visiting American Express Philippines official website or simply visiting BDO. If you want, you can call their hotline too at 631-8000.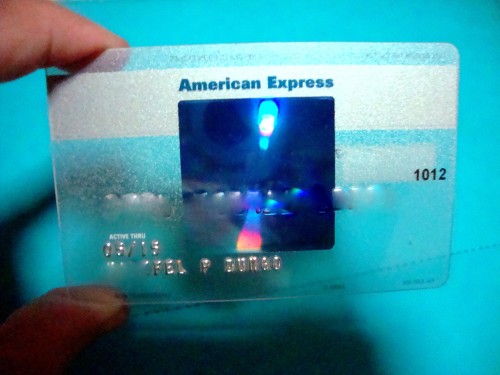 Blue American Express membership fee is by the way, P1,620 per year or P135 per month for the principal cardholder and P840 per year or P70 per month for supplementary cardholder. The first year is totally free. Yay!
UPDATE: I have been using Blue by American Express for 5 years now and I love it . AMEX is now accepted globally like VISA and Mastercard. Additionally, Blue Amex always waive my annual fee so I like using it so much. There is a required amount to reach for your annual fee to be waived.
Related articles: